The Story:
A leading technology services company fusing architecture, storytelling and technology to create immersive, memorable experiences.
With a focus on pushing the boundaries of audio visual technology and a passion for creating immersive, impactful human experiences, Electrosonic sought a HubSpot partner that could design a website to represent their brand identity and showcase their industry expertise.
The need for top-tier digital storytelling led Electrosonic to New Breed, an elite Hubspot Partner and HubSpot's three-time, 2022, North American Partner of the Year.
Electrosonic partnered with New Breed to capitalize on our team's ability to apply web design and conversion optimization best practices in the B2B space. Ultimately, the decision to partner with New Breed for such business-critical work came down to human connection and person-to-person fit between the members of each team. Electrosonic sensed from the early phases that New Breed values an equal-partnership approach and sees trust as core to any long-term strategic relationship.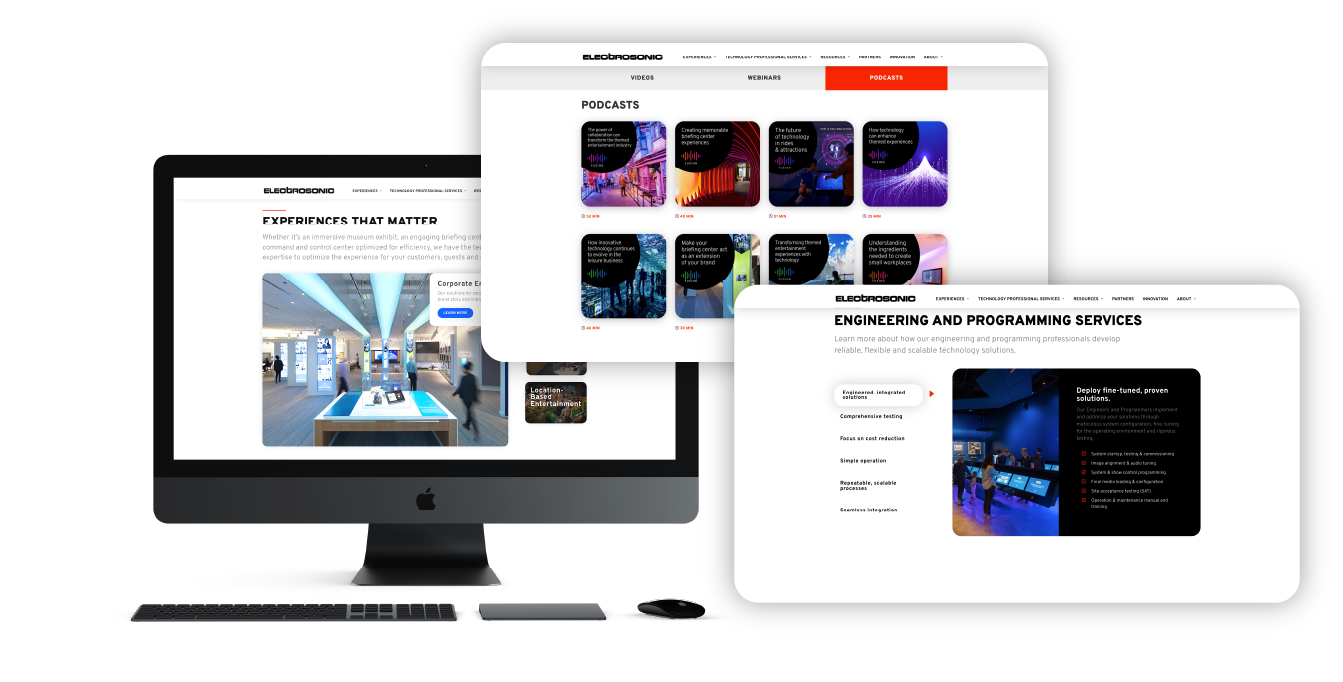 The challenge:
Developing a dynamic website to showcase their brand and industry expertise.
Faced with multiple strategic priorities, major considerations for this website redesign included:
Migrating Electrosonic's entire domain onto the HubSpot CMS, including a separately-hosted resource center
Optimizing Electrosonic's resource center for conversions through gated landing page development and design
Creating an engaging multimedia page to host more than 40 videos, webinars and podcasts
Building a cohesive story between Electrosonic's services and applying them across target verticals
Showcasing an incredible body of work in their Project Profile resource center through more than 90 unique projects
Redesigning the entire Electrosonic website to bolster their brand equity and immersiveexperience industry expertise.
Adding video projects into a new Media Center including podcasts, webinars
With these challenges in mind, New Breed's expertise in website strategy, development, design, project management and the HubSpot CMS was a perfect fit for Electrosonic's visionary needs.
New Breed's solution:
Combining a design-first mindset with technical implementation expertise to maximize brand identity and optimize for conversion.
Between New Breed's best-in-class website redesign approach and Electrosonic's industry expertise, the two teams were able to launch a design-first website while developing a scalable, easy-to-manage framework.
Additionally, New Breed frictionlessly migrated Electrosonic's resource center under the new HubSpot CMS hierarchy and enabled a streamlined user experience under a single domain. In addition to the migration, New Breed revamped Electrosonic's landing page conversion strategy and drove a more effective presentation of lead generation content.
The new site now enables the Electrosonic team to intuitively manage, update and create new pages with minimal training. After launch, Electrosonic's website now effectively showcases its vision of creating immersive digital and in-person experiences.
Impact
In partnership with New Breed, Electrosonic overcame its challenges and further anchored its position as a leader in immersive experience design. Results of our efforts include:
Increase of 220% in Marketing Sourced Pipeline due to increase and higher quality of inbound leads

Marketing Responses increased by 65%

$20,000 in cost savings by consolidating onto the HubSpot CMS
$30,000 in cost savings on professional services with internal use of HubSpot's marketer-friendly CMS
Significant time savings when launching, updating or editing web pages
Increase their annual website traffic by 49%
Increase their annual organic website traffic by 40%
Increase their annual website conversions by 35%
Showcase their expertise in the experiential technology industry through a complete design-first web strategy.
Client Review:
40% YoY Increase in Organic Search with Re-Launched Website!
Every marketer knows that in inbound marketing, having a website optimized for search and conversion is key. Jordan, Evan and the New Breed helped us to completely change the game at our company last year when they guided us through the new website development process like pros!
We are so grateful for the New Breed team's approach to understanding our business, and bringing great suggestions to the table each and every week. When we started with New Breed our direction was basically everything about the old website must change - and we truly started from scratch. No easy task but from the early concepting all the day down to the day of launch, I felt that the team was always one step ahead. By the end, the New Breed Marketing team felt like an extension to our own. Now a year later we are amazed at the first year results. Our website recorded a 40%+ YoY in organic search traffic, which led to us smashing our top of funnel results.
Largely due to the conversion rate optimization work that Jordan led us through during the redesign process, we also increased our Marketing Response by 65% and Marketing Sourced Pipeline by 220% YoY!
Overall, we couldn't be more thrilled to work with New Breed on an ongoing basis and are looking forward to expanding our partnership in the future beyond their website practice. This company is filled with sharp, passionate marketers who have a knack for finding what's best for their customers.
Client Results
The impact we've had
At New Breed, we've served as a strategic partner for hundreds of the fastest-growing B2B companies. Learn more about how we help our clients accelerate their growth.
Read More Success Stories