While the ultimate impact of the COVID-19 crisis remains unknown, its effect on the digital marketing world is already unprecedented. Marketers and sales leaders are rightfully concerned, but we are also weathering the situation by doing what we do best: adapting, evolving and working creatively to deliver value and support to our audiences.
In that spirit, New Breed has pulled data and insights from across our space to help marketers mitigate the impact of this pandemic and hopefully set themselves up for a successful recovery.
Search Traffic is Down, and Marketers Should Prepare for Revenue Impact
There's no easy way to say it: Search traffic and associated conversions are way down. B2B decision-makers are turning their focus inward to business-critical functions, and the resulting search decline is a leading indicator of decreased revenue, at least in the short term.
Since March 11, 2020, organic traffic has dipped by 18% on average, according to our research. New contacts from search and paid traffic are also down by 12% on average. While we continue to watch the trends closely, the numbers are unnerving, and marketers are wise to brief their stakeholders now on potential long-term business impacts. Depending on your sales cycle length, decreased leads today could result in reduced revenue 60–90 days down the line.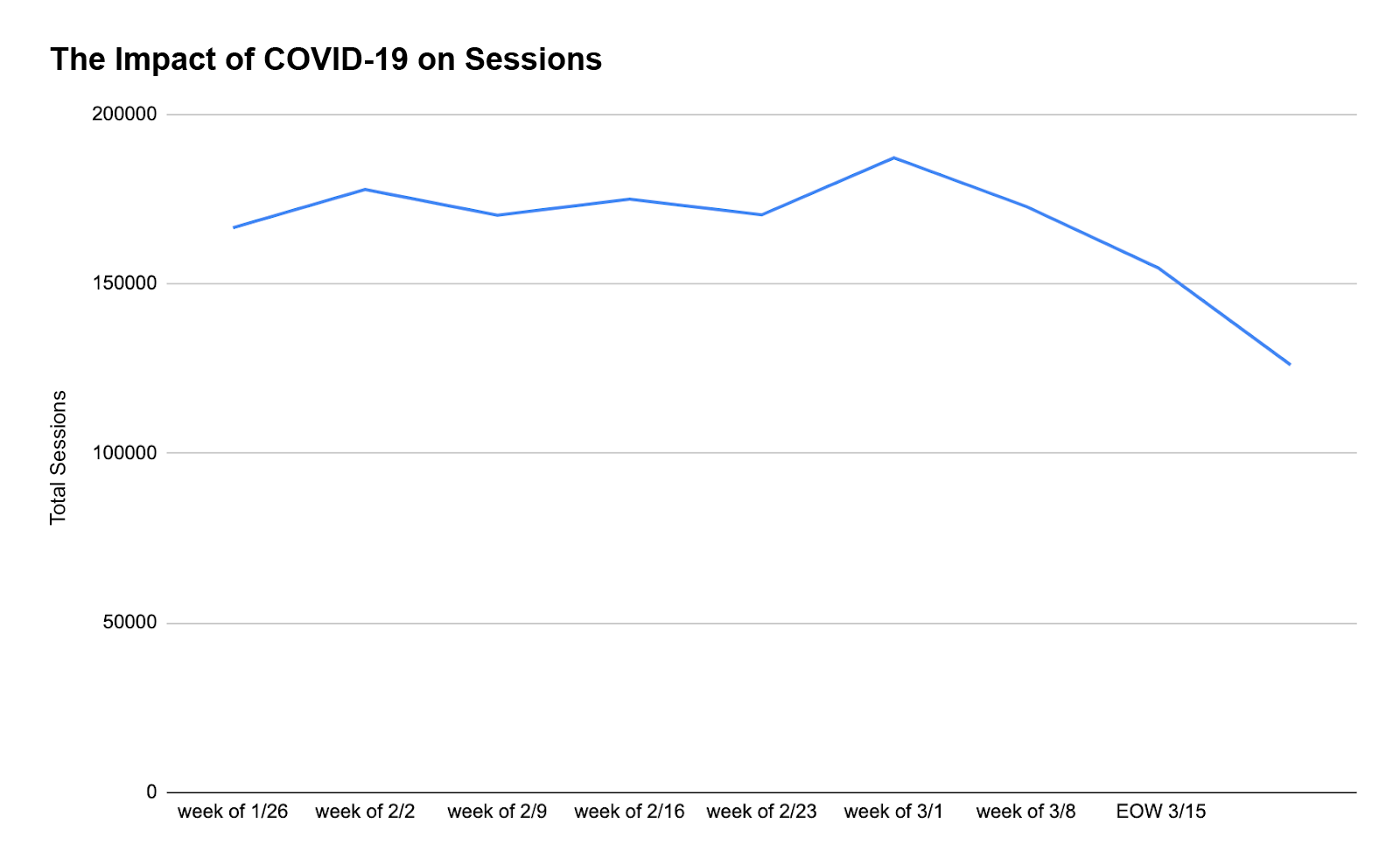 Making Adjustments Now Can Result in Long-Term Dividends
Despite the widespread search traffic drops we are observing, marketers do have options. The essence of inbound marketing and sales is to add value, and crisis points offer opportunities to do just that.
Recent reports suggest digital engagement is surging, and marketers are responding. While every business is different, we typically recommend strategies that emphasize empathy, connection and support through this uncertain time and a focus on optimizing budget efficiency. Finally, personalization and messaging relevance have never been more important. Here are a handful of approaches to support those objectives:
The Takeaway
COVID-19 is unlike any event in recent memory. Early trends suggest a profound impact on the digital marketing landscape. That said, the widespread nature of the crisis also creates new opportunities to create lasting connections to your audience, and fortifying your digital marketing strategy now may pay dividends over the longer run. We are all in this together, and together, we will evolve, adapt and bounce back.
Al is the Director of Marketing for New Breed. He has spent the last 15+ years as a B2B and SaaS marketer, and he is passionate about helping companies leverage the digital space to reach and engage their audiences effectively and efficiently.
Connect with the author