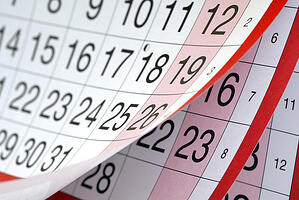 When it comes to creating remarkable content that attracts, converts and delights overtime, we all know it's easier said than done.
Not only that but now you're also tasked with organizing your content, managing your content team, proofing, schedule, and making sure each post is targeted and aligned with your personas interests and pain points.
That's a lot of responsibility, even for someone who has mastered the art of multitasking. No sweat, we want to help you make blogging one of the easier tasks of the day. That way you can continue to focus on increased engagement, traffic, leads and more importantly, customers!
If only there was a clear path you could follow when managing your blog to ensure that your content marketing strategy is really working and reaching its full potential.
But wait! There is. It's called an editorial calendar.
Your devoted readers subscribe to your blog and visit your website for a reason. If you aren't publishing daily or weekly, chances are you may disappoint a couple of readers. And you may even lose a handful. Queue the editorial calendar.
An editorial calendar will help you manage all of your content and stay organized so no surprises come your way. You can easily manage your authors, due dates and topics; all while maintaining a lively blog presence.
Creating Your Editorial Calendar
Here at New Breed, we choose to use Google documents for our editorial calendar template. More specifically, we use Google spreadsheets to organize our keywords, bloggers and due dates.
One of the hardest things about blogging is coming up with a topic and a great title. Start working with your SEO team to set up a list of keywords that align with your business and your buyer personas. These keywords will act as the topic of your blog posts which you can then create remarkable titles from.
Begin by organizing each of your keywords into your spreadsheet under a 'Keyword' column. You can even create new tabs in your document depending on the variety of topics your keywords hit. Once you have organized your keywords it's time to think about creating those titles. This is your chance to ensure that you are publishing a variety of posts (how-to's, numbered lists, or visual based posts). You could even organize your titles into these different sections so it is easier to publish a variety of posts each week.
We like to create separate columns for 'Working Title' and 'Final Title' in our editorial calendar. The working title can be a starting point for your bloggers to point them in the right direction. A topic may inspire your blog contributors and lead to a title change - which is where the 'Final Title' column comes in play.
Once the keywords are organized, you can create the calendar portion of this template so that you have a full overview of your blog. Take a look at the screenshot below to see how we organize our blog topics, authors and due dates.
I suggest including a 'Persona' column in your editorial calendar if you are a company with multiple personas and wish to write to each persona at separate times. This way your authors will know how they should direct their post before they begin writing.
CTAs are essential to your blog. How can you expect your readers to take action if you don't give them the opportunity to take action? With this being said, you want to make sure you are not reusing the same CTAs each time and that they align with the post's topic. To keep this organized include a column on your editorial calendar template to clearly state which CTA will be used with the post.
CTAs help you generate leads by directing new blog visitors to your website through an enticing offer. Just as you are keeping your persona in mind when you are brainstorming keywords, do the same as you create your calls-to-actions.
Managing Your Authors + Due Dates
Share this document with every member on your content team, so they can stay up-to-date with your keywords, titles and due dates. We recommend including a column in your editorial calendar for the due date and status of the post (in production, scheduled, published etc.).
Consider using an outside source like Trello (have we mentioned it's free?) to manage your authors and their assigned blog posts. Trello is useful for organizing your authors and posts and it sends email notifications when an author is tagged on a card and a due date is approaching.
New Breed's Trello board organizes each post through:
Requested Posts: This is your first action when assigning a post to an author. You can attach the author to this card so they receive email notifications about the post and the corresponding due date.
In Production: Easily switch cards to this column when a post has been started by the author.
In Review: When a post has been completed and is ready to be proofed it can be moved to this column.
Waiting on Author: This column is used when an author has not started an assigned post and may need some reminders. Whether it's through an email, chat message or a face-to-face conversation, Trello helps us organize and manage everything.
Overdue Posts: We add cards to this column when a post has been started but is past due.
Archived Content: Once a post has been scheduled and published on your blog it can be moved to this column. This column will help you keep track of what posts are completed versus the posts that are still in production, getting reviewed or late.
Use these tips to create your own editorial calendar to help your blog management be even more efficient. Depending on your company, you may need to adjust a few things on your template, like adding or removing a column. Make your editorial calendar personalized to your company's style and individual needs so you are as organized and prepared as you can be.
Still not sure how to get started building an editorial calendar for your business's blogging efforts? Download our editorial calendar template for some extra help:
Carly is a former New Breeder.
Connect with the author