"Do what you do so well that they will want to see it again and bring their friends," Walt Disney said.
It doesn't matter how small or comprehensive your business is, the importance of customer loyalty cannot be understated today. Why? Simply because 60% of loyal customers purchase more frequently from their preferred companies.
This can have a profound impact on your revenue and acquisition costs. In fact, Harvard Business Review reports that acquiring new customers can be 5–25 times more expensive than retaining old ones.
But at the end of the day, the question of how far that loyalty takes you arises. Another HBR study solves this by revealing that a company's highest-spending customers are also the most likely to check out multiple brands. Hence, even the slightest dip in your customer experience efforts can potentially drive even your most loyal customers to your competitors!
So, let's take a look at the best tips that will help you build a loyal customer base that lasts:
1. Offer Flawless Customer Service
It's difficult to create a product/service that does not have flaws, and your customers get that. But when something goes wrong, you need to be there for the customers. By developing a culture that lives and breathes customer service, you are more likely to reduce your churn.
At the same time, it is imperative to leverage the right communication tools. Frequent communications via the right channels keep you fresh in their minds, enabling you to solve their queries and pass on crucial information. The following customer communication channels are great ways to be there for your customers:
Live Chat: Live chat is a quick and easy way to connect your support agents with customers in real time, and with texting and hyper-connectivity becoming mainstream, this fits right into their digital habits. Agents can reach customers at precise moments in their purchase journey. Meanwhile, customers receive instant access to your support teams. What's more? Live chat can even be leveraged to push warm leads all the way to the end of the sales funnel by easing the on-boarding process.
Video and Voice Call: Dedicated tools that launch video and voice calls at just a click of the button make it very convenient for customers to quickly connect with support agents for more comprehensive support sessions. Some video and voice call tools offer advanced features like zero downloads, one-click activation, one- or two-way video and automatic recording.
Chatbots: AI-based chatbots can help to scale your customer support efforts overnight. A power-packed tool can even automate the handling of as much as 80% of your customer queries! And when conversations take a complex turn, they can be intelligently handed off to the right agents.
2. Encourage Customer Feedback
The key to building a loyal customer base is to understand who you are serving in the first place. Customer feedback at the end of every support session, such as a chat or a video call is a great start. They help you gather highly contextual reviews that deliver comprehensive information.
Customer reviews and loyalty also go hand in hand. Great reviews will drive more prospects to your business. A matching level of customer service would convert them into customers and satisfied customers will leave great reviews again, thus completing the chicken-and-egg cycle of customer retention.
Here are some handy tips to bag more customer reviews:
Ask the right questions to the right person
Send feedback forms through emails and have a dedicated page on your website
Use survey and Net Promoter Score (NPS) results
Send personal thank you notes and follow-ups after support sessions
Conduct regular social media polls and tie them up with contests

3. Leverage Next-Gen Technologies
You need to give your customers a reason to be loyal. Adopting the latest customer support technologies is a great way to begin. Customers have already moved past traditional channels of support, such as email, and there seems to be a new winner in town — real-time video communication.
Innovative technologies in the space are winning the game. For instance, co-browsing is one of the hottest entries today that helps support agents extend real-time support to customers. Agents can remotely take control of the browsers of customers and solve their queries for them. Thus, customers don't have to go through the hassle of explaining their issues via simple audio cues. At the same time, they have complete control over the extent of sharing. This enables them to keep their privacy intact and place more trust in the support process.
Such technologies also humanize support activities, personalizing them for superior customer experiences.
4. Provide Loyalty Incentives
Users are more likely to return to websites that they have already had successful interactions with. But even if they have bookmarked it, they might get lost in digital searches.
You need to motivate them to return to your website by creating programs that reward them for their loyalty. The higher the rewards, the better the business. Here are some tips that will bring you tangible results:
Understand the analytics that impact customer loyalty
Send out free swag or books
Bundle your product with another relevant offer
Offer customer discounts for events and local meetups
Use a tier system to reward initial loyalty and encourage more purchases
Structure non-monetary programs around your customers' values
Build a useful community for your customers
The result can be highly rewarding for all stakeholders. The following infographic neatly summarizes the after-effects of such a successful loyalty program.

5. Focus on Your Brand's Strengths
A simple but effective strategy. The best way to make customers stick around is to provide them with values that none of your competitors can. The infographic below shows how the global canvas of the most valuable brands looked like in 2017: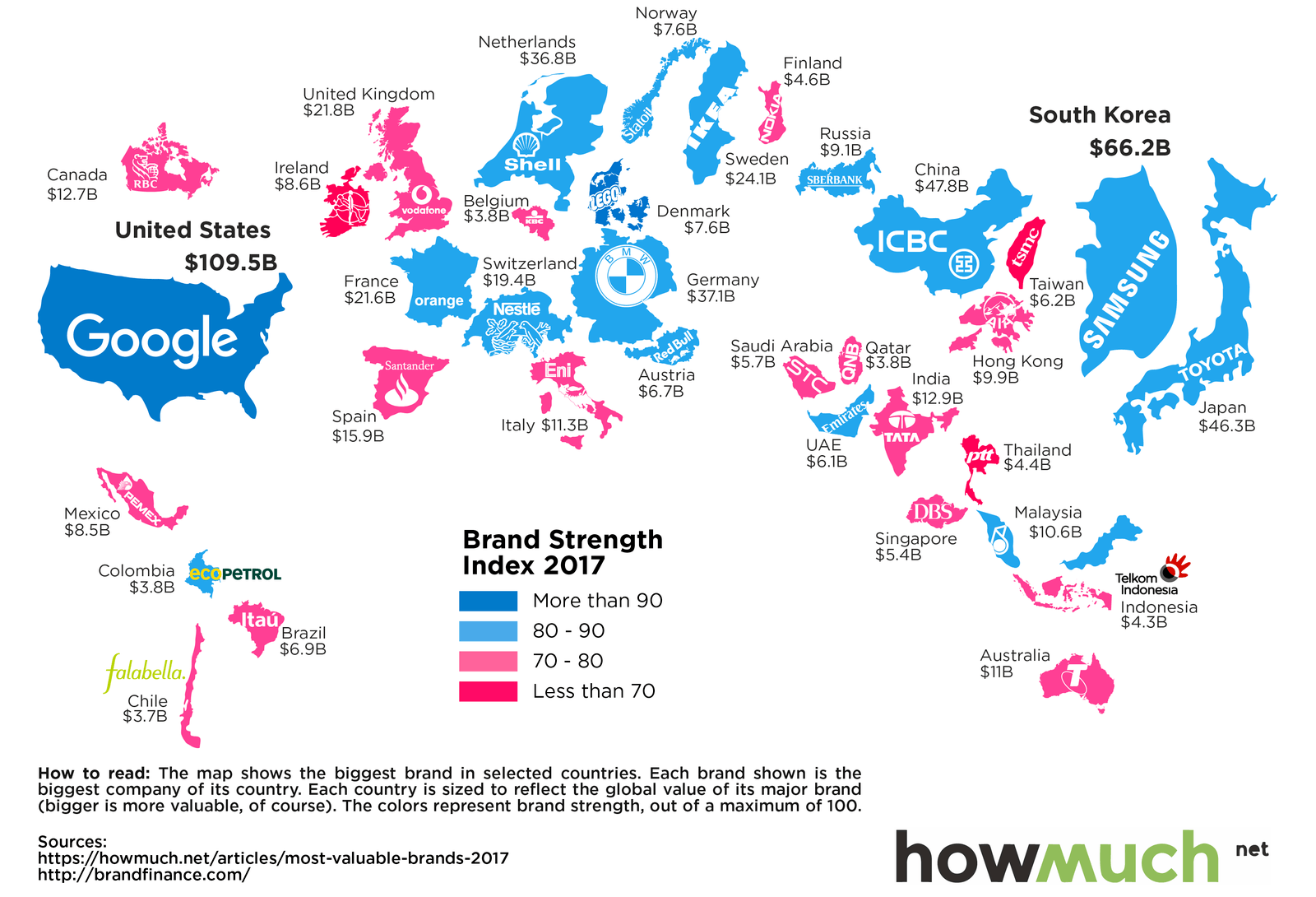 There is a reason why all of these companies are succeeding. Loyal customers often identify themselves with a brand's vision and core values. How are such companies helping them do this quickly and efficiently? By being definitive and specific about their capabilities and offerings.
The trick is to make your customers understand what you do best and make them feel that they have been missing it in their lives.
Product or service diversification is one thing. Forgetting why you ventured into the market in the first place is another. For instance, Nike may have a diverse range of products today including tube socks, yoga pants, dumbbells, water bottles and the like. But they started as a sneaker brand, which they have maintained as their core brand status to date.
The Takeaway
Focusing on making customers loyal to your brand may not be an easy task, but it pays off huge dividends. They are more likely to become your brand's advocates on their social channels and among their friends. By understanding what makes your customers tick, trying out new retention strategies and doubling up on what works, you can leave behind an impression that can last a lifetime.
Sam Makad is an experienced writer and marketing consultant. His expertise lies in marketing and advertising. He helps small and medium enterprises to grow their business and overall ROI. Reach out to Sam Makad on Twitter or LinkedIn