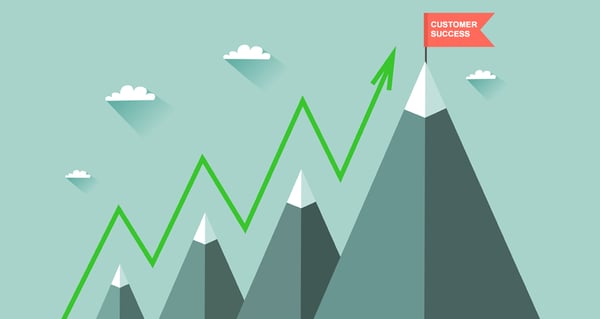 Source: Chargify
Day in, day out, new business is the bread and butter of your role. But there's no denying that client retention is just as important to your business as bringing on new clients is. What can you do, pre-sale, to treat retention as a key initiative?
It begins — as so many marketing improvements do — with setting expectations.
The crux of retention is this: Experience must meet (or exceed) expectation. Period. Focus on an underpromise/overdeliver mentality, and lead others in adopting this mentality pre-sale and post-sale. How?
Start With Messaging
If marketing messaging works to set realistic (sometimes conservative) expectations, that messaging can carry through the sales process. Don't push your prospect to a competitor by providing weak expectations, but don't try to blind them with language and half truths about your product and what it will do for them, either. Think of every marketing message as an opportunity to set the volleyball for your client success team to spike.
Work with your sales team to develop content that is both attractive (for new lead conversion) and able to be leveraged for sales enablement. For example, create blog posts that will attract visitors, but make sure that your sales reps can use those same blog posts to answer a prospect's questions and move them further down the funnel.
Be in Love With the Truth
Tell your prospects the truth. Remember all of the content we discussed creating a couple of sentences back? Even though it's designed for attraction and conversion — and it can be easy to begin making big claims with such goals in mind — this content should show your commitment to honest, fair communication.
Another way to love the truth is to learn it from the clients who do churn. Bring what you learn into the sales process. Find out why clients churn and learn to remedy it next time, beginning with your promises. After all, churn is not always about measurable results. Instead, it is about experience and if the expectations you laid out were met (or not).
You can, and should, set up monthly meetings with your client success leader. Find out what is working well so you can frame messaging around strengths, and uncover what's causing people to churn so you can set proper expectation around weaknesses from the start. In your once-monthly meeting, review which clients churned and inquire about what the client success manager believes might have gone wrong.
Align the Process
As a marketing leader, it's your responsibility to work with sales leaders to ensure your process is aligned with your messaging. For example, if you do make a promise, then the process should ensure that promise is being kept. If you create a BOFU form for a demo of your product, and your thank-you page tells the prospect they'll receive a call in the next hour, you need to also have a workflow strategy that notifies your sales team they must call this prospect within the hour.
Give Your Prospects What They're Looking For
Be sure you're constantly considering creative lead gen opportunities on your site. These might include content that gives prospects exactly what they're looking for — both from an SEO perspective and from an actual subject matter perspective. If you provide information that helps them, you can set the stage for meeting expectations.
Additionally, the actual content you create can do its own work to set expectations — think ROI Calculator.
And Finally...
Combine forces. Don't try to unravel and mitigate churn risk all alone. Marketing can do a lot of great work toward retention from a customer-facing perspective, but if you're going to reduce churn by starting pre-sale, this initiative should involve the feedback of all stakeholders, from sales reps to copywriters, from sales ops leaders to your MDRs.
Ben is a former New Breeder.