It seems like only yesterday every marketer was still on the fence about whether to use video as a part of their business marketing strategy or not. Now, video is a necessity for every business to stay ahead in this fierce marketing competition.
In today's fast-paced digital world, users have less spare time. This is where video comes in like a breath of fresh air.
It's relatively common knowledge that video can effectively boost your brand's online visibility, engage more customers, drive more traffic and increase sales — which is why it's worth considering as a necessity in every business marketing strategy.
Now, the question is: "is video marketing here to stay?" The future of video marketing is anyone's guess, but I've put the latest statistics together to get a glimpse of it. And the answer is an emphatic "YES."
A Quick Walkthrough to 2020 Video Marketing
The staggering numbers in video marketing statistics over the past few years clearly show us that video trends are not going anywhere anytime soon.
Not to mention that the number of flourishing new developments in technology, social media trends and consumers' tastes has made the future of video marketing look brighter than ever.
It is believed that the only thing that can make video marketing trends fade away is if internet users stop watching videos — and that's highly unlikely.
In 2020, video marketing is going to be hitting another high note. The online video usage and consumption will continue to increase dramatically without showing any signs of slowing down. With those constant increases in statistics, it's easy to predict that video remains the clear-cut winner of content marketing in 2020 and beyond.
The Unstoppable Rise of Online Video Usage and Consumption
Internet users watch more than a billion hours of video every day on YouTube alone. So it's no surprise that online video usage and consumption has always been astronomical.
It's the global proliferation of smartphones and social media trends that have been taking a significant part in the explosive growth of online video usage and consumption in recent years.
According to Biteable, at least 78% of internet users watch online videos every week, while 55% of them watch them every single day.
Also, internet users are 1.5 times more likely to access and watch online videos through their smartphones. And since it's incredibly shareable, 92% of mobile users share videos with their social networks.
Due to this massive increase in video demand, mobile online video consumption doubles every year– making it convincing for B2B companies to use videos for their content marketing purpose.
Don't just take my word for it. Look at the chart above: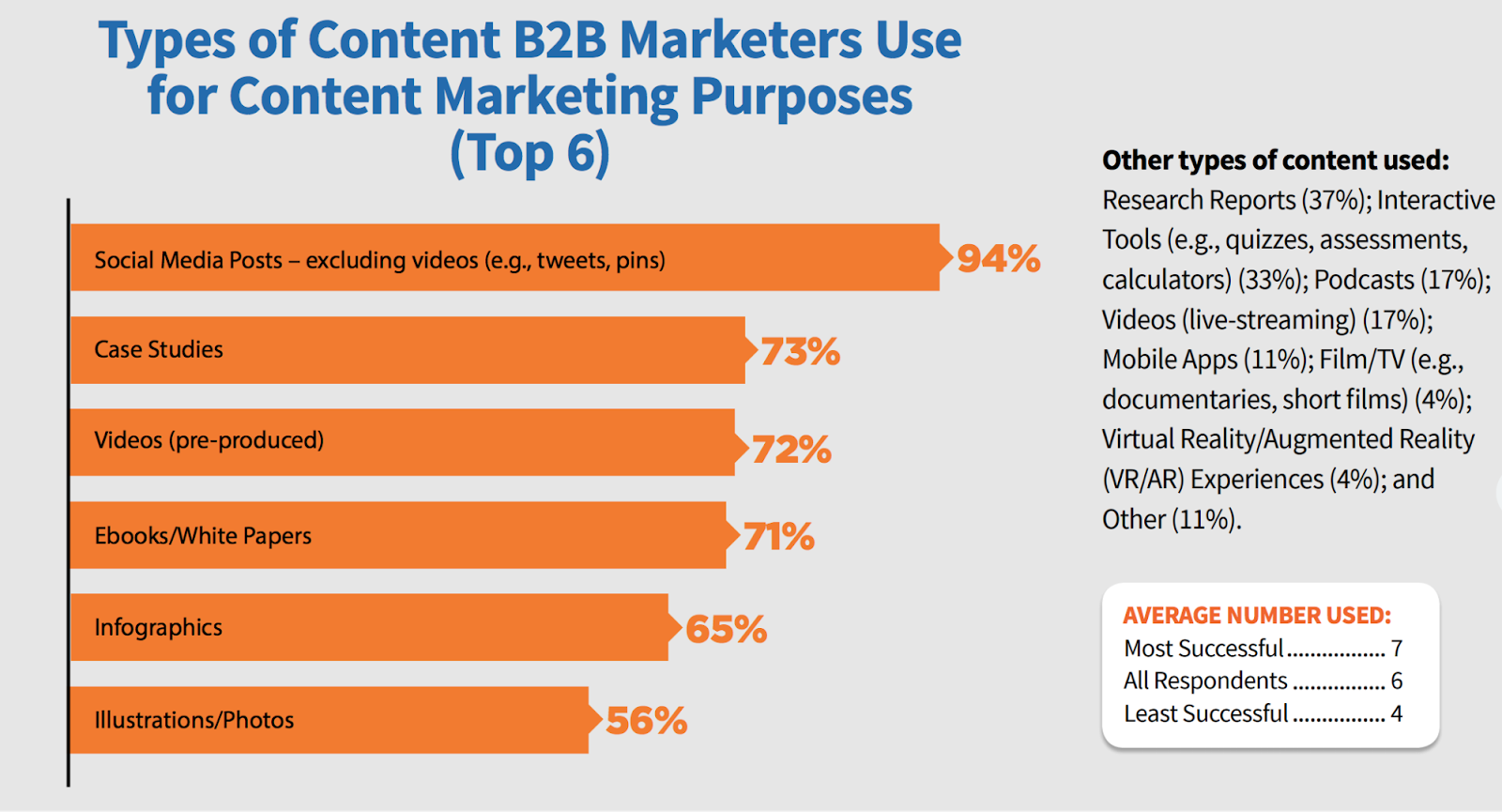 As you can see, video content is among the top 6 most used content types by B2B marketers (72%). And as a result of all this, video content is predicted to be dominated about 82% of all internet traffic by 2022.
The Ever-changing Video Trends: Long Live Video Marketing!
As video consumption is continuously rising, it's evident now that on-demand options are taking up more space in the video market. With the massive amount of content being produced, it's hard to pinpoint video trends that are going to stay above the noise.
Some trends will start to fade away, while others ramp-up. It's no wonder if every year seems like a full-on video revolution for marketers.
In 2020, there are some trends to watch out for:
Vertical video
The unstoppable rise of smartphones and the "Stories" function pioneered the vertical rise in the social landscape.
Jumping into this vertical video trend in 2020 can help you to give mobile users a best-viewing experience and increase mobile viewing times.
360-degree video
Several strides made in technology raise more advanced video trends above the clutter. 360-degree is a new video trend that allows viewers to control the orientation of the scene and viewing direction.
By using this trend, you can immerse viewers even more and tell them that your company is innovative and forward-facing
Live-streaming video
As users prefer more and more interactive content, users jump on the hype of one-to-one video. This is why you see the live-streaming video all around the social sphere nowadays.
Adopting live-streaming video and adding it to your video marketing campaign is a wise way to engage with the viewers in a much more personal way. That's how yo2u keep them to stick around.
Virtual Reality (VR) video
Even if VR is a new kid on the block, it's taking the video marketing landscape by storm. With its ability to blur the lines between the real world and the virtual world, VR puts the viewer in the role of the main character. So, instead of viewing a screen in front of them, viewers are directly immersed and able to interact with the 3D world.
Adapting this trend gives your viewers a whole experience, making it easier for them to remember and recall your brand — and of course, convince them to convert.
Hence, these ever-changing trends indicate that video marketing is fully alive and remains to have a potential future as a potent marketing tool in 2020.
Businesses' Experience Says It All
As more videos are consumed and demanded, you can expect the numbers of video marketers to enjoy a similar rise.
More than 81% of businesses have integrated video into their entire business strategy. This number is a 63% increase compared to last year.
From all those video marketers, 93% claim to successfully gain new customers as a result of posting a video on social media and earn 66% of their qualified leads through it.
With all those perks and benefits of video marketing that is beyond your wildest dreams, 99% of marketers will continue to use video, while 88% of them plan to expand their budget for 2020 video marketing campaign.
This rising numbers of video marketers show you that video is growing in importance for their business. Look at the chart below: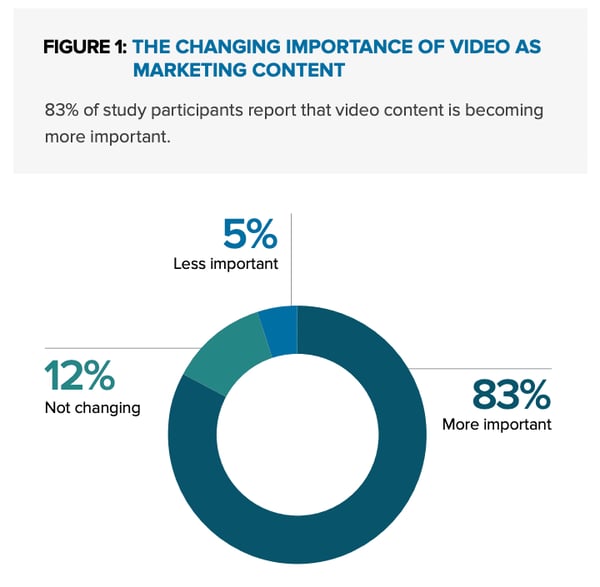 As 83% of marketers think that video becomes more and more essential for their marketing campaign, there is a massive potential that more videos are continually going to be used as a leading marketing tool for years to come.
Takeaway
There's no doubt about it: video is a crucial part of content marketing, and it's only going to become more and more essential each year.
These mind-blowing numbers in this infographic about video marketing statistics can speak for themselves.
If you haven't yet put videos at the forefront of your marketing strategy, then you're missing out, a lot.
Jumping into the video content bandwagon isn't something you should do just because everybody's doing it, but because it's an incredibly powerful tool to elevate your marketing campaign.
As the 2020 competition is going to get fiercer, you have to be agile enough to break the shackles of old video marketing strategies and adapt to the newest ones.
It's essential to observe the latest video trends and adapt what fits best for your brand.
To help you prepare your 2020 video marketing campaign, we've collated some fascinating numbers in these Video Marketing Statistics for 2020:

Andre Oentoro is the founder of Breadnbeyond, an award-winning explainer video company. He helps businesses increase conversion rates, close more sales and get positive ROI from explainer videos (in that order).