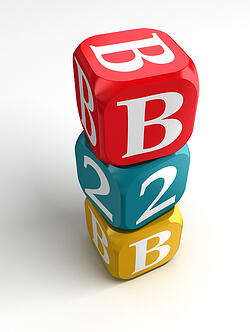 As a company who is dedicated to leading the industry in inbound marketing and B2B sales, we feel it's only appropriate to share our tips and knowledge on what it is and how you can start mastering it.
Truthfully, B2B sales is simple. At New Breed we offer a variety of different products and services that are designed to accelerate your business, drive revenue and ultimately increase your return on investment.
Since most customers are focused on the logistics of the product, it is your job to be the expert and to demonstrate that in your communications (much like we did above). This is where your expert knowledge comes into play. Knowing your product inside and out can really help you emphasize the value, increasing the likelihood your prospect will buy. Pretty straight forward, right?
Well here's something else you should be an expert on: your potential customer, also known as a lead!
Getting to Know Your Leads
Let your leads market to you; follow them on social media, follow their blogs, subscribe to their newsletter. At New Breed we have great customers who have a lot to offer, but in order for us to tailor our services specifically to meet their needs we want to get to know them and build a lasting relationship. Besides developing a face-to-face contact, we get familiar with their website and their existing offers.
Getting to know their website, social networks and current premium content offers is a great sales technique. The way they address their customer or clientele can give you an idea of how they would like to be addressed. Are they casual, opening emails with "Hi Friends!" or do they have a more professional greeting?
Social media and blogs can give you an idea of other interests they might have. Maybe there's another way your product would be valuable to them that you haven't even thought of yet or maybe they "like" a business that is currently using your software. If that software is working for a business they're connected to this can act as a case study. Being a successful inbound sales means creative thinking and SMART goals, start thinking in ways that are not always obvious to deliver the results your customers have always dreamed of.
Knowing the financial status of your lead is also important. You are, after all, asking them to invest in your product or service. It would be good to know right away if your offers are within their budget. Track the success of their brand and ask yourself the following questions 1) Did they just branch out into a new market? 2) Did a deal recently fall through? - This can give you an idea of what kind of revenue the company is bringing in and when and if you should try to sell to them.
Make sure you are targeting the right leads. Do your research and find out if your product is the right fit for them. Being honest with yourself and with your lead from the beginning will save both of you time and money. Businesses will appreciate this honesty. Who knows, maybe you'll come up in conversation when they are working with another business that does need your product. If you have gained their trust with this initial interaction they are more likely to recommend you to others.
Why it can be difficult to close a B2B sale
There are many different reasons why your potential customer can object to a sale, a few of the reasons include
Budget
Authority
Need
Timeframe
Budget: Many (if not all) of your potential customers will be focused on their budget during the sales process. The important thing to do when your potential customer is concerned with their budget is to not get discouraged. Instead, find out why your potential customer isn't happy with your price. Is it a "sticker shock"? Try explaining your product in-depth, focusing on every benefit to the price and positioning it more for it's worth than the actual listed price.
If it's a value concern, identify the ways in which your product will save them money and drive measurable end-results. Regardless if it's in the long-run or if it's immediate, if your product and service is tailored to their success you will drive results.
One last thing, don't feel obligated to issue a discount. Discounts decrease your product or services value. If you're promoting your product or service then you should stand by it's worth. You're a business that is trying to make money too and ultimately, if you start issuing discounts, your customers will come to expect it down the road.
Authority: Find out who the decision maker is in the B2B sale. If it isn't your point-of-communication find out who it is. This is ultimately the person you need to be communicating with when it comes down to a sale so you can address any concerns they may have and ultimately close that lead into a customer.
Need: During the B2B sale you may come across someone who unsure of your product or service. This also may circle back to the budget and they could go for a more basic product/service package. This is the time when case studies can be very valuable assets to the closing of your sale. Share facts, data and testimonials - this will prove that what you offer truly does work. But remember, no one enjoys a "pushy" salesperson, so respect your customer when they say they're interested in the basic package over the deluxe service.
Timeframe: Maybe your potential customer feels they only need one part of your product or service and are looking to consider your other offers down the road. According to Inbound Methodology you have already attracted these strangers to your business, which then converted into leads as they gained interest in your company and now have become loyal customers.
Since you have already come so far, you don't want to wait until they forget about you and all you have to offer. There is no better time for them to buy from you then the present and it's your job to make them see this. Since you have done your research and have a better understanding of their business then you are familiar with projects that they have on the horizon - and your product or service can help them to increase their success!
How do you plan on implementing these sales tactics into your B2B strategy?
[Image Source: Shutterstock]
Korey is a former New Breeder.
Connect with the author