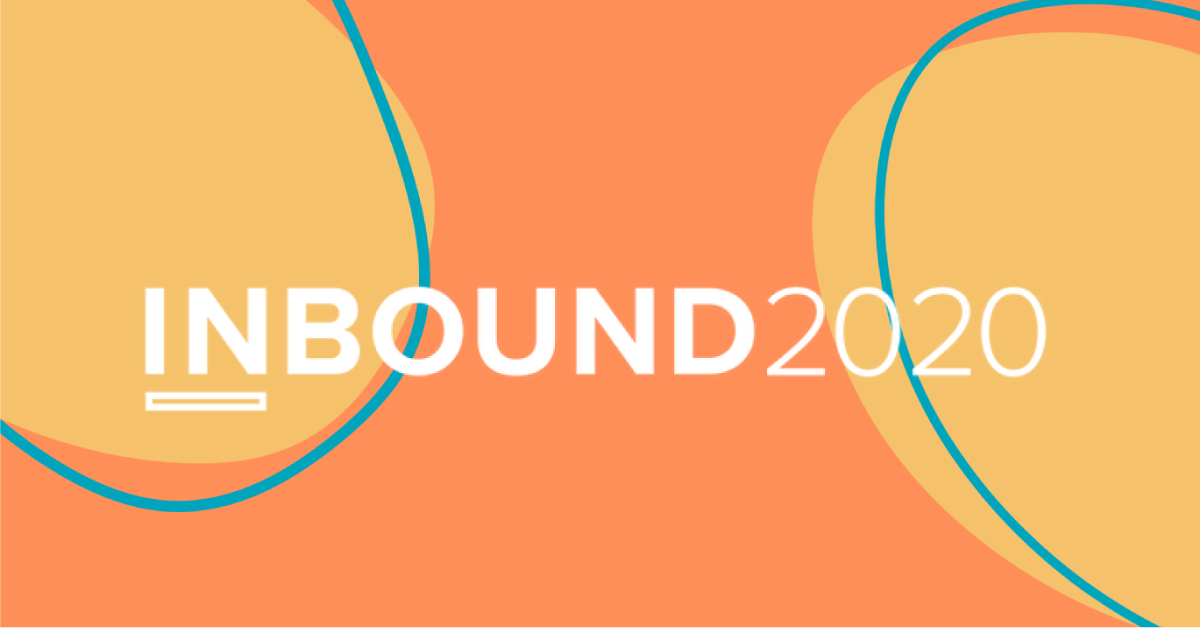 Every year thousands of professionals from fields ranging from marketing to sales to HR to finance gather together to learn from and network with peers at HubSpot's INBOUND event. This year is no different, but instead of the event taking place in person in Boston, it's happening online.
On September 22 and 23, INBOUND attendees will be able to view and participate in a variety of educational, inspirational and networking sessions with an interactive digital experience.
"[Attendees] are drawn to the event because they're looking for education, inspiration and connection with others," says INBOUND Senior Marketing Manager Courtney Dagher. "I think we can all agree that now more than ever the ethos of INBOUND is something that is really important. We're looking at this year's online event as being an unprecedented opportunity to inspire, educate and connect people all over the world."
INBOUND will be an entirely custom experience developed by leaders in the remote event space. Moving the event online due to global events forced the INBOUND team to think not just how to create a great digital experience for this year, but also how online aspects can be incorporated into the INBOUND experience moving forward.
"At this point, INBOUND has been running for almost a decade," Courtney says. "We know how to do really great in-person events. This whole process of moving online was a really interesting experience, but I think a really good one because it forced everyone to re-imagine what could be and what we could put out into the world and what intentionally expanding into this space could look like for the brand long-term."
Sessions at INBOUND 2020
While attendees will recognize some of the content types from previous years, with the event being an entirely digital experience how those sessions are presented needed to change.
"Moving to the online experience, we realized we couldn't take the same approach because what works really well for us in person does not necessarily mean it'll work in the same way online," Courtney says.
For example, many of this year's sessions will be a combination of pre-recorded and live content. Some of the session types you can attend this year include Spotlights, Education Sessions, Ask Me Anythings, HubSpot Case Studies and Meetups.
Spotlights
Spotlight sessions feature big names giving inspirational addresses. They're 30 minutes long and will be a mix of live and pre-recorded.
"We bring people intentionally together who have a message that's really one that is valuable to our attendee base," Courtney says. "Our content is all things that we curate because it's helpful, it's inspirational and it's providing some useful learning to attendees."
Some of this year's Spotlight speakers include CNN Host Van Jones, #BlackLivesMatter Co-Creator Alicia Garza, Disney Executive Chairman Bob Iger, AWS Vice President Sandy Carter and Adobe Chief Product Officer Scott Belsky
Education sessions
Education sessions are the cornerstone of INBOUND. They help attendees expand their knowledge of marketing, sales and customer success topics and provide actionable insights viewers can implement into their day-to-day work.
These will be 30-minute pre-recorded lessons followed by 25-min live Q&A.
"The key for attendees is that they'll be able to see a professionally produced video where they're learning a specific skill or about a new trend, but then they'll also immediately after be able to go live with the speaker, and they'll be able to ask your questions and see reactions from other attendees," Courtney says.
Ask Me Anythings
Ask Me Anythings offer an opportunity to get your questions answered by industry experts. These are live 30-minute Q&As covering topics ranging from SEO to sales strategy to branding to A/B testing.
HubSpot Case Studies
HubSpot Case Studies focus on HubSpot's products and philosophy of doing business.
"Those will be fully live sessions where HubSpot Academy professors will work through a very specific HubSpot-product based problem with attendees and really dig into how to best use the different products," Courtney says.
Each session will be one hour, and while most of these sessions are hosted by HubSpot Academy professors, New Breed's Head of Demand Generation, Guido Bartolacci, will be hosting one of these about revenue attribution reports as well.
Audio-only content
In between the live sessions and on-demand video talks, INBOUND attendees can take a break from screen-time with audio-only content.
"With moving online, we realized that staring at your computer for two days straight isn't something everyone can do, either it's overwhelming or maybe you have to make dinner or want to take a break and have a cup of coffee," Courtney says. "So, we've actually developed a lot of audio-based content that is intended for people to listen and be inspired by and learn from that content, but you're able to get away from your computer screen."
These sessions include guided reflections, inspirational content focused on key topics like entrepreneurship and leadership during a crisis and special INBOUND episodes from all the podcasts INBOUND has partnered with for the event.
On-demand content library
In addition to the live content being presented in real-time over the two days of INBOUND, after the event most sessions will be available on-demand. This gives attendees more flexibility with how they want to consume content and provides the ability to view more sessions than you could in person.
The on-demand content library will also include recordings from the live sessions and Q&As after they're over so if you can't attend something, you'll be able to watch it later.
"For anything you may have missed live or weren't able to get to yet, you're able to watch that for the rest of the year leading up to INBOUND 2021," Courtney says. "From a FOMO perspective, this event is great because you actually can theoretically attend everything. You can spend the rest of your year checking back in and consuming all of the content on the INBOUND platform."
Meetup sessions
INBOUND is about more than just learning, and the networking opportunities aren't going away just because the event is happening digitally.
"[Meetups] are a really nice way to dip your toe into the connection part where you're getting to meet people in that small group video-based setting," Courtney says.
Meetups consist of 45-minute video-based networking sessions where participants will be randomly sorted into small groups for five-minute conversations and then be re-shuffled and paired with a new group.
"The meetups themselves range from things that are activity-based like trivia where you can be working on trivia questions and making some new friends that way or they can be more business-issue based," Courtney says.
For example, some of the scheduled meetups include business-focused sessions for startup and scaleup leaders or video marketers. Others are for affinity groups like Out@INBOUND or for women of color to discuss their professional growth.
How to Prepare for INBOUND
Even without having to deal with travel logistics and navigating a conference center, there's still preparation needed to ensure you maximize your INBOUND experience. Here's what you need to do before the event starts on September 22.
Get your pass
There are two types of passes this year, the Starter Pass and the Powerhouse Pass.
The Starter Pass is free and allows the pass holder to attend Spotlight sessions, listen to audio-only content and attend some of the networking activities.
The Starter Pass is great for people who want to see talks by the big-name speakers and get an idea of what INBOUND is all about. However, those pass holders won't be able to access the majority of the educational content.
The paid Powerhouse Pass gives attendees access to all of the sessions and activities during INBOUND and the ability to view everything in the on-demand content library until INBOUND 2021. The price for the Powerhouse Pass ranges based on what tier you get. There's a limited number of passes available in each tier, so the more tickets that are sold, the more expensive they become.
You can register for both passes on INBOUND's website.
Plan which live sessions you want to attend
Since the sessions aren't happening in physical locations with size restrictions, most will have unlimited capacity. That means you don't need to worry as much about pre-registering for sessions as you have in previous years.
However, some of the more participation-based Deep Dives will have restricted capacity. An email will go to registered attendees a couple weeks in advance of the event so they can save a spot. Signing up for those sessions is on a first-come-first-serve basis.
The agenda for INBOUND came out on August 11, so you can start to decide now which Deep Dives you want to try and register for and which live sessions you want to see and participate in in real-time.
While you will be able to view recordings after the fact if you have the Powerhouse pass, you won't be able to participate in Q&As. So, if you have questions you want to ask speakers or networking sessions you want to attend, it's a good idea to start blocking off your calendar now for the two days of INBOUND.
Follow INBOUND on social
The closer we get to INBOUND, the more information is being released. To ensure you're in the know and to start connecting with other attendees, follow INBOUND on Instagram, Twitter and LinkedIn and join the INBOUND 2020 Community Facebook group.
The Takeaway
While INBOUND won't be happening in person in Boston for the first time since it was created in 2011, it's still offering plenty of educational and networking opportunities for professionals worldwide.
The INBOUND team has worked hard to not just adapt to an online environment but to create an event that pushed the boundaries of what digital events can offer.
"I'm excited for all our attendees to get to connect with people around the world," Courtney says. "I think that is something that is invaluable this year. We have an amazing opportunity for more people than ever before to join INBOUND and really connect both with our content and with each other."
Quinn is a writer and copyeditor whose work ranges from journalism to travel writing to inbound marketing content.