Attract more quality traffic with these 15 Best Practices for Business Blogging
Our guide will walk you through the steps to take when building a business blog that drives competitive results. Learn how to align your content with your audience to effectively engage your readers, use your blog for lead generation and to build a strong online presence, and create a process to stay frequent and consistent with your content.
Download Now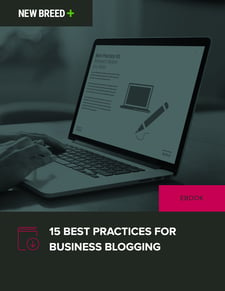 Did you know that businesses that blog generate 55% more website visitors, 97% more inbound links, and have 434% more indexed pages than companies that don't blog? It turns out, business blogging is a great way to generate qualified traffic to your website and fill the top of your sales funnel.
But blogs aren't just about generating quality traffic. Blogs can also help convert those visitors into leads and even close those leads into customers. HubSpot found that 57% of companies that publish a business blog acquire a customer through a blog-generated lead – a business that blogs at least 20 times a month generates nearly 4 times more leads than those that don't blog.
To download, fill out the form!