Download: The Complete Guide to Inbound Sales
Today's consumers are flush with choices and more informed than ever before. The age of the customer has arrived — and your sales strategy better keep pace.
Download the Guide
Today, B2B buyers complete 90 percent of their buyer's journey before ever speaking to a salesperson.
To accommodate this fundamental buying shift, your sales strategy should focus on helping, rather than closing, prospects. Interested in learning how implementing an inbound sales approach will drive revenue, streamline your sales cycle and nurture happier customers? Look no further.
In this guide you'll learn: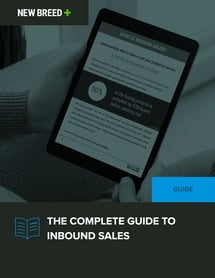 The strategy behind inbound sales
How to create marketing and sales service-level agreements (SLAs)
How to structure and align your marketing and sales teams to increase revenue
Inbound sales tools and hacks to streamline your sales pipeline and improve your win rate
To get your guide to inbound sales, simply fill out the form to the right.