Jumpstart your lead generation efforts with these 30 tips and tricks for your business
Generating leads — both high in quantity and quality — is a marketer's most important objective. A successful lead generation engine is what keeps the funnel full of sales prospects while you sleep.
Download Now
Generating leads can be difficult, but it is a marketer's single most important objective. Only 1 in 10 marketers say their lead generation efforts are highly efficient and effective. Our lead generation guide will help you develop useful skills to attract more people to your business in a unique way.
Check out these proven, yet often overlooked, lead generation strategies, including: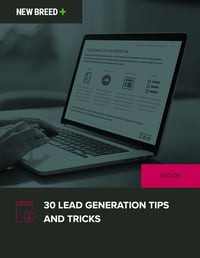 What makes the best lead-generation content
What drives killer landing page performance
How to create offers that are impossible to ignore
Secret website optimization tips with A/B testing
There can be a lot of moving parts in any lead generation campaign and often times it's difficult to know which parts need fine-tuning.
In this guide, we break down the top 30 techniques marketers should utilize to increase leads and revenue. These tactics have been tested over the past 7 years and have been used by 8,000+ companies to generate more than 9.8 million leads.
To get your free guide, fill out the form to the right!
"
New Breed has quickly proven themselves to be the partner we've been looking for. Extremely organized, quick to respond, creative, and accessible, so far things have been very smooth sailing. We're utilizing them as an extension of our demand gen, content and website teams. We spent the better part of 6 months looking for the right agency to help us and couldn't be happier with our decision.
"