Download: Guide to Switching from Pardot to Hubspot
Marketing automation can be incredibly complex. But with the right tools, you can create and execute an automation strategy that helps you meet your demand generation and nurturing goals. Of course, your automation platform choice is crucial to both ease of execution and measuring your success.
Download Now
Though each automation platform option has its own benefits and purposes, HubSpot is the #1 choice among marketers, according to G2Crowd.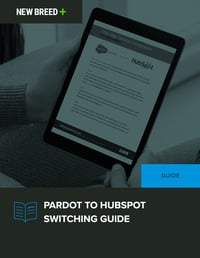 Our team of Inbound strategists have helped numerous companies successfully make the switch to HubSpot. Today, many companies are looking for an all-in-one solution, instead of an email-centric tool. And that's why we're ready to show you how you, too, can switch from Pardot to HubSpot without the hassle you might expect.
In this guide, you'll learn:
The differences between HubSpot and Pardot
How to make the switch go smoothly at your organization
What you need to know before switching
...and much more!
To download the guide, complete the form.