Break down barriers between your teams with our Guide to Marketing and Sales Alignment
Learn best practices for aligning your teams and driving better marketing and sales results.
Download Now
Aligning your marketing and sales teams helps you produce better results and work toward common goals like revenue. Following this guide will help you prevent your teams from operating in silos and start working toward operational efficiency across your organization.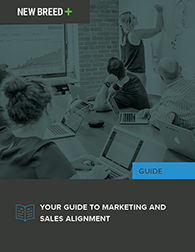 Our guide will help you:
Align your marketing and sales teams through six easy steps

Increase the return on your marketing investment

Understand the marketing and sales formula and mapping it to your sales funnel
To download your guide, fill out the form!
"
New Breed is the first agency we've come across that shows a genuine interest in empowering their clients to build a proactive, rather than reactive, marketing organization. Their expertise has enabled us to refine every aspect of our inbound approach, from SEO to Salesforce integration. Most importantly, they're the rare breed of agency capable of helping clients check off that crucial last step in the inbound methodology, 'Delight.'
"