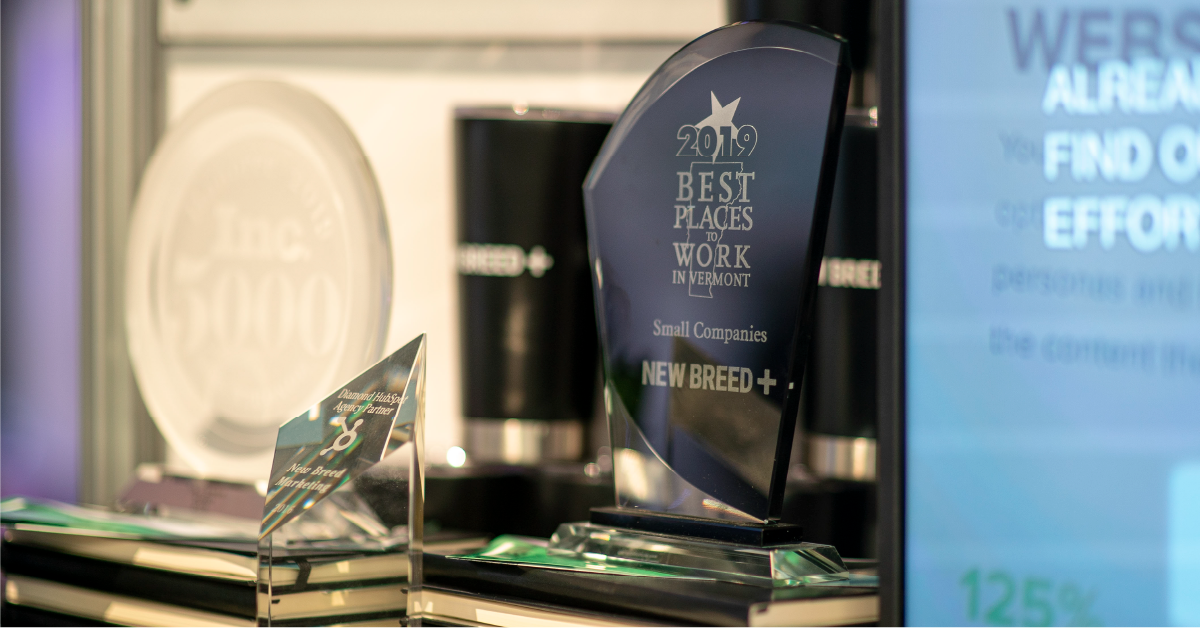 User-generated content (UGC) is created when customers promote your company without being paid to do so. It's a form of word-of-mouth marketing, and because it's created by customers of their own volition, it's inherently more trusted than the marketing campaigns your company runs.
However some companies have an easier time getting UGC than others. For example, an apparel company just needs their customers to wear their clothing in photos in order to get UGC, and that's something people do naturally. However, people tend not to post pictures of themselves using their favorite software at work, plus the benefits a user sees from a complex B2B solution can't really be summed up in a single picture.
But there are tactics B2B companies can use to encourage UGC, including award programs and certification courses.
Awards for Showing Off Your Product and Your Customers
Award programs are beneficial for both the companies that host them and the award recipients. The winners get credibility due to their work being recognized, and the award host gets testimonials and work examples created for them.
When award programs are designed to contribute toward the host business's goals, the submissions prove the value of their company and can be turned into sales enablement material.
Additionally, awards can indicate to companies who their brand advocates are. If someone is going to the effort of creating an award submission, they're probably a fan of that company and their product. Recognizing their engagement with your company and giving prizes to people who have seen a lot of success with your product or service can deepen your relationship even further.
Winners will also be incentivized to promote the award they won. It's a way for them to show off their strengths and brag about their success, and when they promote the award they won from a company, they're also promoting that company.
HubSpot's Impact Awards and Vidyard's Video in Business Awards are both examples of campaigns that generated marketing materials for those companies in addition to being promoted by winners on social media.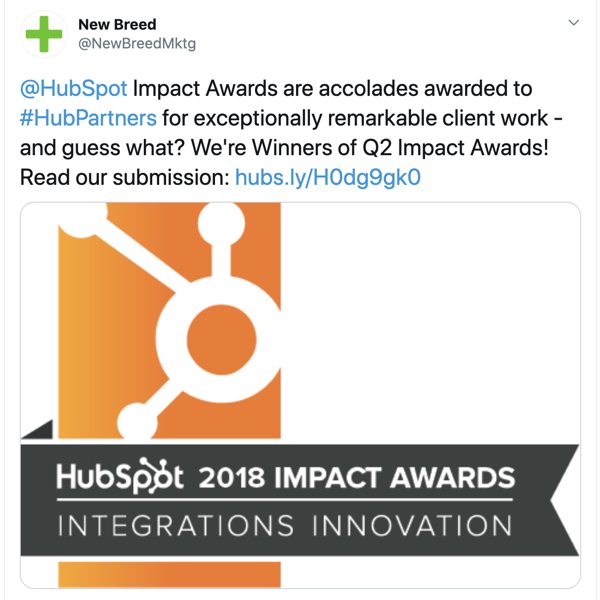 HubSpot's Impact Awards recognize their solutions partners who do a great job leveraging HubSpot to help their clients grow. There are numerous categories that span the scope of HubSpot's offering, and the scoring rubric specifically asks entries to describe how HubSpot's products were leveraged and contributed to the results. The end result is a written or video case study that explicitly describes how HubSpot can be used to drive success, and no one from HubSpot had to invest resources in analyzing data or interviewing end-users. HubSpot features the winners in a Hall of Fame, giving those companies the opportunity to gain qualified traffic based on their performance, and sends winners a PR kit to help winners promote their accomplishment. That promotion results in additional UGC for HubSpot.
Vidyard's Video in Business Awards recognizes innovative and impactful ways video can be used for marketing and sales. These awards help them address commonly held concerns about how impactful and measurable video actually is. While video is becoming an increasingly essential component of every marketing strategy, it does require a heavy investment and many marketers are hesitant to take the leap without knowing if it'll pay off.
Vidyard is able to take the submissions from the Video in Business Awards and turn them into video success stories that prove video works. In addition to writing a blog about all of the winners that could serve as a resource to prospects, Vidyard also turned award submissions into press releases to extend the reach of the materials even further.
Certifications to Increase Credibility and Build Communities
Certifications help people gain industry-relevant knowledge and prove their expertise, which can increase their personal credibility. It's common for certifications to be cited in résumés and displayed on LinkedIn, and when that happens, those people are also promoting your company. When people display certifications from your company, they're saying that your company has enough credibility in relation to that topic that your stamp of approval means something.
Additionally, certifications help your company produce more informed users. They can take the strain off your customer support team, and if they create a positive enough experience, they can lead to word-of-mouth promotion. Plus if your certification helps individuals further their career that can create long-lasting evangelists.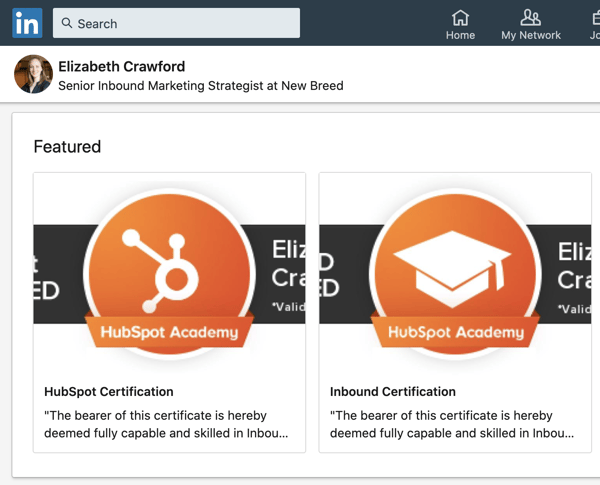 Certifications can also help you build a community around your brand. Everyone who has earned a certification has gone through the same experience and that can allow people to bond over your brand. Additionally, you can foster this even further by sending targeted exclusive content to people who've received certifications from your company.
For example, if your certification is focused around using your product, you could give early access to new features to customers who've been certified. If your certifications are focused around an ideology, you could host webinars or seminars that go further in-depth on the topic of your certification specifically for people who have completed the course. You could also create educational content just for them that builds upon what they learned during the certification process.
Google and Salesforce have both successfully leveraged certification programs around their software, and Drift and HubSpot have developed courses around the strategies their tools enable.
Users of Google Ads, Google Analytics and Google Marketing Platform can earn certifications for the different ways those tools can be leveraged in order to prove their expertise in the platform. These certifications are often used as a requirement for SEO and digital advertising related jobs, so these credentials are typically displayed on résumés and discussed at industry events. The same is true for Salesforce for its CRM and associated tools. Whenever people promote their expertise in any of these platforms, they're also promoting and endorsing the platform itself.
While HubSpot and Drift also have coursework to enable the use of their platforms, they focus their education programs more on the ideologies behind how their tools should be used. HubSpot Academy has courses covering topics including the inbound methodology, social media marketing, sales management and growth-driven design. Drift Insider offers certifications in conversational marketing and conversational selling.
By focusing on the ideas and strategies, they're promoting thought-leadership, so users can not only say they are experts in the tools, but they also have training in why to use those tools, which makes these certifications very attractive to share on social media.
How to Leverage Awards and Certifications for UGC at Your Company
If you're a smaller company that's still making a name for yourself in the market, then you might not have enough brand equity for a badge or certificate from your company to be enough of an incentive for people to seek out awards or certifications from you, but you can still use those tactics effectively.
If you want to incentivize your customers to create case studies about their use of your product in order to compete for an award, you could offer prizes. Money, discounts, equipment or even swag can make your customers want to put the effort in to compete even if the honor of winning doesn't mean anything.
For certifications, even if you're not at that stage where people will want to display their credentials from you on their LinkedIn or résumé, certifications can still be effective customer enablement. If creating certifications helps your prospects get better educated for a sales conversation and your customers better leverage your product or service, they're still valuable even if you have to wait a while until they result in UGC.
Quinn is a writer and copyeditor whose work ranges from journalism to travel writing to inbound marketing content.