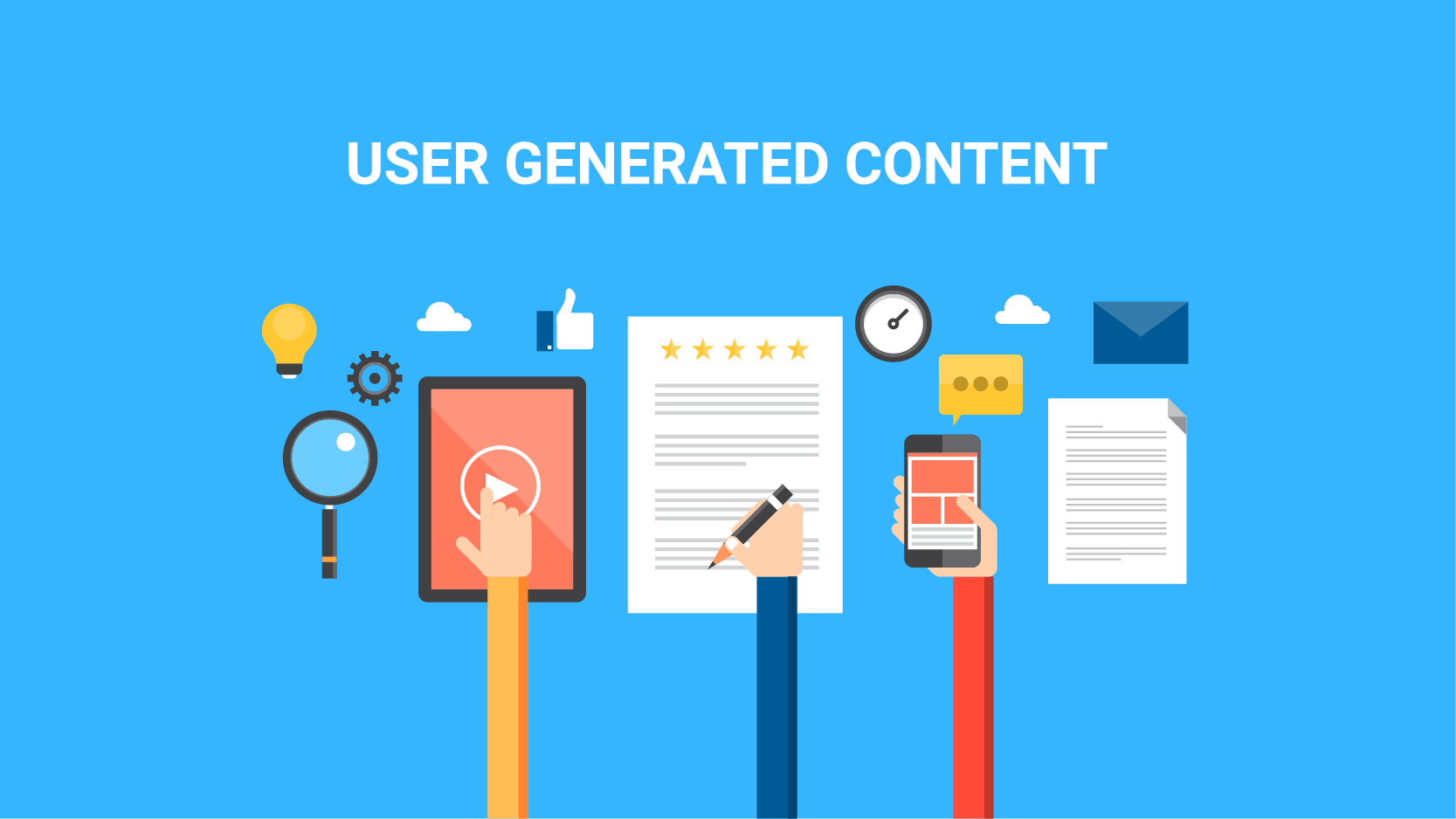 If you've ever watched Youtube video, interacted with a friend on Facebook or read a Wikipedia article, you've engaged with user-generated content. If you've shared a picture on Instagram, left a review on Amazon or wrote a blog about your life, you've created user-generated content.
"User-generated content is any piece of content that someone outside the company creates on behalf of the company itself," Guido Bartolacci, New Breed's Head of Demand Generation Marketing says. "Sometimes the company can help tell that story or get the story out there, but the story itself is coming from the user rather than the company."
Most content you see on the internet today that comes from individual people as opposed to brands is user-generated or user-created, and the concept of user-generated content isn't a new one.
Time Magazine named "You" as 2006's "Person of the Year" celebrating the individual creators of online content, describing the development of participatory culture as "an opportunity to build a new kind of international understanding, not politician to politician, great man to great man, but citizen to citizen, person to person."
User-generated content comes across as more authentic than marketing-generated content, which resonates more strongly with audiences. Because of that, companies like Disney have created campaigns around soliciting user-generated content to promote their brand.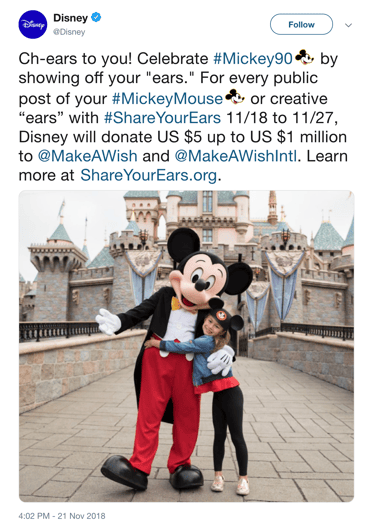 For example in 2018, Disney ran a #ShareYourEars campaign to celebrate 90 years of Mickey. To incentivize people to post their pictures, Disney donated $5 to Make-A-Wish for each publicly shared post, and they set up special photo ops in their parks and cruise ships to generate visitors.
The campaign resulted in a $3 million donation to Make-A-Wish, which reflects well on Disney's brand image, and hundreds of thousands of fan posts creating publicity for the brand.
User-generated content doesn't just benefit B2C companies. B2B companies can leverage it as well in their marketing efforts to generate leads, convert customers and increase ROI.
One of the most common forms of user-generated content for B2B marketers is roundup posts like New Breed's on 7 Examples of Strong Brand Positioning And Why They Work.
We like the brand positioning of the companies featured in the post so much that we wrote about them and why their brands are successful. We don't work at any of the companies featured, so the post is an example of user-generated content.
In addition to organically promoting a brand through the content itself, inclusion in roundup posts can contribute to a company's backlinking strategy.
However, user-generated content goes beyond earned media created by professionals in your field. It can come from your customers and fans as well.
4 Types of User-Generated Content Marketers Can Utilize
1. Reviews and Testimonials
Customer reviews can be created organically if a customer has had such a positive — or negative — experience that they're compelled to share it, but more often than not, companies will need to encourage their customers to leave reviews throughout their engagement or once it ends.
Interacting with reviews and testimonials can happen throughout the buying process, impacting whether a prospect wants to speak to your company to begin with or whether a lead converts to a customer.
"Most people are going to do a lot of shopping on their own before they ever end up talking to a company," Guido says. "If they can see that other people outside the company are providing reviews and feedback on why they liked the product and what benefits they're seeing from the product or service, it helps build trust to the person who's evaluating whatever they're looking at."
These reviews can be posted on review aggregator sites like Yelp, G2 Crowd or the HubSpot Partner Directory or directly on a company's website in the form of testimonials.
Testimonials can contribute to conversion paths and outside reviews can drive traffic to your website in addition to building credibility.
"The people that come from those review sites to our site convert at a much higher rate because they've already built up trust and reassurance in their head about New Breed prior to even seeing our content," Guido says.
2. Word-Of-Mouth Marketing
Word-of-mouth (WOM) predates digital marketing, but is still the most effective and most authentic form of marketing.
"It's the organic version of a review," Guido says. "That's great because whereas with a review, you're reading about somebody you may or may not know, and in most cases you don't know them, word-of-mouth is coming from someone you trust in your circle who's probably working on the exact same types of problems and solutions you have and has a better understanding of how this thing could benefit you."
WOM is also the form of marketing that marketers have the least influence on; all they can do to encourage it is to be awesome and keep customers happy. Provide great experience and deliver above and beyond the expectations you set.
Your competitors can provide a very similar value, but if your experience is better, you'll win customers in the end. To inspire WOM, create an experience people want to talk about at every step of the marketing, sales and service process.
3. Starting a Conversation Through Digital Interactions
The goal of marketing content is to drive audiences to take the next step and ultimately speak to sales and become a customer. That conversion path can take many forms, but if parts of it occur publicly in the comment section of a blog post, social media interactions or webinar question submissions, it becomes a form of user-generated content.
"Starting a conversation about a topic or just interacting with your users — if you think about it, that's the point of any blog post: to start some kind of engagement," Guido says. "That could be downloading an additional resource from you, submitting their email so you can send a follow-up, or it can be something social or on the blog post itself."
HubSpot asks questions and posts polls to start conversations with their customers on Twitter and will retweet posts from users. Their engagement with commenters lives up to the customer-centric values they espouse.
When interacting directly with users, authenticity matters. If you're posting from a brand account stay consistent with the brand's voice and tone, but if you're providing personalized support or feedback, signing an employee's name on the response helps audiences feel like they're talking with a real person.
"I think social and comments are where people tend to be a little more themselves than other forms of user-generated content," Guido says.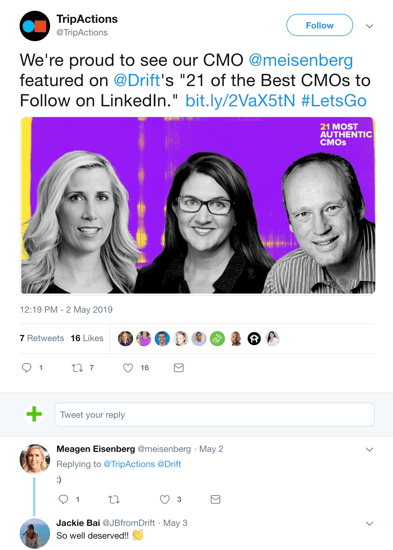 Drift takes this level of personal touch one step further by having employees comment from their own accounts instead of from the brand account.
For example, Drift retweeted TripActions post about their CMO being featured in a Drift blog post, and one of their social media specialists responded from a personal account to the comment instead of using Drift's brand account.
4. Case Studies
While case studies are typically written and created by the company, the content itself is still user-generated. The story the case study tells is user-generated because the experiences belong to the user even though the narrative is created by the company.
It's just like how in museums artwork is created by artists but presented in an exhibit by curators. The artwork is the content and the curator creates the narrative for how that content is experienced even though they didn't create the original content.
Case studies are effective forms of user-generated content because they show how your product or service has been used by other people. This provides a more concrete understanding of your offer and adds to your credibility by proving your offer's success.
You can use portfolios to create a similar impact by showing examples of different ways users leveraged your product.
The Takeaway
User-generated content puts the customers front and center.
"People trust their social groups more than they trust marketers," Guido says. "People are going to have a bias toward thinking your content is self-serving whereas user-generated content is not."
Leveraging user-generated content will help audiences connect with your brand to better understand who you are and what value you provide. It can also stimulate the growth of communities centered around your brand.
"It's not the business and the customers as two separate entities, it's this entire group of people working together to solve a common challenge," Guido says.
In addition to being good for your brand, user-generated content is great for your bottom line. Unless you're incentivizing the creation of user-generated content, you're not paying for it, and it has a high ROI due to the inherent authenticity and credibility.
Quinn is a writer and copyeditor whose work ranges from journalism to travel writing to inbound marketing content.