We've said it before, and we'll say it again — chatbots are a great way to engage with your prospects while still gathering data. They provide an easier way for a prospect to interact with the content you've been producing and take a more direct, conversational approach. Getting started with a chatbot may seem daunting, but all you need to do is capture your brand in a few key phrases dedicated to guiding the user experience.
Here are six must-have playbooks you should be running in Drift:
1. Conversation Starter Bot
A conversation starter bot is a playbook dedicated to striking up an initial conversation and captivating first-time site visitors. This playbook should hit on a pain point that you solve for prospects when they come to your website and should focus on why a prospect is on your site. Rather than asking a prospect a vague question like "How can I help today?" try to focus your efforts on providing value to site visitors.
For example, a big part of what we do at New Breed is help our customers with HubSpot. So, it's fitting that our conversation starting playbook is dedicated to that pain point. You should place this bot on a high traffic page, which will likely be either your home page or a solutions page.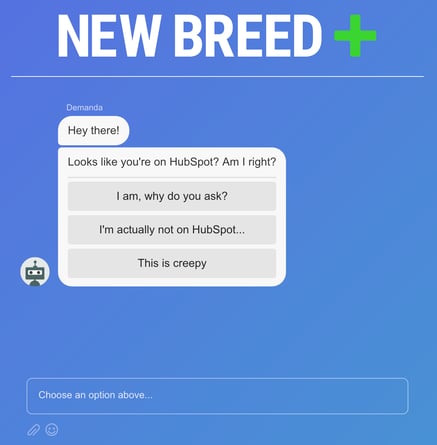 2. Second Net Bot
This playbook comes into play when you place a bot on a page that has an existing form. Because the bot widget itself is so small, it won't actually interfere with the form, but can simplify the form should someone need it by offering help and context. This can look like filling out the form via chatbot, offering assistance for a particular form capture field or directing a prospect to another page that may be more relevant to their interests. This bot acts like a 'second net' to capture prospects deterred by the friction the form poses.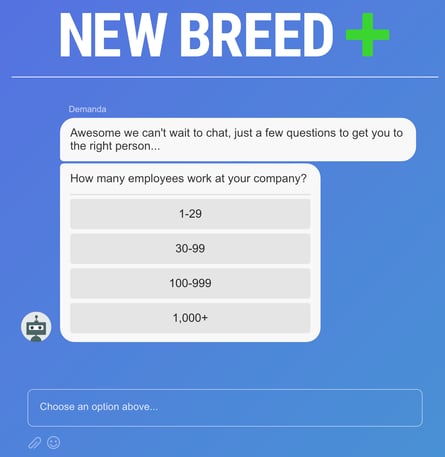 3. "How Can I Help?" Bot
A "how can I help?" playbook can be tricky to create without falling into a void of vagueness. But, if you place this playbook strategically, it can prove to be very successful.
We suggest implementing this playbook on listing pages, like a blog listing, case studies page or resource center. By placing a "how can I help?" playbook on these pages, you can help direct your audience to the right page or piece of content they're looking for while collecting data on what content your audience is seeking out.
4. Welcome Back Bot
This playbook provides a great opportunity to continue engaging with returning prospects. Recognizing the fact that a prospect has been on your site multiple times means you have a greater opportunity to direct them to specific, relevant information and guide their experience on your site.
For example, you could say something along the lines of "Hey there! I saw that you've downloaded [a piece of content they've engaged with] — Would you be interested in checking out [this piece of content] too? Here's the link! [link]." By doing this, you're providing your prospects a personalized, contextually relevant experience on your site.
5. Account-Based Marketing (ABM) Playbook
Developing a playbook that is dedicated to target accounts can change your interactions with them tenfold. This playbook provides an opportunity to engage with your target accounts in a very specific way, rolling out the red carpet every time they visit your website.
A customized playbook for each targeted company is a great way to break into an account and get them started with your services.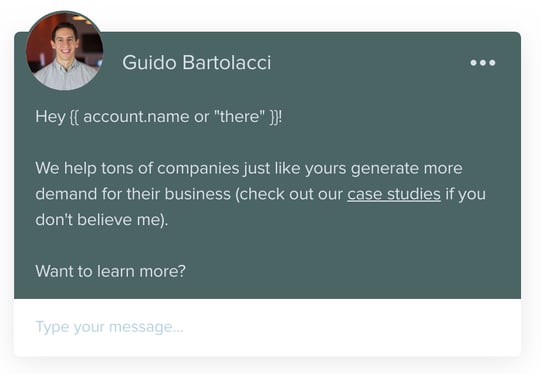 6. Pricing Page
B2B Pricing models are inherently difficult to convey clearly and concisely, so having a chatbot in place to help people understand what they're looking at will be incredibly helpful. You'll be able to answer your prospects questions and engage with them in real time or connect them with a live person who can simplify the pricing page for them by providing more context about features and packages that are most relevant for their needs.
Key Takeaway
Your conversation starter playbook will serve as a foundation you can use to continue building out more bots and optimizing the ones you have in place.
Once you have a few bots in place, circle back to take a look at what content your prospects are seeking out and how they're engaging with it. Lastly, have some fun with your playbooks! Toss in some emojis, add a pun or two and keep the conversation fresh to encourage your prospects to come back soon.
Guido is Head of Product and Growth Strategy for New Breed. He specializes in running in-depth demand generation programs internally while assisting account managers in running them for our clients.