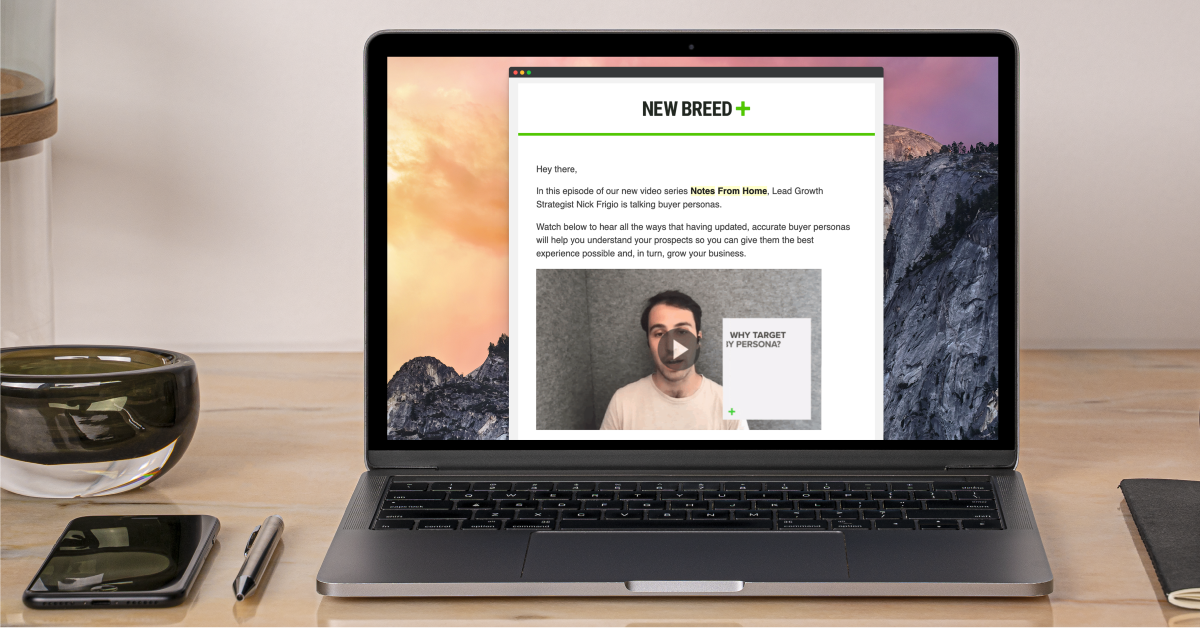 Email campaigns remain one of the best ways to communicate with a B2B audience. However, the extent of the success of any email marketing strategy hinges on the quality of the content that you deliver to said audience!
Nobody wants to receive emails that are all promotional without providing anything of real value. And even in a B2B environment, it's important to remember that on the other side of all emails is an actual person that will only pay attention to those emails that are either useful or entertaining for them.
Luckily for you, videos are the perfect mixture of 'useful' and 'entertaining'!
Through videos, you can boost the effectiveness of your campaigns, offering content that delivers information creatively and effectively. But videos without a strategy behind them are a dead-end.
In this piece, we'll discuss how to improve your email campaigns using an appropriate video marketing strategy!
Video Makes Your Emails Stand Out
Let's face it — today, every company newsletter looks basically the same. This lack of creativity is the reason why people tend to ignore the hundreds of emails they receive each week and also why they might end up unsubscribing.
For this reason, having email campaigns with engaging content is critical. Including video content in email marketing is a way to effectively communicate any topic pleasantly, as this is a medium that people love to consume online!
People love video content. Not only because it makes any message easier to understand, but also because it takes less time to consume more information. Only including pictures and a text description just doesn't work that well anymore.
The online world has changed, and it has evolved towards video.
On newsletters, the power of video is tangible: Just including the word "video" in the email subject line can increase open rates up to 19%. It's also a great way to take potential customers out of their inboxes and to the company's website, as using video on emails can increase click-through rates up to 300%!
Best Practices to Follow
There are many different ways in which you can combine video content and emails, but some of them perform better than others. Let's take a look at some of the best practices.
Embedding vs. Linking
Embedding seems to be the most common way to use videos online. If this was a website, then that's the way you should go! But as you probably already know, email is a world in itself, and unless they have HTML5 compatibility, most email platforms do not support embedded videos inside of emails.
The best way to include videos inside of an email is to design a thumbnail that represents the video and link it to your company's website or directly to YouTube or Vimeo. It might seem like a handicap at first. Still, it's actually very useful for you — taking your audience to your website (or YouTube account) means that you'll get detailed viewer data (demographic info of the users, view counts for the video, etc.).
Choosing the Right Thumbnail
In order to link people to the video, you'll need to create an attractive thumbnail for them to click on through. It should be a small picture related to your video — like a screenshot of the best part of it — but it should mimic a video player. That way, people will know at a glance that they're about to watch a video! Just adding a "play" button on top of the image will be enough.
For extra engagement, you could use a short gif instead of a static image. That reinforces the idea of the video even more! Be careful, though, as gifs tend to be large files, and including images or gifs that are larger than 2.7 MB might trigger some spam filters.
Make Videos that Further People Down Your Sales Funnel
Create pieces that point your audience to a certain action to encourage them to keep moving forward down your sales funnel. For this, make sure that your videos are short and sweet: people online have limited attention spans! So keeping your videos around the 90-second mark is more than enough.
It's also smart to produce videos that make your audience feel something, appealing to emotions instead of just promotional content. By entertaining your audience and making them feel positive emotions while they're watching the video, you'll be able to establish a connection between them and your brand!
What Type of Video Works Better for Emails?
There are lots of different types of videos that you can use in email campaigns, but some perform better than others. These are some ideas:
Explainer videos
Full disclosure: You've probably already heard of explainers as they are the favorite tool of online marketers right now. Well, there's a reason behind it — they actually work.
Explainer videos are pieces that explain what your company does, the problem it solves and the value proposition of your product/service. The twist is that it uses animation and storytelling for that!
Here's the formula that most explainer video production companies use: they present the problem (usually by telling the story of a character who's struggling in some way, and that your audience can feel identified with). Then, they present a product as a viable solution to this problem. After that, the video closes by showing why your company is the best one to provide this solution.
The reason behind the formula's popularity? It works like a charm! And, it pairs particularly well with B2B email strategies.
Customer testimonials
If you're looking to increase the credibility and trust that your potential customers have in your product, then customer testimonials will be a great addition to your email campaigns. Testimonials show people — real customers of your brand — telling their success stories about using your product.
It's simple: people trust people. Especially if these people are in a similar position to them or if they can feel identified and validated by their stories. The goal is to move the spotlight from your product or service for a second and to move it to the people that it's benefiting.
Product videos
Product Videos are all about the product. They highlight the characteristics and benefits of the product or service, showing its key features in relation to its user.
Product videos are great to show off the features of services as well, especially when they're digital software. In this case, videos can mix animated bits with screen recordings of the product, showing exactly what their main features are all about, and boosting its effectivity!
And remember, this is by no means a comprehensive list! These types of videos tend to perform really well when paired with email, but a B2B-oriented strategy can also benefit from business intro videos, tutorials and commercials with the right spin!
In Summary
Videos are here to improve your email campaigns by offering content that brings real value to your readers. But just any video won't really do the trick: you need to make sure that the quality of your audiovisual pieces is up to the standard of the rest of your company communications.
Don't you forget that in the eyes of your potential customers, the quality of marketing content — in this case, your emails and your videos — equals the quality of the service or the product that you're selling. This is why video production shouldn't be taken lightly!
And if you're not sure of which video to produce, remember that you can use more than one — they can boost different stages of your buyer's journey! As these videos serve to different marketing goals, you can mix and match different types of videos and send them to your customers when they're in different stages of the funnel.
Victor Blasco's an audiovisual designer, video marketing expert and founder/CEO of the explainer video company Yum Yum Videos. Besides running the business, he's a lifelong student of Chinese philosophy and a passionate geek for all things sci-fi.