Gamification has become a staple of B2C content marketing, so why aren't B2B marketers taking full advantage of one of the most effective ways to convert customers? If you aren't already seeing conversions with interactive content like quizzes, this guide will show you how.
We know that interactive content = increased conversions:
70% of marketers say that interactive content is effective at converting site visitors (Ion Interactive)
93% of marketers agreed that interactive content is effective in educating its buyers (Ion Interactive)
Interactive content converts two times more than passive content (Kapost)
When B2B feels like B2C
The B2B sales lifecycle is typically longer than B2C sales, but this doesn't mean that you can't have fun whilst pushing your contacts down the funnel. Gamification shouldn't be confined to a consumer audience: we all enjoy interactive content, whether that's with your professional hat on or learning what Harry Potter character you are on Buzzfeed. B2B decision-makers — they're just like us!
The benefit of an interactive quiz is the ability to both identify quality leads and seamlessly capture data that will help you along the way.
Step 1: Plan it Out
Every good project starts with a clear idea of what you want to achieve. Quizzes can be a great way of helping people identify which of your products or services is right for them or just point them to a great piece of content to help them in their decision-making process.
Quizzes are especially effective for those trying product-led growth marketing. Use the quiz to understand prospective buyers' challenges and offer the right solution for them.
For example, your quiz could be called "How much do you know about cloud risk assessment?", which could include a CTA (call-to-action) to download your recent whitepaper on the same subject, followed by a free trial of your risk assessment solution. By following up with a special offer or trial, you're providing an easy path for quality leads to convert.
Pick a niche area that relates to your offering and will appeal to a specific audience you are trying to target. For example, If you want to attract a content marketer, consider a 'What is your brand voice style?' quiz, ending with a CTA to watch your latest video on creating an effective brand voice.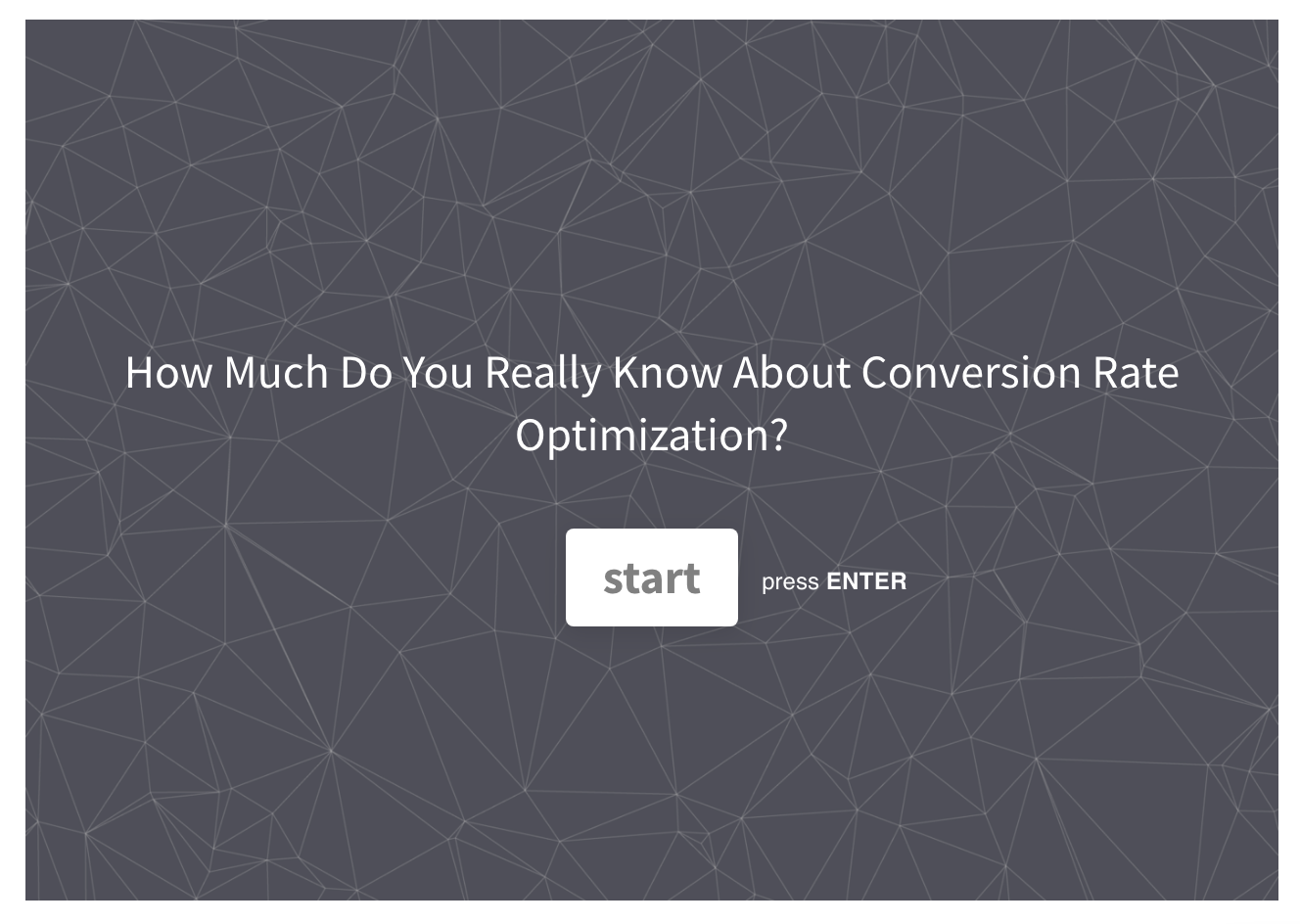 (https://www.typeform.com/blog/inspiration/sales-funnel/)
Step 2: Creating Your Quiz
Here are the elements you'll need to create a lead generation quiz:
Catchy title and description
There are a number of standard formats for quiz titles that work well, for example, "What kind of blank are you?".
There's a reason that turning the focus on your quiz taker works: people love finding out more about themselves. A report showed that 77% of Playbuzz's most popular social media quizzes (with over 100,000 shares) are personality quizzes.
Another format that we frequently see is "How much do you know about blank?". Of course, we want to believe we know everything about our specialist subject, and if not, we want to be shown where the gaps are!
If your compelling title isn't quite enough to convince someone to take your quiz, a strong description can help persuade them. The description should be no more than a couple of sentences and should quickly establish the topic of the quiz and what you are planning to inform the audience of.
Tip: Consider your audience carefully. Your title should be attention-grabbing and should specifically target your potential leads. Having a good understanding of your buyer's challenges is going to help you write a quiz that converts.
Outcomes and questions
Start with your outcomes and work backward. This is the final result and should include what you hope people will take away from the quiz. It's your opportunity to provide valuable information to your potential customers, so how can you make those outcomes as effective as possible?
Tip: Avoid including a lot of written content and ask no more than 10 questions. The more specific the better, and don't go easy on the questions! In a B2B setting, people will want to have their knowledge challenged.
How to actually convert those leads
There are a couple of ways you can convert leads, but perhaps the most effective is by putting a data capture slide within the quiz as a gate. This should include a way to capture at least name and email address, but you could also capture other information you would find useful when trying to convert and personalize your content, e.g. job title and company name.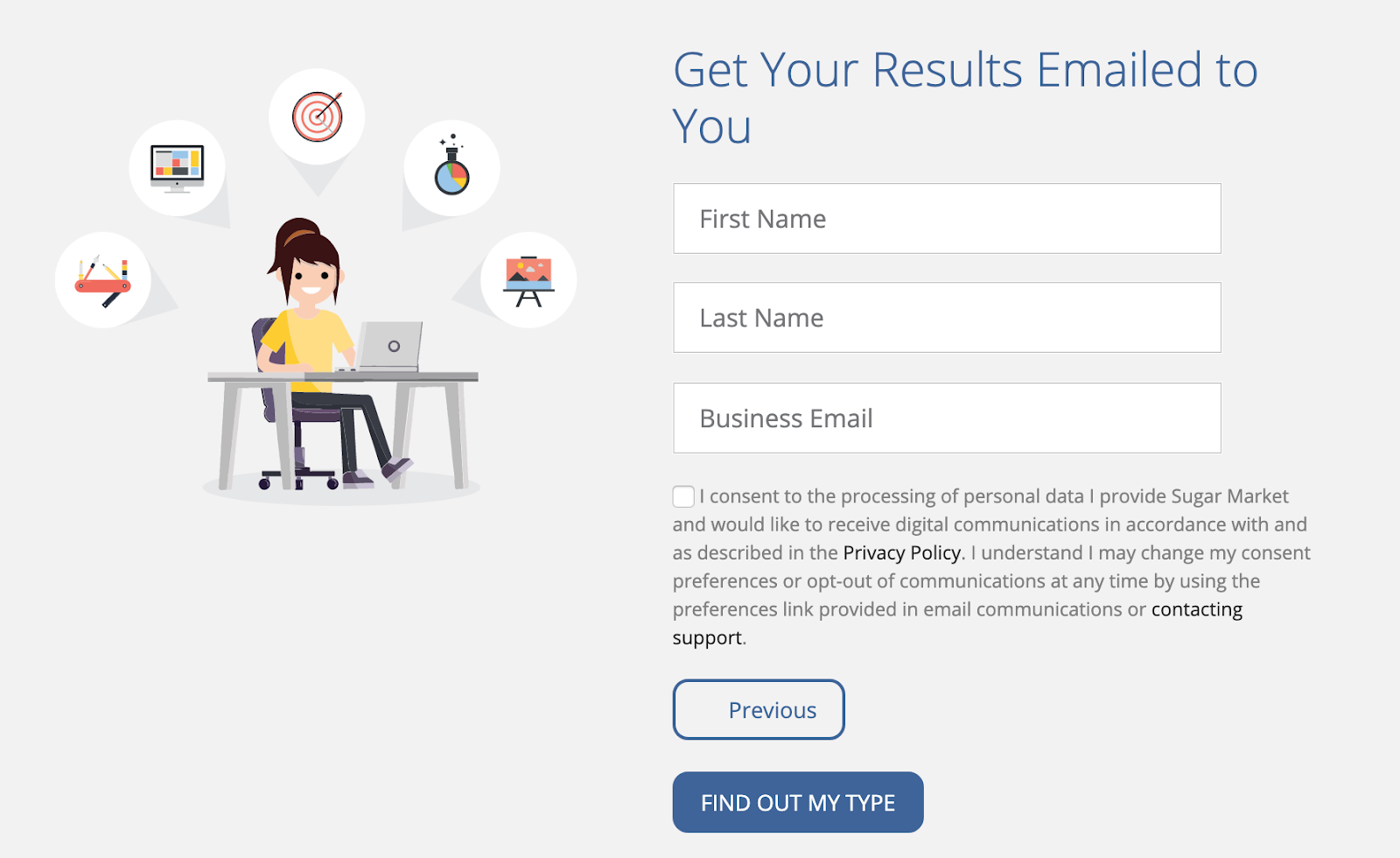 (https://www.salesfusion.com/marketer-type-quiz/)
Put this slide after the last question and before the results page. People have got this far and will want to finish the quiz and get their results (due to the sunk cost fallacy).
If this isn't working and you're finding people aren't finishing the quiz, then gate the content you use as a call-to-action.
Tip: Use the data capture to offer the quiz taker the chance to sign up for your newsletter. This allows you to keep them informed and updated with your business, especially if your purchasing lifecycle is typically on the longer end.
The results page
Your results page should include the outcome with an image, a few sentences on what the outcome means for the quiz taker and a clear call-to-action.
Tip: Make your business name and/or logo clear, so that if people choose to share their outcomes, it's visible.
Step 3: Getting Down to Quiz-ness
So, your quiz is up and running, and you are seeing great results, but how can you ensure it is as effective as possible for your lead campaign?
Get the most out of your data
There are quiz generator tools that integrate with your email platform or CRM to capture data and help your sales team identify quality leads. By compiling a list of quiz takers, as well as their outcome in your usual marketing platform, you are able to easily include these contacts in email campaigns.
You can use their 'outcome' of the quiz as a way to further personalize content. The next email you send is your chance to hook them in and push them further down the funnel — use all the information you've collected about them to personalize and engage.
Share the fun!
Quizzes are a very shareable content type. It's why they so easily go viral, so don't forget to promote your quiz wherever you can: newsletters, social media or even in your email footer.
For this reason, it's important your quiz looks great, and includes attention-grabbing design and imagery.

Tip: Include visible and easy to use social media sharing buttons on your outcome page.
Alex Birch is the SEO Manager at Typeform. Lover of all things marketing & search, originally from Manchester, UK but now enjoying life in sunny Barcelona.