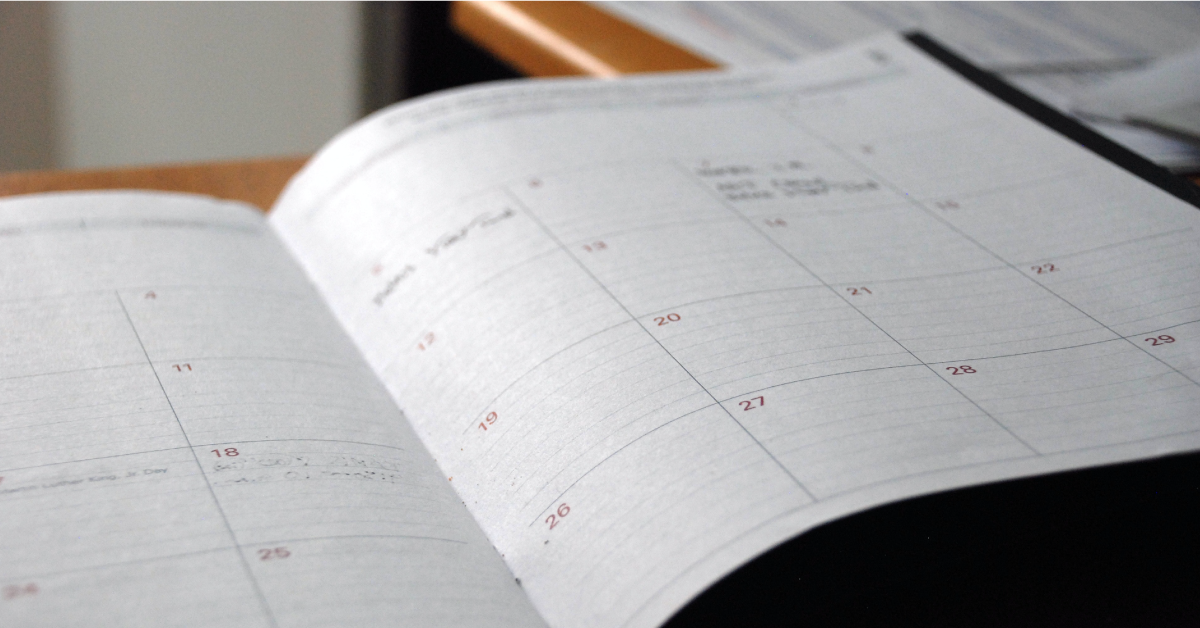 Blogs can be super effective tools for driving traffic, generating leads and building your brand. But for a business blog to be successful, you can't just create content for the sake of it; you need to have a plan guiding your efforts and aligning them with your business goals.
Editorial calendars help you keep track of all of the content in flight, understand how it will benefit your company and ensure your content strategy is aligned around the needs of your audience.
Here are seven steps for building an editorial calendar for your B2B blog:
1. Determine Your Goals
Why are you blogging? Do you want to strengthen your website presence and attract organic traffic? Are you hoping to build a devoted following of individuals who read every post you write and share it with their network? Are you aiming to create content that your sales team can use to nurture prospects into customers?
The goal behind your blog will influence what steps need to go into your content planning. For example, if the primary goal of your blog is to foster closer relationships with your existing customers, you might not put that much focus into keyword research. If your goal is to create viral content that gets a lot of shares on social media, you might want to prioritize creating shorter posts with catchy titles and graphics.
Additionally, your goals, alongside the needs of your audience, should dictate how frequently you post. If your goal is to gain organic traffic, you might need to post more frequently than you would if the goal of your blog is sales enablement.
2. Identify Where Your Editorial Calendar Will Live
Your editorial calendar should act as a single source of truth for your blogging efforts. So, it's important that its format and location match your team's workflow.
Editorial calendars can be built in spreadsheets, Kanban boards, project management platforms, calendars and more — so it's important to understand how your team will access the information they contain and format them accordingly.
Ideally, a team member could find everything they need to about an upcoming blog post in a single location. You don't want to require a writer to have to check a calendar for deadlines, a project management tool for who else is working on content and a written document for instructions on what the blog they're working on is about. When resources are scattered like that, it's all too easy for tasks to get overlooked, throwing off your production process.
3. Create a Template
What information do your team members need to know in order to effectively create a blog?
Depending on where your editorial calendar will live, your template will differ. For example, if you're working out of Google Calendar, your template might just be a list of information that needs to be included in every event. Whereas if you're using a spreadsheet, you might build out a skeleton table for content strategists to fill in.
Some information fields to consider including in your template are:
Blog topic: At a high level, what will this post be about? What's the working title for this blog?
Keyword: If you're trying to gain organic traffic, what keyword should this post be optimized around?
Buyer persona: Who is the intended audience of this blog? What pain point of theirs are you addressing?
Key takeaway: What do you want the reader to get out of the blog post? What message are you trying to convey?
CTA: What's the next step you want the reader to take after reading this blog? Where does it fall in your conversion paths?
Promotion: How will you be distributing this blog post? Does the timing of your promotional strategies impact the deadlines for the blog?
Visuals: Will this post include graphics or videos that require additional resources?
Subject matter expert: Are you interviewing someone for information in order to write the post? Are you sending out a survey to get quotes or ideas from thought leaders?
Author: Who within your company is responsible for writing this blog post?
Publish date: When will this post be published?
Status: What stage of the content creation process is this blog post is? Is it being drafted? Is it undergoing edits? Has it been published?
When building out your template, you should also consider the time frame for which you're planning out your content. Are you creating monthly editorial calendars? Are you producing extremely timely information that needs to be planned on a weekly basis? Are you producing a smaller quantity of content, so you plan on a quarterly basis?
4. Brainstorm Topics
After developing a template with all the necessary fields, the next step is to start filling it in with specific information for your given timeframe.
There are multiple approaches you can take to brainstorming topics. I like to start by identifying gaps in our existing content repository: Are there pieces of content we already have that could benefit from an introductory or follow-up blog post that covers the topic from a different angle? Is there an idea we mentioned within one blog post that could be explored more in-depth in a standalone post? Do we have to link to external resources for information about a topic we should have content on?
If you don't have much content already created, you could also look to your buyer personas for inspiration. What can you create to help educate them on their pain points? What information are they searching for online?
Another option is looking at what's being created by your competitors and industry thought leaders. If you have overlapping audiences, it's likely the topics they cover will be relevant for you too.
Finally, if your goal is organic traffic, you can use keyword research to develop topic ideas.
When deciding to pursue an idea, you should determine who the target audience of the blog post will be along with its goal in terms of key takeaways and CTAs because that can inform the rest of your planning.
5. Conduct Keyword Research
After determining what topics will be covered by your blog, you need to identify keywords to optimize the post around.
Keywords can inform the title of your blog posts and help guide what angle you should take. You should have your personas in mind when you start doing your keyword research because you want to optimize around terms your audience uses — not your internal company lingo.
Keyword research tools like Moz and SEMRush will provide information around the search volume and ranking difficulty for terms you're considering along with ideas for related terms. You can also search for potential keywords in Google to ensure the content that shows up aligns with your topic idea.
6. Assign Responsibilities
Once you figure out all the details about what blog posts you're creating, the next step is to determine who will be involved in each post. Pick subject matter experts, writers, editors and publishers and ensure everyone knows what they're responsible for.
Documenting these responsible parties in your editorial calendar can help your content creation progress smoothly since there's never any question of who the post should be passed onto once a step is completed. Additionally, if delays occur, knowing who's responsible for the bottleneck can help you solve it more quickly.
7. Start Creating Blog Posts
Once your editorial calendar is completely filled out, it's time to start implementing your strategy.
As you create posts, you may find you need to make adjustments to your initial plans. For example, maybe the information learned during the subject matter expert interview changed the direction of the post so your CTA needs to be adjusted. In cases like that, make sure to keep your editorial calendar updated to all developments so team members involved at later stages can refer to accurate information.
Additionally over time, you may want to make adjustments to the format of your editorial calendar itself to make it more useful to your team members. Perhaps you discover the need for task reminders so you want to create additional events in your calendar or you included fields that aren't being filled out properly so they need to be renamed or removed. At the end of the day, your editorial calendar needs to be enabling your team to run your blog. If it's not doing that, changes need to be made.
This post was originally published July 10, 2013.
Quinn is a writer and copyeditor whose work ranges from journalism to travel writing to inbound marketing content.