What's one way to increase your likelihood of closing a deal? Build a relationship with your prospects prior to making your sales pitch. In addition to helping you learn about your prospects so you can offer them a solution they'll gain value from at a price they can afford, that relationship will build their trust in you.
Social media is a great opportunity to build those relationships and get to know prospects as people, not just potential buyers. Find the platforms your buyer personas are on and follow high-fit prospects to start moving towards a sales conversation.
However, the process of keeping up with all of your prospects' social media activity can be time-consuming and tedious. Opportunities for engagement can be sorted out of your feed by algorithms, and checking individual profiles for potential interaction opportunities cuts into the time you can spend interacting with prospects who you've already built rapport with.
If your prospects are on Twitter, the lists feature can streamline that process.
An Introduction to Twitter Lists
Just as you can create segmented lists of contacts in your CRM in order to personalize your outreach, you can create lists of Twitter users in order to better monitor users' activities. These lists can help you better stay on top of what's happening with key prospects and keep their posts from getting lost in your feed.
Your lists can be public or private. For example, if you want to create a list of contacts you met at a recent conference, you could create a public list entitled "[Event] Attendees," and everyone you add to that list will get notified that they were added. Alternatively, you could create a private list called "[Event] Prospects" that you can use to keep track of those users without them being notified.
Monitoring prospects' social media accounts can make it easier for you to find opportunities to engage with them in addition to helping you understand what they like and care about, which can help you spark a conversation later on.
How to Create a List on Twitter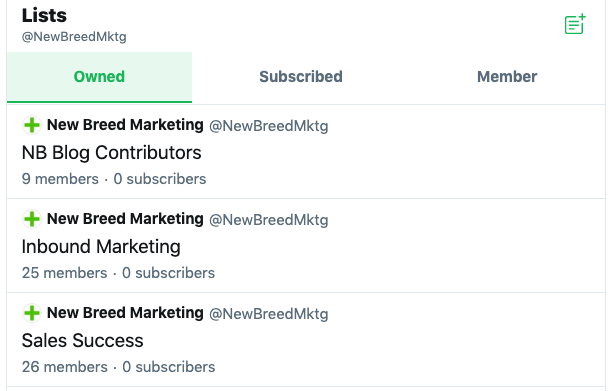 1. Go to the lists tab
Select the list icon in the left-hand menu on Twitter to go to your list tab. The list icon is a square with horizontal lines inside of it, like a paper that's been written on. (It's in the pale green highlight circle above.)
From your lists tab, you can see all the lists you own, are subscribed to or are a member of. You can monitor and edit your lists from here.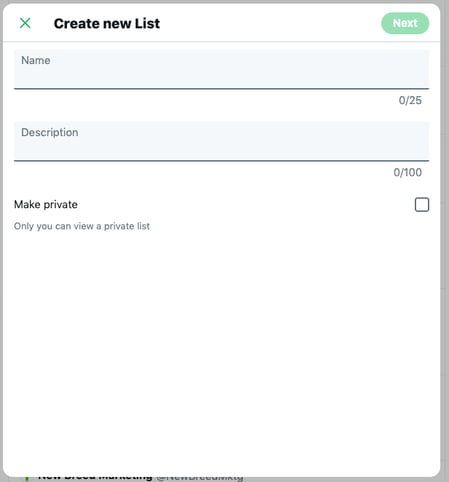 2. Create a new list
To create a new list, click on the list icon with a plus sign in the top right corner. This will pull up the menu where you can name your list, add a description and designate if it's public or private.
Your list name can be up to 25 characters and should clearly indicate who's on this list. If you're making a private list, you can call it whatever is most helpful for you. However, if it's public, remember that everyone can see it from your profile and all the users you add will receive a notification.
Because of that, you shouldn't name a public list "prospects." Instead, consider calling it something more flattering or specific to who those prospects are, like "SaaS CMOs" or "IT Experts."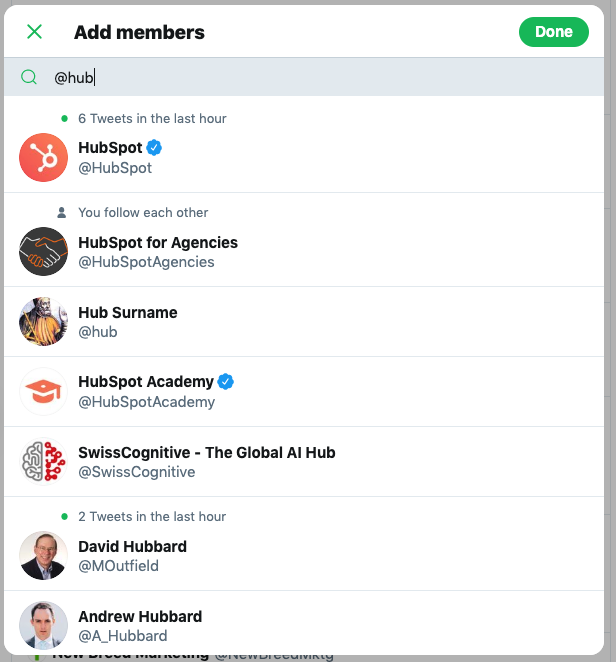 3. Add members to your list
Next you can add people to your list by searching their Twitter handle. You don't have to be following a public account in order to add them to your list. However, if you add a private account you're not following to your list, you still won't be able to see their content.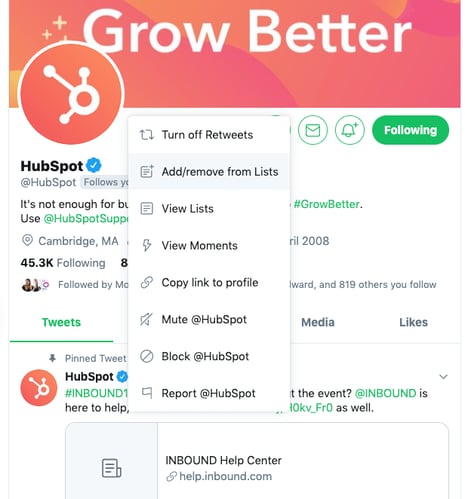 If you decide to remove someone from a list later on, you can do so by clicking on the "..." icon on their profile.
Monitor Lists in TweetDeck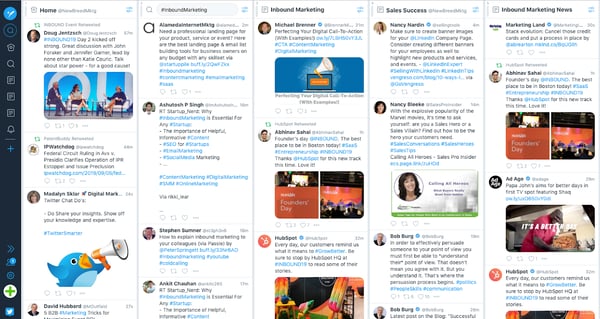 In addition to its social platform, Twitter also has a management dashboard called TweetDeck. You can use the tool to organize the Twitter content you follow by creating segmented columns.
You can create columns for lists, hashtags searches, individual users and more.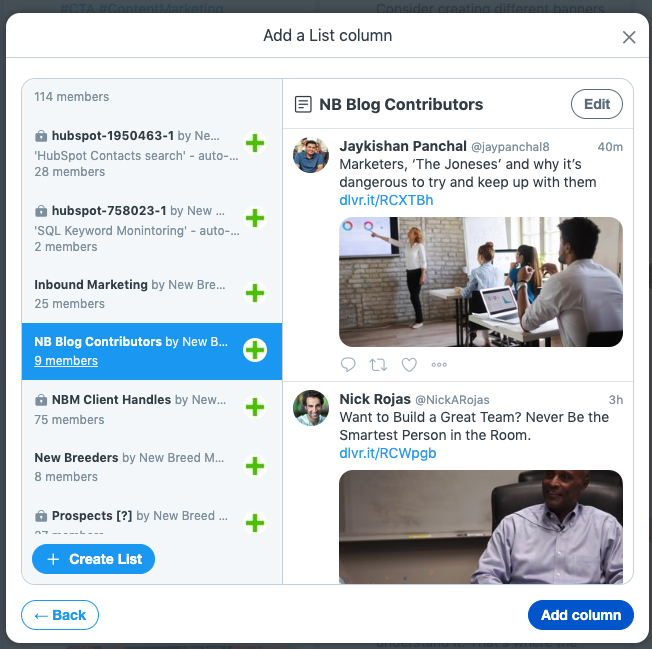 To create a new column for a list, click the plus sign in the left-hand menu and select the list icon. Then you can choose an existing list to display or create a new list.
By building out your dashboard in TweetDeck, you can create a one-stop-shop for keeping track of all relevant Twitter activity. Between your lists and your dashboard, you eliminate the necessity to visit individual profiles or dive through an overcrowded feed. This streamlines your social media monitoring and frees up more time to engage with prospects.
How to Use Twitter Lists for Social Prospecting
Build rapport
Sourcing leads through social prospecting works differently than sourcing them through inbound methods. When a prospect comes in through inbound means, they start with their problem. While searching for solutions to their problem, they find your company. After engaging with your marketing and learning about how you can help them, they'll get in touch with a sales rep.
"Through social, it's a little bit of a different strategy because they meet me [the sales rep] first, and they have a personal connection with me first," says Karly Wescott, a Growth Advisor at New Breed. "Then they understand who my company is and how I might be able to help them."
Because social prospecting starts with a personal connection, it's most effective to lead with a personal conversation instead of your job title or company.
"I don't even necessarily let them know that I work at New Breed in the first few conversations," Karly says. "They can figure that out from my profile. I kind of let my profile speak for itself, and then I will have a conversation based on content I saw that they posted or what their interests are to try and get my foot in the door from the rapport standpoint."
You can start conversations with contacts you're already watching based on commonalities or the content they're sharing.
For example, if someone posts about a pain point you can help with, reach out. You can comment on their original post publicly or send them a direct message depending on the nature of your relationship.
"I take the route of direct messaging them," Karly says. "Then following up with them heavily through email after that is key."
Social media is a great place to start conversations, but to progress a sale, you'll need to eventually communicate through other channels. Once you've built rapport on social, you can reach out via phone or email to continue the conversation and book a meeting.
Identify key stakeholders and champions
One of the main benefits of Twitter lists is the way they declutter your social media interface. However, if you add anyone and everyone to your lists, they'll no longer solve that problem.
"The biggest thing when you're connecting with anyone is making sure that you're talking to a key stakeholder, someone who will be able to influence the buying decision," Karly says. "It doesn't make sense to clutter my feed with people who are posting a lot that I'll never actually have a buying conversation with."
That key stakeholder doesn't necessarily have to be the CEO. Instead, developing a relationship on social media works best when you find a prospect who uses social media actively and will engage with you.
"If there are two or more stakeholders, it's really good to find the champion on social," Karly says. "They're more likely to interact with you, where a C-level decision-maker will typically connect with you. They may briefly look at some of your stuff before a sales meeting, but they're not going to have a conversation with you on social.
"What I find is that prospects are either active on social or they're not, and you can figure out pretty quickly who is. So if I have a key company and a key stakeholder at a company, and I see they're posting a lot, those are the people that I'll go after."
You can tell how active a prospect is by their activity feed. If someone is regularly liking and commenting on others' tweets and posting their own, you know they check Twitter frequently and will be more likely to see your outreach in a timely manner.
Use social later in the sales process to stay top of mind
Even if you didn't start a conversation with a prospect on Twitter, you can still engage with them on the platform during the sales process.
"Sometimes I'll use social later in a sales process if someone isn't as active in my emails and I want them to think of me," Karly says.
You can like one of their recent tweets or tag them in the comments of a post that's relevant to the conversation you were having. Additionally, you can comment on their posts to re-start a conversation. The notifications they'll receive from those actions will help your previous conversations resurface in their mind.
However, you need to match the overtness of your interactions with the level of rapport you've built. A comment or tag can feel aggressive if you haven't developed that level of conversation yet, whereas a like is more subtle.
The Takeaway
Starting a conversation on social media is a great way to build rapport with prospects.
"It helps remind people that you're a real person and not just somebody who's sending an email and leaving a voicemail," Karly says.
Seeing your interests and experiences will help build your credibility and allow prospects to feel like they know you.
Additionally, social media interactions can improve your sales process.
"I think it can speed up your sales cycle. [Social prospecting] gives you an additional touchpoint and avenue for contact within a sales cycle," Karly says.
In addition to communicating with all stakeholders through email or calls, you can also conduct more individualized follow-up through social media with the contacts with whom you've built rapport to gauge how the sale is progressing on their end.
From initiating conversations early in the sales process to being instantly alerted of potential changes late in the process, Twitter lists can help you stay on top of what's going on with your prospects.
"The unique thing about Twitter lists is being able to see all that so quickly," Karly says. "Where for a salesperson to get access to activity and interests on LinkedIn, you have to do it on an individual basis. I think having the lists is a huge time-saver."
Quinn is a writer and copyeditor whose work ranges from journalism to travel writing to inbound marketing content.