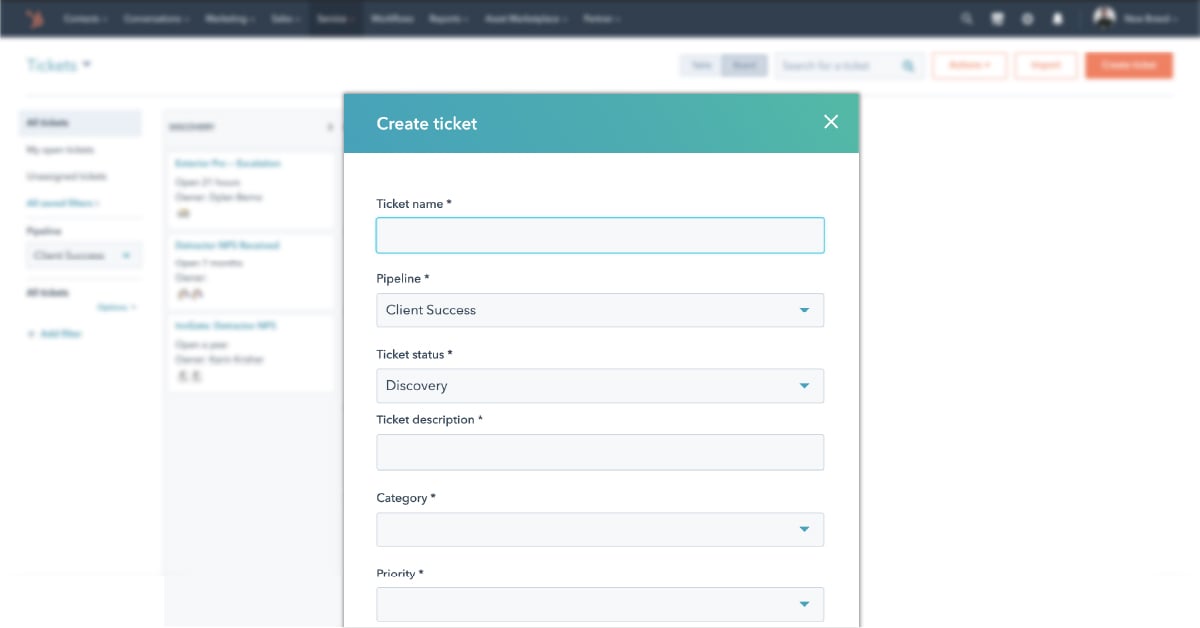 According to HubSpot, a ticketing system is a customer service tool that helps companies manage their service and support cases. The system or app creates a "ticket" which documents customer requests and interactions over time, making it easier for customer service reps to resolve complicated issues.
There are endless benefits to adding any ticketing system to your company, but HubSpot's Ticketing system has changed the game for pre-existing HubSpot users and has opened the platform up to an entirely new user base.
Here are the five best features of HubSpot's ticketing system.
1. Easily Accessible Information
HubSpot Tickets do a great job providing you with all the information you need without overwhelming you with extraneous details. Each ticket is served up as a mini-version of a contact record in your CRM.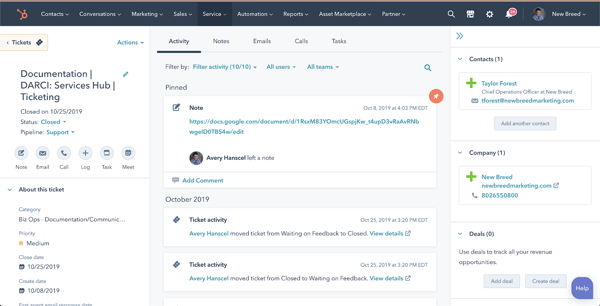 When using an individual ticket, all of the data on the associated contact record and company is just a click away, but the ticket allows your reps to see the relevant information needed to solve the issues the ticket was opened for easily and efficiently.
Your reps can add tasks and notes inside of that ticket as they work toward solving the issue. This can help with keeping track of follow-up communications, similar to how a sales rep would annotate a contact record in your CRM.
Once a ticket is closed out, it's logged on that contact record in your CRM. This allows it to be referred to by employees across your company in case related issues emerge in the future.
2. Clear Visual Segmentation and Management
A ticketing system will ensure none of your customers fall through the cracks. It takes a massive task, managing your customers' phone calls and emails, and makes it documentable, manageable, reportable and scalable.
Which is why the second benefit of HubSpot Tickets is the organization they provide to not just your success or service team, but to your entire company.
Your tickets live in pipelines inside of HubSpot. A pipeline operates much like a deal in HubSpot. You can create a different pipeline for each rep or team, depending on how your company functions.
The best part about tickets? Each pipeline can be displayed as a list or as a kanban board. If using the kanban style board, your ticket status will be reflected at the top of each column.

Using the kanban style board will allow you to drag and drop each individual ticket into different columns. This will change the ticket status automatically. You can also filter the list or board based on the ticket owner as well, giving even more visibility into their own workload for your customer success or service reps.
For instance, if you are setting up your customer service team's pipeline, their three stages of tickets may be new, status pending and completed. If you are using tickets for your customer success team, each team member may have their own pipeline for their portfolio and the ticket status and columns may be labeled: at-risk, reactive, proactive and partner.
These features will help your reps stay organized and keep track of their tasks and customers ensuring they are getting the best experience, and service, possible.
3. Platform Consolidation
If you are already using HubSpot at your company then adding the Service Hub and Tickets to your package will add another layer of synchronization among your marketing, sales and service teams — especially if you are currently using a third party ticketing software but your sales or marketing teams are already on HubSpot.
Your service or support reps will operate inside the Tickets tab, but all information stored on each ticket record is copied over onto the overall contact record inside your HubSpot CRM.
This means more connected data, easier hand-offs and better integrations company-wide. This will also make reporting easier since your entire customer experience from marketing to sales to service is operating on the same platform.
4. Automation
You can use workflows to auto-generate tickets when certain actions are taken by your customers or your reps. You can even round-robin the ticket assignee to a team if it's a new inquiry, or send it straight to that contact's owner.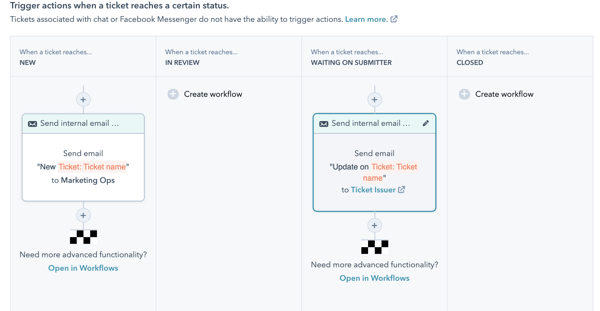 For instance, if you have a contact us form on your site and want to route all submissions to your service team, you can automatically create a ticket upon submission and assign that ticket to the appropriate rep or team. That ticket will auto-create and show up on that pipeline's screen in the designated "'to do" or "new" column.
You can also automate the status of a ticket to change once your reps send or receive an email.
This function can go two directions. If you use the drop-down feature inside of an open ticket to change the status, the ticket object itself will jump to the correct column automatically.
For instance, if you hit "close" inside of an open ticket, when you return to your ticket board view the ticket will have moved to the closed column on the right.
Alternately, you can drag and drop the entire ticket into the closed column from the board view and it will automatically change the ticket status to closed.
If you are using HubSpot's live chat or chatbot feature you can auto-create tickets from there as well. You can build it right into your chatflow that when users select certain options like "I need a quote" or "I have X issue." It will copy over all the information from the conversation so it's passed on to the appropriate rep.
The ticket will show up on their ticket board or list as a new ticket. This eliminates the need for reps to go to multiple locations to retrieve inquiries and makes sure no emails or inquiries get forgotten and saves them time too.
5. Reporting
One of the main reasons you may want to use tickets is to improve the functionality and organization of your customer service or support team's time.
If you are using HubSpot Tickets, you can now access all kinds of reports and analytics to help you improve the way your teams operate as well as the experience your customers have with your brand.
In the reports library there are a few standard out of the box reports you will be able to access including average ticket response time, ticket totals over time and tickets closed by rep.
You can also create custom properties on tickets and use those to build custom reports.
For instance, you could use a property to signify a certain type of customer or issue and then run a report to see how long it takes that type of issue to close. This may help you identify issues among product groups or types of customers that you didn't know you had.
The reporting function gives an incredible level of transparency to your customer success managers and support reps to measure their efforts and make improvements along the way. It takes actions like replying to emails that seem to be small and hard to track and makes them reportable and measurable.
The Takeaway
The key to customer success is information, and HubSpot Tickets allow your team to access, organize and manage their customers' inquiries in one place.
Regardless of what you sell or what industry you are in, everyone can relate to wanting to serve their customers to the best of their ability. If your company offers end-user support of any kind, a ticketing system can help organize tasks and make sure your customers are having the best experience possible.
While the Service Hub and Tickets are great alone, they become even more powerful when combined with HubSpot's Sales and Marketing Hubs to give your entire company the same platform and information all around.
Weslee Clyde is an inbound marketing strategist at New Breed. She is focused on generating results using inbound methods and is driven by the customer experience. When not at the office, you can find her binging a docu-series on true crime or perfecting her gluten-free baking skills.