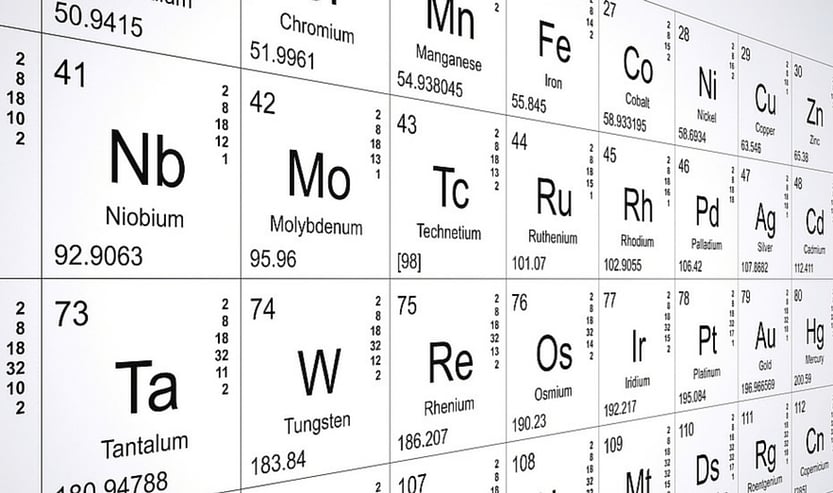 HubSpot has shown that companies are three times as likely to see higher ROI on inbound marketing campaigns than on outbound campaigns. But that doesn't mean that inbound marketing is easy. In fact, holistic inbound campaigns can be quite complex, from content production and promotion to cross-channel engagement, a campaign can can quickly become convoluted.
Fortunately, there is a time-tested and proven core set of assets that are needed for any campaign to be successful. In today's post, we'll cover nine of them.
The essential elements of an inbound marketing campaign
Launch a blog series
Creating valuable content for your audience is a powerful element in a successful inbound marketing strategy. The most effective way to share content is with a blog. In fact, 80 percent of B2B marketers report using blogs as a core element of their inbound tactics, according to the Content Marketing Institute.
Your blog presents a great opportunity for attracting potential customers to your website. It also serves as a gateway into early-stage brand awareness and preference by helping them to educate themselves on the challenges they are facing—sometimes even before they know a solution exists or are searching for one.
One of the hardest parts of blogging is defining the topics that you need to cover. Start by defining the behavior, needs and key terms that your buyer personas will be addressing in each stage of the buyer's journey. Persona Mad Libs can be a great way to help get the creative juices flowing for keyword and topic ideation. Here's an example of what this might look like: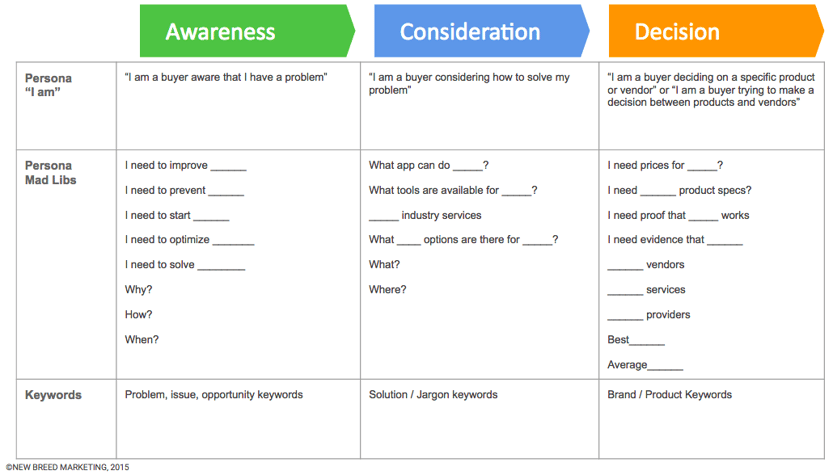 Next, research relevant news sites, your competitors' blogs, industry leaders and thought leaders in your space to see what they're discussing. BuzzSumo and Keywordtool.io are both great tools to aid in this research. As you do this, look at how people are responding. Are there a ton of social shares? Lots of comments? This will give you a sense of what is resonating with your target audience.
Once you have some ideas, it's time to develop a list of relevant topics and launch them in a series that is organized by your editorial schedule. (We have an easy-to-use template for this!) For example, if you are a sales organization, develop a series of posts that relate to relationship building, sales management, lead nurturing and prospecting. These topics are each relevant to sales and can be used collectively to build a successful sales strategy.
Develop an offer
Since the goal of your inbound campaign is to increase lead generation, you'll also need to develop a premium content offer that can live behind a lead-capture form. According to CMO Council, these are the types of content that are proving to be most effective in delivering great leads today: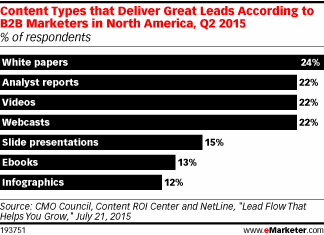 If your company doesn't have any of these assets, we've found that there is often an internal repository of assets that go a long way in helping to create outlines. And of course, if you don't have existing content, a very similar framework can be used to shape ideation of these gated assets that was used to create your blog campaign.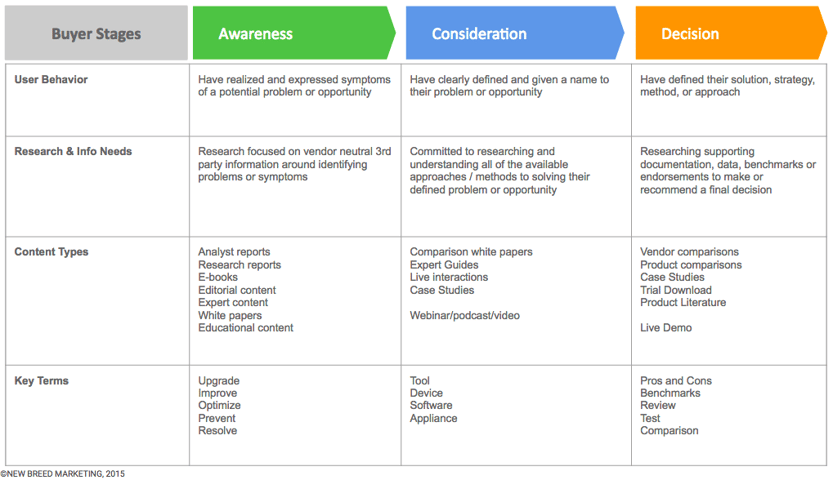 Create a killer landing page
Once your premium content offers are in place, develop landing pages to gate your offers so that you can capture those leads. This page will give your prospect the opportunity to fill out a form in exchange for his or her business information.
Before you get started, there are a few key landing-page best practices to keep in mind:
Use clear and concise header messaging
Use trust marks and social proof
Provide a clear call to action
Remove navigation elements
Redirect to a thank you page
Promote your content
If content is king, then content promotion is queen. This can come in many different forms, but generally takes the shape of these core tactics:
Social media
Relationship building
Influencer outreach
Online community engagement
Social media promotion has been table stakes for years, but over the past year or two we've seen the importance of the relationship-building side of content promotion take off. This is epitomized by the rise of tools designed specifically to help marketers manage it, such as ContentMarketer.io and paid content promotion on platforms such as Outbrain or Zemanta.
If you're looking for a great repository of actionable content-promotion strategies, I recommend starting with this post from KissMetrics.
Invest in a social media ad campaign and sponsored content
Paid social advertising and content promotion are great ways to jumpstart your content promotion, as well as get it in front of a targeted audience. It has also proven a more effective acquisition channel than traditional advertising for B2B companies. For example, NewsCred was able to generate 50 percent more valuable leads using LinkedIn sponsored content than Native Ads or Google Adwords.

Use your email
Email marketing is a great tool to generate demand and promote your content. According to the State of Pipeline Marketing report, email is actually the most used marketing channel to generate demand, and is used by nearly 90 percent of B2B marketers.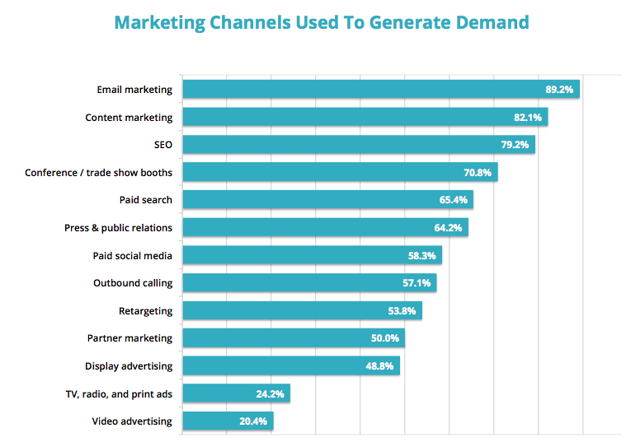 There are a few important considerations when utilizing email marketing as part of your inbound strategy. The first is to segment your contacts database. This will help to categorize your recipients by geography, industry and job title to create a more personalized message, ensuring that viewers are receiving relevant content. Also make sure that when you're sending an email, it's coming from an actual person's name and email address. This will help to increase your open rates and reduce the chance that your email will get stuck in someone's spam folder.
Nurture leads
Now that you have the leads, what do you plan on doing with them? This is where a lead-nurturing plan comes into play. According to HubSpot, "50% of leads are qualified but not ready to buy." If you are not nurturing your leads then you are missing out on a valuable opportunity.
There are two speeds of lead nurturing, the first being accelerated product-focused campaigns, the second being focused on awareness- and consideration-stage content geared towards long-term nurturing. It's this second speed where your inbound campaign will be most effective.
Start by building your blog subscriber list, and then move on to build targeted topic, pain-point or persona-specific nurture streams that will continue to engage prospects down the funnel by reselling your value proposition over time. When you start with this type of initiative, think of a nurture stream length with touchpoints at 1, 4, 7, 14, 21, 30 and 45 days and then every two weeks after that.
Create a customer-engagement campaign
As marketing's role in B2B companies evolves outside of lead generation and brand management to include greater collaboration across teams to shape the entire customer experience, opportunities will abound for the inclusion of inbound focused campaigns.
The content you produce won't be applicable just to your prospects, but can also be promoted back into your customer base and used to shape ongoing dialogues with your customers. These campaigns can come in different forms, from hosting customer-only webinars to highlighting blog content in client communication. Check out this post to learn more about how to use inbound for customer success and engagement.
Measure everything
Above all else, it's important to measure your efforts. Begin by agreeing on an attribution model that will be used to measure the ROI of your efforts. For example, you can use the "first touch" model to report on overall monthly blog leads, and the "last touch" model to identify the most influential individual posts.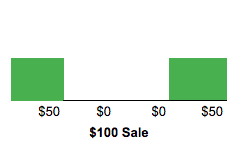 Then, examine the analytics that are tied to your marketing offers such as views, submissions, conversion rates, new leads, marketing-qualified leads and new customers. If your performance doesn't measure up to your original expectations, that just means there is room for improvement with the next campaign. Change up your strategy, the types of offers you're producing, your messaging and the look and feel of your CTAs. Test, test, test and retest.
Editor's Note: This post was originally published in October 2013 and has been updated for freshness and accuracy.
Sierra Calabresi is a former New Breeder.
Connect with the author