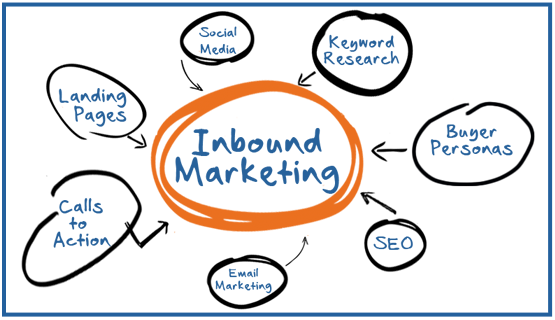 What is inbound marketing? Great question! Inbound marketing is a philosophy designed to attract visitors to your website, engage and build relationships with those visitors through relevant resources and continue delighting them through meaningful content.

Here at New Breed Marketing we've unified our sales and marketing teams by applying the inbound methodology to our own efforts. We've seen tremendous success from adopting inbound marketing, and so have the hundreds of companies we've worked with.

So join us in exploring the basic principles of this marketing philosophy with the Intro to Inbound Marketing.
Introduction to Inbound Marketing
Want to take this content offline? Download the PDF version of the Introduction to Inbound Marketing!
Introduction to Inbound Marketing Video Transcript
The inbound marketing methodology has quickly become an essential piece to marketing strategies across the globe. Inbound Marketing is designed to attract visitors to your website, engage with prospects to build lasting relationships, and continue delighting them through meaningful content. Most importantly, inbound marketing focuses on unifying your marketing and sales process.
This is why inbound has become a cornerstone of successful marketing:
The innovative nature of inbound marketing aligns the content that your company produces with your ideal customers' interests, and enables the customer to be more empowered during the buying process.
Planning for success that will increase revenue and customer engagement starts with a solid brand foundation, and aligning your messaging to the needs of your customers.

This is effectively accomplished through the creation of buyer personas and conversion paths.

Buyer personas are semi-fictional characters that represent your ideal customer. Buyer personas help refine your marketing strategy and align them around your target customer.

Conversion paths are another essential part of inbound marketing. They show the way a user will move through the buying process. Conversion paths are important to understanding how to position content and structure web pages.
Now, before you can start generating those valuable leads, you first need to think about how you're going to get those leads to your website. This starts with a plan that outlines the various inbound tactics you're going to use to draw people to your site, and ultimately keep them coming back for more.

These tactics are often blogging, social media, website optimization and SEO.

With these tactics properly set up you should be generating plenty of leads, and now it's time to start engaging with them. Engagement tactics include email marketing campaigns, lead management, conversational marketing, video, CTAs, forms and meetings.

The engagement tactics start conversations between your target customer and your brand. It positions you as a leader in the field and puts your company top of mind through multi-channel conversations.

The delight stage is where you continue delivering the right messages and content at the right times. By creating contextually relevant conversations with customers, you're able to build brand loyalty. It's about providing unbeatable experiences to keep your customers coming back.
Here at New Breed we work with high growth b2b companies to increase revenue through the inbound marketing methodology. From buyer personas, inbound readiness and content strategy to web optimization, we deliver lasting results that attract, engage and delight your customers.
Ready to take it to the next level? Download our Ultimate Guide to Inbound Marketing to learn all the steps to creating a successful, optimized inbound marketing strategy!
James is a former New Breeder.