We've written about the importance of communication between teams, as well as sales-enablement tools and content, so now it's time to dig into the technology that makes marketing and sales alignment possible.
In order to collaborate, both teams must share a set of metrics to define the marketing-sales funnel stages. Marketing automation and CRM systems can make tracking these metrics easier, and if the teams can align with the technology, the marketing-to-sales handoff can become frictionless.
When it comes to aligning your marketing and sales, there are essential elements to make the relationship profitable, including:
Shared lifecycle stage definitions
Full-funnel content assets
Technology
As marketing works to attract and convert site visitors into leads, sales must be ready and waiting at the other end to turn qualified leads into opportunities and customers. So, how does marketing qualify leads? How do leads get handed off to sales? How does sales follow up with marketing qualified leads? The answer: a HubSpot lead-handoff workflow.
Here's a step-by-step guide on how to use HubSpot workflows to automate MQL Handoffs.
Establish MQL Criteria
Before you set up your handoff workflow and begin sending MQLs off to sales, you have to establish what an MQL is to both your marketing and sales teams.
As previously mentioned, establishing shared definitions is critical to marketing and sales alignment. Work together to define what lead, MQL and SQL mean for your business. What type of information must a lead share to become an MQL or SQL? What types of engagement and interaction must they display?
Understand How Your Workflow Will Function
Once established, you can begin creating your handoff workflow. This workflow will:
Enroll contacts that match a particular set of criteria (MQL criteria)
Set their lifecycle stage (and whatever other essential properties) to MQL
Send an internal notification email to your marketing team
Based on sales action, set an appropriate (new) lifecycle property
Create the Handoff Workflow
1. Create Workflow and Set Enrollment Triggers
Once you've created your workflow, you can select the starting condition you'd like to trigger enrollment. These enrollment triggers can be anything from lead score, company size, revenue, job title, persona — you name it.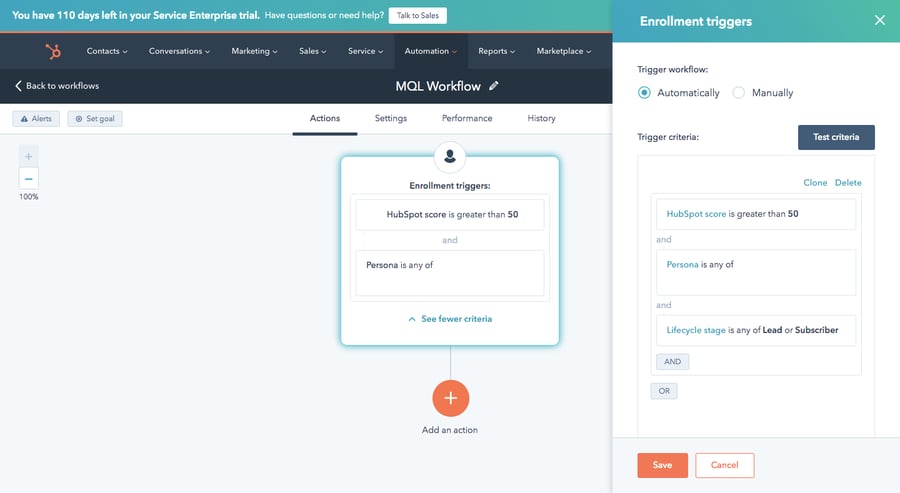 2. Add a step
After setting your trigger criteria for enrollment, add an action to define your contact property value. As noted below, contacts who are at a later lifecycle stage won't be moved backward. This means that you don't have to worry about any SQLs becoming redefined as MQLs.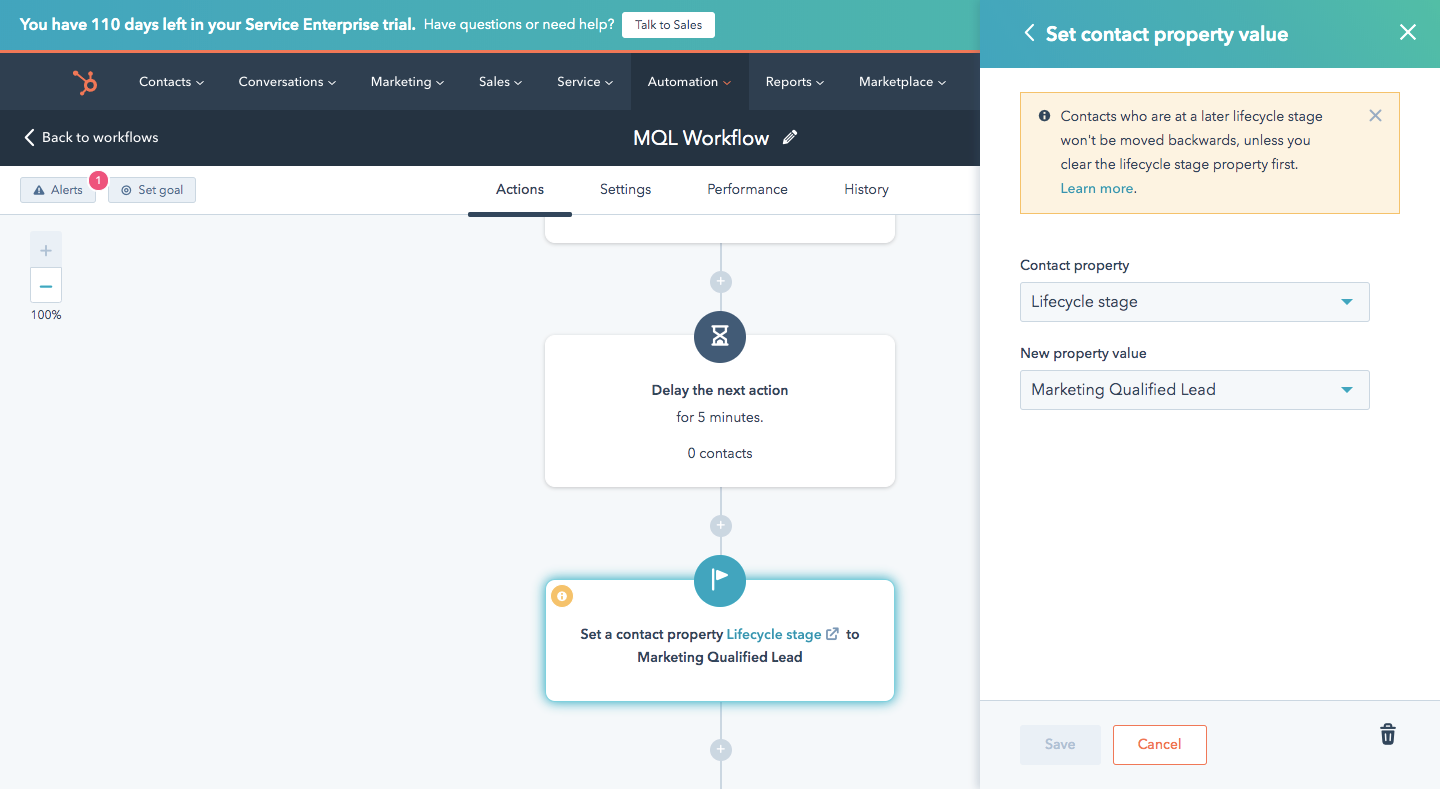 From the contact property drop-down menu, choose the property "Lifecycle Stage." From the new property value drop-down menu, choose "Marketing Qualified Lead."
3. Add notification and task steps
Add another action to the workflow and select "Send an internal email." Choose the internal email you'd like to use or "Create email." Next, add in the recipients of the email. In many cases, this will be your head of marketing or demand generation.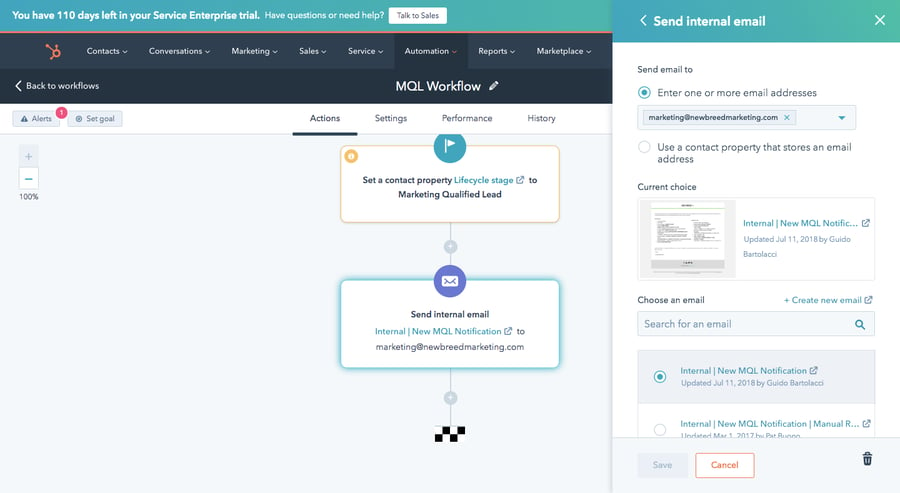 This email presents the recipient with the MQL ready for sales qualification and any important information about the contacts themselves, their engagement with your marketing team or any actions they have taken.
Once you've clicked "save," you can create a HubSpot task that triggers your sales team to start their MQL follow-up process.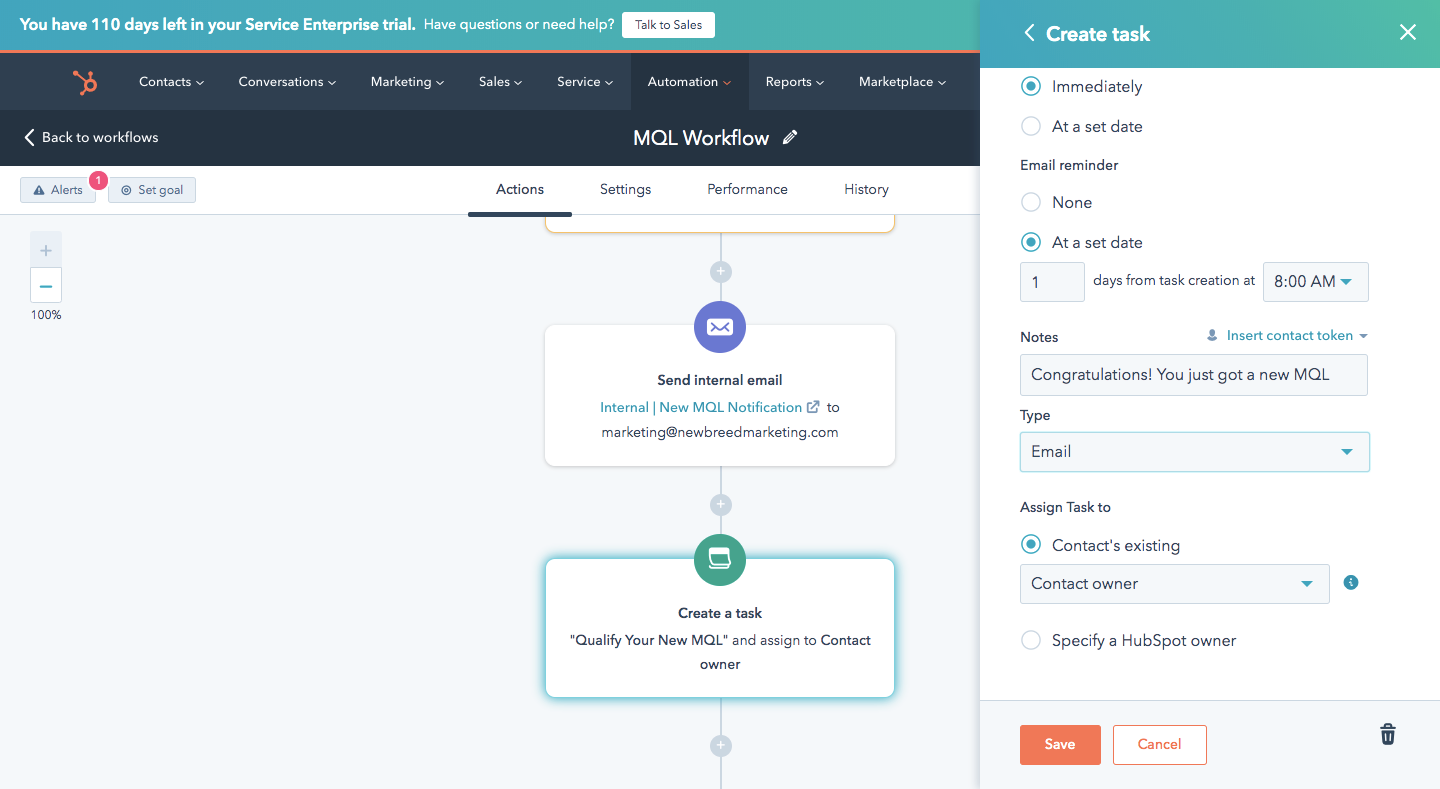 In this task, you can congratulate your sales team and assign the task to either the contact owner or a sales specific team member.
4. Apply workflow settings
In the workflow's settings, you'll find a variety of options you can use to change how your workflow functions. HubSpot has a great, comprehensive guide to workflow settings, and how to manage your contact-based workflow.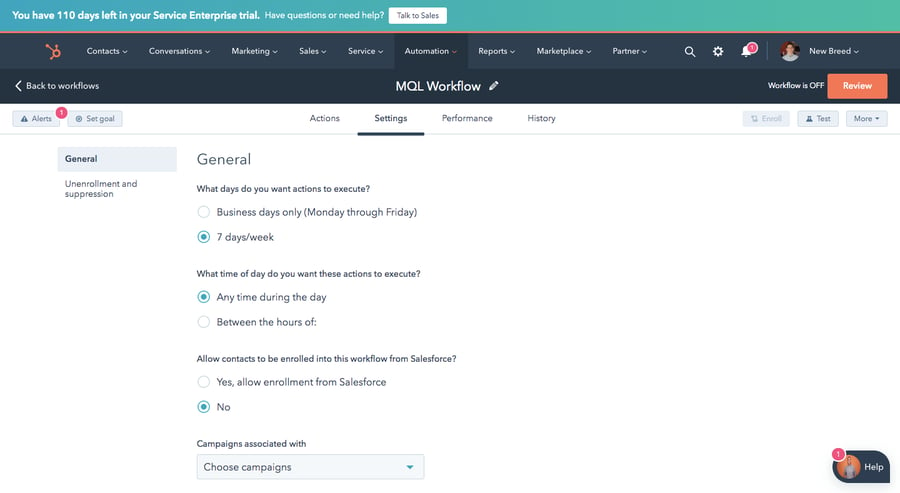 5. Activate the workflow
At the top right of your screen, you should see an orange button that says "Turn on" (see screenshot below). Clicking this button will (you guessed it) turn the workflow on.
Now any leads that convert into MQLs will be enrolled in this workflow and sent over to sales for further qualification. It's a clear way to align marketing software with sales software, an action that is key in opening communication between both teams and allowing for business growth and success.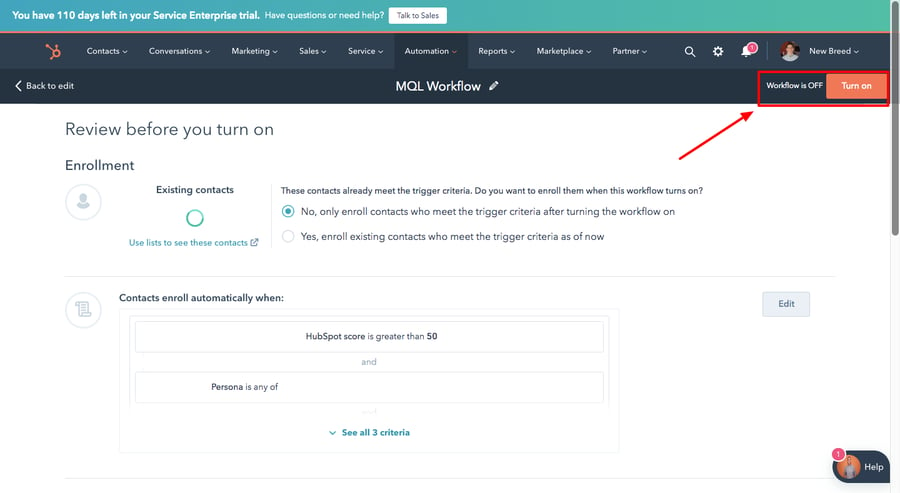 6. Troubleshoot
Lastly, be sure to engage in frequent QA to troubleshoot your workflow settings. Your history page will give you a sense of how to switch up your workflow and better understand if your workflow is working the way you want it to. Frequent QA will ensure that you aren't operating on a broken system because a broken system will never produce qualified leads.
You need to check in with your sales team for any oddities in the contacts and continue monitoring the workflow to be sure the process is effective. This is a critical component of your marketing and sales alignment. Every process you build between marketing and sales has the potential to cause issues.
To both avoid these issues and address them when they arise, it's best to have the ongoing maintenance and management of this type of workflow owned by an individual.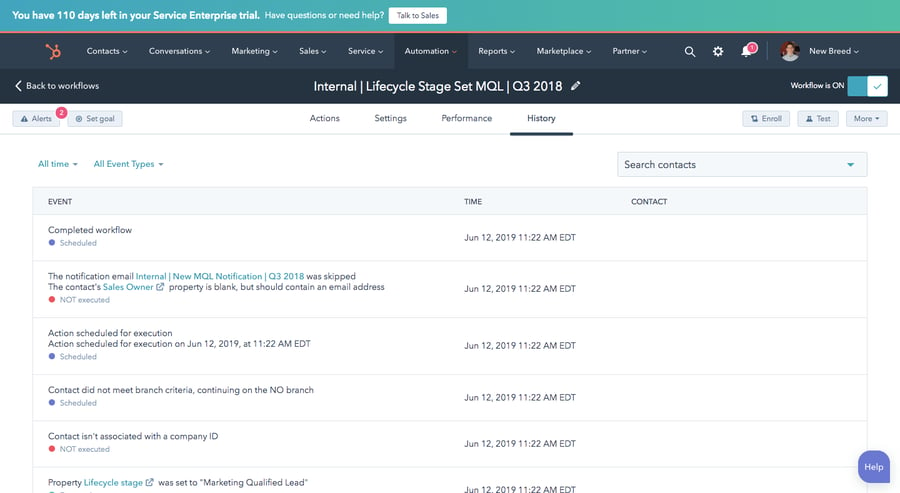 The Takeaway
Operations are critical to marketing and sales alignment and should not be neglected as your company grows. Operations help create a seamless transition, turning the two departments into a unified team. Creating workflows in HubSpot can help remove timely, manual processes from the MQL handoff, easing the burden on individuals within the teams and ensuring no contacts slip through the cracks.
This post was originally posted on June 25, 2015.
Olivia Perek-Clark leads New Breed's Learning and Development team. She is a seasoned Demand Generation and Inbound Marketing Strategist turned team trainer who has a passion for developing systems and content that help other New Breeders do their best work for our clients.
Connect with the author