BLUE Software's leading enterprise Label and Artwork Management applications enable its CPG, Retail, Marketing, and Life Sciences clients to satisfy the rigorous demands of creative, brand and regulatory compliance. By leveraging SaaS-based collaboration and workflow tools, BLUE dramatically improves efficiency KPIs around label development and deployment for more than 100,000 users, 12,000 brands and 5,000 companies worldwide.
Their Challenge
While they were able to grow their customer base quickly in the beginning by acquiring enterprise clients such as Hormel and Unilever, BLUE Software's number of leads now came few and far between. Sales members were filling their days reaching out to unqualified and unengaged prospects. Their marketing team didn't have the strategic direction to build effective content and nurturing strategies to convert leads and move them down the marketing funnel. The marketing and sales teams at BLUE Software needed to make sure they were aligned to create a fully functioning funnel. They needed to:
Define and automate Lifecycle Stages
Increase monthly visitors
Improve keyword position rankings for non-branded search terms
Convert leads on the BLUE Software website
Streamline their Salesforce integration with HubSpot
Effectively nurture leads down the marketing funnel
Successfully pass highly qualified, engaged leads to sales
BLUE Software had an exceptional product and the attention of their industry due to some of their key clients, but lacked a reliable marketing-to-sales handoff and proper lead generation, qualification and nurture strategy to align with each funnel stage. They enlisted the help of New Breed Marketing, a HubSpot Diamond-tier Partner Agency, to help automate more of the process and align their marketing and sales efforts in support of more qualified organic traffic, landing page conversions, effective nurturing strategies, and a smoother marketing-to-sales handoff to bring engaged, qualified clients to the sales team.
Our Process in Motion
We worked with the BLUE Software team on a number of projects including the Growth Acceleration Workshop and Inbound Readiness, as well as our premier services for Inbound and SEO.
1. Building the Foundation
During the foundational projects, Growth Acceleration Workshop and Inbound Readiness, we were able to understand BLUE Software's goals, plans and challenges as a company, as well as get a view of their current marketing and sales funnel. Throughout these projects, we identified four primary buyer personas segmented by job role that represented target decision makers and influencers.

After building out the target buyer personas, our team developed a form strategy to efficiently segment the different personas as well as gather important, but non-invasive information to create tailored content for these individuals.

Our team also worked with BLUE Software to define lifecycle stages that both align their marketing and sales teams and develop a standard sales process that is easy to implement throughout the organization. We defined lead statuses so sales reps can qualify, or determine, if leads passed to them need a little more nurturing before continuing their buyers' journeys.
2. Automating in HubSpot and Streamlining with Salesforce
To successfully automate the lead handoff process, we built lead routing automation in HubSpot to send qualified, engaged lead to specific sales representatives based on the lead's annual revenue and global region. This ensured that no leads were getting lost in handoff limbo.

As it is for many businesses, Salesforce was BLUE Software's source of truth. Now that we built the foundation of their funnel, we needed to make sure all of the information — including lifecycle stages, lead status and lead routing — correctly synced with Salesforce. By the end of the Growth Acceleration Workshop and Inbound Readiness, our Sales Operations Strategists were able to automate persona mapping, lifecycle stages and lead routing, as well as successfully sync these foundational elements with Salesforce.
3. Building and Unifying BLUE Software's SEO and Content Strategies
Our team conducted keyword research and used that insight to create and optimize content for each lifecycle stage that aligns with BLUE Software's personas, solutions and target industries. With this strategy in mind, the SEO team built topic clusters based on these main priorities and aligned current content with those topics to see which topics were gaining the most website sessions, leads and inbound links using the Content Strategy Tool in HubSpot.

Other SEO tactics deployed to improve keyword position rankings and website sessions included optimizing new and top performing blog posts and building additional linking strategies using SEO best practices. All of our tactics were aligned with a unified content and SEO strategy.

4. Increasing Conversion Opportunities on BLUE Software's Website
A large pain the team at BLUE Software had was a decrease in lead generation month over month. To counteract this, we worked with their marketing team to create conversion opportunities at the end of new and top-performing blog posts.

The next tactic to increase lead generation was creating those conversion opportunities on the main webpages using lead flows. We added relevant and top-performing premium content offers to the industry pages.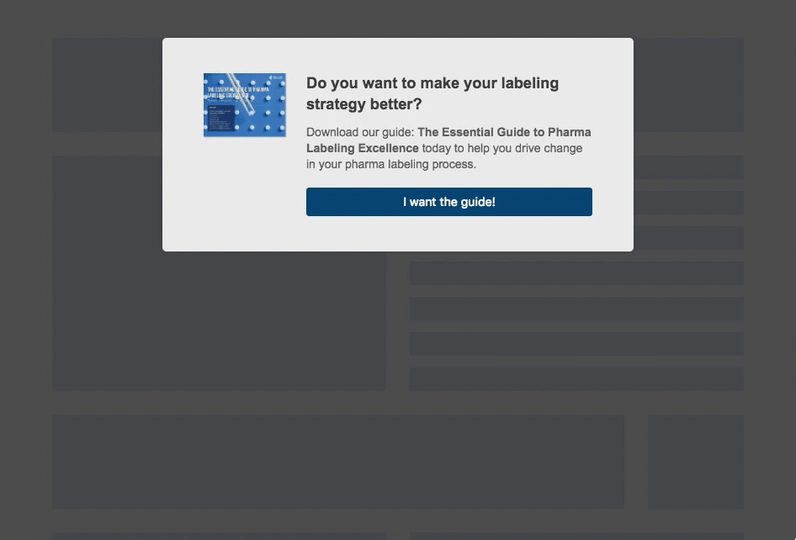 5. Developing Strategic Email Nurtures for Both Unengaged and Engaged Leads
To nurture BLUE Software's large database of contacts, a combination of both engaged and unengaged leads, we needed to think critically about how we could re-engage leads who lost touch and nurture leads who have recently engaged in the websites or emails.
When building a strategy to re-engage contacts, we wanted to make sure we were providing helpful information while not discouraging them with too much content in a short cadence. We created bi-weekly emails tailored by industry to suit these contacts. Below is an example of a long-term drip campaign email for the marketing industry: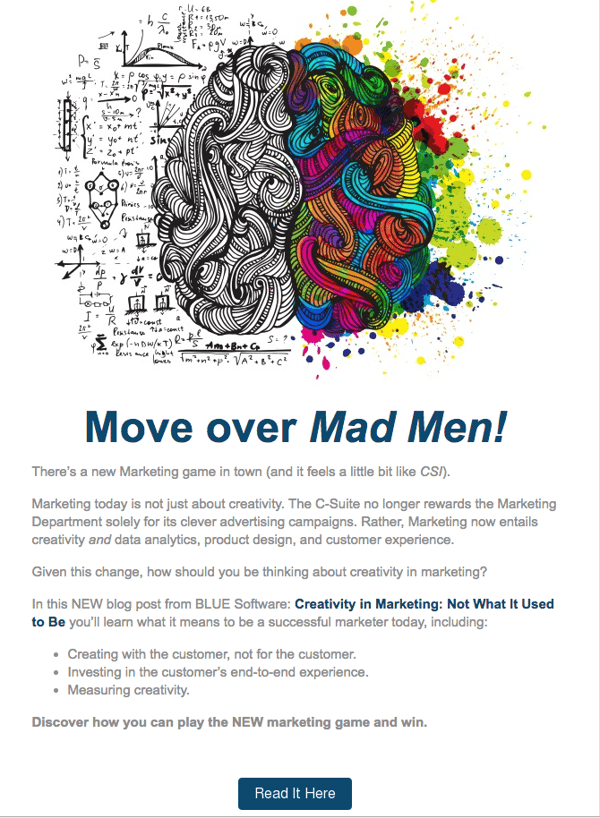 Below is an example of a lead nurturing campaign for the Life Sciences industry: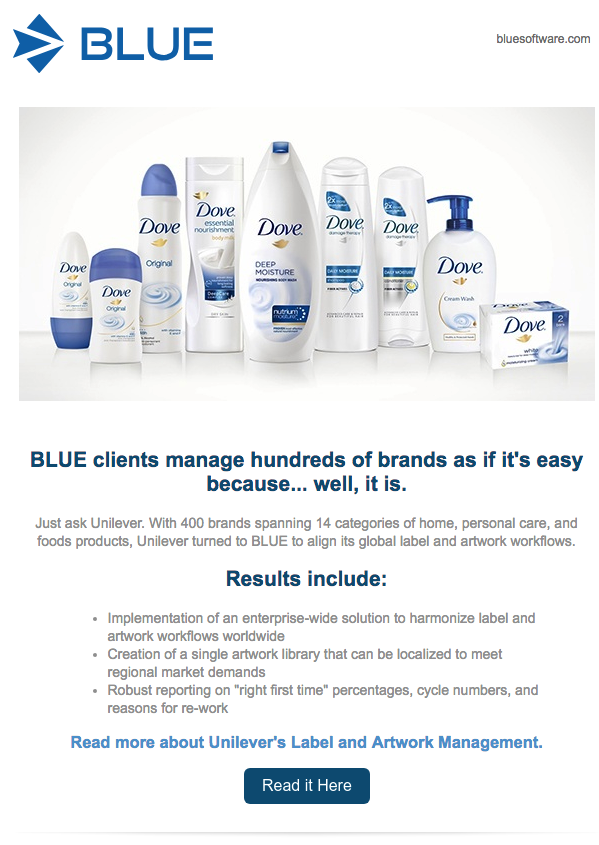 The Results
Throughout our engagement, our team was able to:
Re-engage almost 100 contacts with the long-term drip campaigns
See a steady increase in monthly visitors and new users: 27% increase in sessions and 36% increase in new users to the BLUE Software website
Improve vital topic-based keyword rankings while increasing organic traffic month-over-month
Bring in at least 30 leads each month
Increase the Lead-to-MQL rate to 65%, well above benchmark data, with all lifecycle marketing efforts
Overall, we've brought in more organic (and unique) visitors to the site and blog, increased average session duration and pages per session and reduced bounce rate compared to the time frame before our engagement. All of these results aligned with the SMART goals we established with BLUE Software at the start of our partnership. With enhanced behavioral metrics (one of the more vital ranking factors) and better optimized pages, BLUE's rankings have increased page rankings allowing more people to see BLUE's pages and increasing the number of viable visitors coming to the site.
The Impact
In less than a year, our team was able to turn Blue Software's dropping lead generation trend around and create a full funnel marketing and sales engine to attract and convert leads, nurture them with tailored content for their engagement level and persona, and streamline lead handoff to sales.

With an SEO and content strategy in place, BLUE Software is seeing a steady increase in organic site traffic, attracting better-fit leads and seeing more of those leads remain engaged throughout their entire buyer's journey. In addition, they've been able to identify content, SEO and strategic gaps in their marketing efforts and respond with highly-targeted campaigns.
What our client thought:

"The team at NewBreed is exceptional. From inbound lead generation strategy and execution to SEO, SEM, and social media, they increase conversions across all of your online channels and produce results that grow your business and retain your customer base. They are always available for support, their project plans are thorough and well executed, and added bonus: they're a pleasure to work with."
- Lisa Henthorn, Marketing and Communications Manager at BLUE Software
Interested in accelerating your growth with the help of a Diamond-tier HubSpot partner? We'd love to discuss your unique growth goals and help you formulate a plan for achieving them in 2018. All you've got to do is reach out.
Megan is a Senior Inbound Strategist.
Connect with the author