Competitive analysis is the process of identifying and researching your competitors so you can uncover their core strategies. From there, you can determine how their strengths and weaknesses compare to yours.
"Competitive analysis allows you to understand what you're up against, who you're selling to and how you can differentiate yourself from your competitors," says New Breed's Head of Demand Generation, Guido Bartolacci.
Determining where you stand amongst your competitors can help you develop your strategy and define your position within your market.
Having this knowledge will prepare you for the sales process. Modern consumers are educated. For substantial purchases, they'll consider different solutions on the market. You need to be able to handle their objections and questions and convey what makes your product or service more valuable than the alternatives.
"Competitive analysis is also useful in creating your unique value proposition (UVP)," says Guido.
Your UVP is a succinct statement of the benefits your product offers, how your product solves for customers' challenges and how your offering differentiates you from the competition. If you are in a market where the products are very similar, your UVP could be the deciding factor for consumers.
Overall, without competitive analysis, you won't be able to fully build out your strategy. So, let's consider the questions you should ask yourself to make sure that doesn't happen.
Questions to Ask:
Who are your competitors?
Hopefully, you have a decent understanding of your main competitors in the market. But, if you want to effectively build out your strategy, you should dive deeper. Don't just look at the big fish in the pond; consider the smaller competitors, too. While they might have less market share, they could eventually capture more business. If you don't account for them now, it could hurt you down the road.

Fringe competitors and substitutes are also important to evaluate. Once again, they might not seem immediately relevant but could be in the future. It's better to understand the market in its entirety instead of just focusing on only one area that you think will be relevant to you.

Having a deep, overall understanding of the competitive landscape is an important first step in your analysis.
What are their strengths and weaknesses?
Once you know who you need to evaluate, you should consider what their strengths and weaknesses are.
First, you should have an idea of your own company's strengths and weaknesses. Then, by evaluating your competitors, you can see how you stack up against them. Ask yourself: Where do you have a competitive advantage? And where do they have a competitive advantage?
From there, you can find ways to differentiate your offering from your competitors.
What are the opportunities and threats within a given market or industry?
While strengths and weaknesses are internal, a company's opportunities and threats are external. For a given market or industry, strengths and weaknesses will differ for each company, but the opportunities and threats largely remain the same.
You should try to leverage your strengths and take advantage of your competitors' weaknesses, so that will inform some of your company's opportunities. Alternatively, competitors will probably try to capitalize on your weaknesses, so that will inform some of your threats.
Beyond that, you should look at the larger environment surrounding your business. One way to do this is to perform a PESTEL analysis.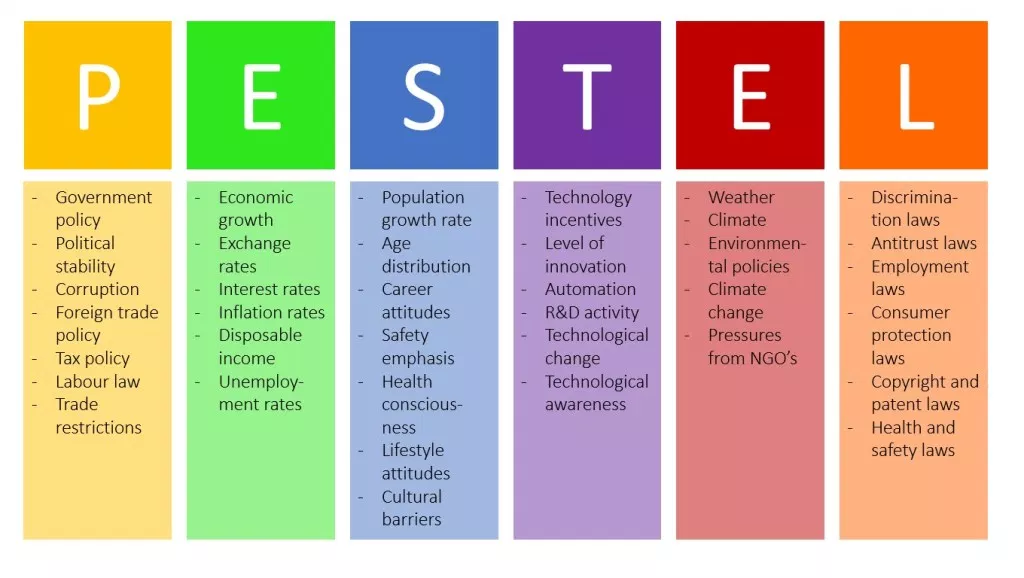 PESTEL stands for political, economic, social, technological, environmental and legal. Essentially, you analyze each of those sectors, evaluating how they could affect your business.
For example, you should ask yourself: Are there any technological advances that have occurred or will occur that present an opportunity for our company? Are there any technological advances that present threats for our company?
In examining what is happening within different sectors, you can uncover opportunities for your company and avoid threats that you otherwise might have ignored.
What are the characteristics of your ideal customers and your competitors' ideal customers?
Anideal customer profile (ICP) is a hypothetical description of the type of customer that would reap the most benefit from your product or solution. These customers tend to produce the most successful sales cycles, the greatest retention rates and the most evangelists for your brand.
You should research what types of customers close with your competitors, so you can develop an idea of how they compare to your company. While there will likely be some overlap between your ICP and those of your competitors, you probably are situated in your own niche within the market. There should be at least some differentiating factors.
From there, you need to recognize that you aren't going to win every deal that comes through. If a potential customer emerges that doesn't match your ICP but it does align with your competitor's ICP, you should be willing to let that deal go. That customer probably would not be the best fit for your company, so don't force it.
Other questions to consider
While we've covered several questions in depth, these are only the basis of your competitive research. You should also ask yourself:
How do you compare based on the size of your company?
How much do product prices reflect perceived value?
Has this company had long-standing communication and trust from buyers?
Are there numerous products that suit buyers' needs and offer value?
How do competitors distribute their products? How do they promote their products?
What is the Total Addressable Market? What is the existing market share breakdown?
Resources for Competitive Analysis
Now that you've asked all these questions, you may be wondering where you should go to find answers. After all, your competitors aren't exactly showing off their strategy to the world.
Monitor owned content
To begin, it's wise to look at your competitors' owned content. Determine which channels they leverage. Whether they're going to events, posting on l media, generating conversions from their website or using other tactics, you will likely find this process useful.
Overall, if you observe their website and other owned channels, it'll give you a sense of what your competitors do and how they try to position themselves.
Leverage review sites and search engines
Beyond that, sifting through reviews or perusing review sites can give you an idea of what consumers think about your competitors' companies and products. They could also provide insight into the ways your competition is falling short and where their customers are dissatisfied.
More often than not review sites will actually do comparisons, examining the different features between products. Normally, you can even compare and contrast two offerings side-by-side, diving into greater detail and making these sites incredibly useful. For example, in the software space, the review website, G2, is a great resource for comparisons between platforms.
From there, conduct Google searches. You can learn about your competition's strategies, their customers, their brand and much more by studying search results. Often, Google or other search engines can at least guide you to the material that will be most useful, free or otherwise.
Ideally, you won't need to pay for your competitive research, but eventually, you will run into paywalls. If you want to develop a more detailed understanding of your competitors or the factors impacting your industry, paying for reports or professional help is an option. Bear in mind, though, that you can spend thousands of dollars on competitive analysis and not learn much more than you could have learned for free.
Competitor analysis tools
If your interested in doing keyword research or simply learning more about your competitors' websites, platforms like Ubersuggest, SEMrush, Alexa or even the HubSpot Website Grader can provide valuable information. For example, you could determine which keywords your competitors are ranking for, informing where you want to go head-to-head with them and where you want to cede control.
Industry reports are another great resource for competitive analysis. Many such reports are not free, but you can often find some that are. For example, in the SaaS space, Openview Venture Partners releases their annual Expansion SaaS Benchmarks report. In addition, HubSpot offers their State of Inbound report. Finding reports for your particular industry can be extremely helpful.
For more large scale information, you can look at reports from governing bodies. For example, you find information conduct market research and perform competitive analysis by using the U.S. Census. The Census Bureau produces tons of useful data. Specifically, you can use it to determine your Total Addressable Market or dig into NAICS code. Additionally, if you are facing competition from publicly held companies, the U.S. Securities and Exchange Commission requires regular reporting and updates for stockholders. There are ample ways you could leverage such information.
It's worthwhile to look into platforms like Glassdoor, LinkedIn and Indeed to see if any information is listed about your competitors. For example, you could search for information on company size or even find examples of company culture on such sites. Those are also channels where you could hear directly from current or former employees within those organizations, which could prove useful.
The advertising tools within LinkedIn and Facebook could be valuable as well. They'll show you certain aspects of your audience. For example, you could find the number of individuals you could target within an industry, what their titles are and what their roles are. You could use this information to develop a good estimate of your Total Addressable Market or determine if certain markets are growing.
If your competitors produce case studies, reviewing them could indicate who they've worked with in the past and what they do for clients. Such information could also inform your competitors' ICPs, which could prove extremely helpful.
One final resource we'll mention is publicity. It's prudent to track if you, your competitors or your industry is mentioned online. It's probably easiest to set up Google Alerts, so you can receive emails when certain topics are referenced. This can help you identify trends or learn more about your competitive landscape.
Competitor Analysis Example
Now enough talk about competitor analysis. Let's take a look at how to create one based on an example.
An in-depth competitor analysis should include the following:
Identify any ranks for keywords — Knowing exactly what your competitors rank for can help you determine where your products and services overlap. For example, if you're both marketing "waterproof blue sneakers," and your competitors rank higher than you, you now understand a weakness in your own marketing strategy.
Identify any active paid campaigns — Paid campaigns are what bring attention to your ad through advertisements. Take into account where your competitors are running their campaigns, and which are most successful in attracting an audience.
Look for any industry-specific keywords — Does your competitor use any industry-specific words? If they do, how high do they rank?
Describe any opportunities within content or SEO strategy — Are there any areas in content that your competitors are lacking in? Are there opportunities where your brand can fill the gaps, and provide much-needed content for your customers?
Each competitor analysis will look unique, as each competitor has different strengths and weaknesses. The most important thing is to conduct one thoroughly. Leave no stone unturned, as you never know where a hidden opportunity may lie.
Key Takeaway
The reason you should conduct competitive analysis is so you can get the best customers possible. Ultimately, you want to communicate with them effectively and be able to position your product as the best solution to their problems.
Of course, to position yourself well, you must develop an understanding of where your competitors are within the market. It's vital to consider your ICP in this analysis and accept that you won't win every customer.
At this point, if you are entering a market, you should be concerned about producing a few quality customers versus generating a large number of customers. The volume will come in time, but first you need to develop trust.
"You'd be better off getting a handful of really strong, happy clients that you can use to build a story around," says Guido. "Without that it's going to be really hard to go up to another company that could use your help and tell a story that's as compelling as an established player."
With this story, when new contacts do come along, you can demonstrate your expertise, presenting examples of previous success.
Throughout the process, the information you acquire from your competitive analysis will guide you. It'll inform how you can leverage your strengths, where you can exploit your competitors' weaknesses, which channels you should target and how you can best communicate with your customers.
Isaac is an Inbound Specialist at New Breed. His passion for the inbound philosophy of giving value to customers before extracting it brought him to New Breed. In his free time, he's an avid outdoorsman.