Gone are the days when social media was just a novelty. Social media platforms today seem to have surpassed the age of innocence and entered into a more mature phase, from being uncharted, cutting-edge technology to a commonplace societal norm. Today, almost any business can benefit from social media, and the ones that aren't keeping up have a lot to lose!
Being a successful marketer is about taking advantage of every opportunity that comes your way, and social media is no exception — especially when you know that this area is continuing to grow at warp speed. Your target audience is spending some quality time on these popular networks, so you should invest in communicating with them there.
What is social media content creation?
Creating content for social media platforms may seem daunting, but it's really not that difficult. The key is to produce content that is both relevant and engaging for your audience.

There are many different types of content you can create for social media, including blog posts, articles, infographics, images, videos, and more. When creating your content, be sure to consider the following:
What are your goals for social media?
Who is your target audience?
What type of content is most relevant and engaging for them?
What tone should you use in your writing (serious, fun, etc.)?
How often should you publish new content?
Produce quality content that will help you achieve your business goals and keep your audience engaged. It may take some time and effort, but your social media content creation will be worth it in the end. Social media content marketing is growing in popularity, and the numbers make it clear why. Here are some of the most compelling statistics on social media content marketing:
A Brief Guide to Social Media Content Creation
Marketers frequently ask: How can I connect more with my target audience? Why aren't I seeing better results from all my marketing efforts? Why don't people talk about my company on social media? Most of the time, the answer is content — or the lack thereof.
Although social media marketing comprises many aspects such as encouraging engagement, promoting your company, and driving website visits, in the end, there is one such aspect unfortunately often neglected: the content.
Have you ever wondered if the lack of traction your social media updates are seeing is due to lousily written content? If you can't put in the effort to create high-quality content, why should other people care or share?
Social media is all about conversations and interaction, whether it's via chats or posts. So, if you're not producing good content on social media:
People will stop following you because they won't learn anything useful from your account
People won't help you build your brand and share your posts because there's nothing to share
Social media won't contribute to your business growth
Like it or not, your results will not be what you were looking for
6 Steps for Creating Engaging Social Media Content
1. Research Your Audience
Before you start creating content, it is important to know who your target audience is and what type of content they might be interested in. Look at the types of conversations they are having on social media and see what topics resonate with them the most. Keep in mind the tone you want to use and how often you should publish new content.
Think about your customers' journey from awareness to conversion
Whether you have just entered the business realm or have been serving for around 10 years, it is very crucial to define your target audience. And trust me, it goes beyond the usual demographics, age, and gender, identifying their role in their company, day-to-day challenges, and goals for future growth. We are residing in the era of experience where you have to give your customers an experience to fall in love with.
To start, place yourself in your customers' shoes and research what compels them to make a purchase. To get a better idea of how to do this, let's walk through this process with two hypothetical customers.
The first customer is a creative entrepreneur who always prefers a visual approach, whether it's business or personal lifestyle content. They're a passionate and inquisitive individual who keeps on asking a plethora of questions before making a decision to buy a product or service. They keep a close eye on Facebook infographics or Instagram posts. Here is their thought process when researching a company on social media: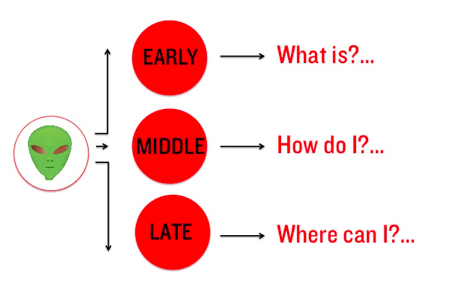 Now, on the other hand, we have customer two, who is completely the opposite when it comes to buying a product. They are more analytical and methodical, interested in facts and figures. They prefer LinkedIn's more B2B-focused approach to getting answers to their questions. Their thought process goes more like this: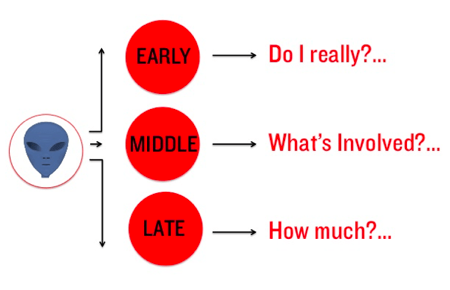 Take as much time as you need to understand how your target audience thinks. Once you know this, you will better understand what content will resonate with them and how you can earn their trust.
2. Set Goals
Take some time to define your goals for social media. What are you trying to achieve with your content? Do you want to increase followers or drive more sales?
Review past performance to set benchmarks for your social media goals
As soon as you are done with the research, it's time to plan your goals. If you have already been creating content, you need to conduct a social media content audit to determine which posts performed well and which didn't.
Have you ever come across any social media management platform? If yes, you would know how easy it is to look at all of your social media data and analytics in one place? By using these tools, you can have a holistic view of how all of your social media content is performing.
Of course, tools and tricks can ease your work, but that certainly doesn't mean you can't analyze your data without them. All you need to do is export each platform's data into a spreadsheet.
Social media platforms such as Facebook, Twitter, and LinkedIn allow you to export your post and page analytics directly from the platform. So, set your goal in advance. For example, do you wish to improve brand awareness or identify which posts resulted in new followers? Conducting a content audit will help you substantiate what you think is working well with quantitative data that shows you how each post performs.
Apart from this, irrelevant posts are the second largest reason consumers unfollow brands on social media. Stick with your unique voice and style as much as possible and create content that authentically markets your brand.
3. Brainstorm Content Ideas
Now it's time to brainstorm ideas for content. Look at the topics that resonated with your audience and think of ways you can develop interesting, unique content around them. Don't be afraid to be creative and experiment with different types of content. Try using images, videos, infographics, and other formats to engage your audience.
4. Plan Ahead
Planning ahead is key when it comes to creating social media content. You should have a plan in place outlining which type of content you will post when it will be published, and how often new pieces should be released.
Consistency is key when it comes to publishing quality content on social media
As mentioned earlier, social media marketing goes way beyond just publishing content. You need to have a two-way conversation. The more open you are and the more you use social media for customer service, the more likely your audience will feel valued. All you have to do is think about the ways you can use social media to shorten the buying process and turn a potential customer into a paying customer that much quicker.
The key is to keep engaging your audience on social media. This could include responding to customer inquiries quickly, joining conversations around relevant topics, and following up with leads in a timely manner. We know that customers nowadays demand an instant response to their queries. So, you should consider building a team that can help you to answer all of your customer's questions quickly and effectively.
5. Write Engaging Content
Once you have an idea for a piece of content, it's time to write it! Make sure your content is engaging, informative, entertaining, and relevant to your brand and the interests of your audience and ICPs. When writing for social media, avoid using too much corporate jargon or complex language that will alienate your readers.
6. Monitor Performance
Finally, don't forget to track the performance of your content so you can see what works and what doesn't. This will help inform future content creation decisions and ensure that your social media efforts are driving results.
Creating great content for social media doesn't have to be a daunting task. With some planning and knowledge of who your target audience is, you can start creating effective, engaging pieces that will help you reach your business goals. Have fun with it — the possibilities are endless!
The Takeaway
By following these tips, you are sure to have success with creating social media content that resonates with customers and drives ROI for your business. Social media is full of creative possibilities, you need to strengthen your presence on popular platforms and experiment with new ones. By doing this, you will be able to reach different types of audiences and boost engagement across the board.
Social media content creation may seem overwhelming at first but with proper planning and research, it can be much easier than thought before. With time, dedication, and a little bit of creativity, you can make your brand more visible than ever before! Good luck!
Charles Richard works as a Business Analyst at TatvaSoft UK, a software development company based in London. Apart from his daily job Charles likes to explore e-commerce trends and best practices. He has published authorship bylines in many major publications, including Quirks, Search Engine Watch, YourStory and more....