You've heard it time and time again: Every successful business needs a robust and engaging social media presence. And you're probably already using social media in your marketing — but are you actually using it effectively?
Most of the time, B2C brands get all the attention on social media, but B2B social media use may surprise you. It's easy to fall into the perception that B2B marketing is boring and unfit for social media and, ultimately, many B2B brand gets overlooked (or under looked). But this is wrong!
Social media is an extremely effective tool for B2B marketers because it can help you:
Increase brand awareness
Humanize B2B companies
Establish your company as a thought leader
Connect with prospects, clients and industry influencers
Increase lead conversion rate
Don't believe me? Let's take a look at three brands with the most successful social media campaigns for B2B:
Drift, the first conversational marketing provider, has always been incredibly vocal about the care, effort and focus they put into their customers — and they show that care through their engaging use of social media.
Facebook Tagline: "Drift is changing the way businesses buy from businesses."
Twitter Tagline: "Connect your sales teams with your future customers NOW."
Campaign Strategy: By using a mix of questions, quotes, images, videos and links, Drift creates posts that are relatable and easy to digest by their audience. They frequently showcase their own customers in their social posts and shares, including this retweet that commends a user for their creative use of the Drift bot: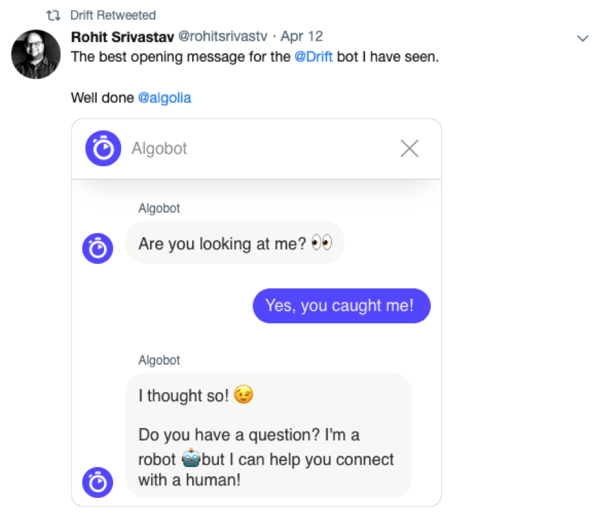 Additionally, they always take the time to respond to comments, questions and reviews left by their followers.
Why They Work: As Drift puts it, one of the core principles that directs everything they do as a company is to be "customer-driven, not company-driven." By using their social media to emphasize their care for the customer, respond to reviews, offer advice for troubleshooting and optimizing their product and engage with both customers and prospects, they've infused their entire company philosophy into their social engagements.
In other words, Drift's social strategy works because it's:
Engaging
Human
Customer-focused
Brand-consistent
WeWork is a creative company that provides shared workspaces and business services for entrepreneurs, freelancers, startups, small businesses and large enterprises. As they say on their website, "Community is our catalyst," so it should come as a shock to nobody that they've used their social channels to build an authentic community of like-minded people.
Facebook Tagline: "WeWork is the platform for creators. We provide beautiful workspace, an inspiring community, and business services to thousands of members worldwide."
LinkedIn Tagline: "Make a life, not just a living. Share your stories using #wework."
Campaign Strategy: Focusing greatly on insights, tips and case studies, WeWork's social posts offer 30-second educational videos demonstrating how to maximize your office space, beautiful images of their customers' workspaces and a mix of non-product-related motivational posts like this one: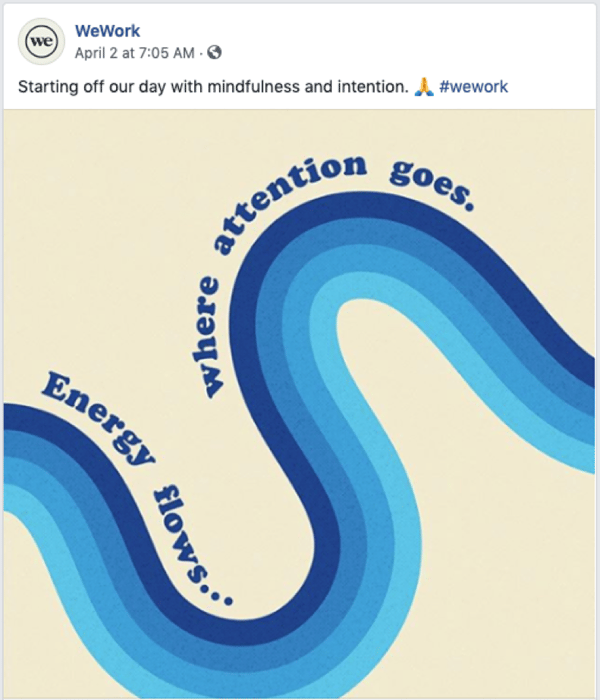 Why They Work: Similar to Drift's, WeWork's social presence is less about their pushing their product and more about spreading their mission and helping their customers grow. They encourage their customers and prospects to engage by sharing their stories with the hashtag #wework, creating a thriving community based on shared values. As Michael Fitzsimmons, WeWork's VP of Creative Strategy, puts it, the content on their social channels "represent[s] real challenges that a lot of businesses deal with on a daily basis."
In other words, WeWork's social strategy works because it's:
Visual
Educational
Community-focused
Brand-consistent
International Business Machines Corporation is a global information technology company that provides hardware, software, cloud-based services and cognitive computing to businesses. IBM has become somewhat notorious for their powerful social presence, and after taking a quick tour of their social media channels, it's easy to see why.
Facebook Tagline: "Learn more about AI, cloud, data, security and systems and discover what's possible. https://ibm.com"
Twitter Tagline: "Together with our clients, we're using technologies like AI, cloud, blockchain & IoT to transform business, industries and the world. Let's put smart to work."
Campaign Strategy: Using a mix of high-quality photography, videos, employee profiles, trending hashtags and more, IBM showcases their brand values and mission in every aspect of their social media campaigns. They often share interviews with their own employees, adding a human element to their brand, and they build their social community by emphasizing shared values and "togetherness." Their campaigns are always highly unique, engaging and reflective of their mission, such as the post below: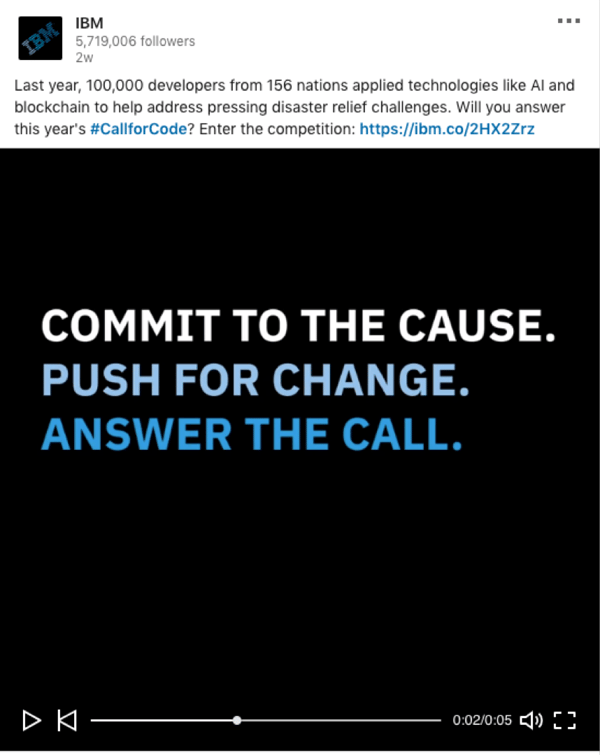 Why They Work: IBM's social strategy stands out because it connects each post with their brand values and mission, frequently tailors its content around current events and other trending topics, showcases the people, processes and progress that make up their company and creates a compelling brand identity that encourages users to join their community. As they say on their website, "IBMers believe in progress — that the application of intelligence, reason and science can improve business, society and the human condition," and everything they post on social reflects this mission.
In other words, IBM's social strategy works because it's:
Timely/relevant
Eclectic
Values-based
Brand-consistent
The Takeaway
Even in the oversaturated social channels, each of these companies have managed to build social presences that truly stand out. All of their social content is relevant to their ideal buyers, consistent with their brand identity, reflective of their people and true to their values.
Images and video, of course, are more important than they've ever been, and each brand includes a healthy dose of these elements in their social campaigns as well. Lastly, by taking the time to engage with their followers and act more like a human than a business, they've been able to connect with their followers on a one-to-one level.
Keep in mind, it's not about B2B or B2C, but rather H2H, human-to-human, marketing. At the end of the day, whether your products or services are used by individuals or businesses, you're still selling to people — and including that human element in your social campaigns is what really makes an impact.
Previously published on June 11, 2014.
Olivia Perek-Clark leads New Breed's Learning and Development team. She is a seasoned Demand Generation and Inbound Marketing Strategist turned team trainer who has a passion for developing systems and content that help other New Breeders do their best work for our clients.
Connect with the author