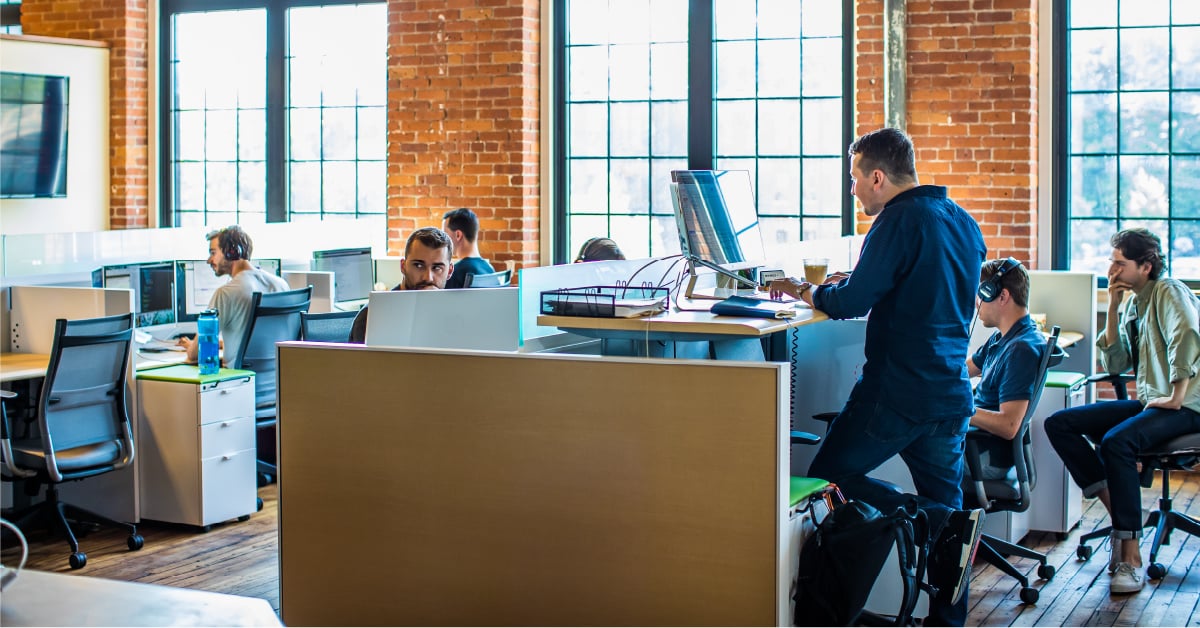 Technology is designed to make people's lives easier. With sales being the business function most tightly associated with revenue generation, increasing their efficiency will positively impact your company as a whole.
Without the right technology, sales can also be an area that requires a lot of manual work.
Sales acceleration software helps you better scale your sales team and develop processes that lead to sustainable growth.
What is Sales Acceleration Software?
Sales acceleration software improves sales teams' ability to accomplish all the tasks involved in their roles while making them more efficient and successful in their sales process.
Sales acceleration software isn't just a single type of platform, but rather a set of tools that lead sales teams to achieve repeatable, scalable, profitable growth.
Types of Sales Acceleration Software
Sales engagement software
The primary responsibility of your sales reps is to connect with prospects. That typically happens through emails, calls and livechat. Sales engagement software makes it possible for those connections to occur and reduces the manual effort surrounding those communications.
Without a sales engagement software, reps would be using their regular inboxes and phones for communications and have to manually track everything that's occurring, which makes it difficult to ensure they're communicating with the right people at the right time.
Sales engagement software helps reps stay on top of all their tasks and gives them the ability to reference the conversations they've previously had later on in the sale. That means when they're talking to a prospect, they can focus on connecting and selling instead of documenting.
Additionally, when all the tracking is manual, each rep will have their own system for collecting data based on their working habits. But, those disparate systems can make it difficult to analyze the sales performance of the team as a whole.
In addition to tracking the communications that occur, sales engagement platforms also standardize that data which makes it easier for teams to analyze their outreach processes and optimize them for both individual reps and the team as a whole.
Sales enablement software
A conversation alone typically isn't enough to close a B2B deal. Reps need to provide additional resources and context too that support their pitch.
Content like research and educational guides can help support the value of your company's solution, and case studies and testimonials can demonstrate the success your company delivers. All of that information needs to be at a sales rep's fingertips so when the need for it arises, they have it ready.
Sales enablement software provides reps with easy access to all the materials they need, from presentation templates to product descriptions to marketing content. Sales enablement software can also contain playbooks and sequences outlining how that content should be used during the sales process.
Email tracking software
Email tracking tools help sales reps gain insight into the performance of their emails. They can let a sales rep know how a prospect has engaged with a particular email and with what kind of email engagement they're getting overall.
Email tracking software can also be used to set up email sequences and measure the success of those sequences across an entire sales team.
This helps individual reps identify what email outreach is most effective for them and helps sales managers determine what works best for the sales team as a whole.
Conversation intelligence software
Conversation intelligence tools record your calls and analyze what was said. They can identify key words and phrases that are said during calls to help you determine where objections come up and how those may impact your ability to close a deal. Conversation intelligence software can also adjust a prospect's lead score based on what's said during the call.
The analysis of your calls and the trends these tools discover can help you improve your sales process by indicating what's the best way to combat objections and when the best time is in a conversation to progress a sale forward.
Sales coaching software
Sales coaching software allows managers to listen in to sales calls as they occur so they can offer real-time coaching.
This can help new reps get onboarded faster, since the opportunity for real-time feedback makes it easier to start conducting outreach earlier in their training process. These tools can also be leveraged to help struggling reps identify areas for improvement.
Sales coaching tools can also record and keep a repository of sales calls that can be analyzed by managers or discussed by teams at training meetings.
Proposal management software
Sales enablement tools provide reps with all the assets needed to nurture a prospect toward buying, but when it's time to close a deal you have to generate contracts and proposals.
These documents often need to go through legal approval, so the documents need to be accessible not just to reps, point-of-contacts and decision-makers, but also to all involved legal teams.
Proposal management software helps sales reps create and distribute proposals and get feedback from all necessary parties. To help save time, many proposal management tools have features to help make proposal creation modular, where reps can insert pre-built sections based on the products or services involved in a deal. This makes it easier to create standardized proposals quickly and correctly.
Sales pipeline management tools
Pipeline management is essential for the success of a sales team. Managers need to know what kind of deals they have in progress and how many deals they can expect to close. This helps them determine what areas of the sales process need to be optimized and which reps could use training.
Sales reps need to know how they're stacking up against their goals and what deals they're currently working on.
Sales pipeline management tools provide a 30,000-foot view of a team's sales process in action, documenting the current distribution of in-progress deals throughout your pipeline and tracking what areas have drop offs.
Training and onboarding
Training and onboarding tools are used to distribute the high-level information new reps need to get started. They'll provide information about your company, your sales process and the tools your team uses.
These tools don't go as specific into personal areas for improvement as sales coaching tools and instead help teach the basics a rep needs to know to do their job to any degree.
For continued learning, onboarding and training tools can also help teach sales methodologies and communication strategies that can help reps become better at selling over time.
Training and onboarding tools make it easy to standardize the training your team receives and reduces the time investment required to conduct that training. Instead of having to do live in-person training for days every time a new rep is hired, these tools allow you to record those sessions or compile the necessary information just once.
Takeaway
While all of these types of sales acceleration platforms can be beneficial, you don't need to have all of them to be successful. Instead, pick the tools that are most critical for your company.
Additionally, whenever you are considering a new tool, make sure it integrates with your current tech stack, in particular with your CRM.
Technology should make life easier for your sales reps, not add friction for them. No matter how great an individual tool is, if it requires extra work to use, your reps probably won't leverage it.
Guido is Head of Product and Growth Strategy for New Breed. He specializes in running in-depth demand generation programs internally while assisting account managers in running them for our clients.