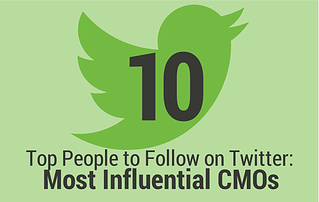 This month, I've brought to you the ten of the most influential CMOs (or Chief Marketing Officers) that you need to be following on Twitter. CMOs increasingly have taken on the responsibility of being the voices and faces of their companies, according to Forbes. They are visible in ways never before possible, thanks to the advent of social media. With that, many times, they are the most accessible C-suite member in an organization.
What makes CMOs so unique is that while they represent their own company brands, they also establish their personal brands in the process. They are the thought leaders, the movers and the shakers of the marketing and sales industry, whose voices rise above everyone else's. While your main goal is always to grow the business, it's also important to take your personal brand into consideration. By following these top CMOs, you'll learn how to structure your online presence by looking at a variety of approaches taken by top CMOs.
To find the top CMOs on Twitter, I referenced Forbes, The World's Most Influencial CMOs in 2014. Teamed with Appinions, the two assess how the CMOs of the top companies in Forbes' Global 2000 list rank in terms of influence, how widely their opinions travel, and how much reaction they generate when they speak.
Let's dive in!
10 Top People to Follow on Twitter: CMO Edition
1. @pschiller | Phil Schiller | Apple
Apple, Sports, Cars, Science, Scuba, Drums, Photography. It's racing season!
2. @bethcomstock | Beth Comstock | General Electric
Marketer on a mission. Intrigued by ideas at the intersection of design & technology. CMO at GE. Aspiring innovator. Sometime writer. Relentless traveler.
3. @HorsesToHarleys | Barb Rechterman | GoDaddy
4. @BlairChristie | Blair Christie | Cisco
Diplomat, explorer, connector, convener, at work and in life. Invigorated by smart thinkers and brilliant technology. Cisco SVP and CMO. Mom of 3.
5. @keithweed | Keith Weed | Unilever
Chief Marketing and Communications Officer at Unilever
6. @AlanGershenhorn | Alan Gershenhorn | UPS
Chief Commercial Officer, @UPS.
7. @jburton | Jeremy Burton | EMC
President Products & Marketing, EMC Corp All tweets authored by me!
8. @JeffreyAHirsch | Jeffrey A Hirsch | Time Warner Cable
Chief Marketing and Sales Officer, Time Warner Cable. Inventing better ways for people to enjoy the things they love. #EnjoyBetter
9. @KLemkau | Kristin Lemkau | JPMorgan Stanley
Chief Marketing Officer, JPMorgan Chase. Proud Mom and wife. Vanderbilt alum. Chair of Sandy Hook Promise.
10. @mzuna | Michael Zuna | Aflac
Proud father of Alexandra & Sophia, aspiring innovator, fascinated with digital marketing, data, design and sales enablement. @Starbucks junkie and CMO @aflac

Olivia is the manager of New Breed's Inbound Team. She excels at helping clients identify, build and execute scalable demand generation strategies using the HubSpot ecosystem.
Connect with the author