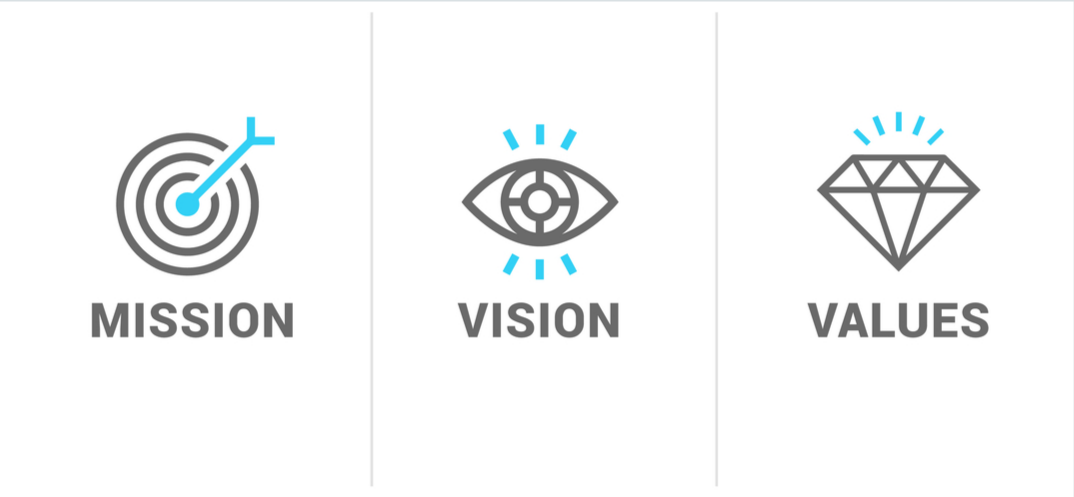 Why your company provides its product or service matters to your customers. That "why" is what differentiates market leaders from companies on the brink of failure.
In the TedTalk "How great leaders inspire action" Simon Sinek argues that successful companies and leaders start their messaging with why they do what they do, instead of leading with what their solution is or how it works.
"People don't buy what you do; they buy why you do it. If you talk about what you believe, you will attract those who believe what you believe," he says.
One way to communicate what your company believes in is by crafting a mission statement.
"A mission statement is a representation of your reason for being," says Guido Bartolacci, New Breed's Head of Demand Generation. "When it's shared with your consumers and carried through the way you operate, it builds a sense of community and connection that builds loyalty."
Mission statements help people feel like they're doing more than just making a purchase. While the benefits you gain from a mission statement are valuable, the results are less tangible than those of SEO or email marketing.
"You might be able to draw correlations between 'we have a strong mission statement' and 'we have a really high retention rate' or 'we have people who come back to us or really high referrals,'" Guido says. "Ultimately, it should have an effect on those results, but it's going to be really difficult to tie your mission statement back to those things."
Mission statements can also be used to justify a prestige pricing strategy because people may be willing to pay more to support values they believe in.
Companies can include their mission statement as part of their company story or publish it on "about" or "values" pages on their site. An effective mission statement typically mentions the need the company is solving, the company's core values, how its people and way of operating support its values and what it's willing to sacrifice for those values.
Here are six examples of strong mission statements.
1.
TOMS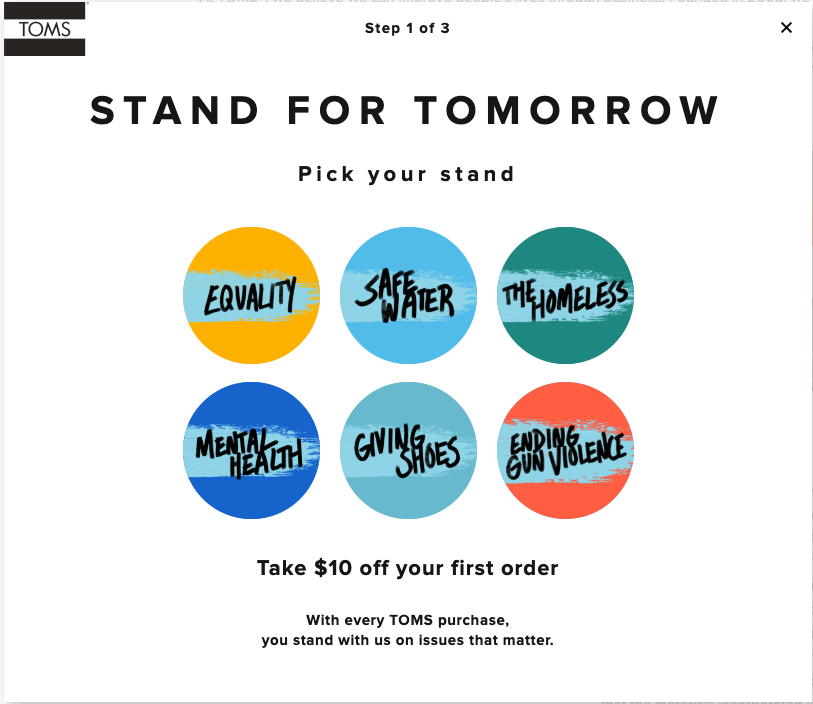 Corporate Responsibility at TOMS® intro: "At TOMS®, we believe we can improve people's lives through business. Founded in 2006, we understand the imperative for our company to operate responsibly and know that you want to buy from a company that works hard to integrate sustainable and responsible practices into all that they do. Our efforts are focused on making sure that we operate in a manner that's consistent with our brand values. We'll continue to travel this path and communicate with you along the journey."
TOMS was founded to help provide shoes for children in need, and over the years, they've embraced numerous other charitable causes as well. While the specific need they're addressing isn't explicitly stated in the Corporate Responsibility excerpt above, it is the focus of their company story.
The values they support are sustainable and responsible practices for both business and community, both of which they introduce in the excerpt above. TOMS sacrifices revenue for those values by giving away products and choosing ethically sourced materials, suppliers and vendors.
Operating in alignment with their values is central to their mission, and their focus on fostering community brings people into their mission as well. They highlight their commitment to customers by speaking to them directly in the second person throughout their mission statement.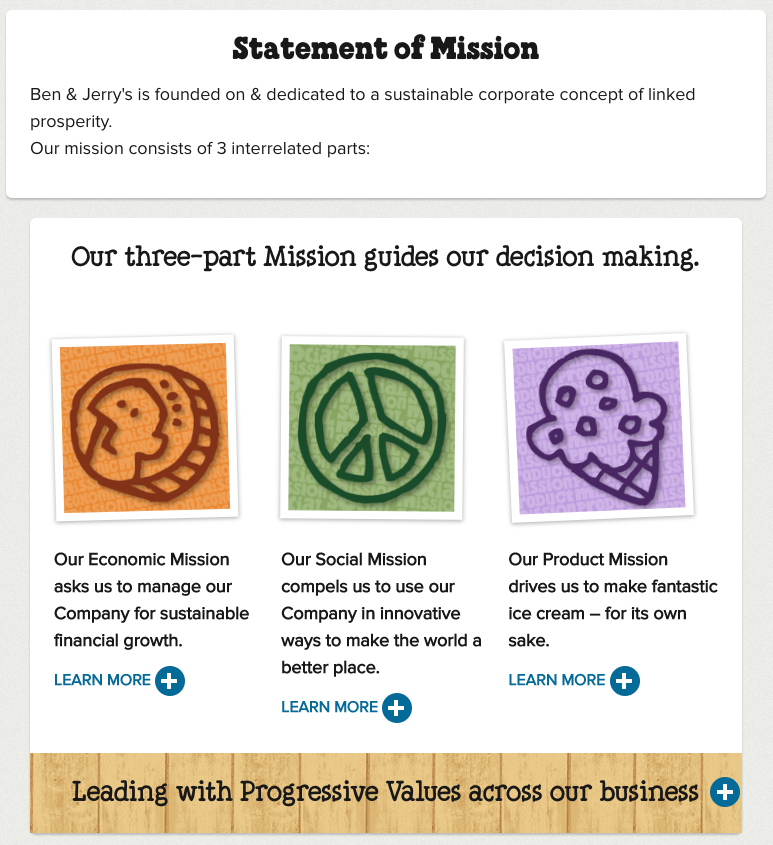 "Ben & Jerry's operates on a three-part mission that aims to create linked prosperity for everyone that's connected to our business: suppliers, employees, farmers, franchisees, customers, and neighbors alike."
Ben & Jerry's splits their mission statement into three sections: economic, social and product.
The company fulfills the need for "the finest quality ice cream and euphoric concoctions" made with "wholesome, natural ingredients" in an environmentally-friendly manner. They value sustainability in all areas of their business and work to improve larger societal issues.
They sacrifice potential customers in order to live up to their values. Because of their focus on fair trade and environmentally-friendly ingredients, their ice cream is more expensive than other options. Additionally, Ben & Jerry's takes political stances in their operating practices and product names, which can alienate consumers with opposing viewpoints.
Their commitment to the people impacted by their business is prominent throughout their mission statement. As Ben & Jerry's states at the top of their values page, they aim to create "linked prosperity for everyone that's connected to our business."
3.
Ivory Ella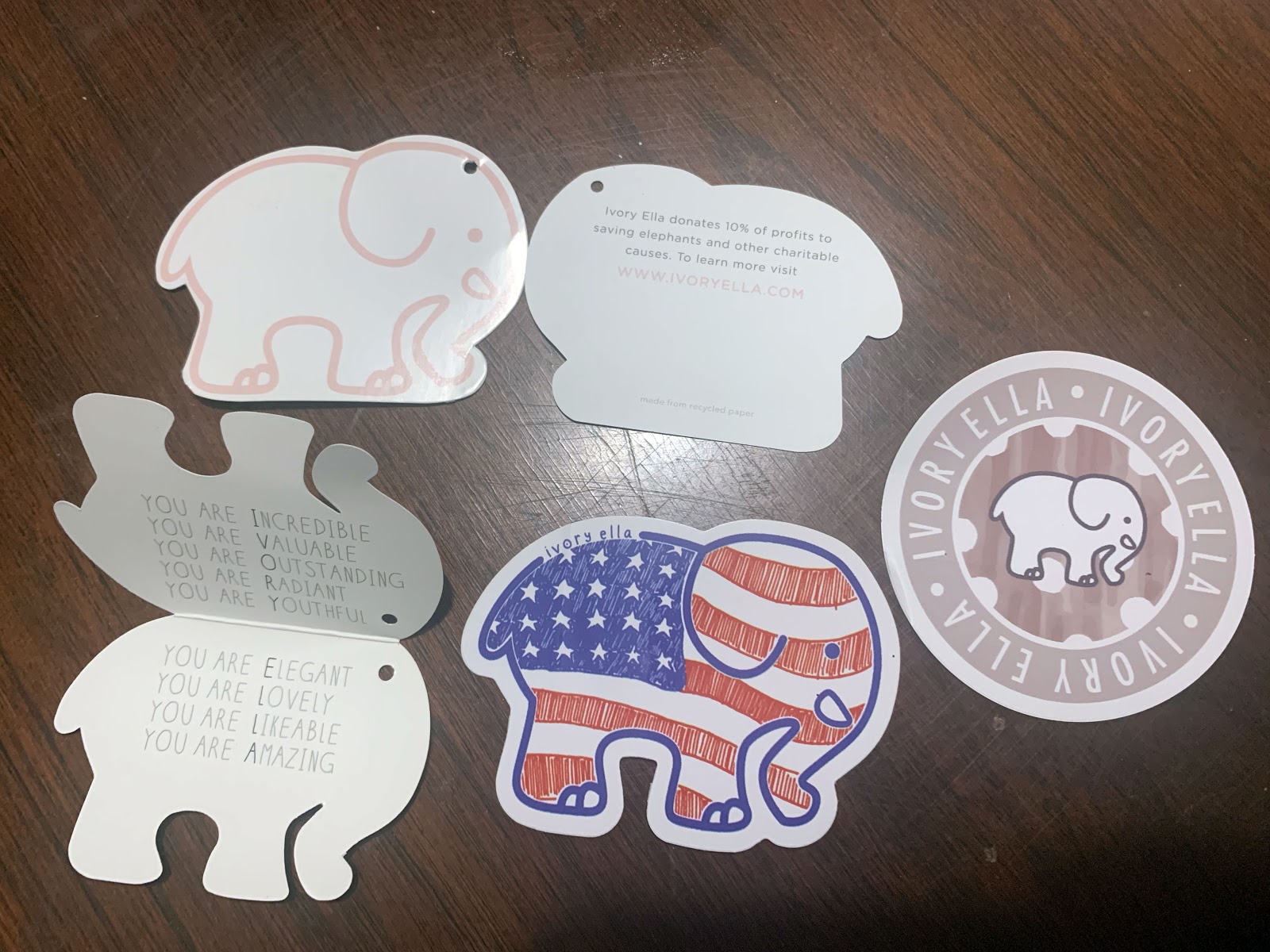 "Ivory Ella was born from a passionate desire to make a difference in the world. Our six founders came together four years ago pooling their collective design talents, social media savvy, and digital expertise to build a brand that could have a meaningful impact. They listened to the collective voices of their massive social media community — a vibrant network of fun-loving global travelers, animal lovers and eco-conscious consumers — to build Ivory Ella, a truly mission-driven apparel and lifestyle brand that supports elephant conservation."
Ivory Ella is an apparel brand that donates a percentage of their profits to elephant conservation. As explained in their mission statement, the company was founded in order to support that cause.
Ivory Ella values the importance of elephants to the ecosystems they reside in and the community of consumers who are passionate about elephants and the environment. They donate a portion of their sales in order to uphold those values.
Their social media community played a major role in Ivory Ella's founding and continues to play a role in how the company operates to this day. They encourage their customers to post about wearing their Ivory Ella on social media, and the company regularly shares user-generated content from their brand accounts. They also take community feedback into account when designing new products.
4. Patagonia
"At Patagonia, we appreciate that all life on earth is under threat of extinction. We aim to use the resources we have—our business, our investments, our voice and our imaginations—to do something about it."
Patagonia sells clothes and gear for a wide range of outdoor activities. Because the environment is at the core of their products, the company focuses their 450-word mission statement on their work to combat climate change.
Patagonia "grew out of a small company that made tools for climbers." There was a need for reusable climbing hardware, so Patagonia's founder started making it. Eventually there was enough demand that the equipment needed to be mass-produced, and a company was born. Patagonia was an offshoot of that original company, created to fill the need for tactical apparel.
Patagonia's values the quality of their products, the environment and not being bound by conventions. To support those values, they donate time, services and a percentage of their sales. Additionally, they've discontinued using materials and practices that harm the environment.
The driving force behind Patagonia is people. The outdoors is precious to Patagonia's customers and employees, and the company cares about what its community values.
5. HubSpot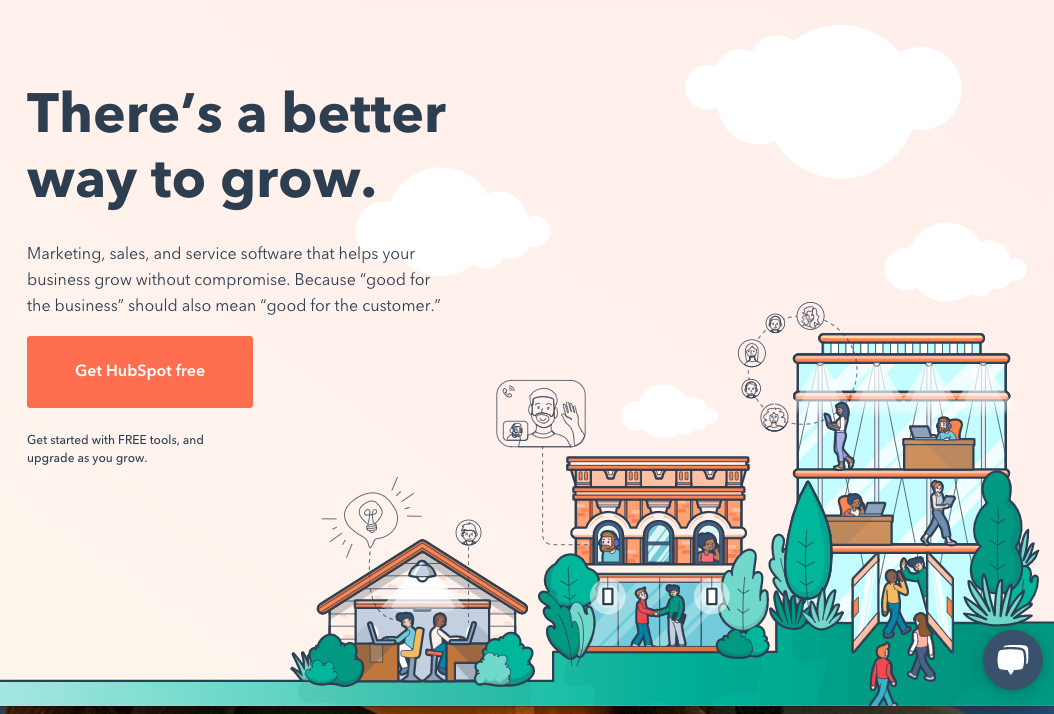 "There's this notion that to grow a business, you have to be ruthless. But we know there's a better way to grow. One where what's good for the bottom line is also good for customers. We believe businesses can grow with a conscience, and succeed with a soul — and that they can do it with inbound. That's why we've created a platform uniting software, education, and community to help businesses grow better every day."
The change in consumer behavior that led to the inbound methodology also spurred HubSpot to be founded: "the notion that people don't want to be interrupted by marketers or harassed by salespeople — they want to be helped." HubSpot was founded to help businesses grow in a more customer-centric way.
They value scalable growth, internal unification and the prioritization of customers. They believed in those principles so much that they went against the status quo to create a company founded in them. Initially, HubSpot focused on selling to small and medium companies who would be more willing to switch to the inbound methodology. In doing so, they sacrificed the revenue they could have gained from enterprise-level companies.
HubSpot used the inbound methodology to grow their own business, and, in doing so, they ensured they lived up to their values and became their own best case study.
They don't mention their people in their mission statement, but they do have an extensive culture code and expand on how their commitment to growth extends to their employees in the culture section of their website.
6. Forrester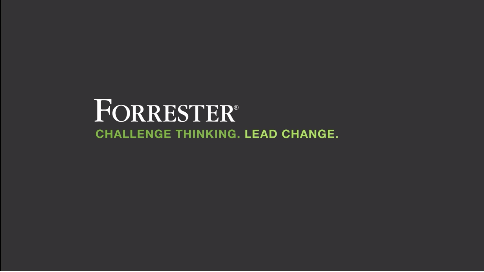 "Forrester (Nasdaq: FORR) is one of the most influential research and advisory firms in the world. We work with business and technology leaders to develop customer-obsessed strategies that drive growth. Forrester's unique insights are grounded in annual surveys of more than 675,000 consumers and business leaders worldwide, rigorous and objective methodologies, and the shared wisdom of our most innovative clients. Through proprietary research, analytics, custom consulting, exclusive executive peer groups, learning offerings, and events, the Forrester experience is about a singular and powerful purpose: to challenge the thinking of our clients to help them lead change in their organizations."
Forrester fulfills businesses' needs for insight into their customers' wants and behaviors. They value their clients, collaboration, courage, integrity and quality. They believe in the data they collect, and when living up to their values of courage and integrity, they sometimes have to make tough calls and share information people don't want to hear.
The importance of their clients is woven throughout their mission: Forrester both learns from their clients and helps them make informed decisions to lead change.
The Takeaway
"A strong mission statement makes you feel like you're doing more than just purchasing a product," Guido says. "They make you feel like you're supporting a cause or movement that aligns with your values."
Customers of the six companies mentioned above know they're more than just a source of income; they're part of a community. And being part of something bigger engenders more loyalty than a company can gain from merely having a good product.
Quinn is a writer and copyeditor whose work ranges from journalism to travel writing to inbound marketing content.