In the modern era of commerce, businesses need more than just a platform to process payments. They need an integrated system that connects every aspect of the sales cycle, from lead generation to payment processing. Enter HubSpot's Commerce Hub — an advanced B2B commerce suite designed to streamline your opportunity-to-revenue process.
HubSpot's Commerce Hub: What Is It?
No longer do HubSpot users need to juggle managing multiple payment tools. With the rebranded Commerce Hub, HubSpot demonstrates its commitment to offering a comprehensive suite of solutions tailored to each stage of the customer journey.
Simply put, Commerce Hub is a user-friendly commerce suite seamlessly integrated with HubSpot CRM (you can access all new features under the "Sales" tab in your portal!). The new hub is available to all HubSpot users, with select features available to Starter and above tiers. Commerce Hub's primary focus revolves around three crucial business objectives:
Accelerated Payments: Helps businesses get paid faster.
Revenue Boost: Aids in maximizing revenue.
Time Efficiency: Designed to save time and streamline processes.
Unlike traditional systems that require businesses to use multiple tools for different tasks, HubSpot's Commerce Hub brings everything under one roof, ensuring teams remain on the same page and work efficiently.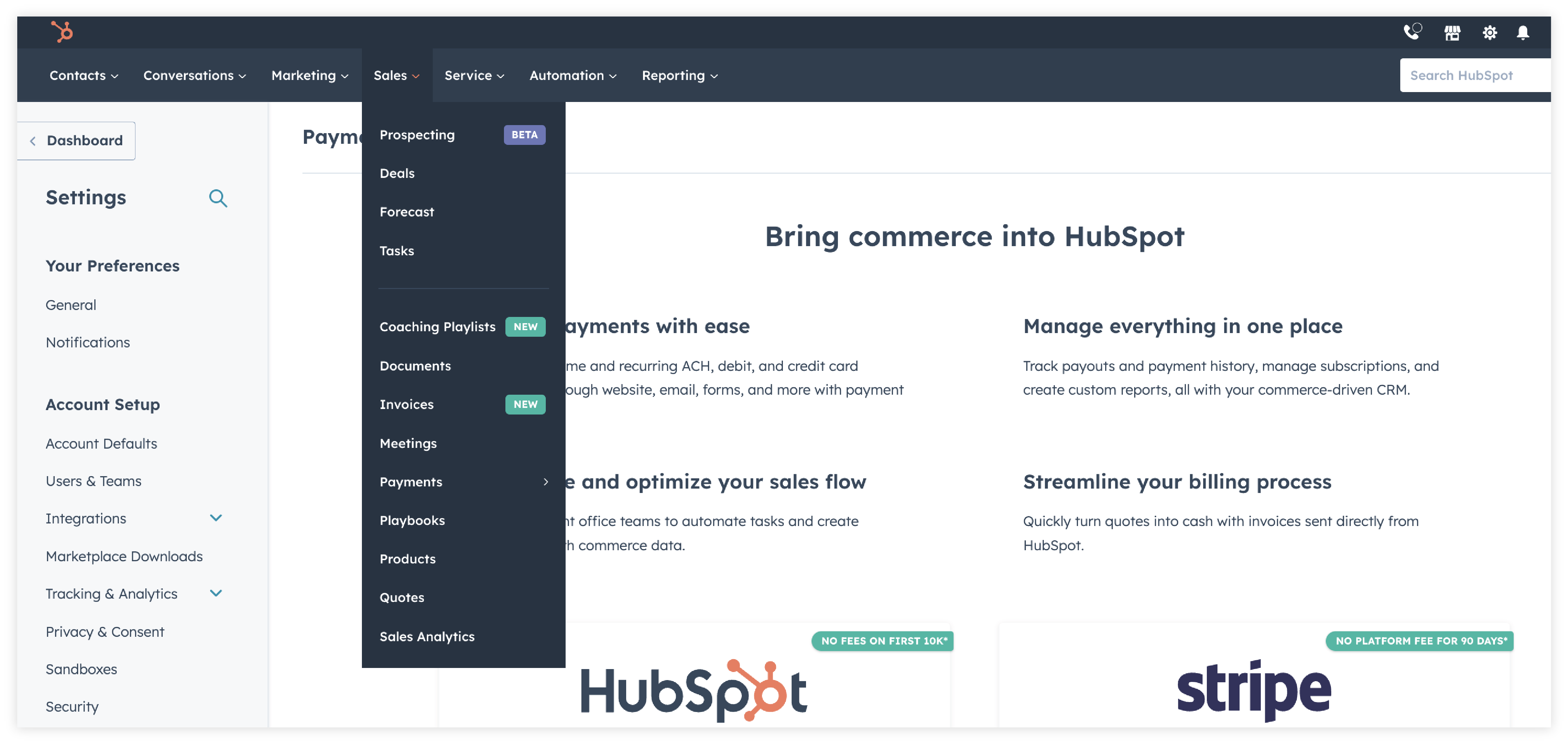 Commerce Hub Benefits Overview
Businesses can opt between HubSpot payments or Stripe payment processing. HubSpot Payments is ideal for those seeking an integrated solution, with clear-cut fees. On the other hand, Stripe Payment Processing is tailored for entities with a pre-existing Stripe setup, though a platform fee from HubSpot will apply.
Cost-Effective: There are no hidden monthly SaaS fees with Commerce Hub. Its pay-as-you-go model ensures businesses are only charged for actual transactions, making it a financially prudent choice.
Seamless Integration: For businesses concerned about accounting integrations, Commerce Hub has you covered. It boasts native integration with Stripe, QuickBooks and an export feature for payments and payouts data in a CSV format, simplifying reconciliation.
Future-Proof Support: While the native HubSpot Payments feature, as well as Stripe, is currently supported, HubSpot has plans to incorporate more payment processors, ensuring scalability and flexibility for businesses as they evolve.

Key Features of the Commerce Hub
By repackaging tried-and-true features, breathing new life into existing ones with updates, and introducing brand new functionalities, HubSpot presents the core features of Commerce Hub:
1. Choose Between HubSpot Payments or Stripe
HubSpot's Commerce Hub offers businesses flexibility in payment solutions. Decide between HubSpot Payments—an all-encompassing, integrated payment system within HubSpot—or tap into the prowess of Stripe Payment Processing, a popular external payment platform.
HubSpot Payments: Offers a straightforward fee of 2.9% for credit card transactions and 0.5% (capped at $10) for ACH payments. Benefit from the waived platform fee, making it a cost-effective solution.
Stripe Payment Processing: Ideal for businesses with an existing Stripe account. While a 0.5% platform fee per transaction is imposed by HubSpot, the core processing fee remains dictated by your agreement with Stripe.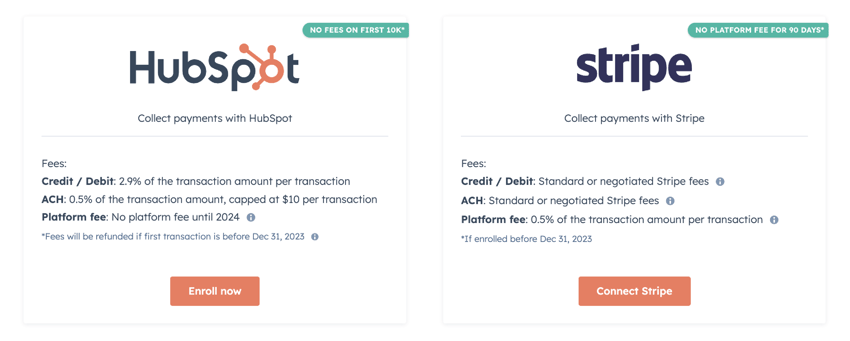 2. Empower Sales with Quick and Accurate Quotes
Set up payments to collect payments within HubSpot from any quotes you create. Equip your sales force with a robust tool that allows generation of standard or customized quotes using line items, products, and SKUs. Enhance your quoting method and seamlessly link quotes with relevant contacts, deals, or companies.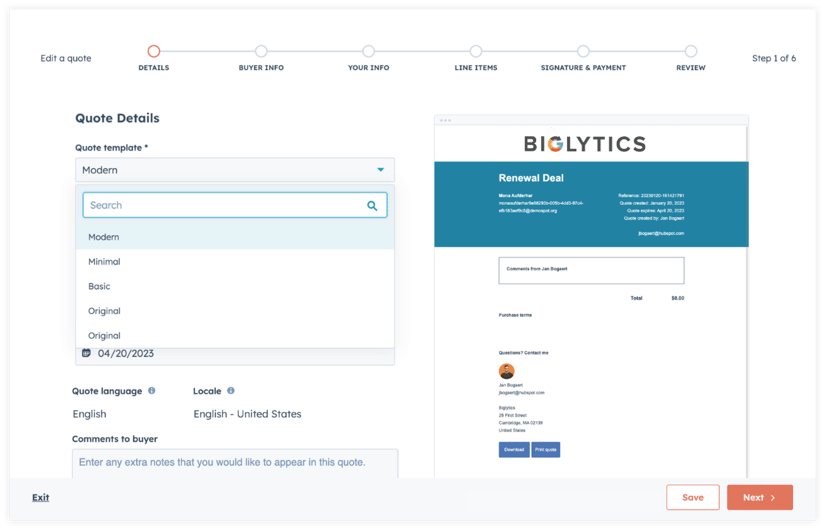 3. Simplify Transactions with Payment Links
Commerce Hub introduces a versatile tool that aligns with diverse sales strategies and meets the needs of modern B2B commerce businesses. With enhanced payment links, selling and receiving payments is made simpler, efficient, and adaptable.
Sell Your Way: Whether you're offering products, services, subscriptions, or soliciting donations, do it all seamlessly via your uniquely crafted and branded checkout page.
Accept Payments from Anywhere: The flexibility to receive payments shouldn't be restricted. Integrate payment links effortlessly into emails, forms, meeting platforms, web pages, or share them directly with customers. This ensures that you can close the sale at the point of maximum customer interest.
Track Payments with Your CRM: Payments through Commerce Hub's links automatically sync with your customer data. This ensures you always have a clear picture of who has completed their payments and the specifics of their purchase.
Transparent Pay-as-you-go Model: With the Commerce Hub payment feature, you're only billed when a sale is secured. There's a complete absence of setup fees, hidden costs, or minimum charges.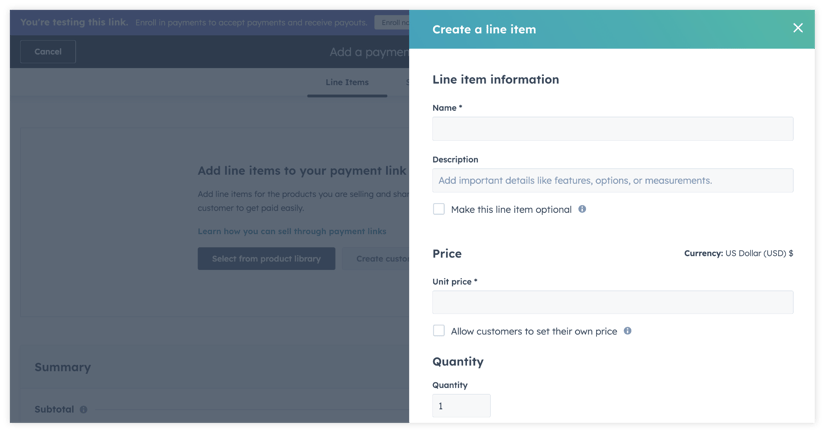 4. Automate Billing and Invoices
The backbone of any commerce venture lies in its billing and invoicing system. Commerce Hub has flawlessly integrated these crucial functionalities, allowing businesses to seamlessly transition from delivering their services or products to collecting payments with efficiency.
Automated Billing: Automated billing ensures timely and accurate billing, thus streamlining cash flows and reducing administrative overheads.
Invoices: HubSpot now allows merchants to produce native invoices that pull data seamlessly from related entities like Contacts, Companies, Deals, or Quotes. Such an integrated system drastically reduces the chances of errors and accelerates the sales process. The platform now also boasts native integration with QuickBooks and an export feature for payments and payouts data in a CSV format, simplifying reconciliation.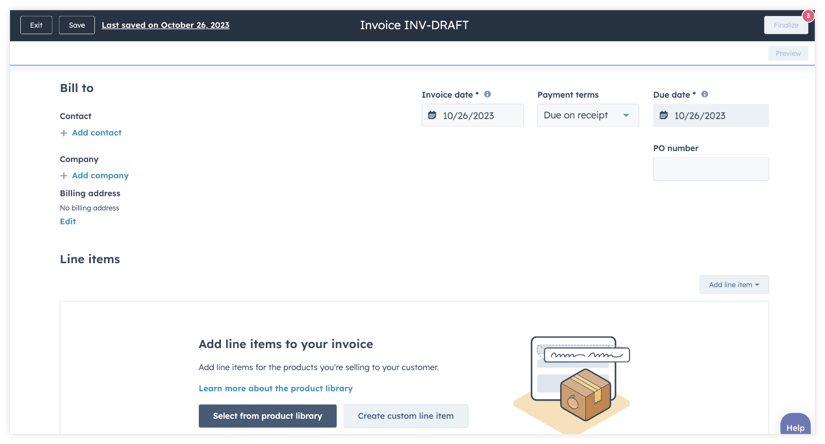 5. Access Centralized Product Information with the Products Library
Create a consolidated repository of all product details. This unified platform allows sales teams to swiftly access crucial product information, enabling them to address client queries more effectively. For example, sales reps can now swiftly pull up detailed product specs from the centralized library during a client call, impressing the client with prompt and informed responses.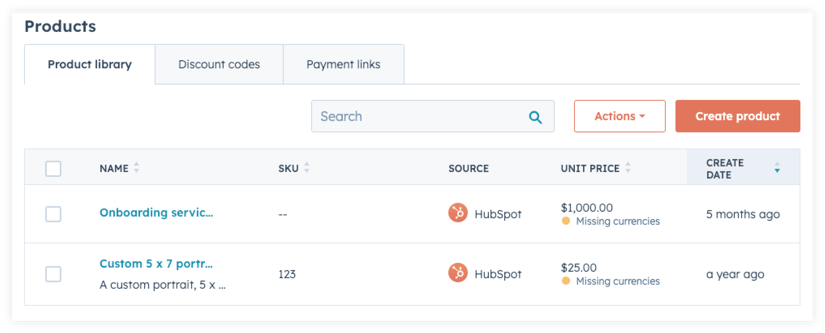 Frequently Asked Questions about Commerce Hub
Does HubSpot do payment processing? Yes, HubSpot now has its own payment processing tool as part of the Commerce Hub, known as HubSpot Payments. Additionally, HubSpot integrates with third-party payment processors like Stripe.

How much does HubSpot charge for payments? For HubSpot Payments, there's a fee of 2.9% for credit card transactions and 0.5% (capped at $10) for ACH payments. When using Stripe through HubSpot, a 0.5% platform fee per transaction is imposed, but the actual processing fee depends on your agreement with Stripe.

Does HubSpot integrate with Stripe? Absolutely! Commerce Hub has seamless integration with Stripe, allowing businesses to process payments using their existing Stripe accounts within the HubSpot ecosystem.

Does PayPal integrate with HubSpot? As of the last update, HubSpot's primary integration for payment processing is with Stripe and its own HubSpot Payments. For other payment systems like PayPal, third-party integrations or custom solutions might be required.

How do I create a payment link in HubSpot? With Commerce Hub, you can craft payment links effortlessly. Within the platform, navigate to the Payments section, choose 'Create Payment Link', customize the details as needed, and generate a shareable link to send to customers or embed in your digital assets.

Can HubSpot be integrated with Shopify? Yes, HubSpot can be integrated with one or more Shopify stores. Each connected store will have its own ecommerce settings page, and those with Marketing Hub and Sales Hub Professional or Enterprise accounts can leverage embedded ecommerce workflows.

How do I track payments in HubSpot? Payments made through Commerce Hub's links or tools are automatically updated in your CRM. This ensures a unified view of customer transactions, which can be accessed through the 'Payments' or related section in HubSpot.

Can HubSpot send invoices? Indeed, with the updated Commerce Hub features, merchants can produce native invoices, sourcing data from related entities like Contacts, Companies, Deals, or Quotes.

Can you build an ecommerce site with HubSpot? You can absolutely build an ecomerce site on HubSpot. While HubSpot CMS offers various tools to support ecommerce activities, it's not a dedicated ecommerce platform like Shopify or WooCommerce. However, HubSpot can be easily integrated with these platforms for a holistic solution.

Does HubSpot charge a subscription for Commerce Hub? No, there is no monthly SaaS subscription for using Commerce Hub. HubSpot employs a pay-as-you-go pricing model, charging fees only for transactions made. Some advanced features might necessitate a subscription to another HubSpot product.
Guido is Head of Product and Growth Strategy for New Breed. He specializes in running in-depth demand generation programs internally while assisting account managers in running them for our clients.