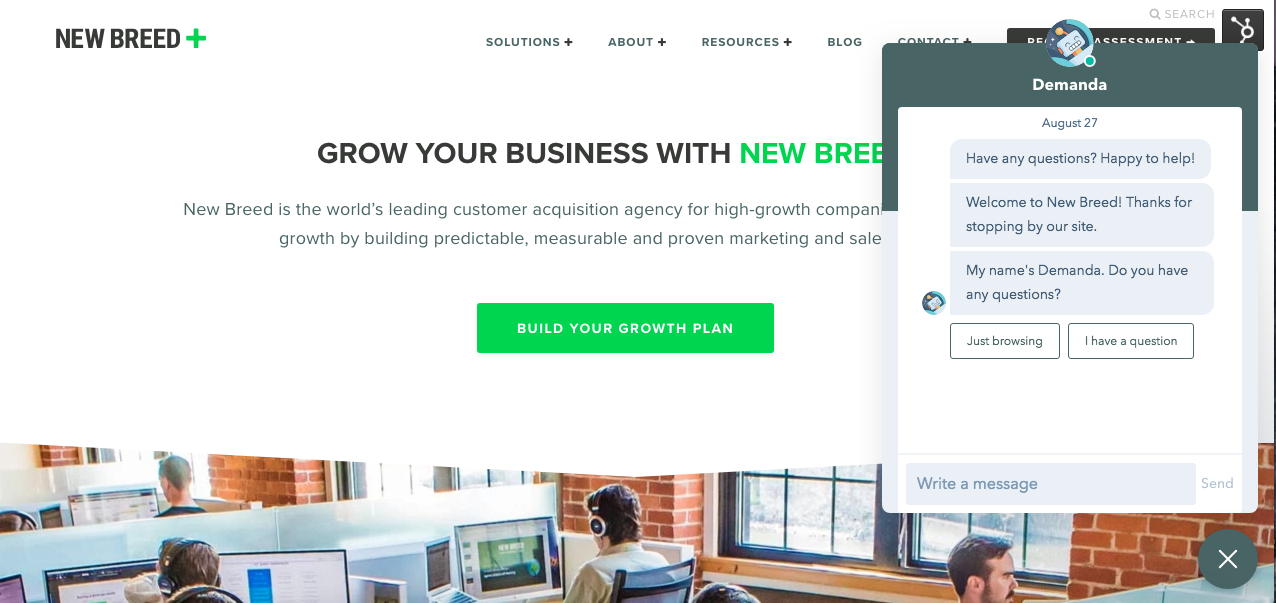 As an Elite-tier HubSpot Solutions Partner, New Breed received early access to HubSpot's new chatbot when it first came out. This gave us the opportunity to test out its functionality and help optimize the product before it officially went live. Early access also provided the opportunity for us to learn the best practices of a conversational marketing strategy. But, that's not what we're here to talk about today. Instead, we'd like to share with you the success we had in using HubSpot's Chatbot, so you can see how it could benefit your own business.
About Our HubSpot Chatbot
For our debut into conversational marketing, we decided to create a chatbot that would target anonymous visitors on our website. This would enable us to collect information about new visitors without forcing them to convert on a form and allow us to connect them with helpful and educational information on our site. If a new visitor was interested in New Breed and the services we offer, our chatbot could also route them to the appropriate SDR and accelerate their buyer's journey.
Our Success with HubSpot's Chatbot Tool
We set our chatbot live in May of 2018 and decided to do some analysis in August of that year. In that timeframe, it interacted with 77 contacts and generated four opportunities. While this may not seem astonishing, consider the fact that lead generation wasn't even the goal for this chatbot. We were more focused on targeting those anonymous visitors in order to learn more and connect them with the appropriate resources. So, having a 5.2% lead-to-opportunity conversion rate happen accidentally is definitely a win for conversational marketing and speaks volumes about its potential.

Speaking of that 5.2% lead-to-opportunity conversion — our average lead to opportunity conversion rate at the time was 2.8%. This means our chatbot was 85.7% more effective at creating opportunities for us!

Compared to other forms of lead capture, chatbots are more aligned with how people actually shop, so our results were not an anomaly. Consider this: you're browsing through a store, don't immediately see anything you like and walk out of the store. Later that day you get a letter in the mail from the store owner asking if they could help you find what you're looking for. Obviously, that would be a terrible way for that store to run its business.
Unfortunately, most website marketing is structured to unfold like the above scenario — a visitor comes to your site, maybe they fill out a form, they leave and then you email them to see if they want to come back. Conversational marketing enables you to engage with your visitors in real-time while they're in your "store". This increases the likelihood that they'll take your suggested action. It also explains why our initial chatbot was so successful.
The Benefits of HubSpot's Chatbot
It's Free
HubSpot released this incredibly powerful tool as a FREE add-on to their existing platform. So, if you're already on HubSpot, there's really no risk to adding a conversational marketing strategy into your marketing mix — only great reward.
It's Native
The fact that HubSpot is a native feature rather than a third-party software means it's designed to work with the rest of their platform. This makes it simple to integrate features like list segmentation, workflow automation and tickets with conversations.
It's Familiar
Last, the user interface of HubSpot's chatbot is pretty similar to other tools on the market, so your website visitors probably won't notice a difference. However, with greater abilities on the backend of HubSpot, your marketers and salespeople will be eternally grateful.
The Evolution of our Conversational Marketing Strategy
After experimenting with HubSpot and realizing the value of conversational marketing first hand, we wanted to go deeper. We decided to partner with Drift, a best-in-class conversational marketing platform, at the beginning of 2019 to amplify our strategy. They provide a robust set of features that allow marketers to develop hyper-targeted playbooks that connect with visitors instantly. They also make it easy for sales to engage with their target accounts, book meetings with prospects and generate pipeline.
Key Takeaways
Conversational marketing has empowered marketers and sales reps to truly meet their prospects where they are and engage with them in real-time. And even though we've partnered with Drift, we still recommend HubSpot Conversations for marketers that are ready to try conversational marketing for the first time. If you are looking for tips on how you can implement a conversational marketing strategy for your company, download our Beginner's Guide to Conversational Marketing:
This post was updated May 29, 2020.
Guido is Head of Product and Growth Strategy for New Breed. He specializes in running in-depth demand generation programs internally while assisting account managers in running them for our clients.