Any CMS is only as good as its implementation. Regardless of what CMS you're using, it's essential to have an experienced partner that can help set it up in the most efficient way.
At New Breed, our developers work with multiple CMSs, but we think if the primary goal for your website is lead generation, then the HubSpot CMS is the best-in-class to build your website on. The HubSpot CMS was built from the ground up to create and report on a marketing website.
If you're new to using the platform, here are some steps to get familiar with the HubSpot CMS:
1. Learn Where Content is Housed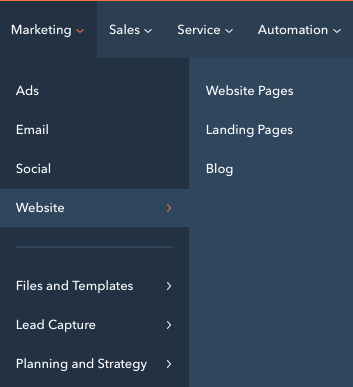 On the backend, HubSpot segments webpages, landing pages and blog content in three different zones for organization and reporting. This helps you analyze the performance of the different page types separate from each other since they serve different purposes.
One of the first things you should do in the HubSpot CMS is familiarize yourself with these sections so you can easily find and search through your existing pages as you work to optimize your existing content and create new pages.
2. Try Out Page Editing
Once you know how to access all your pages from the back end, try editing a page. Playing around with how an existing page is built will help you understand how the various modules work together to build a page.
HubSpot allows you to visually edit the page, where the webpage is presented more or less how it appears to site visitors and you can click on what parts you want to edit.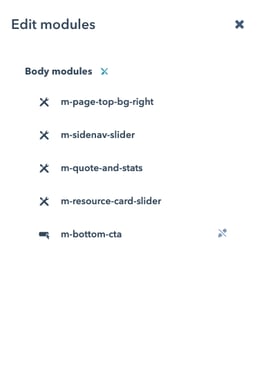 Or, you can edit by the modules included on a page. In the left sidebar of the page editor, you will find a master list of modules that you can click into and change various fields.
Being able to edit the content by clicking on it or by seeing all the modules on a page is useful because you can preview what you're editing when it's convenient, but if you need to edit something that isn't easy to click on visually, like a background image, you can find it through the module list.
3. Check Out the Settings Tab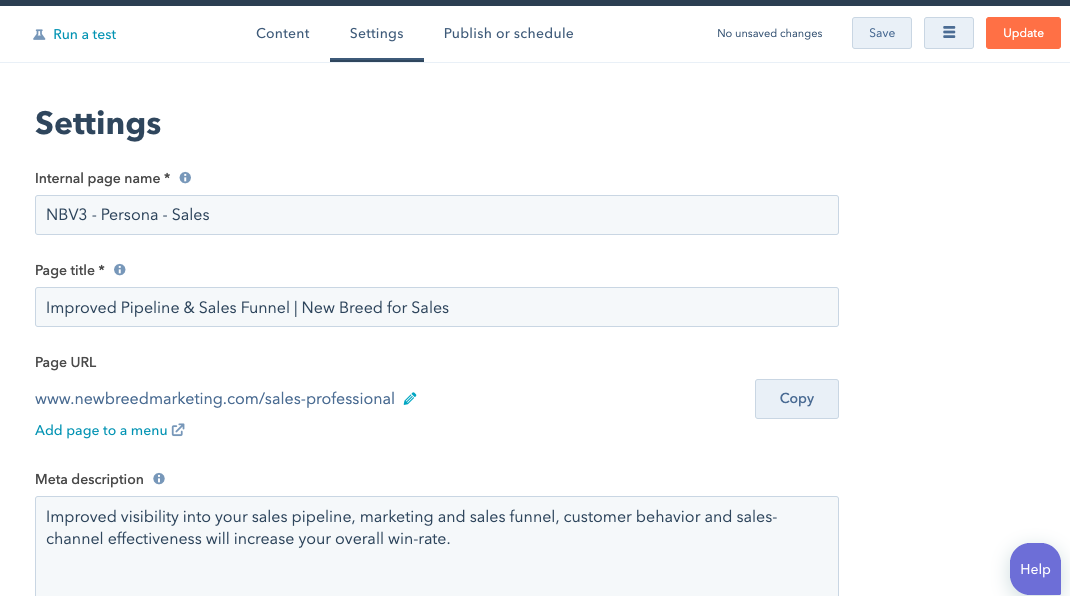 Once you finish editing a webpage's content, navigate to the next tab entitled "settings." This is where you can create your internal title, which is used to find the page from the backend, your HTML title, which displays in search engine results, your page slug, which comes after the "/" in the URL, and your meta description, which displays in search results to tell people what the page is about.
In the settings tab, you can also associate your page with a marketing campaign, set a featured image and adjust advanced settings like what template the page uses.
Once you've made changes, you can either "save" or "update" the page. Saving won't publish the revisions publicly, but it will keep them for you or a teammate to continue to edit. Updating or publishing will push the page live.
4. Familiarize Yourself with Revision History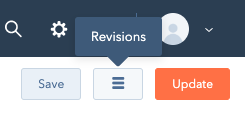 The hamburger menu between the "save" button and the "update" button allows you to access the page's revision history. This is where you go if you need to restore a page or reference a previous version.
HubSpot allows you to see the revision history at both the page level and the template level.
5. Explore How Modules and a Flexible Column Can Allow You to Vary Page Design
HubSpot has a flexible column that you can use in zones of your webpages which allows you to use as many modules as your content dictates.
We build all our regular site pages with a flexible column in the main body, which gives marketers full control over what modules they include and what order they're in on a per-page basis without having to dive into code.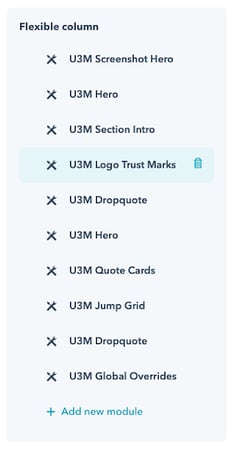 6. Familiarize Yourself with HubDB to Manage Dynamic Content.
If you want to filter content on a page in a particular way or have a page that contains multiple subsections that use all the same fields, you can use HubDB. HubDB is a database table that can be edited to contain different column values depending on what the end page is for.
These tables work well to create event pages, team listings and resource centers because the subsections of those pages will have lots of common fields repeated across each one.

For example, New Breed's resource library is built in a HubDB table. The columns allow us to categorize our resource by medium and topic in addition to filling out the titles and descriptions as they appear in the library.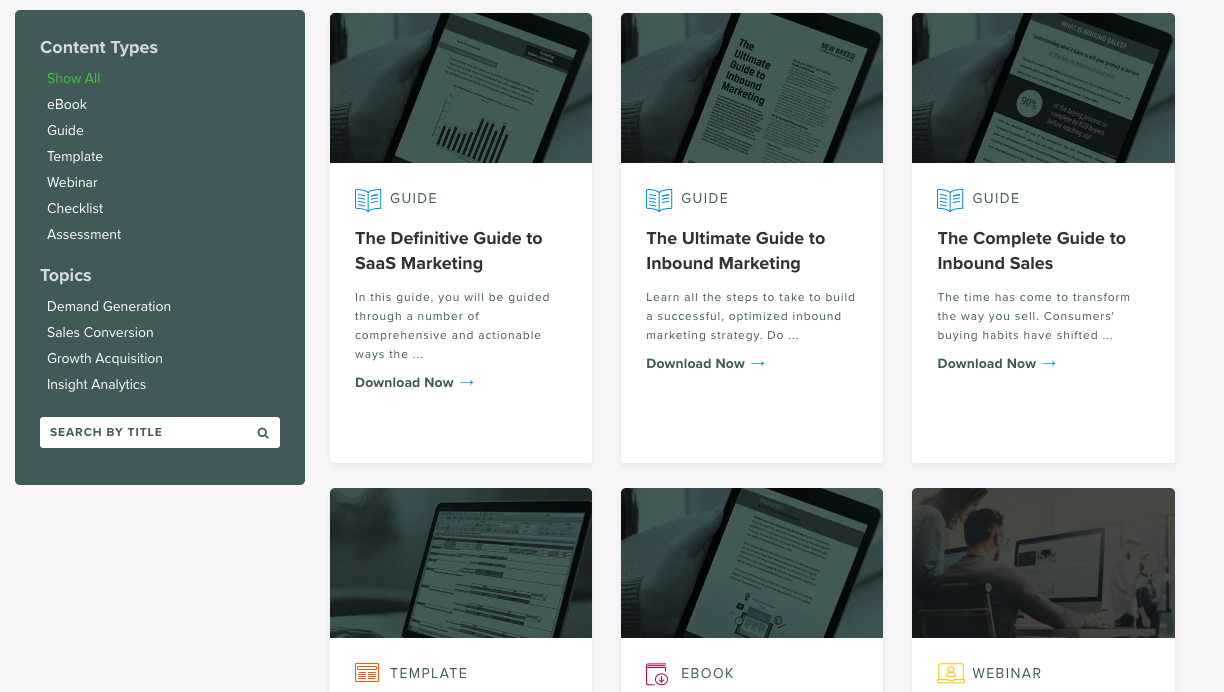 We also use that same table to populate our resource slider modules that appear on the bottom of other pages across our site.
You can also use HubDB to make dynamic pages, so each row in the database will create a page automatically, without you having to create and maintain each one.
7. Create Different User Accounts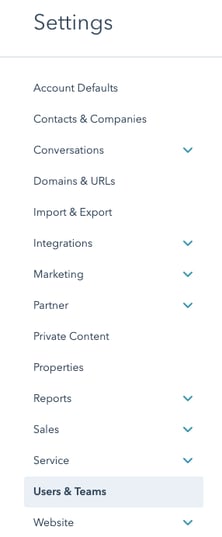 In your overall HubSpot settings, you can sort different users on your accounts into teams and adjust their permissions through the "Users & Teams" section. (HubSpot's account settings can be accessed by clicking on the gear icon in the top navigation when you're logged in.)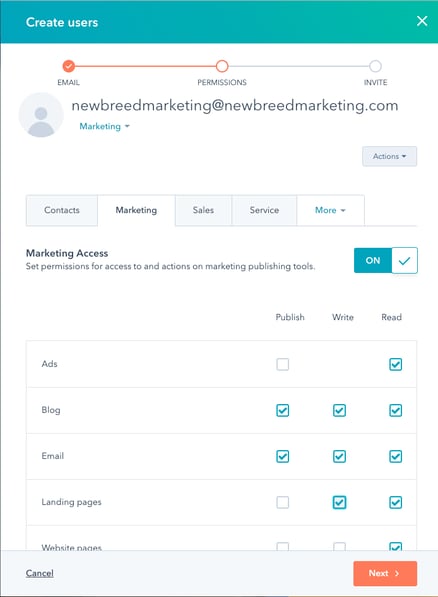 As you're exploring this section, look at what content different users have access to and what they're capable of doing with that content. You can create custom permission sets for each user, so if a member of your team only writes for your blog, you can limit their ability to edit your site to just blog pages. Or if you have a new team member who needs to get content approved before publishing it, you can give them writing access, but not publishing access on blog, website and landing pages.
The Takeaway
Unlike other CMSs like WordPress, the HubSpot CMS is not super open-ended; it has a clear goal in mind: creating and reporting on marketing lead generation websites. Because of its functionality targeted around that, we use the HubSpot CMS for our site, and we feel it's the best option for developing your B2B marketing website.
Christopher Mathieu is the Chief Design Officer at New Breed, where he oversees the creative strategy behind every project we produce. His unique ability to combine his fine art background with his technical web expertise has led Chris and his team to produce countless sales-ready websites and inbound marketing...
Connect with the author