A knowledge base is a resource library specific to your company's product or service offering. They can be used as an FAQ resource for customers and internal team members alike and create efficiency for your support team.
But for knowledge bases to be beneficial for a company, they have to actually be used. When we found that wasn't the case for us at New Breed, we decided to reevaluate our current content library and migrate our knowledge base to the HubSpot Service Hub.
I sat down with Senior Operations Strategist Alex Umbhau and Senior Growth Strategist Nick Frigo to discuss why we chose HubSpot and how other companies can get started with the tool.
How to Get Started with HubSpot Knowledge Base
1. Determine the goal of your knowledge base
Who is your knowledge base for? HubSpot's tool is primarily designed to be used by companies to create a knowledge base for their customers, but we use it to host an internal resource library.
"The way you build it in each case is pretty similar, but people use it differently. Some are customers or prospects searching for information, while others might be looking for company and organizational info," Nick says.
HubSpot's knowledge base allows you to sort content into categories, which create FAQ pages that link to all the articles you tag in that category. Within each category, you can create subcategories to further organize related articles on the main category page.
Your knowledge base should be structured around how your intended audience will be searching for information. Our's mirrors the team structure at New Breed. Since our primary goal is to provide resources that help employees do their jobs, we chose to sort information by role.
For a customer-facing knowledge base, a company might organize the information by product type, user type or how frequently information is requested.
People don't just browse knowledge bases; they go to them looking for an answer to a question that arose. Because knowledge base user behavior is driven by need, any sort of difficulty in finding the information they're looking for can cause them to give up and seek solutions elsewhere.
2. Decide audience access levels for different pieces of content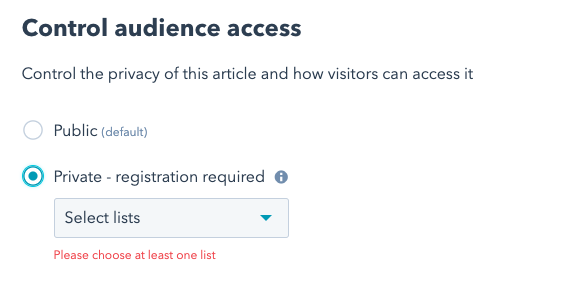 HubSpot's Service Hub allows you to set permission levels for each knowledge base article using lists built in the HubSpot CRM.
"If you've got different customers using different products and you're managing contact lists that way, you have a powerful resource database and can control exactly who can see what rather than making multiple knowledge bases," Nick says.
However, since the audience access is set at the article level, users will still be able to see categories even if they don't have access to any of the articles within them. Thus, you'll want to consider audience permissions as early as possible and take them into consideration when developing knowledge base categories.
3. Plan Naming Conventions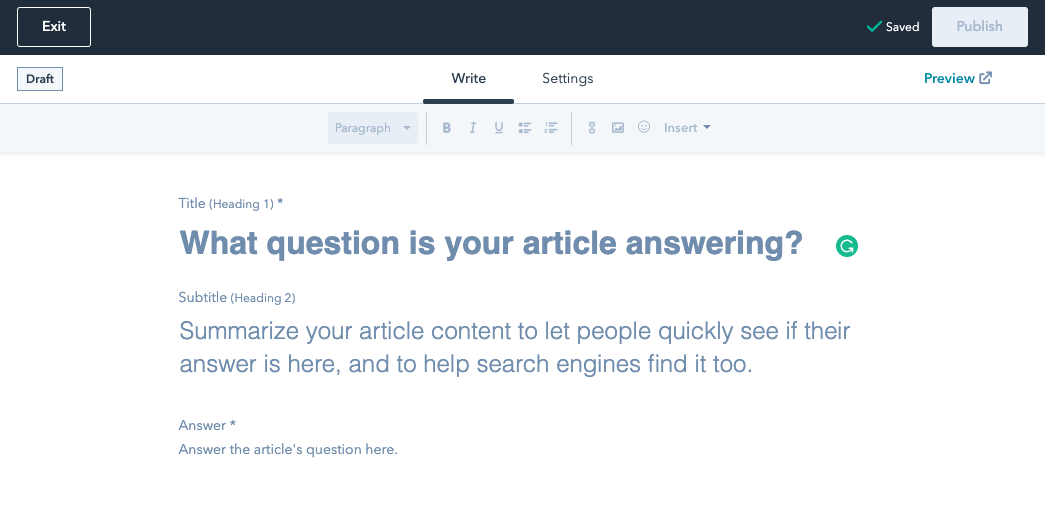 Each knowledge base article has a title (heading 1), optional subtitle (heading 2) and answer (body copy). The article title is also the page title, which means the likeliness of an article appearing in search results depends on how similar the article title is to what users are searching for. The subtitle can also help with searchability if you include keywords in it, similar to how a meta description helps a webpage's click-through rate from SERPs.
"When you're writing titles and summaries for each article, I would think about trying to distinguish what you're writing about similar to SEO," Nick says. "If you are writing about a topic that you think people are going to be looking for pretty frequently, be consistent with your language and your conventions around how you talk about that topic in the article."
If you use an acronym for a term in one title and write the phrase out in another, that can make it harder for users to find the information they need through search. While structuring your knowledge base in an intuitively navigable way can help overcome that, many users may be so accustomed to relying solely on search functions that clicking through categories might cause enough friction that they turn elsewhere for answers.
Another thing that can help make your knowledge base more searchable is using consistent naming structures for your article. For example, do you want all your article titles to be in the form of questions?
"Before you start building articles and migrating information to [your knowledge base], grab a whiteboard and think about how you want it to look when you're done," Nick says. "Because it's article by article, if you change your mind about the naming convention or structure of your articles, you may have to go back individually."
Planning up-front can save you from spending a lot of time redoing work later.
4. Establish a process for managing and analyzing your knowledge base
Determine who will be responsible for managing and updating the different portions of your knowledge base and loop them in as early in the creation process as possible.
If content in your knowledge base is outdated, it not only won't help users but might also damage their trust in the resource as a whole. While the person managing your knowledge base might not have the expertise to personally update every article, they should have a system for regularly reviewing articles with the pertinent subject matter experts to ensure everything is up-to-date.
Additionally, your knowledge base is only useful if it's being utilized. Establish a contact that's responsible for seeing what people are searching, what people are looking at and how long they're on those pages — all of which is available in the "Insights" tab of the Knowledge Base section of HubSpot's Service Hub. That information can help you ensure your knowledge base is fulfilling its intended purpose and determine what new articles need to be created.
5. Create and migrate content
Once you've planned how your knowledge base will be structured and identified who will be responsible for various content, it's time to build your knowledge base.
To start, you'll need to set up your categories and subcategories. Then you can start creating or migrating articles over. If you're starting from scratch, you can draft articles directly in HubSpot, formatting them and adding images and videos as you go.
If you're migrating content, HubSpot enables you to import articles from some other platforms, or you can copy and paste them over.
"The HubSpot Knowledge Base is really smart when it comes to formatting. When I just copy and pasted an article, HubSpot just knew what was a header, what was an H1, what was an H2. It did a really good job formatting and formatting all the tables, so there was very minimal editing that I had to do," Alex says.
6. Promote your knowledge base
The most important feature of a knowledge base is that its intended users gain value from it. Inform people that the new knowledge base is live and ensure they know how they can access it.
This also includes making sure your support team is familiar with your knowledge base structure and the resources within it so they can recommend articles as needed.
Why We Chose HubSpot CRM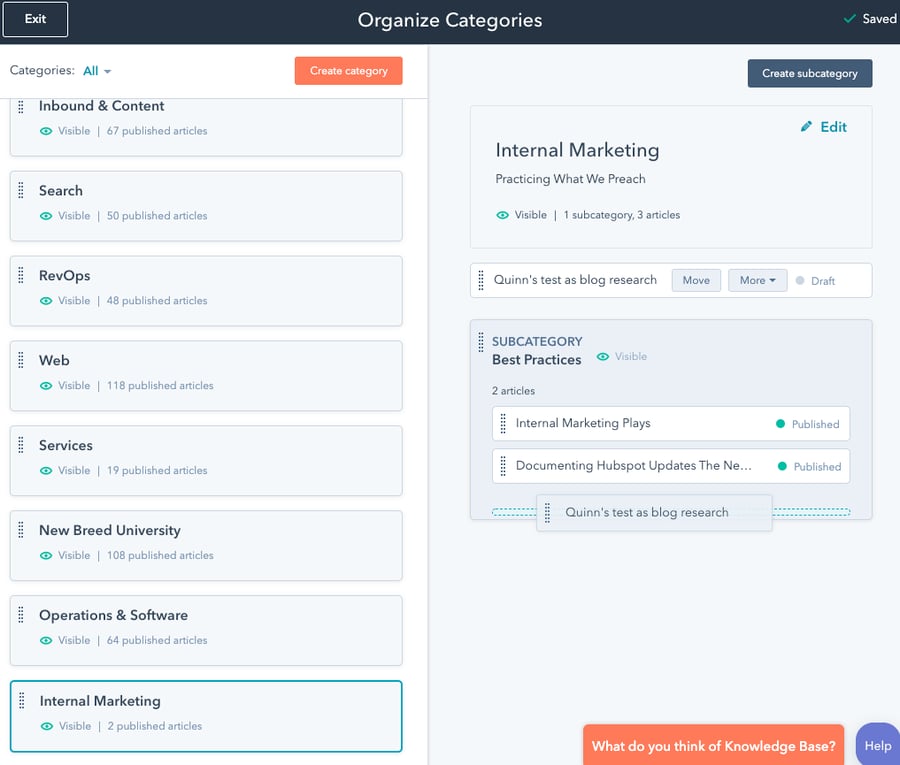 "We knew that our [previous] knowledge base wasn't delivering us a lot of value, and that's primarily because people found it really difficult to navigate, a lot of the information in there got stale quickly and people weren't updating articles when they went out of date," Alex says.
Our knowledge base is used for internal documentation and training. The goal of the resource is to help train new employees, enable our service delivery team members to provide the most value to clients and offer easy access to previous work samples for our sales team to reference.
While our users were aware of the knowledge base's existence, they found it easier to store information that should have been in there elsewhere and ask questions directly to other people instead of searching the knowledge base.
This led to us evaluating options. We looked multiple tools and ultimately went with HubSpot Service Hub because of its convenience and how easy it is to use.
"If you're not someone who has time to jump between tools, push pixels or make things look pretty — and you have Sales Hub and know your way around Marketing Hub or CRM — then it can take hours off your day," Nick says.
"We didn't have to learn anything new, even though it was a new tool. We understood what all the asks were when setting this up," Alex says. "We already knew what lists were. We already had all the lists configured."
"Between that and the drag and drop function of moving things in and out of categories, there's basically no learning curve if you know how to use HubSpot Marketing Hub a little bit," Nick adds.
Quinn is a writer and copyeditor whose work ranges from journalism to travel writing to inbound marketing content.