Social selling has become increasingly more popular as more and more of our daily lives have moved online. Many sales reps have had a lot of success booking meetings by leveraging the strategy.
But regardless of if social selling is a goal of yours or not, people from different organizations are going to be seeking out your social media presence. Prospects will check out LinkedIn profiles before and after calls as a way to assess your credibility.
So, if your LinkedIn profile isn't up-to-date and optimized, it can work against you.
Best Practices for Optimizing Each Section of Your LinkedIn Profile for Social Selling
If you're leveraging LinkedIn primarily for social selling, the target audience of your profile should be prospects. So, instead of including the kind of information you would put on a cover letter or resume, you should focus on communicating why prospects should want to engage with you.
Headline
There are a lot of ways you can approach your LinkedIn headline: Some people use their job titles. Others keep them kind of generic, covering their industry and skillset. Some people even get a little creative with them.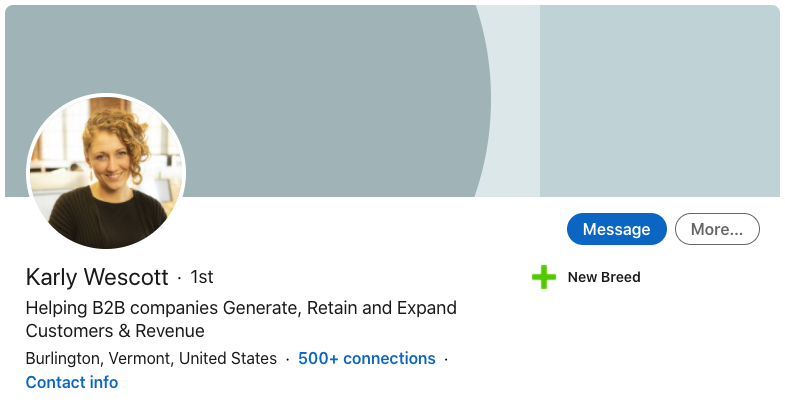 The best LinkedIn headlines for social selling are brief, specific and value-focused. Using your job title of a sales rep doesn't help a prospect understand how you can help them. Being overly creative can also cause similar issues of ambiguity.
Use your company's value proposition as a starting point and illustrate in your headlines the benefits you provide prospects with through the sales process. For example, my headline is "Helping B2B companies Generate, Retain and Expand Customers & Revenue." This covers the value prospects receive when they become a New Breed customer and what I consult with them about during the sales process.
If you're selling a more technical product or working in a specialized market, it can also be worthwhile to include details about any relevant personal expertise. But, you should make sure these details are related to what you're offering.
About
The about section provides you with another opportunity to highlight how your company can provide prospects with value, and you can go more in-depth than what you said in your headline.
Alternatively, if you go in-depth into your company value proposition in the job experience section below, you could use your about section to give insights into who you are as a person. You can highlight your past experiences, show that you have a career dedicated to solving problems for prospects and insert relevant aspects of your personality so prospects can connect with you on a more personal level.
Job experience
When writing job descriptions, people typically default to the kind of information they'd put on a resume: specific numbers about their success in their roles. But for social selling, you don't want to include any information that relates to how much money you'll make off your prospects. Prospects don't want to be reminded of the transactional nature of your relationship.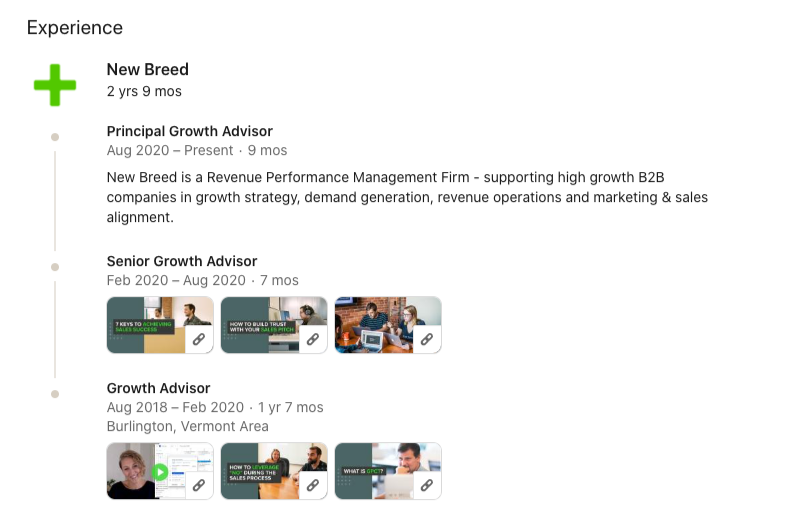 Instead, your individual job descriptions should discuss how that company, and you in your role at that company, provided value to prospects and customers. The most important thing to include here is a brief explanation of what your company does, including its products and services.
On top of that, you can discuss the work you've done in terms of how it impacts prospects. For example, you could have a bullet point that says "helped over 200 clients in the healthcare industry improve their scheduling and client communication systems." Info like that can help prospects self-identify as good fits if they see that you've worked with companies like them with challenges they have.
You also can highlight any leadership opportunities you've taken in the organization, like running trainings and mentoring team members. Those details can establish your expertise because they show you're not just knowledgeable enough to assist prospects outside of your company, but also to teach your team members.
Finally, you can also include any technical expertise and industry expertise that you've invested in as part of your role.
Volunteer work and education
The volunteer and education sections provide opportunities for you to relate to prospects as a human.
The fact that you volunteer shows some of your interests outside of work, and if you care about similar causes, that can be a great conversation starter.
Additionally, people like to see alumni from their schools, so that can be a really easy way to connect with a prospect.
Licenses and certifications
Make sure to include any licenses and certifications you have that are relevant for your community and industry. These show that you're an expert in your field and give you credibility to advise and sell to prospects.

For example, in the marketing and sales community, HubSpot certifications are widely included on LinkedIn to prove a level of expertise on those topics.
Skills and endorsements
LinkedIn lets you include a wide variety of skills on your profile, from industry knowledge to languages to technology to interpersonal skills and more. But, not all of the skills that could appear here are things that you'd want to show off to a prospect.
When editing this section, you can pick three "top skills" that'll show up first. To enable your social selling efforts, pick three that'll resonate the most with potential customers as opposed to skills you'd want to show to a prospective employer.
Activity
Your activity on LinkedIn is visible from your profile, and it's also how you build relationships with other users.

There are a few types of activities that are particularly impactful:
Liking posts and updates from other users. If you have a business relationship with someone and they share something positive, like a promotion or an award, you can like that. This shows engagement with the community and helps you appear more genuine to people who are getting to know you through your profile.
Engaging with content from your company and colleagues. Liking, commenting on and sharing content from your company and colleagues can help it perform better and bring visibility to the types of topics that'll be relevant to your prospects.
Post content. Whether you're creating your own posts from scratch, sharing content you've created or sharing content from your company, it's important to be active at a regular cadence.
Since your activity is visible, it can be harmful in addition to being helpful. So, while doing the actions above, you also should avoid engaging with anything negative or role-specific that won't resonate well with prospects.
The Takeaway
While there are different social platforms emerging, LinkedIn is the tried-and-true best choice for B2B sales. If you plan to do social selling, you need to invest in optimizing your profile and dedicate time on a daily basis to be active on the platform.
When creating a social media presence as a sales rep, you also need to find the balance between being a representative of your company and being yourself. Most of the people you engage with will know that you're a sales rep, whether you tell them directly or not. So, it's best to be open about that, especially if you do plan to use social media for prospecting and social selling.
However, you don't want to be a company robot.
You should aim to create your own distinct personality and value that can reinforce the benefits of the company you work for.
This post was originally published July 20, 2017.
Karly is a Lead Growth Advisor at New Breed