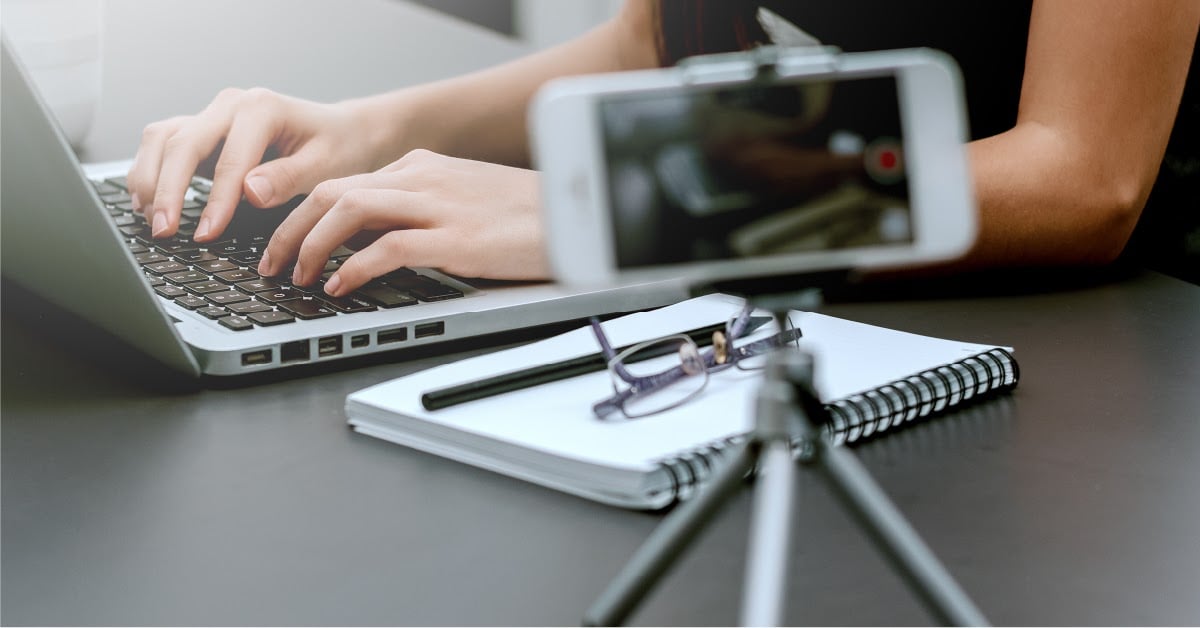 We're not telling you anything you don't already know when we say video should be a part of your marketing strategy. But since video marketing requires significant time, money, and human capital to execute it, it can be a daunting project to take on. That doesn't mean you shouldn't be doing it, though.
Your video marketing efforts have to start somewhere and can build over time. When utilized effectively, the value that video can provide your customers and your business justifies the time and money spent producing it.
For small businesses or those working with limited resources, it can be hard to figure out how to incorporate video into your marketing strategy. Here are some helpful tips to get you started without breaking the bank.
Plan Ahead
Setting yourself up for a strong return on investment with video marketing starts with proper planning. While many new to video production may believe the process starts as soon as you hit record, it actually begins long before that.
Determine what type of video is right for you
Video marketing doesn't have to break the bank with cinematic production value. There are a wide variety of videos that can be created and implemented successfully without utilizing excess resources.
Webinars, interviews, sales contacts and culture videos are all excellent, low-budget areas to start incorporating video into your marketing.
As B2B customers continue to expect video, it makes more sense for your business to implement authentic and engaging video throughout the buyer's journey rather than focus a bulk of your resources on just a few, high-production-value content. Doing so will also ensure you maintain a consistent look and feel across your video content.
When you're just starting out with video, you should be strategic in what you produce. Selecting content and topics that are evergreen can justify the investment you make in video marketing, as you can continue to promote your video in the months and years to come.
Be strategic in your planning
Your pre-production planning will be spent answering as many questions about your video as possible. When thinking about your video, consider the following:
Audience: Who are you trying to reach?
Message: What is the key takeaway?
Content: What are you filming? Will it be an animation?
People: Who will be in the video?
Delivery: Where will you share it when it's done?
Answering these questions before getting into production is fundamental for conserving your resources. The more time spent planning video, the less likely you are to expend time and capital down the road trying to execute on an ever-changing vision.
Put your video on paper
Once you have a solidified concept and creative vision for your video, put it to paper. Even if you don't intend to use voiceover or are relying on interviews to drive your video, having a script will enable you to hone in on key messages and keep your video on-topic.
To take it a step further, consider storyboarding your video. Want to pan from one part of the office to another? Draw it on a piece of paper. Outlining your shots in advance means less time spent shooting in the future and only increases your video's time to value.
Don't Stress About Equipment
The biggest challenge that businesses likely face when starting out with video is the equipment. The range of camera, lighting, audio and editing equipment is daunting and their frequently high price tags are enough to send any marketer on a budget packing.
I'm here to tell you: don't stress about equipment. With video marketing, authenticity is king. Invest your time and resources into ensuring that your video has a clear message and portrays your brand, and leads will follow.
Camera
You shouldn't completely shirk away from production value, though. The good news is the best camera is often the one you have with you. Modern smartphones have incredibly reliable and effective cameras that you can utilize to jumpstart your video marketing.
While cell phones are an excellent tool for producing videos on a budget, there are some production aspects that you should keep in mind:
Zoom with your feet. Physically moving closer to your subject will ultimately lead to better video than using your phone's digital zoom.
Shoot with the platform in mind. When shooting for a video that will live on the web, it's best practice to shoot landscape, but that doesn't apply when shooting for an Instagram story.
Put light sources in front of your subject. Without the total control of a high-end camera, lighting becomes more important. Position your subjects so that there is more light in front of them than behind them.
Supporting Gear
Instead of racing out to purchase an expensive camera, invest your resources in upgrading and rounding out a smartphone set-up. Equipment like a tripod and a plug-in microphone can stabilize your shots and improve your audio, providing an instant boost to your production value while costing very little money.
By utilizing the tools you already have and subletting where necessary, you can create effective and sleek marketing videos that generate a high return on investment. As you gain confidence and video marketing becomes a larger part of your strategy, your team can consider upgrading your equipment. Remember that in most cases, content and authenticity will outshine production value.
Editing
When it comes time to edit your video, it can be difficult to figure out how to compile all your wonderful footage into a cohesive final product. While your business may have access to leading tools like Adobe Premiere as part of the greater Adobe Creative Cloud, there are other, budget-friendly options out there for editing your marketing videos.
Like the phone in your pocket, the best editing software when working with limited resources may already be on your computer. iMovie is an excellent tool for editing your video. If you're looking for more control, HitFilm Express is a free option with more robust options available for purchase. If you're editing with social media in mind, Magisto is a budget-friendly online tool that enables you to edit and share your content quickly and effectively.
Like any other phase of the production process, saving resources in editing starts with proper planning. Knowing what you want your video to look, feel, and sound like will inform how you shoot and save time in editing. If you're unsure of your purpose in advance, you'll waste countless hours going back and forth in revisions trying to pin down a message.
Finally, the most important lesson for those with limited resources working with video marketing is that done is better than perfect. The more time you spend working toward sleek and cinematic production quality, the less time your video is generating value for your business.
Utilizing Stock Resources
Your video should be authentic, but that doesn't mean you have to do everything yourself. If you use them effectively, stock resources can be excellent additions to your marketing videos that increase production value and decrease the need for work on your end.
Video
Shooting video can be a drain on resources if you don't have the right equipment or time to do it effectively. Stock video can round out the material you already have and improve the overall quality of your video, especially if your subject matter is hard to visualize or get footage of.
If you're a software company that provides data insights for airlines, it might not be easy to get out and film at your local airport. Instead, utilizing tools like Shutterstock, Pexels and Pond5 to source clips of airplanes would be a cost-effective way to find footage for your marketing videos.
That said, it's important not to overdo it with stock footage. Video clips can get expensive and ultimately be a drain on resources. If you're forced to rely too heavily on stock footage, you lose out on authenticity.
The planning stage is an excellent way to hash out just how much stock footage you may need and consider how you can get creative with your chosen concept to reduce your need.
Music
While videos are frequently consumed on mute, it doesn't mean you should forget about audio altogether. Your music can capture attention and impact the tone and mood of your video. But, the question is often where to find quality and affordable music for your video marketing.
While purchasing music is always an option, there are a number of free options available to video marketers on a budget. YouTube and Facebook have built out robust libraries of royalty-free music with many titles that can be used for commercial purposes.
When sourcing music for your video, always be sure to check for copyright or attribution rules that may apply to the particular title. While some pieces can be used for any purpose, there are many that require certain criteria to be met.
Promote Your Video
Even if I've provided you with enough information to cut down on the resources you need to invest, video marketing still requires a lot of time and effort. With that in mind, it's important that you spend time promoting the content you have created in order to see that effort pay off.
Your efforts to create a marketing video shouldn't end once it's uploaded. To ensure it delivers value to your customers and to your business, share your video through multiple channels beyond just having it live on your website, including social media and email marketing.
Also consider investing money into paid social media campaigns to extend the reach of your video. The more eyes you can get on your content, the greater return on investment you can expect.
Putting time and effort toward promoting your video will only aid in improving its effectiveness and your overall return on investment. Uploading your video and sticking it on one landing page won't drive the results you need to justify making video a greater part of your marketing.
Takeaway
Video marketing can be daunting, but it doesn't have to be. By leading with content and authenticity, you can incorporate video into each stage of the buyer's journey without breaking the bank.
It takes thoughtful planning and creative thinking to produce effective content that doesn't drain resources. By utilizing resources that you already have, you can get started with video marketing and build up your equipment and ultimately your production value over time as it generates returns for your business.
Chris is a Brand Marketer at New Breed where he is responsible for crafting design and video assets that support our brand. When he's not behind the camera, he enjoys kayaking and tending to his sourdough starter.