In the B2B industry especially, the buyer's journey is long, complex and often involves multiple stakeholders along the way.
Because of that, the first step to developing a comprehensive, conversion-driving content strategy is acknowledging the different stages of the buyer's journey and tailoring your content to each stage. By meeting people where they are and providing contextually relevant content, you can enhance their overall buying experience and speed up your sales cycle.
According to DemandGen's B2B Content Preferences Survey:
65% of B2B buyers consume three to seven pieces of content before speaking to a salesperson
68% of B2B buyers want to see B2B vendors organize content by issue or pain point
Additionally, the type of content B2B buyers find most valuable varies drastically over the buyer's journey, as illustrated below: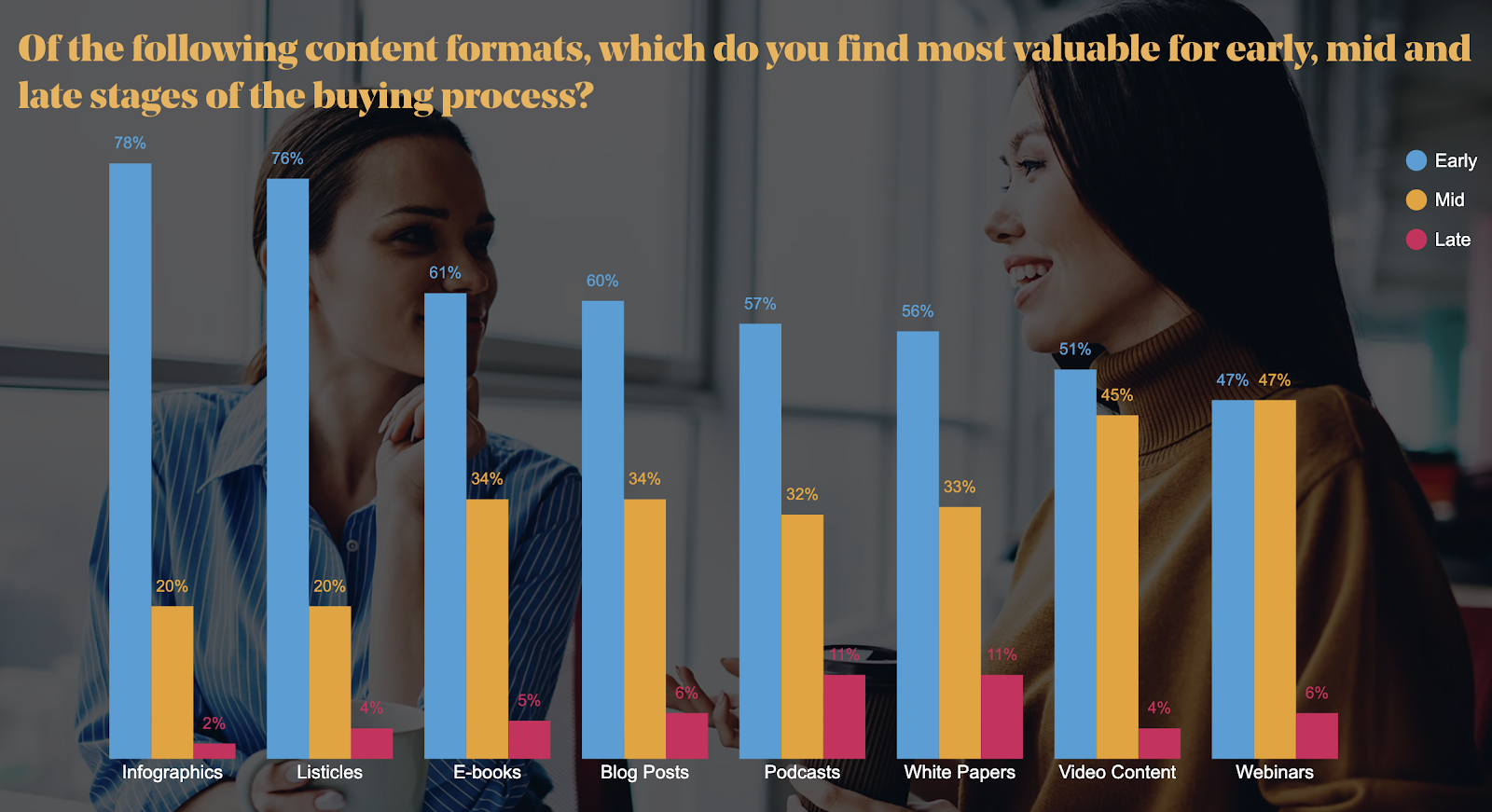 In other words, tailoring your content to meet the needs, goals and interests of buyers throughout every stage of the buyer's journey can boost your success rates significantly.
What Are the Different Stages of the Buyer's Journey?
Typically, the B2B buyer's journey is broken up into the awareness, consideration and decision stages. However, with the rise of the marketing flywheel, you need to begin considering customer success as a buyer's journey stage as well.
In this video, Manager of Content Nick Frigo breaks down the different stages of the buyer's journey and what content is best suited for each.
Awareness stage
During the awareness stage of the buyer's journey, the buyer is beginning to realize that they have a problem. They may be experiencing a number of pains or challenges that have led them to research a solution, although they may not be aware that a solution like yours even exists.
For example, an awareness-stage prospect might research something like:
Why aren't any of my marketing leads closing as customers?
How do I measure marketing ROI?
What tactics can I use to increase conversions on my website?
Consideration stage
During the consideration stage of the buyer's journey, the buyer has put a name to their problem and is now researching the different solutions on the market. At this point, they'll have a list of potential vendors in mind, and they'll be comparing and contrasting each to figure out which one would offer the most value to their business.
For example, a consideration-stage prospect might research something like:
What are the pros and cons of different marketing automation platforms?
How do I make the business case for a new marketing investment to my C-suite?
Which marketing agencies specialize in my industry?
Decision stage
During the decision stage of the buyer's journey, the buyer has decided on a solution for their problem and is actively investigating specific vendors for pricing information, implementation processes, support channels, case studies and more.
For example, a decision-stage prospect might research something like:
What does the Salesforce CRM implementation process involve?
Which features are included in each of the HubSpot pricing tiers?
Why do B2B companies choose Vidyard over YouTube for their video hosting solution?
Customer success stage
At this point, a buyer has already converted into a customer — but that doesn't mean you should stop marketing to them for retention and upsells. An existing customer may not be actively searching for other products or add-on features to purchase, but they might be experiencing challenges that your other products could solve.
For example, an existing customer might search for support articles, API documentation, information about loyalty programs, FAQs, feedback channels or company news. By creating customer-only content that caters to the unique needs, goals and challenges of your existing customers, you can make sure that they're using your product to its fullest potential and, eventually, create brand evangelists that contribute to your company's growth.
ToFu, MoFu and BoFu Defined
To track how prospects are progressing through the buyer's journey, companies use conversion funnels. These funnels break down the buyer's journey into lifecycle stages based on the actions a prospect has taken. This helps companies identify where there are gaps in their marketing strategy and provide contextually relevant information to prospects at each stage.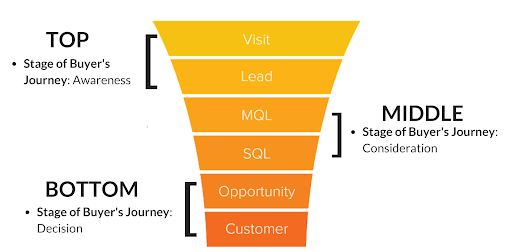 ToFu stands for top of the funnel, MoFu stands for middle of the funnel and BoFu stands for bottom of the funnel.
The abbreviations are used to describe tactics specific to each of the areas in the funnel. ToFu strategies are targeted at prospects in the awareness stage of the buyer's journey, MoFu efforts are meant for consideration-stage prospects and BoFu tactics are targeted at decision-stage prospects.
ToFu Content for the Awareness Stage
Because awareness-stage prospects are working to identify their challenges, the ToFu content you create for this stage should be primarily educational and broad enough to appeal to industry-wide solutions.
At this stage, you shouldn't even mention your product or service. If someone only just learned about your product and you're already bombarding them with sales content, it will leave a bad taste in their mouth. Instead, be as helpful as possible and teach them everything they need to know about their problem and the potential solutions to that problem.
To target awareness-stage prospects, create:
Educational content: For example, "The Beginner's Guide to Inbound Marketing," or a series of "Quick Tips" videos would be great offers for an awareness-stage prospect
"Diagnostics" content: For example, you might create a blog post that teaches prospects how to measure gaps in their sales and marketing funnel and show them where exactly their true problems lie
Thought leadership content: For example, you could create a blog post outlining the top 10 industry trends to look out for in the coming year
MoFu Content for the Consideration Stage
Now that you've provided prospects with enough information to understand their problem, they're ready to consider the different solutions to that problem — your product or service being one of them.
At this stage, you can be more explicit about how your product or service solves for your prospects' challenges. Create pieces of content that are specific to what your company offers without being overly promotional. For example, you might want to create:
Case studies: Show prospects examples of similar companies who used your solution to add value to their company
Comparison sheets: Offer honest pros-and-cons lists that compare and contrast your solution to others in the market
Evaluation guides: Help your prospects understand exactly which tools, features and services they should zero in on
BoFu Content for the Decision Stage
At this point, your prospects will be actively evaluating your product or service. They may already be in contact with your sales reps and likely have one or two other brands they're considering in their final decision.
Offer them BoFu content like:
Free trials or product demos: Giving your prospects the opportunity to actually get their hands on your product or solution is one of the best things you can do to help them make their final decision
Free assessments: Assessments are a great way to add value to your prospects before asking for value. For example, you could offer a complimentary audit of their marketing database or a funnel gap analysis
Product/pricing brochures: Outline exactly which features and services come with your products and help prospects understand which pricing tier is right for them.
Pro Tip: Align Your Form Strategy With the Buyer's Journey Too!
Once you've spent time carefully creating tailored content offers for each stage of the buyer's journey, you need to make sure that your form strategy is contextualized in the same way. Otherwise, you could discourage prospects from actually downloading and consuming your content in the first place.
For example, if you're offering a ToFu e-book, all you really need to ask for in the form is their name and company email. If that's not enough for you to properly segment your personas, use data enrichment tools to supplement your contact database.
Chatbots, of course, are appropriate information-gathering tools for every stage of the buyer's journey. By building out your chatbot logic to recognize the buyer's journey stage and serve them relevant content, you can offer a more engaging way to capture lead information.
The Takeaway
From first-time visitors to long-term brand evangelists, every buyer today expects to find content that is relevant, contextualized and helpful to their situation — so give it to them!
By developing and executing a comprehensive, full-funnel content strategy, you can extend the reach and impact of your marketing campaigns, educate prospects on their challenges, help prospects weigh the pros and cons of different solutions and delight existing customers so much that they continue to come back for more.
This post was originally published May 16, 2019.
Elizabeth is a former New Breeder.