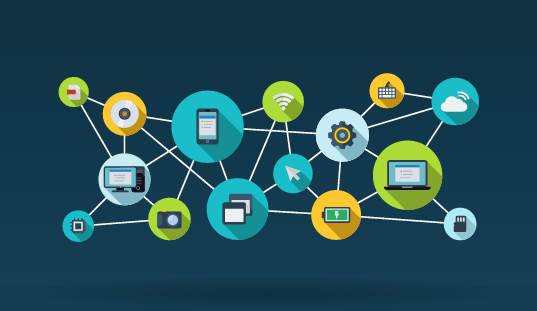 When you're on HubSpot, you already feel pretty connected. So why do you need more connection from another HubSpot program?
Because this is a different kind of connection.
Instead of connecting to your data or connecting with your contacts, this type is technological. Yes, we're talking about tool integration.
What is HubSpot Connect?
HubSpot Connect is HubSpot's integration program, featuring a core group of integrations that make your experience with the CRM as efficient and valuable as possible.
It's purpose is simple: to connect everything you're doing to the power of Inbound. (To make it all more Inboundy, as HubSpot says.) Think of Connect like an ecosystem of top-tier tech, instead of a program that you must execute.
How does it work?
HubSpot gives you the capability to apply integrations that maximize marketing and sales productivity and success. As HubSpot puts it, think about connecting Eventbrite and automatically receiving new leads for everyone who has attended one of your events. Having that type of data integrated with your contacts database and your marketing automation tools is invaluable.
Integrating certain software tools allows you to offer advanced support for your customers and contacts and develop clearer, more robust pictures of their digital body language. A Zendesk integration lets you see support tickets on a timeline, and a FreshBook one lets you sync collected revenue from invoices with your contact records, for example. A Drift integration lets you offer live chat support to your contacts. There are vast possibilities.
Using HubSpot Connect, you can find the perfect integration for your Inbound marketing and sales work. The list is extensive. You can even offer SurveyMonkey surveys to your customers and contacts.
But we recommend sticking to the core integrations.


Why Stick to the Core?
It's important to understand that HubSpot doesn't come with all of these integrations baked in. The software tools we mentioned are connected through using the API and Zapier. So even though the Drift, Zendesk and Eventbrite functionality is amazing, and even though each can do wonders for your Inbound program, we recommend sticking to the core HubSpot integrations:
Wistia
GoToWebinar
SurveyMonkey
Zapier
WordPress
HubSpot Sales
Google Calendar
HubSpot Sales Calling
Eventbrite
UberConference
Why? Well, the whole point of using these integrations is to make Inbound function more smoothly — for your reps and your marketers.
So if you use a non-core product, like Brightcove, and you want to integrate it with HubSpot, the information you receive won't show up on the visual timeline; it will be siloed data. Even if you map it to properties, it's not visually compelling or organized for easy access and use. That can become unwieldy, quickly, creating tech debt and confusion for you and your team. If you use GoToWebinar, though, that's a different story. Because it's a core integration, you get all the benefits of having any information piped right into a contact's visual timeline, including additional, easy-to-read digital body language.
Want to learn more about HubSpot integrations and what they can do for you? Give us a call. We like talking, too.
Olivia is the manager of New Breed's Inbound Team. She excels at helping clients identify, build and execute scalable demand generation strategies using the HubSpot ecosystem.
Connect with the author