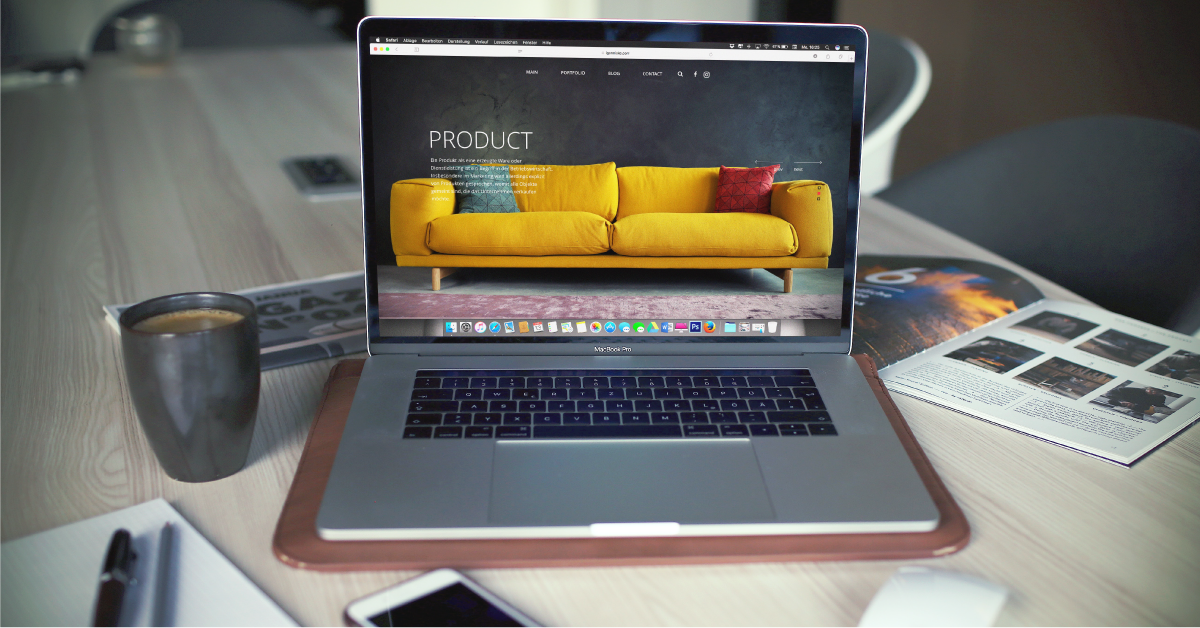 Q: What do big potatoes covered in dirt, red vine-ripened tomatoes, green beans as long as your forearm and search engine optimization have in common?
A: They're all organic.
There are subtle differences, of course. For a start, the first three items on that list all grow beautifully in horse manure; the last one, not so much. Instead, SEO flourishes when you apply strategy — specifically, a strategy which panders to Google's overarching algorithm.
Oh yes, that golden child of Page and Brin illuminates the land of e-commerce like the sun shining on a summer garden. When it changes its methodology, everyone notices — including business-to-business (B2B) companies engaged in search engine optimization (SEO). In 2018, 61% of surveyed businesses said that changes to Google's search algorithm were at the top of their list of marketing concerns.
Source: Statista
Given Google's unpredictable nature and your limited time, it seems prudent to concentrate on SEO techniques that last years. If you're ready to say goodbye to keyword stuffing and hello to a set of techniques that will help you beat your peers in the B2B marketplace, you've come to the right place.
B2B E-commerce vs B2C E-commerce SEO: What are the Differences?
Modern B2B e-commerce is all about sleek design, seamless user experiences, instant customer service and SEO. Take Knobs.co's site, for example — elegant, easy to navigate, and equipped with a handy chatbot.
SEO for B2B isn't quite the same as SEO for B2C, though. The main difference? Your audience. SEO for B2C uses a completely different type of content marketing, for instance. B2C purchases tend to be lower risk — most consumers won't buy anything more expensive than a washing machine online — and involve one, or maybe two decision-makers.
B2B purchases are far higher risk and usually require multi-person collaboration. Sometimes there are committees involved. If you deal with complex sales, you know what we mean — months-long waiting periods, meetings, negotiations and contracts as thick as butcher's blocks. Possibly even lawyers.
Content marketing for B2B is less concerned about Google rank than it is about value. It has to deliver accurate information in a digestible form. In an ideal world, your content would come top of the Google heap, and it would also be the most data-rich prose available to your potential buyer.
Here are four other ways organic SEO for B2B companies differs from B2C SEO:
1. User intent.
What's a typical B2C buyer? Your Uncle Bill, looking for a new fishing rod. He wants to buy a great rod so that he can bag a 150-pound catfish off the edge of Rapidan Dam. He wants to buy a thing.
What's a typical B2B buyer? The ACME Corporation on the hunt for 400,000 tonnes of iron ore. The folks at ACME need raw materials en masse. They want to purchase the solution to a problem.
That, in a nutshell, is user intent.
B2C SEO tactics move consumers from search engine to product page and then checkout in as short a time as possible. One false move and Uncle Bill will lose interest and wander over to Jeff Bezos's South American forest-themed hypermarket.
B2B SEO tactics are more subtle because the B2B sales process progresses far more slowly. ACME Corp won't just put 400,000 tonnes of ore in its shopping basket and pay for it via American Express because there are logistics to sort out: four or five board meetings, hundreds of reinforced railcars, bulk storage facilities and so on.
If you need an example of subtle B2B SEO tactics at work, check out Flexfire LED's funnel page for original equipment manufacturers (OEMs):
2. Keyword strategy.
Generally speaking, B2C keywords aren't very difficult to identify. When Uncle Bill goes shopping online for a fishing rod, he will probably type "best fishing rod" or "professional fishing rod" into Google. B2C marketing professionals working for online sports stores target those high-intent keywords to drive organic traffic to product pages.
B2B transactions involve intangible products and services, making low-intent and high-intent keywords somewhat harder to determine. ACME Corp executives looking for rock might type in "bulk iron ore," or they might type "limonite mines in central Pennsylvania." To figure out relevant short-tail and long-tail keywords for your B2B product or service:
Use quantitative research and anecdotal observation to develop buyer personas.
Look for clues in your corporate contact database.
Conduct market research on potential customers.
Talk to sales reps and industry insiders.
3. SEO goals and KPIs.
B2C and B2B companies both use SEO techniques to drive organic traffic and boost profits — but they use different key performance indicators (KPIs) to measure success. The main KPI for a B2C company is the bottom line: if it looks better after an SEO campaign, great. B2B company KPIs include lead quality and lead quantity: productive SEO campaigns promote a large number of good contacts.
Conversions happen at different times, too. B2C transactions take place online: Uncle Bill sees his dream fishing rod and buys it immediately. B2B transactions often happen after a demo or a conversation with a sales rep: the ACME Corp decision-maker agrees to buy iron ore via email, pending board approval.
Page copy, high-intent keywords and site design work like a reliable recipe for B2C retailers. On the other hand, B2B companies have to figure out how many sales-ready leads they get from each SEO campaign and optimize accordingly.
According to Statista, SEO comes second only to marketing automation in perceived ROI generation, making it an incredibly valuable strategy for e-commerce businesses of all kinds.
4. Buyer's journey.
Let's drill down into the buyer's journey even more here. In the B2C world, consumers like Uncle Bill land on websites and either bounce or make purchase decisions quite quickly. Sometimes they compare prices across e-commerce sites or check product reviews on social media or platforms like Trustpilot, but in general, consumers all ride the same predictable B2C sales cycle.
B2B buyer's journeys are much more complex. Buyers begin with a need (ACME Corporation wants to make anvils, so it needs iron ore); they conduct extensive research; they compare and contrast vendor prices and services; they liaise with their teams, and finally — sometimes months later — they make purchase decisions.
ResMed's business resources funnel page contains clear, accessible information about what the company offers.
The main takeaway for B2C companies: make it as easy as possible for consumers to say "yes." Simple sales funnel, easy-to-navigate site, effortless checkout. In contrast, B2B companies have to implement comprehensive keyword strategies. Why? So that they can be found at all times. To seal the deal, their high-quality content has to rank well on Google at every stage of their buyer's journey.
How to Develop the Best B2B E-commerce SEO Strategy
SEO strategy doesn't need to be complicated — it just has to be purposeful. To create a strong B2B SEO plan, you need to answer three questions:
What are our customers looking for?
How will we help them find it?
What do we need to do to keep Google happy?
Before you started your company, you probably wrote a business plan. Think of the following breakdown as a guide to writing an SEO marketing plan:
1. Create a purposeful keyword strategy
To get started, visit Google Search Console and see which organic keywords your company already ranks for. Simply type your domain name into the search box and see what you get; then, export your results and create a list of target keywords. Use your previous market research, database analysis and intuition to whittle that list down.
Keyword research can become an all-consuming task, but there are tools you can use to ensure the process doesn't swallow you whole. As well as brainstorming, many B2B e-commerce companies create accounts with providers like Ahrefs, SemRush and Moz.
Think of ultra-specific, low-volume keywords with a low difficulty score as your friends. You don't have to compete for more general high-volume keywords if you operate in a specialist industry niche. After all, you want your SEO strategy to generate real high-quality leads — 10,000 time-wasters won't cut it.
2. Optimize your B2B product pages
Here's something B2B and B2C e-commerce companies have in common: quality product pages bolster conversion rates. Buyers enjoy looking at clear, modern pages loaded with interesting, information-rich copy. Here's how you achieve that:
Cover the SEO basics: Make sure you include a good meta title and meta description in your product page HTML — these tidbits appear on Google, so they're the first bits of information buyers see. Metadata is the hook: if it's compelling, consumers will click on an associated link and land on your product page.
Other SEO basics: insert the long-tail keywords you came up with earlier and include internal links to boost page quality. Weave a couple of low-intent and high-intent keywords into subheadings and use bullets and sections to highlight key information.
Write unique product descriptions: Many e-commerce sites recycle product descriptions, adapting them slightly to suit different products. Don't be tempted to follow suit — even if it saves time. Google rank depends in part on the amount of unique content on your site, and boilerplating won't help you in that arena.
Instead, write completely unique content for every single product. Make it interesting, and modify keywords to make them flow naturally with the rest of your text. Google bots use semantic search when they crawl and index sites, so you can add stop words like "a," "of" and "the," to alter keywords for readability.
As you write, think about what buyers want to know. If your product is a component, include dimensions. If you sell a service, what does it include? Be thorough, but not long-winded. Try to avoid fluff.
Optimize product images: High-quality products are essential for any type of e-commerce venture. You can bet that if you don't optimize your product images, your competitors will. Make sure images are clear, crisp and show your product (or service at work) from a number of angles.
Image optimization doesn't end with pixel management. For best SEO results, include a target keyword in your image name and separate words with hyphens to make them easier for spiders to understand. To aid users with visual impairment, label each image with SEO-friendly descriptive alt text.
You can see alt text at work here on the Knobs.co kitchen islands page:
3. Optimize metadata
Metadata is incredibly important because it influences your page's click-through rate. We mentioned meta title and meta description earlier: they appear as titles and summary snippets on Google, so they have to be compelling. Here are a few other ways to make metadata work for you:
Perfect length: Keep title tags under 70 characters and meta descriptions between 150–160 characters (including spaces) to ensure that they remain readable on the Google search results page.
Research competitor pages and metadata: Have a look at competitor metadata. How does it rank? Can you take inspiration from rival metadata to create your own?
Stand out, be unique: Never copy metadata directly — instead, spend time creating completely new meta titles, tags and descriptions for your site. Be brief but descriptive about your specialized product or service.
Be specific for product pages: Write brand new metadata for each page you publish. Don't be tempted to use the same metadata — or slightly modified metadata — on multiple pages.
4. Use schema markup
Here's another new buzzword for you: schema. Basically, schema.org (or on-page) markup is a clever tagging vocabulary that e-commerce sites can use to communicate with search engines and achieve higher rankings. Surprisingly, less than 1% of all websites actually use schema.org structured data "language" in their content.
Want to join the schema.org club? Here are two places to use on-page markup to your advantage:
Product reviews: If you have a product review module on your website, you can use on-page markup to delimit review author, product rating, description and publish date.
Local listings: Schema.org markup lets you define any type of number: a random string of digits officially becomes a phone number, for example. If Google recognizes your phone number, it can include your company in local listings.
Once you add the on-page markup to your product pages, Google will translate the code into the Google result. The markup is then reflected in the search results for the product or listing by displaying reviews, phone numbers, and other resourceful information.
5. Audit and update duplicate content
We mentioned boilerplating earlier, but it deserves its own section. Copying and pasting content from one page to the next is not only misguided, but it's also terrible for SEO. Two main types of duplicate content exist:
Internal duplicate content, where multiple pages contain the same text.
External duplicate content, where Google bots index identical pages at multiple sites.
When Google crawlers notice duplicate content, they get confused and filter out all but one of the pages. Suddenly, your site looks much smaller than it actually is. Buyers looking for content can't access direct links to pages anymore, and you begin to lose leads.
6. Implement a robust internal linking strategy
Internal links are the opposite of duplicate content — they're an excellent SEO tactic. What are internal links? They're hyperlinks that point to different pages on your site: related products or services, blog posts, category pages and so forth. The most common website locations for internal links include:
Primary and secondary navigation menus.
Web page sitemap.
Footer navigation box.
For reference, correctly formatted hyperlinks look like this:
<a href="http://www.yourdomain.com/"title="Keyword Text">Keyword Text</a>
As usual, optimal SEO results depend upon following the rules. Here are a few internal linking strategy best practices:
Make the first hyperlink in any blog post an internal link.
Write concise hyperlink anchor text, and make sure it relates to the link page.
If you link via an image, make sure your link text includes ALT and Title properties.
7. Create a valuable B2B blog
Blogging is a powerful tool and an essential part of any decent B2B SEO plan. Why? Because it helps you reach out to and increase your customer engagement. People link to high-quality content and share well-written blog posts, and when they do, your site rank improves.
Need a B2B blog example? Here's Berlin Packaging's insights page:
With a great blog, you can:
Create industry-leading "ultimate" and "how-to" guides
Write updates about your company
Position yourself as a thought leader in your field
Increase brand awareness
Make your business a household name
Use your content to earn backlinks
Create a sales funnel for wholesale products and services
According to a recent survey, 55% of B2B professionals consider blog posts and articles the most effective way to capture and move leads through the buyer's journey. In short, business blogging can turn your SEO strategy from bust to boom.
Conclusion
SEO isn't just for B2C — B2B businesses benefit from search engine optimization, too. Business-to-business e-commerce companies can use keyword strategy and specific KPIs to create and hone their SEO tactics. Metadata optimization and great content combine to capture leads, while little-known factors, like on-page markup, help to drive conversions.
With the right organic SEO blueprint in place, you'll boost your bottom line with bigger sales and better connections.
Leigh-Anne Truitt is a part of the SEO team at BigCommerce where she researches and discovers strategies to increase organic traffic. Prior to joining the e-commerce industry, Leigh-Anne perfected her marketing skills at The University of Texas at Austin and CanIRank.