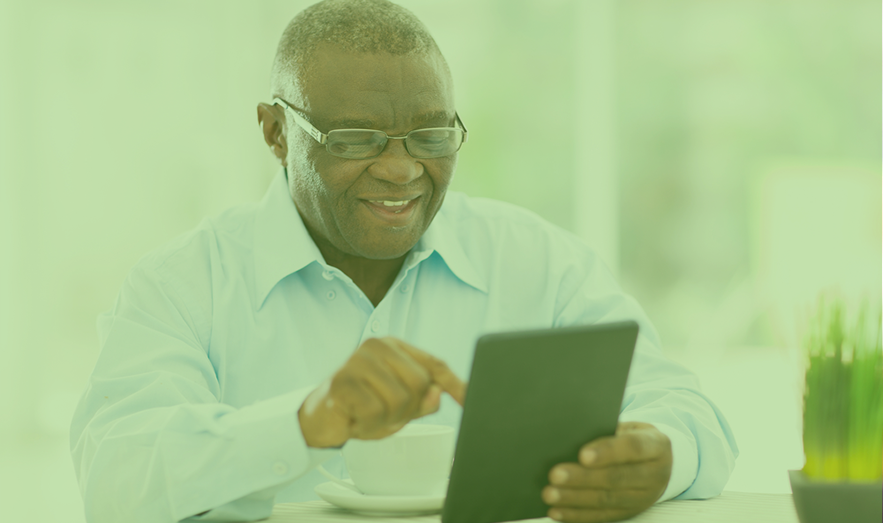 If you're looking to increase monthly recurring revenue and reduce churn, then you need to be thinking about your customer onboarding. Onboarding is the process of getting customers from "first touch" to "first value." This is achieved not by just introducing a product's features to new users, but rather by the overall process of driving people to success.
The most compelling way to onboard new customers is to garner their trust by establishing clear expectations and a cadence of communication. You can accomplish this through a series of small conversations—or microconversions—that eventually lead to more significant (buying) discussions. The best conversations regard the value and bottom-line benefits of your solution, which ultimately encourage users to log back in and get working. But how?
Utilizing email communication is an extremely effective solution to do just that: Have a conversation, by placing yourself directly in their inbox. Introducing: lifecycle emails.
In this post, we will uncover the incredible power behind lifecycle emails and give you some examples and best practices, all in an effort to effectively onboard new customers.
Getting Started with Lifecycle Emails
"No startup has ever died because they spent too much time talking to customers."
- Patrick McKenzie, Founder of Kalzumeus software
Lifecycle emails follow the same concept as the inbound methodology: Be in the right place, at the right time, with the right message. These emails are timely and contextual, helping users through their journey with your software. Often, software-based solutions are much more complex and require coaching, education and insights to truly experience the value and maximize a given functionality.
When it comes to lifecycle campaigns, you want to create your strategy around key moments in the lifecycle. Your emails should convey value and be as helpful as possible, rather than be a vehicle for self-promotion. Jimmy Daly of Vero said it best: "Instead of begging for attention, your message arrives just as the recipient is trying to decide what to do next."When deployed effectively, emails can significantly help back up a product (remember onboarding is a matter of the product itself; email is solely a catalyst).
To begin, spend time identifying the flow of your onboarding process and align your emails with the actions you want recipients to take. For example, if your product is a project-management solution, you know that that if a user does not create a project, then he or she will never reap the rewards. By crafting an email around getting people to do just that, you can capitalize on the essence of a lifecycle email.
In the next section, we will uncover four basic lifecycle emails that you can easily recreate and personalize.
The Welcome Email
If you've ever signed up for something, you've likely received the clichéd "Thanks for signing up…" email. Your welcome email is more than an opportunity to say "hi" or, for that matter, present information the recipient already knows. Remember, lifecycle emails are built to add value, not waste time.
Your welcome email should be actionable, informative and clear. While you want recipients to engage with your email by viewing or clicking on it, in reality the goal of your welcome email is to move users through the onboarding process (and get them to use your product).
Best Practices:
If you include an introduction, make it brief.
Build momentum, your email should reflect what you want users to do next.
Include a clear, compelling and enticing call to action.
Here's a welcome email focused on the next step from Evernote: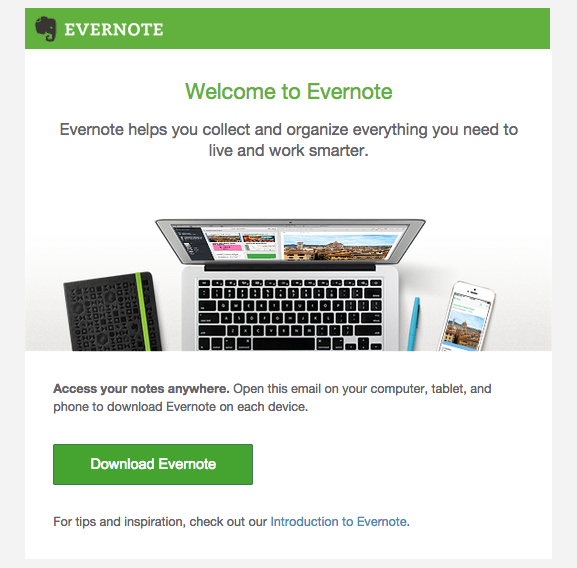 The Getting-Started Email
Your getting-started email takes the welcome email a step further. Once you've welcomed new customers, it's time for them to dive in to your software. The goal of this email is to move them from the inbox to the app or platform as efficiently as possible. The sooner users take action, the sooner they'll garner value from your product.
How do you do this: by piquing recipients' interest with education. Your getting-started email should introduce users to a feature you know people love and the benefits those people have experienced by using it.
Best Practices:
Focus on benefits, not features.
Include a deep link; don't make users jump through hoops to get to the feature you suggested they check out.
Use data to your advantage by not asking people to do something they've already completed with your software, like set up their profile.
Educate, educate, educate.
Here's a getting started email focused on encouraging recipients to engage with their software from Grammarly: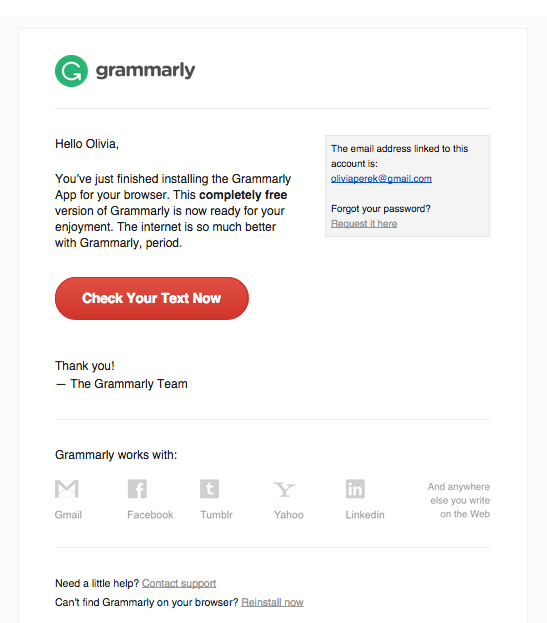 The Milestone Email
At this point in the lifecycle, users have taken action with your software and have reached a milestone (finished their first project, scheduled their first email, created their first report, etc.) that deserves recognition. This action merits not only an award, but also a conversation.
The milestone email should reinforce the value your software is delivering by speaking to the recipient's accomplishment. In doing so you make your customers feel good about their experience and get them excited to get back into your product.
Best Practices:
Make users feel awesome for using your product by employing upbeat, positive language.
Use micro CTAs to deepen your relationship, such as referring a friend or following on Twitter.
Here's a milestone email focused on instilling excitement from Canva: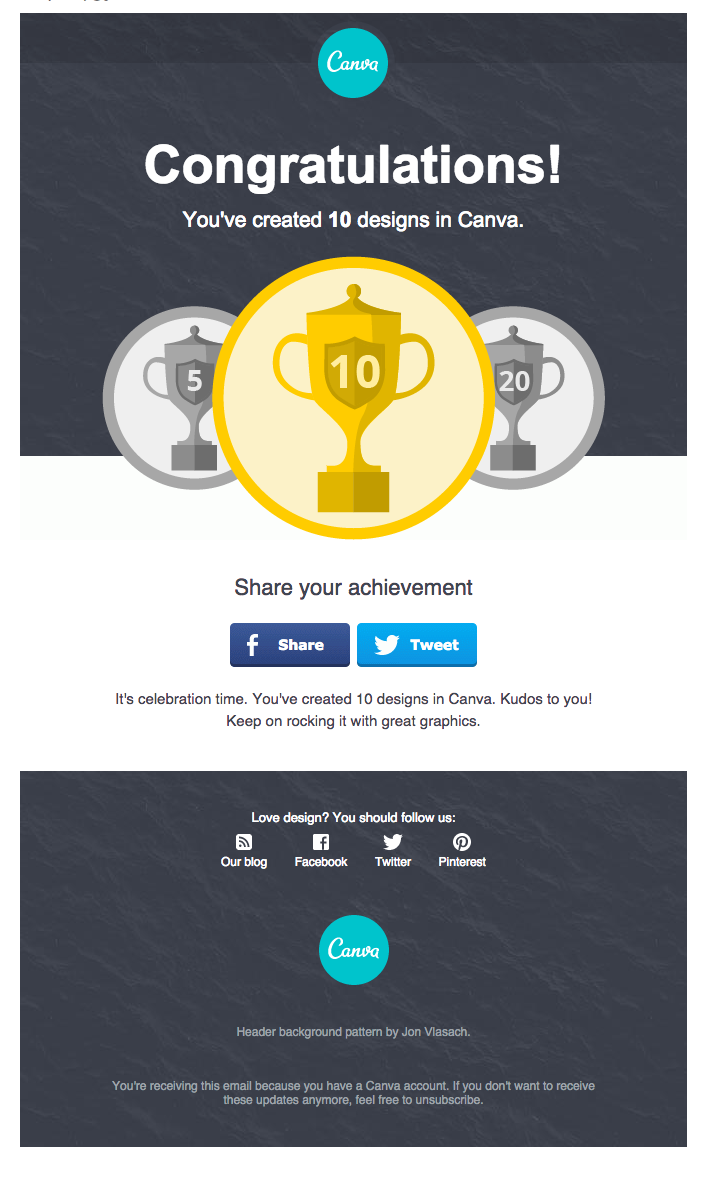 The Up-Sell Email
At this point, customers have been using your product for some time. They engage on a regular basis and are satisfied with their experience thus far (or they would have opted out by now, right?). Now is a perfect opportunity to add even more value for your customers.
While "up sell" generally holds a negative connotation, many times users welcome these emails. If executed strategically, customers truly appreciate your letting them know about something great they may have missed before.
Best Practices:
Again, focus on the benefits vs. the features.
Weave an up sell through a communication you would have sent anyway (i.e product update, shipping confirmation, etc.)
Include personalization, so the recipient feels good about his or her relationship with you and recognizes that you're paying attention to his or her experience.
Here's a reactivation email focused on up selling by giving information about a product update from BuzzSumo: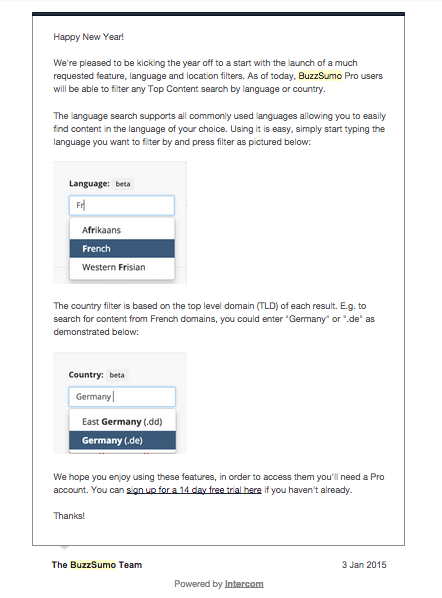 There are many more onboarding emails to add to your arsenal that you should strongly consider adding to your lifecycle-marketing and customer-success strategies. These examples are designed to get you started and onboard customers sooner, rather than later.
What other types of lifecycle emails do you use? What questions do you have on customer onboarding? Let us know below!
Olivia is the manager of New Breed's Inbound Team. She excels at helping clients identify, build and execute scalable demand generation strategies using the HubSpot ecosystem.
Connect with the author