The goal of HubSpot's Sales Hub is to enable reps to be more efficient and effective with their outreach, deal velocity, contact management and pipeline management.
With that in mind, the best features of the Sales Hub are those that effortlessly improve a sales reps' ability to do their job.
Tasks

Tasks are one of the first things I show new reps how to use in the Sales Hub because they enable you to keep track of everything that needs to be done.
Using tasks in HubSpot, whether they're manual or part of an automated sequence, can enable sales reps to spend less time thinking about what they need to get done and focus more on how to do those things effectively.

When you create a task, you can designate a priority level, pick a due date and set reminders. On top of that, you can categorize tasks into different queues to improve how you can view and organize your tasks.
When you can document and organize everything you need to get done, you're able to be more strategic and not just tactical.
Managers are also able to create tasks on behalf of reps, which enables them to better manage their team and keep track of how team members are performing. If a rep is having performance issues, looking at their tasks can give managers visibility into their day to day in order to inform coaching opportunities.
Sequences
Sequences are a great tool for reps who have a lot of outreach to do. They function pretty similarly to marketing workflows.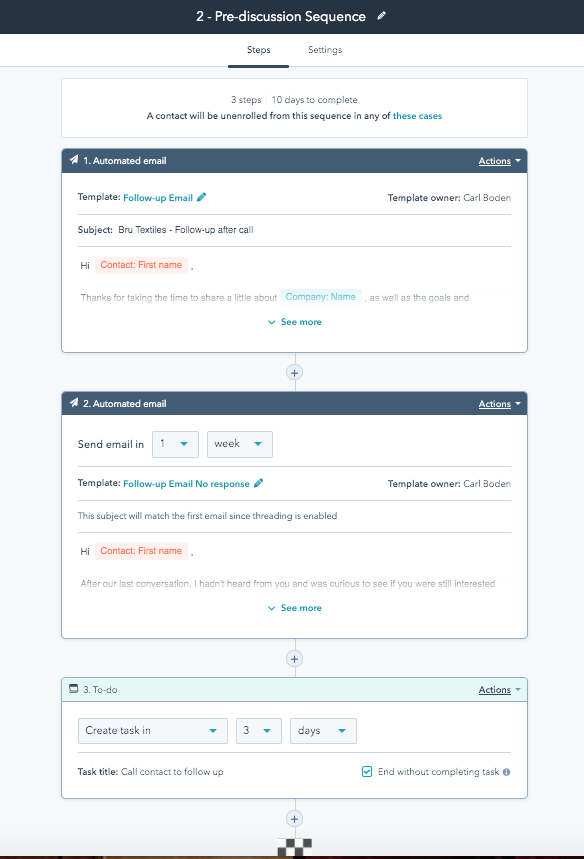 They could potentially be used to send automated email campaigns to prospects, though I don't recommend that. Instead, I think sequences are most valuable when used in combination with Tasks.
You can set up a queue of tasks for yourself to remember to follow up with prospects. Instead of creating one-off tasks, when you find a cadence that's effective, you can enroll relevant prospects in a sequence that'll provide you with automatic reminders without making the communications impersonal.
Playbooks
Playbooks are instructional guides for a given area of your company's sales process. They can include instructions for a step of the sales process, a checklist of what needs to be done in preparation for a call and an example call script.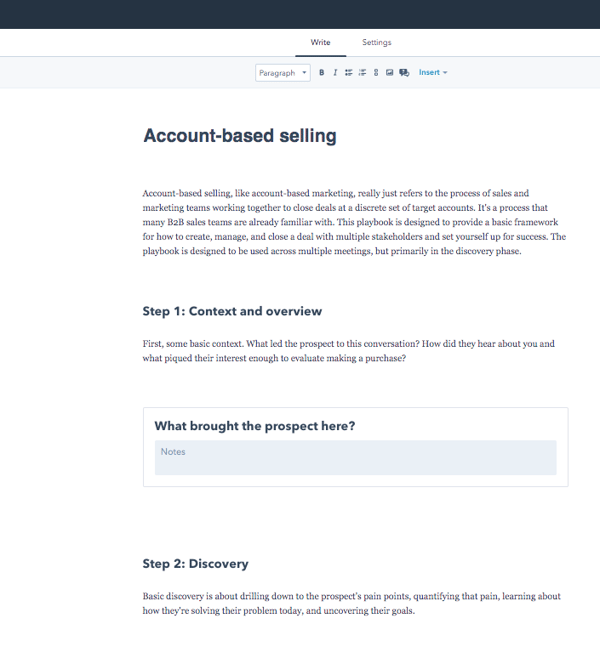 Playbooks are very flexible and provide a medium for sales knowledge to be shared across the team in an easily accessible place.
They're an awesome tool, especially for growing sales teams that have lots of new hires or large teams with numerous sales processes, because you can weave sales enablement training documentation right into a contact or company record where a rep is working on a day-to-day basis.
For example, if a new rep is making a discovery call, they can pull up a discovery call playbook and be prompted with resources like what questions to ask. Reps can even take notes directly in the playbook as they're using it to guide their outreach.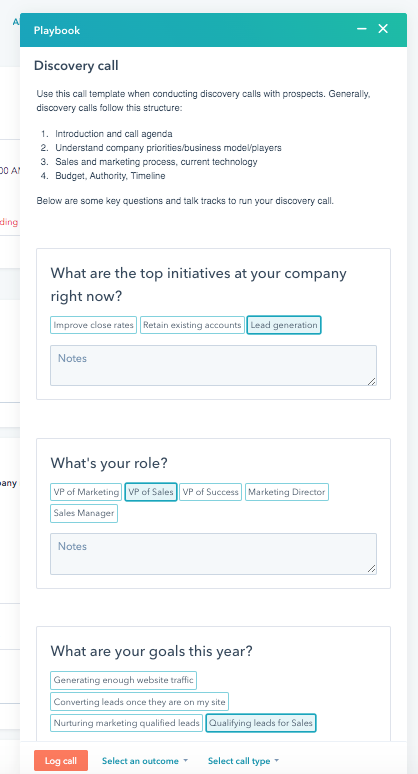 Many sales teams have their sales resources and expertise scattered across platforms and team members. Playbooks allow you to consolidate that information and provide it to reps through the platform they're primarily working in.
Meetings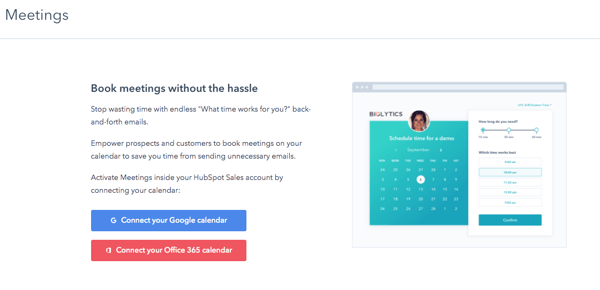 HubSpot's Meetings tool saves a lot of the unnecessary back and forth that arises when trying to schedule a meeting. The tool integrates directly with a rep's calendar, allowing reps to create links with preset lengths that they can send to prospects. Prospects can then book a meeting directly on the rep's calendar at a time that works for them.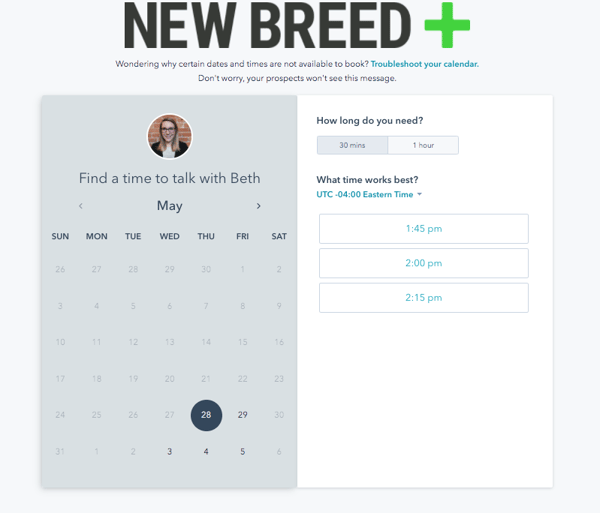 As part of the meetings tool, you can also automate actions that need to occur around meetings that should be mindless. For example, the calendar integration will ensure that the scheduled meetings is added to everyone's calendar, but you can also automate reminder emails to go out to prospects. To make it easier to report on meetings, you can also set different meetings types that each meeting would be designated as. For example, you could create defaults for discovery calls or proposal presentations.
If you have a BDR team conducting outreach on behalf of your sales reps, you can create joint meetings links that look at both of their calendars. Additionally, if you want to enable unknown prospects to book meetings directly with your sales team, you can set up a round robin meetings link that will distribute leads among a group of reps.
Documents

The Sales Hub's Documents tool gives sales visibility and insight they otherwise wouldn't be able to get. It allows you to upload any presentation or document you want to send to a prospect and receive a custom link to it.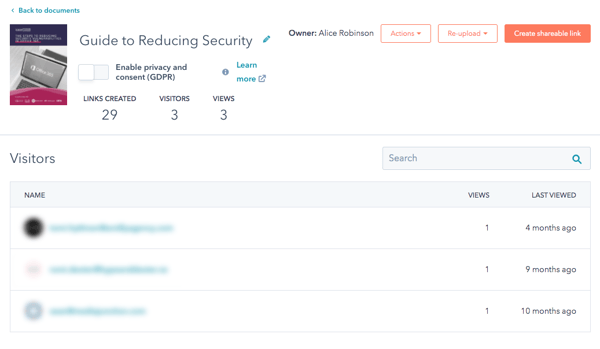 Then when the prospect looks at that link, you'll have visibility into when they click on it, what parts of the document they're looking at and how long they're spending with it.
While setting that up in documents takes slightly longer than just sharing a Google Slides link, the extra minute of preparation provides you with information that can inform how your reps proceed with their outreach.
All the documents are also easily accessible from contact records, so as a rep is drafting a follow-up email to a prospect, it requires very little effort for them to insert the document link.
Deals

The deals board in HubSpot provides you with a visual representation of your sales team's pipeline, which helps you understand and manage the deals in flight.
With Sales Hub Professional, you can have 15 different pipelines, and for Sales Hub Enterprise, you have 50. So, if you have multiple sales teams devoted to different regions, product lines or ICPs and you want to measure those sales processes separately, you can do that.
You can analyze deals based on factors like deal size, potential close date, account and sales process stage. If you have your sales process stages defined and labeled properly across all deals, you can view a kanban board arrangement of how your pipeline is laid out including the total potential revenue in each stage. That knowledge gives you an idea for where the areas of opportunity are for your team and what work needs to be done.
On top of that, you can filter deals by the rep that owns them so they can gain insight into their personal performance.
Automation
HubSpot's automation ability overall can improve your sales team's effectiveness and increase collaboration between your marketing and sales teams.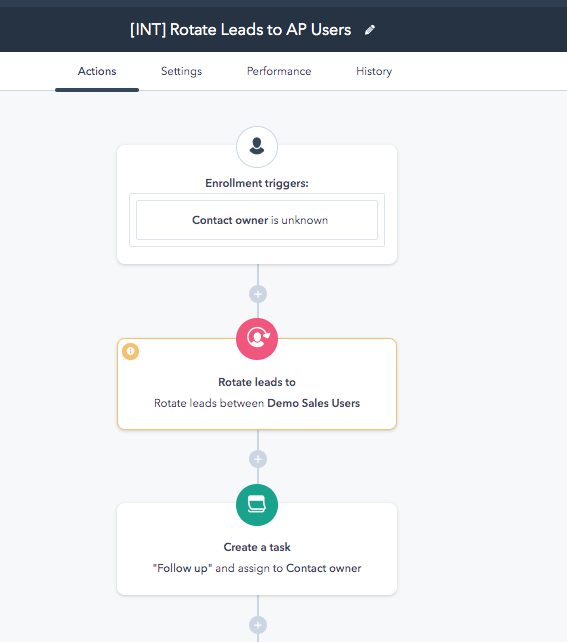 For example, if your company is using the HubSpot Marketing Hub as well, you have access to sales automation functionality in the workflow tool to round-robin rotate leads to your sales team. This smooths out what could be a complex part of the marketing-sales handoff and helps ensure no leads slip through the cracks.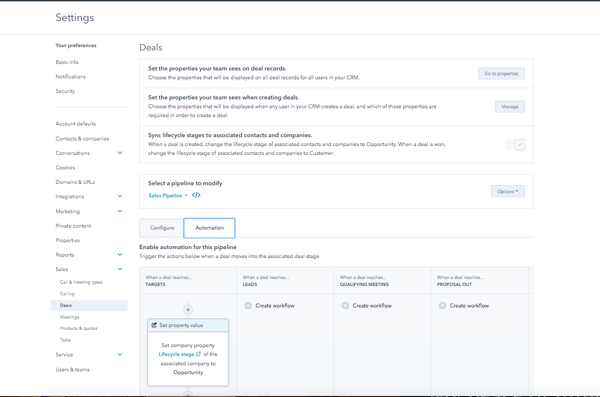 You can also automate properties around deal stages and the tasks that are accomplished. For example, if a rep completes a discovery call with a contact, you can have that contact automatically progress to the next deal stage, which reduces the manual updates a rep would need to make.
Even tasks can be automated to send reminders so that no lead gets neglected.
Reports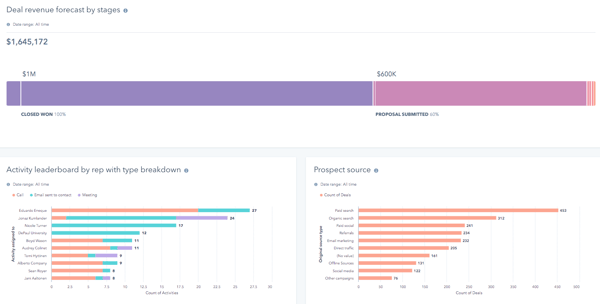 With HubSpot Sales, you can create customizable sales reports and dashboards to provide reps with visibility into their activity metrics and how those efforts are contributing to deal progression and pipeline generation.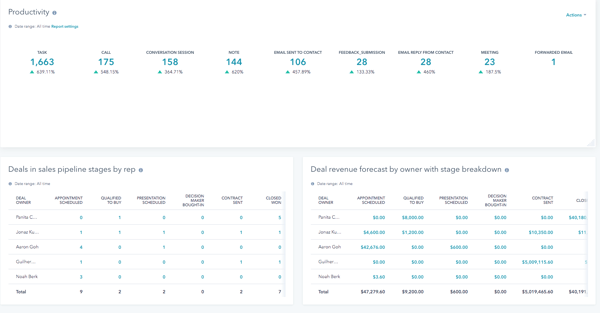 This not only helps managers understand how their reps are performing, but also enables reps to hold themselves accountable to achieving their goals.
Beyond just performance metrics, you can also use dashboards to track operational activities like property updates. This can help you hold your team accountable for keeping their data clean to ensure your pipeline is accurate.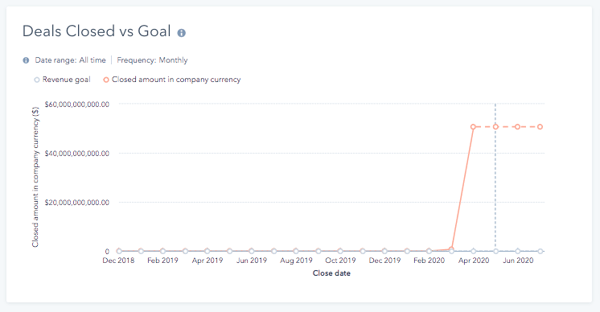 The Takeaway
The key to being successful in sales is being smart about how you prioritize your time and being strategic about how you conduct your outreach.
The HubSpot Sales Hub allows your sales team to consolidate and automate a lot of manual tasks, which frees reps up to be more thoughtful about how they're going about their sales process.
Additionally, every tool in the Sales Hub ties back to HubSpot's CRM and connects with the Marketing Hub, which provides greater insight into the experience prospects have before and after they speak with your sales team.
Beth is a Senior Manager of Revenue Operations at New Breed and specializes in optimizing how processes and platforms support revenue growth.