While the responsibilities of a sales manager seem to continuously expand, at the end of the day one of the key aspects managers are responsible for is setting the strategy for their sales team and enabling said team to perform at its peak.
With hundreds of moving parts, it's difficult to decide what to do exactly, but here is a good starting point: According to the 2019 CSO Insights World-Class Sales Practices study, World-class sales organizations have systems in place for cross-functional teams to provide sales teams with the support they need.
What is more, the organizations that ask top performers to actively share their knowledge close more deals — after 18 months of coaching, some organizations have been able to increase their win rates by 54%.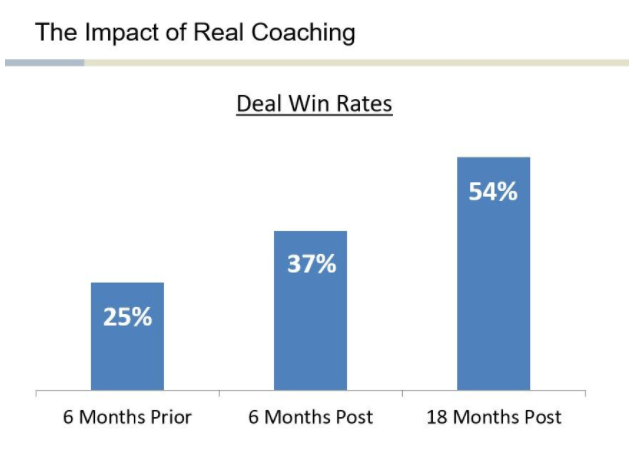 (Source)
So, capturing and sharing knowledge can directly boost your team's performance. The trouble is how can you actually capture and share said knowledge in a way that's scalable?
This is where knowledge management (KM) can help.
What is Knowledge Management (KM)?
Knowledge management (KM) refers to the activities and solutions your sales organization uses to capture, store and share knowledge.
You probably already have processes in place to ensure knowledge sharing. Maybe you do weekly sales workshops, biweekly one-on-one meetings or monthly sales training.
But how do you capture and store the information learned in a way that's easily accessible for later use?
Knowledge management solutions are responsible for this. They help you organize your sales team's knowledge in a centralized repository so that it's available to any authorized user at any time.
Here are the most popular types of KM solutions:
Knowledge base systems and search
Decision support systems
Content management systems
Artificial intelligence tools
Data warehousing, data mining and OLAP
Communication tools
The combination of both KM best practices and KM solutions enables your team to capitalize on their collective knowledge.
How Knowledge Management Can Help Your Sales Team
Make answers easy to find
Whether it's a contract buried in a shared folder or an elusive spreadsheet, salespeople often get stuck waiting for information like most other knowledge workers.
The solution to this problem is having one searchable, centralized platform, such as a knowledge base, where your sales reps can find everything they need to move a deal forward.
A knowledge base allows you to do more than just upload documents. It lets you organize information with tags, publish articles and videos and, best of all, track usage.
Here's how you can use a knowledge base in your sales organization:
Break down knowledge silos and encourage cross-team collaboration
Today's customer buys based on the overall experience. Customers expect the sales rep to understand their business as well as be aware of any previous requests or pain points.
That's why organizations have been working hard to break down the walls between sales, marketing and customer service. And, that's why, a number of new buzzwords have come to light — customer experience, smarketing (sales + marketing) and sales enablement, to name a few.
Those that have started the alignment process are already reaping the rewards. HubSpot, for example, reports that aligning your sales and marketing team can double the revenue from marketing.
But where do you begin?
Here are two suggestions you can implement quickly.
Enable both sales and marketing to provide feedback, like HubSpot does. Their marketing people go on product demos to help the sales team improve. Salespeople, on the other hand, periodically fill surveys to give feedback on the leads and tools that marketers use.
Use a communication tool like Slack to share ideas on the fly and be able to search past conversations.
Send out weekly blog digests to let salespeople know what content is available to them.
Involve everyone in content creation:
Use a centralized system to keep all teams up to date. This can be a CMS, a document management system, a knowledge base or something else.
Enable marketers to upload content that helps overcome objections at each stage of the buying journey.
Enable sales reps to share case studies and ROI calculators so that marketers can show the value of the investment.
Enable support reps to publish white papers, product information and FAQs.
Reduce training time and cost
Another big hurdle in the sales process is training. The 2018 SDR Metrics report by the Bridge Group revealed that it typically takes 3.2 months for a new sales rep to get up to speed. Add in that the average base salary for a salesperson in the U.S. is $56,928 and that it costs anywhere from an estimated $10,000–$20,000 to train a new rep, and you get a potentially costly endeavor as you wait to see if your new hire works out.
While training is necessary for any position and it does take time, you could reduce the initial overhead.
With the right KM solution, you can automate parts of your internal training and reduce the need for in-person coaching. Here's how:
Look at the analytics from your internal KM solution (knowledge base, corporate wiki) and mark the searches that produce no results. Create content around these topics.
Create bite-sized lessons for ongoing training. These could be product demos, best practices, new techniques, etc. Share them in your internal knowledge base, private video platform or learning management system (LMS).
Ask experienced reps to record videos detailing best practices, tips and tricks or win stories. This won't take more than a few minutes of a rep's time but can help another rep close more deals. Make sure there is an incentive for employees to share knowledge and upload the videos to your LMS, knowledge base or CMS.
Next Steps
While there is no replacement for peer-to-peer coaching, you can help your sales reps work faster and learn more efficiently through knowledge management.
To start making use of knowledge management, pinpoint the bottlenecks in your sales process. Do sales reps get stuck waiting for information? Can you help low performers learn from the stars?
Once you know what you want to achieve, you can easily decide on KM activities and solutions.
Josh formerly worked in sales in the telemedicine industry before moving over to marketing. Currently, Josh is the Marketing Manager at Helpjuice. Helpjuice provides easy-to-use and fully customizable knowledge bases which can be used to better help sales teams find and share the information needed to better perform...
Connect with the author