HubSpot has unveiled exciting new updates and features across its Marketing, Sales, Service, Operations, and CMS Hubs. These updates have been carefully crafted to help high-growth teams work smarter, streamline workflows, and leverage the power of AI for data management and analysis.
What's New in Marketing Hub?
The latest Marketing Hub updates are centered around enhancing customer journey analytics and data validation, empowering you to gain more valuable insights and optimize marketing ops.
Identify Touchpoints for Driving Conversions: Enterprise
The new Customer Journey Analytics tool provides an even deeper view into user interactions, pinpointing the most effective touchpoints that drive conversions. This report displays two years of data or up to fifteen million unique events. You can also add up to ten customer "steps" and track up to five stages of the journey, gaining unparalleled insights into lead behavior.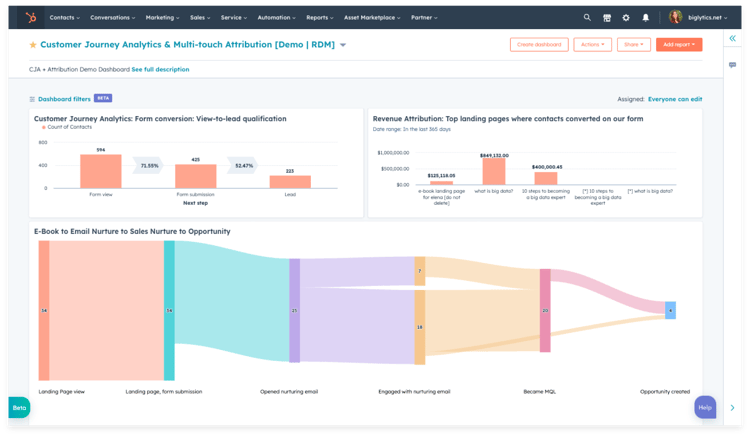 Improve Data Quality: All Plans
Elevate your data quality management with the enhanced "Import" feature that now supports custom property validation. This empowers your team to sift through erroneous or duplicate data, ensuring that only accurate and high-quality data informs your reports. You can also adjust configuration options, setting associations as visible or required for standard object records, resulting in increased data consistency and accuracy across all operations.
Create Random Samples from Lists: Pro and Enterprise
Targeting your campaigns just got easier with the introduction of the Create a Random Sample feature. Now you can effortlessly generate a new static list with a specific number of members selected at random from your existing list. This feature allows you to create even more refined and targeted campaigns.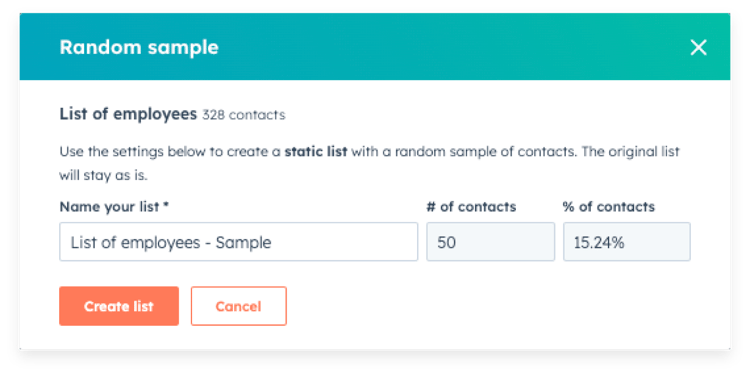 Associate Marketing Events with Campaigns: Pro and Enterprise
Make the most out of your next industry conference by tracking events in HubSpot! You can associate Marketing Events with HubSpot Campaigns, thanks to the latest update. This makes it easy to link them to your campaigns and track impact, equipping you with the insights to make an even bigger splash at your next event.
What's New in Sales Hub?
The latest Sales Hub updates are designed to equip revenue teams with the tools and insights they need to effectively manage their pipelines and streamline workflows, ultimately resulting in better performance.
Customize Record Create Form by Pipeline: Pro and Enterprise
You can now customize the creation of records with relevant properties for specific pipelines. With the ability to personalize the record form for each pipeline, you can choose which details are mandatory or optional, making it easier to manually create deals, tickets, or custom objects. The pipeline logic ensures that certain fields appear or become required based on the selected pipeline, streamlining the process and ensuring accurate data collection for each sales stage.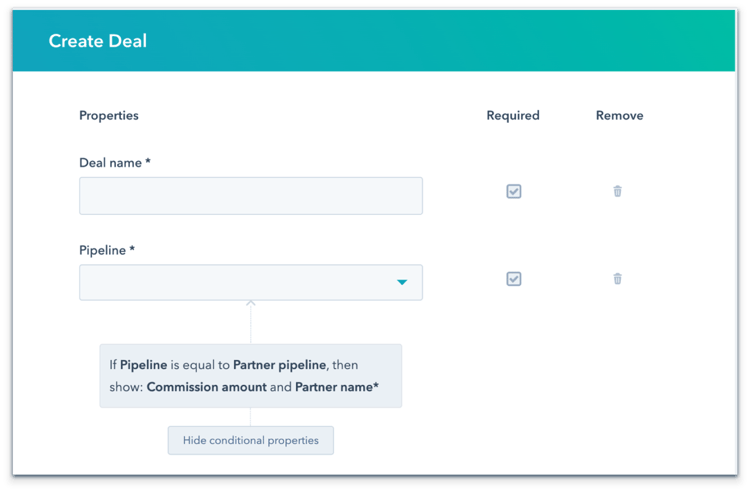 Improved "Import": All Plans
The "Import" feature has been significantly improved with mapping guides, custom unique IDs for deals, tickets, and custom objects, and create/update only imports. These updates boost the efficiency of your sales efforts, making it simpler to manage customer data and enhance your overall performance.
Notifying Users of Meetings: All Plans
Never miss a meeting again with the new "notify if meeting booked" feature. You'll receive instant notifications when someone schedules a meeting with you through the "insert proposed time" feature, ensuring you stay on top of your schedule and never let an opportunity slip through the cracks.
What's New in Service Hub?
Effective communication is the cornerstone of top-notch service, swift issue resolution, and an exceptional customer experience. Service Hub updates have been specifically designed to prioritize these areas, empowering teams to elevate their service delivery and exceed customer expectations.
Inbound Calling: All Plans
With the Inbound Calling feature, you can supercharge your service team's capabilities. Seamlessly manage active calls, review caller context, and take notes without leaving the HubSpot app. This feature enhances the efficiency of your support team, enabling you to provide quick and effective assistance to your clients.
Custom Goals: Enterprise
Take control of your metrics with the new custom goals feature! Monitor performance across all standard objects and custom propertiess in your CRM, from customer service goals to exceptional service. You can also select notifications that will be sent to all stakeholders contributing to the custom goal. Sales Hub Enterprise users can also take advantage of this feature.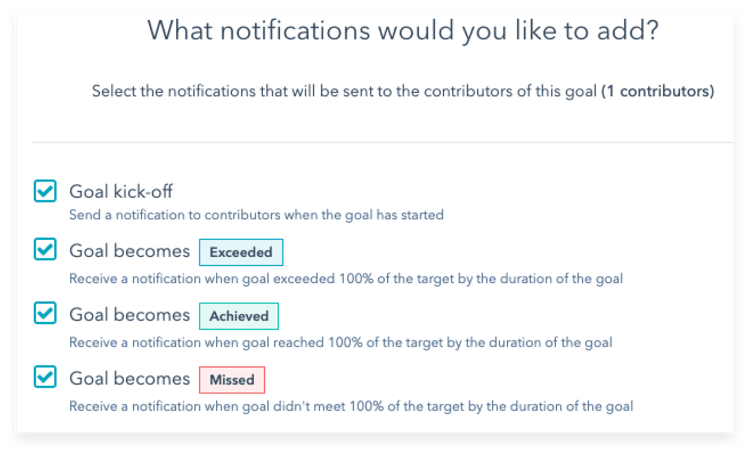 Streamlined Conversation Handoffs: All Plans
The new Conversation Inbox feature streamlines customer communications, allowing you to manage ongoing conversations in one place, collaborate with your team, and reduce response time. You can now reassign, comment, move, or forward messages.
New Service Playbook Templates: Pro and Enterprise
Elevate your customer service game with the new Service Playbook templates: Customer Onboarding Playbook and Business Review Playbook. Also available for Sales Hub Pro and Enterprise users, these interactive content cards are seamlessly integrated under service tickets, prompting your teams to create standardized notes and reference supporting content easily.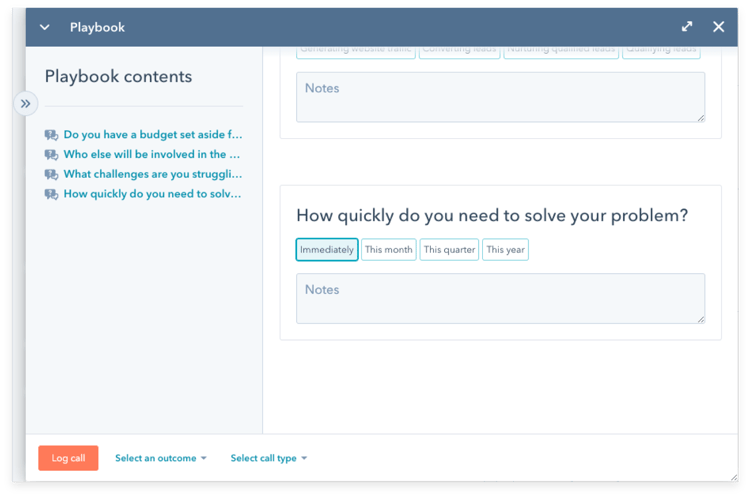 What's New in Operations Hub?
The latest updates from Operations Hub provide teams with enhanced data management capabilities, including improved filtering and review features that create a more user-friendly experience. These updates empower teams to better manage their data and streamline their workflows, ultimately leading to improved performance.
Enhanced Data Model Overview Design: Enterprise
The data model overview design has received a revamp across all Hubs at the Enterprise tier, providing a more comprehensive view to map out, pinpoint and analyze specific areas of interest. With the improved filtering system, accessing and locating needed data is now quicker than ever before.
At-Risk Workflows Review: Professional and Enterprise
Streamline your workflow management with the At-Risk Workflows tab. Prioritize workflows based on risk dates and types, or choose to ignore workflow risks until they reoccur. This new feature ensures efficient workflow management and reduces the possibility of errors and delays.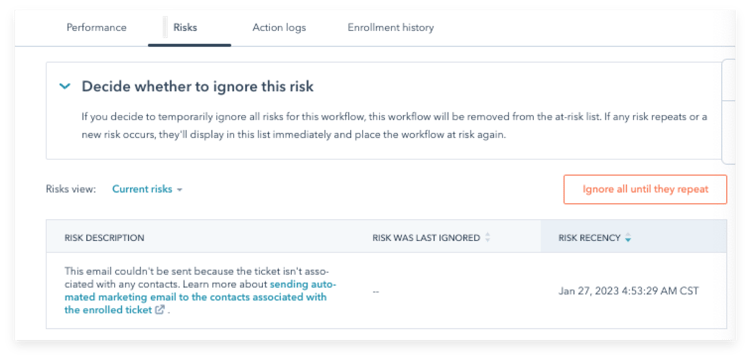 Re-sync Deleted Records: All Plans
Data loss can cause significant issues when it comes to tracking and reporting accurately. However, with the ability to re-sync deleted records in a data sync connection, you can guarantee that your data is always up-to-date and precise, eliminating any potential headaches.
What's New in CMS Hub?
With the latest CMS Hub updates, content creation and management have never been easier. The enhanced flexibility and user-friendly features streamline the entire development and staging process, resulting in efficient and top-notch content production. Plus, the possibilities for creating eye-catching content are endless with HubSpot's intuitive editing tools.
Drag-and-Drop Modules in Blog Editor: All Plans
The drag-and-drop blog editor is a game-changer for content strategists wanting to design visually stunning pages without coding know-how. With this feature, you can effortlessly rearrange and customize various sections of your blog, whether you're working with starter templates, themes, or your own coded designs. The drag-and-drop modules make it easy to add and remove elements, adjust the layout, and create a seamless user experience.
VS Code Extension: HubSpot Developers
Developers can now take their HubSpot game to the next level with the VS Code Extension. This updated tool simplifies the local development process, allowing developers to set up workspaces and build themes without needing extensive documentation or command-line memorization.

New Crawling and Indexing Recommendations: All Plans
HubSpot's SEO toolkit has received a major boost with four new features: page verification, broken page fixing, external link scanning, and confirmation of correct page blocking. These updates are designed to optimize your website crawling and indexing, resulting in heightened visibility and increased organic traffic.
HubSpot's New AI Tools: A New Era of Content
HubSpot's use of AI as a core CRM component has taken a step forward with the introduction of Content Assistant and ChatSpot AI. These cutting-edge tools are transforming content development, customer interactions, enhancing workflow efficiency, and boosting productivity across all functions.
Content Assistant Tool: Private Beta
Say goodbye to writer's block with Content Assistant! This AI-powered tool combines OpenAI's GPT-4 model with user input to help you effortlessly create compelling content. Currently available to select HubSpot partners and clients in private beta, the tool is seamlessly integrated across all rich text modules, making it easy to brainstorm ideas, generate outlines, and create various types of content such as blogs, landing pages, and nurture emails.
While the content the tool produces from scratch requires human intervention for fine-tuning and editing (not unlike ChatGPT), Content Assistant is powerful in streamlining the content ideation and optimization process. The tool's impressive "tone" feature, for example, allows you to choose a more educational, heartfelt, professional, or persuasive tone for existing copy.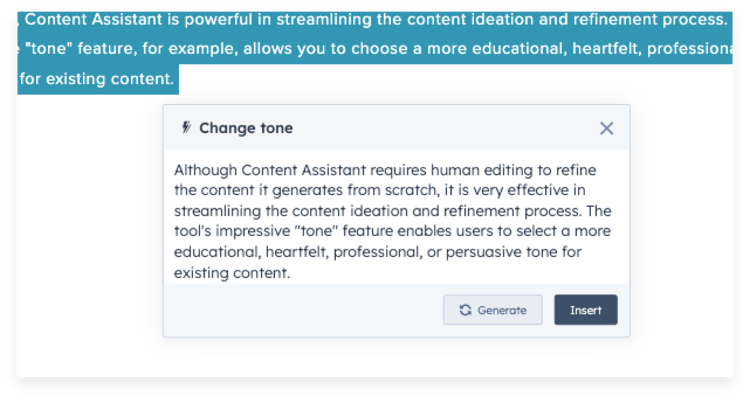 ChatSpot.ai Bot: All Plans
ChatSpot.ai is now officially live! ChatSpot is a conversational CRM bot enabling sales, marketing, and service team members to accomplish various tasks in HubSpot even faster by using chat-based commands. You can quickly prompt the bot to create new contacts, send follow-ups, pull performance reports, create new segments, and more. An invaluable AI addition for sales and marketing teams alike, ChatSpot also natively connects to HubSpot, so all data syncs directly from the CRM.
The Takeaway
Whew! That's a wrap on the newest features for this quarter. HubSpot's dedication to innovation and technology is reflected here, as they continously release new and improved tools, all aimed at empowering teams of all sizes to achieve operational efficiency and ultimately drive revenue growth.
As leaders in the HubSpot partner ecosystem, we share that commitment and are ready to guide you every step of the way!
That's why we're offering a free comprehensive HubSpot CRM audit. Our expert RevOps team will dive deep into your CRM to identify opportunities for improvement and develop a roadmap to success. With our expertise and experience as an Elite Solutions Partner and HubSpot's 2022 Top North America Partner, you can count on us to deliver actionable insights that improve your processes and assets.
A former art kid with a passion for all things strategic and creative, Liza is on a mission to shake up B2B spaces. When she's not busy launching brands and driving revenue, you can find her chasing down Brooklyn's best food truck (Tacos El Bronco), or cuddled up with her dog to decode Reddit conspiracy theories.