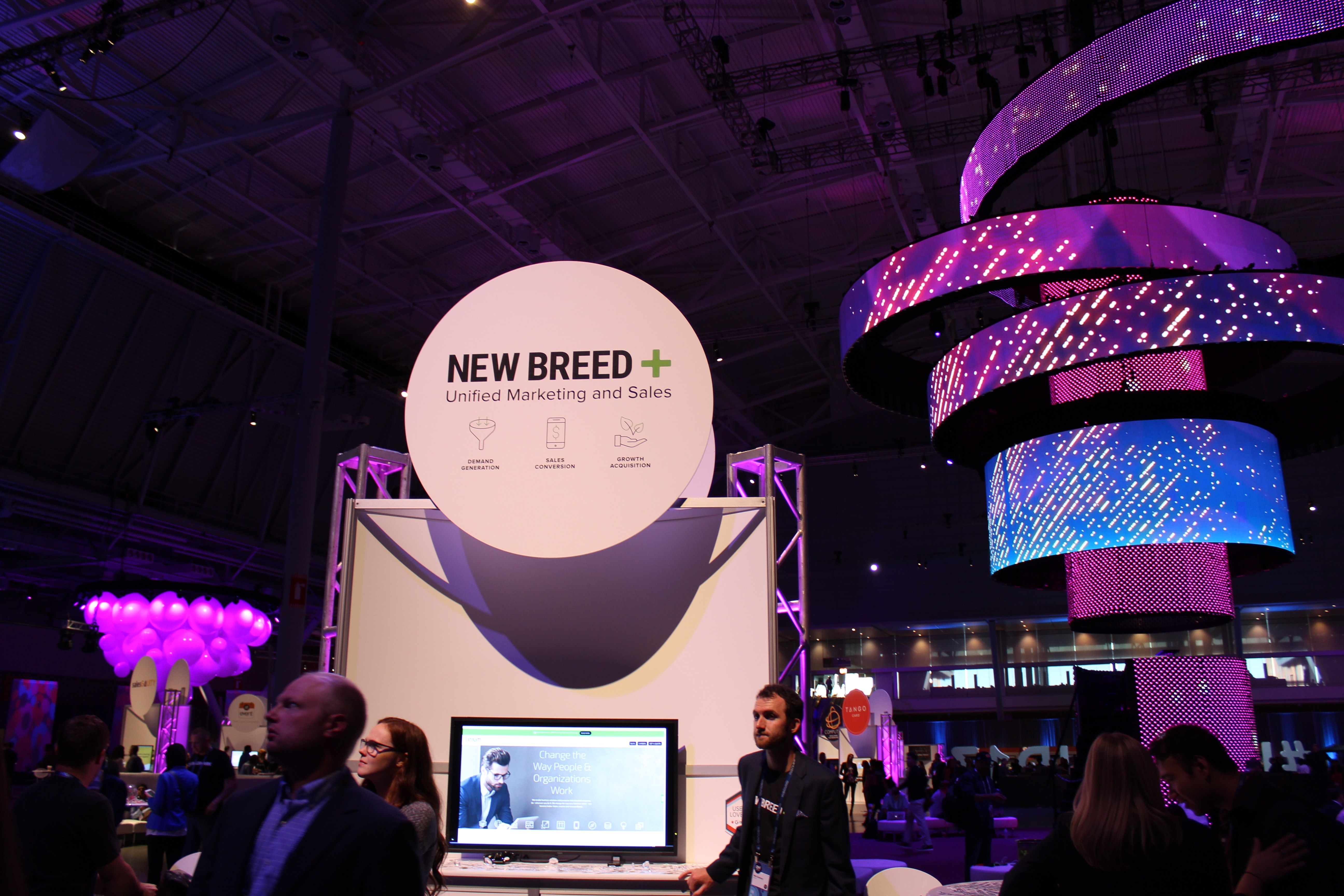 If you've been following along, then you know INBOUND 2018 just wrapped up, and it did not disappoint. With thousands of fellow marketing professionals in attendance, INBOUND was the perfect place for networking, generating leads and learning about the latest developments in our industry.
What's more, it also marked the beginning of HubSpot's product launch season — and as a Diamond-tier HubSpot partner with years of expertise in the platform, New Breed is eager to use these releases and updates; the more capable, flexible and scalable the HubSpot platform becomes, the better we can use it to help our clients succeed. Here are our top five most exciting HubSpot product releases to date.
The 5 Most Exciting HubSpot Product Releases of INBOUND 2018
1. HubSpot Video
HubSpot video, powered in part by Vidyard, offers platform-wide features including video creation, video hosting, in-video CTAs and forms and more! Included in Professional and Enterprise-level products, this feature is our number one for a reason: video is the newest, most powerful content channel for sales, marketing and service.

If you're not already using video to create authentic, engaging and personalized content, then you're lagging way behind. With HubSpot's new video features, creating branded video content will be easier than ever. Using video content, marketers can better connect, educate and nurture leads; salespeople can build stronger, more personal relationships with prospects; and service personnel can help customers faster and more easily — all without leaving the HubSpot platform.
2. Enterprise Enhancements
HubSpot's new lineup of Enterprise tools are more sophisticated versions of Marketing Hub, Sales Hub and Service Hub, designed to scale and grow with you. These features are meant to give larger, more advanced teams greater flexibility and control, without the added complication of multiple, disparate tools. Let's dive deeper into each:
Marketing Hub Enterprise will include improved analytics and custom bot-building. We had the privilege of testing out HubSpot's chatbot in May, and so far it's generated four opportunities for us!
Sales Hub Enterprise will include features that enable users to build a library of resources for their sales team, such as call transcription, eSignature and quota management tools — this will streamline the sales process and enable your salespeople to close more deals, more often.
Service Hub Enterprise will include tools for tracking SLAs and other metrics.
Across all three Enterprise Hubs, additional features like workflow extensions, a native Slack integration, machine learning and health scoring will allow advanced teams to manage, coordinate and track the progress of projects and team members more effectively.
3. Growth Suite Software Bundle
The Marketing, Sales and Service Hub Enterprise platforms will be available individually, or as part of a package in HubSpot's Growth Suite software bundles. Available for the Starter, Professional and Enterprise editions, these bundles offer a tailored, truly comprehensive platform for sales, marketing and service teams to do their jobs more effectively; they give companies of any size access to the HubSpot tools they need to succeed.

We're committed to accelerating the growth of our clients, so we're so excited to be able to recommend these bundles for support at any stage of their growth. Inevitably, a business's needs and goals will shift as it scales, and HubSpot's Growth Suite give businesses the room they need to grow, without having to make the switch to more advanced tools.
4. Standalone CMS
The HubSpot CMS will soon be available for purchase as a standalone product, allowing users to serve truly personalized content to visitors around the world, increasing engagement and boosting conversions. Within the CMS, users will be able to:
Build a unique, branded website with drag-and-drop editors.
Customize the entire customer experience, from the moment they become visitors to long after they've closed. Using smart content tools and details stored in the HubSpot CRM, users can present more individualized content to visitors.
Secure the browsing experience with SSL backed by a world-class content delivery network.
In addition to being able to serve more relevant and personalized content to each web visitor, the HubSpot CMS gives sales and marketing teams the information and insight they need to create better alignment, as well as to test and report on different strategies.
5. Conversations Tool
AI, machine learning and chatbots have transformed customer expectations involving conversations; they want easy, contextualized and real-time answers to their questions and concerns, but growing businesses may struggle to have these high-quality one-to-one conversations with prospects. As countless professionals continue to declare 2018 "The Year of Conversational Marketing," HubSpot released its conversations tool.

HubSpot Conversations, an easy, comprehensive solution for expanding marketing efforts, offers free tools for live chat, team email and chatbots, which can facilitate conversations with prospects and customers and offer relevant information automatically. It includes a universal inbox allowing sales, marketing and customer service teams to collaborate in one place, as well as targeting and lead routing capabilities to connect prospects to the right salespeople at the right time.
What's Next for Marketers?
As the world changes, the way we market, sell and delight customers must change too. New features like video, machine learning and team management tools will allow businesses to adapt to new developments in their industries and, ultimately, continue to grow with their HubSpot platform, not against it.

At New Breed, we're so excited to adopt, learn and leverage these platforms in our inbound strategy for the continued growth and success of our customers. Now that INBOUND 2018 is over, we're busy preparing ourselves for additional announcements from HubSpot and from marketers around the world — and if they're anything like these five incredible product releases, we're ready to be inspired.
INBOUND 18 may be over, but the release of new HubSpot products is not. If you want to dive deeper into these product releases, schedule a FREE HubSpot Demo with us today.
Elizabeth is a former New Breeder.