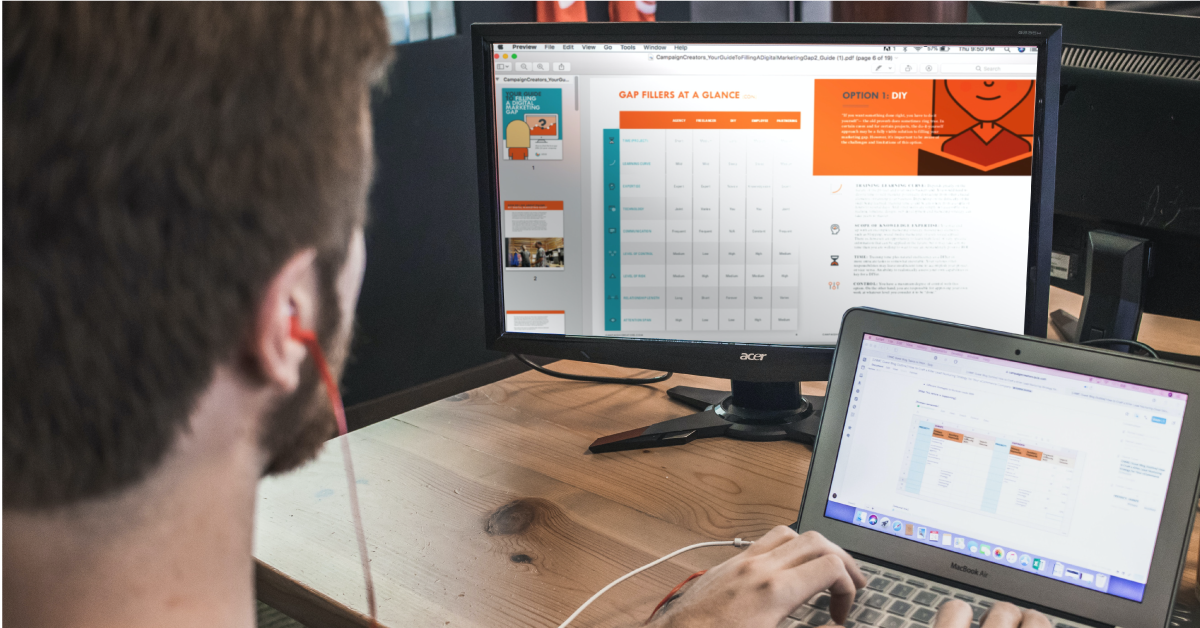 Channel marketing or selling through a distribution channel involves having a network of partners who resell your company's product to end-users on your behalf. This strategy can be used to supplement an internal marketing and sales team or can replace those functions within a company.
For example, a marketing automation software might have an internal sales team that customers can purchase directly from, but they might also have channel partners who are marketing agencies or consultants that can also sell the software. A tech equipment manufacturer, on the other hand, might rely entirely on distributors and outside vendors to market and sell their products so they can focus their internal resources on product development and production.
"Channel marketing poses a lot of challenges because you don't have control over your own end-users anymore because you're not directly selling to them," says Inbound Marketing Strategist Weslee Clyde. "There are also a ton of benefits like being able to sell more of your product by increasing the ways in which you sell and the number of team members who sell your products. You are also able to increase your reach into alternative markets because multiple teams can tackle a wider audience than just one team can."
Here are six tips for channel marketing:
1. Relationships Are Everything
Your channel marketing partners and distributors aren't part of your company so the way you work with them will differ from how you'd work with an internal sales team.
"A lot of times [resell partners] are completely third-party or separate companies, which means they have their own agendas, goals, business plans and revenue targets," Weslee says. "While that doesn't mean that they don't also want to help you hit yours, you are not always their first priority."
In many cases, those resell partners work with multiple companies, so they're balancing the demands of all their partners with their own goals. You have to work with them in order to get what you want from the partnership.
"The best way to get the most from a channel marketing or distributor strategy is to build real long-lasting relationships," Weslee says. "Treat your distributors or channel marketing partners as you would customers in terms of communication, respect and expectations because the better relationship you have with those people, the more value everyone will see from the partnership."
Remember that these types of partnerships are for both parties' gain. The more your partner feels empowered and enabled to sell your product, the more revenue they generate for themselves and the more customers you gain as well. It's a two-way street, which means that you should prioritize their needs in terms of updates, communication, training and information to show that you want them to succeed and will help them do so.
2. Establish Guidelines Around Collecting Data
A common point of friction with channel marketing is data visibility. You need to collect information about the sales process and your customers in order to make improvements and grow your business, but you're not necessarily in a position to record that data directly.
"You wouldn't make decisions for your own business without real data about your customers' habits, needs and behaviors, and you shouldn't do that with your partners either. But, the hurdle is getting access to that customer data and information," Weslee says. "If your partners aren't on similar platforms to you or aren't willing to share data, it can become a major roadblock for you when making decisions as well as understanding what's happening with your product in the market."
Relationships can make getting data easier. If you've established trust and loyalty, partners will be more willing to send you reports or share access to their platforms. But even with super solid relationships, some partners might not have the resources to give you the information you need at the cadence you want.
One way of overcoming that is going directly to end-users.
"Finding ways to get your end-users to still be in touch with you even though they purchased through someone else is a good way to still access that data without disrupting your partners' processes," Weslee says. "This way, end-users or buyers can interact with partners as normal while still connecting with your brand or company at some point in a registration process or a community-type of offering, which lets you gather the data and insights that you need."
For example, if you have a physical product, you can try and encourage users to register their product with you. If you have a software, you could require the customer data you need during the implementation and set-up process.
You might still want some more sales insight beyond what you can collect from customers, so another solution is establishing guidelines for data sharing in your resale contract.
3. Build Terms and Branding Guidelines
"Expectations are everything," Weslee says. "Whether they're really small partners or huge corporations, set expectations in the form of terms and conditions, branding guidelines or content guidelines depending on the type of relationship you hold with each company."
For example, if your resellers are putting information about your product on their website, you should have guidelines around the images they use and how they describe your offering. If you have a physical product, you might have regulations about how it can be transported, displayed or installed. If you have a software that your resellers do demos of, you might have rules about how publicly they can make those demos available and what they can and can't say during a demo.
"You can also set terms around how often things should be updated," Weslee says. "Like, 'We're going to send you yearly branding and product updates with new logos, new product photos, etc., and we expect you to be updated within 30 days.' Having them sign off on that will help set expectations ahead of time. Nothing is worse than trying to reach out retroactively when you realize information on their site hasn't been updated and now you need to try to get them to change it."
This is also a good time to set terms around data collection and communication procedures.
4. Make Information Sharing as Easy as Possible
Establish what your primary communication channel will be along with who the best points of contact are for different needs.
This could be a Slack workspace, a support tool or even email. If an issue arises, your resellers need to know how to get in touch.
It's also beneficial to create a partner knowledge base that has sales enablement materials, FAQs and files they might need.
"Create a location they can count on to go to for information, updates and content that can support them selling your product. All of that will foster a healthy partnership even more," Weslee says. "And, it doesn't have to be something super extensive. It doesn't need to be a custom-built tool. It can literally be a landing page that links out to assets, information and content."
But if you do create a resource like that, you need to keep it up to date for it to maintain its usefulness.
5. Understand Who Your Partners Are
Your different partners will have different operating practices, different needs and might serve different customer bases. In order to best enable them, you need to understand all of the factors that impact their relationship with you and how they sell your product.
"Big corporations often have their own tech stack, portals and systems, and this will impact the way the partnership operates between the two of you as well as the level of control or input you have," Weslee says. "On the other hand, small companies may actually look to you for guidance and even be willing to adopt the same processes as your company."
If you're managing a channel marketing program that has these variations in partner size, building personas of your different partner segments can help you understand common pain points or strengths so you can work together most effectively.
6. Keep Prioritizing Your End Customers
"Even though you're selling through partners, don't forget that there are still humans on the other end who are purchasing your product," Weslee says. "It's not just on your partner to make [end-users] happy. Don't get so caught up in the partnership that you forget that you both share a common goal – to provide a top-notch experience for customers from start to finish."
Operating in a customer-centric way can be difficult when you're relying on channel partners and distributors because you are more removed from your end-customers.
"Although you're lacking total control because you're not just selling to those end-users, there are still a ton of things you can do to ensure they have the best experience possible, and at the end of the day you're still going to be at fault or suffering if they're having a bad experience with your product," Weslee says.
Instead of educating prospects so they're ready to become customers throughout a marketing and sales process, with a channel marketing strategy you need to enable your partners to do that work.
Make sure you educate your partners and distributors about the value proposition of your offering so they can position it appropriately. Additionally, work with your partners to ensure you have a shared understanding of who good-fit customers are.
The Takeaway
A channel marketing partnership is a two-way street. You have to enable your resellers to succeed in order for them to be able to successfully sell on your behalf.
"It can be very easy to look at it as a one-way street, like 'Oh they're selling our product. Give them everything and let them sell.' but it won't work. It won't be sustainable and you won't see growth or be bringing in long-term customers who stick around," Weslee says.
For a channel marketing strategy to work, it needs to be beneficial for both you and your partners. Additionally, you need to make it as easy as possible to sell your product.
"The easier the partnership is, the better results you're going to get from it," Weslee says. "Just like with your own sales team, the easier it is to sell your product, the better relationship and the better success everyone will have."
Quinn is a writer and copyeditor whose work ranges from journalism to travel writing to inbound marketing content.