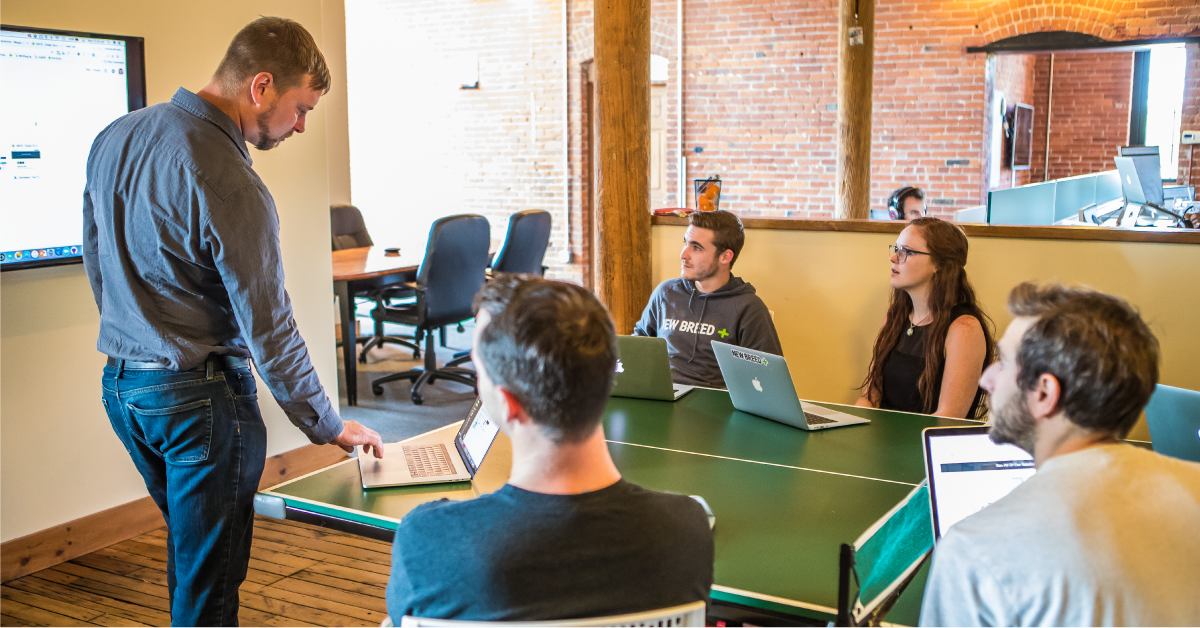 Account-based marketing (ABM) can be a great addition to your business strategy. ABM uses hyper-personalized tactics to attract, engage and convert high-value accounts.
Starting an ABM strategy can seem like an overwhelming or complex addition to your current plans, but the truth is the tactics you use during an ABM strategy aren't that different from those you use for inbound.
"You are going to use mostly the same tactics in both inbound and ABM, you just may be a little more specific or targeted in your ABM strategy," says Guido Bartolacci, Head of Demand Generation for New Breed.
Identify and Research
Before you even begin to plan out your tactics and strategies for ABM, you have to identify and choose the companies that you will go after, or your target accounts. This is what makes an ABM strategy different from an inbound strategy.
If you are already using the inbound methodology at your company, you know that you generate a ton of demand for your product or service through online channels and then encourage leads to convert on your site or raise their virtual hand and ask to speak to someone at your company. In those cases, your sales rep will qualify that lead after they ask to speak to someone or convert on your site.
But with ABM, that qualification process happens before you ever market or interact with leads. You will also only be going after the target accounts that you already know are a good fit for your business.
"Who you choose to go after with your ABM strategy will be heavily dependent on your company's ideal customer profiles [ICPs]," says Guido. "Your ICPs are made up of companies that have the quickest, most successful sales cycle, the greatest customer retention rates and the highest number of evangelists for your brand."
Your ICPs will be primarily made up of information like company size, revenue, location, industry and anything else that dictates the long-term potential or success of a company with your product or service.
Once you have identified your target account criteria, you will begin to research those companies in order to craft specific outreach and materials that will suit the company best. The goal is to learn as much about the company and each individual who works there as possible in order to craft the most tailored outreach.
To do this research process on individuals, you can use free tools like LinkedIn to learn about the company they work for, their history there, who may be above them in terms of ranking, or any other historical information about the company itself.
You can also use sales intelligence tools to help you fill in the blanks automatically in terms of demographic information and other properties that you can't find online as easily.
Once you have your target accounts chosen and researched, you can use tactics like the ones below to attract and engage with the individuals at those companies.
7 Tactics for Account-Based Marketing
1. Social Media
Social media can be a great tool for not only researching your target accounts and the individuals at those accounts but also to connect and build relationships with them.
"You should try to engage with their content and posts and connect with the individuals as well, which will expose those people to not only you personally, but your company as well," says Guido.
You can also learn a ton about the individual's personality from social media like what they care about, how they spend their free time and get a good gauge for their habits and demeanor.
2. Direct Mail
When done well, direct mail can be very effective, but you shouldn't just send generic items for the sake of sending something. If you can research an individual point of contact and send them something specific to their role or interests then direct mail can strengthen their relationship with your company. On the other hand, if you just send them something like chocolate or fruit and it feels like you do that for everyone, it could have a negative impact on the recipient's perspective of you.
Remember that the goal of ABM is to engage on a personal level with the individuals at your ICPs, so you want to make every effort to stand out and leave a lasting impression.
3. Testimonials and Case Studies
One of the best ways to show your prospects or leads why they should buy from you is through showing them how companies similar to them found value with your product or service. This is typically done with a case study or testimonial.
When it comes to an ABM target account, you will want to be sure you are showcasing companies that are in similar industries or have similar challenges to the one you are trying to bring in or close.
Testimonials and case studies speak for themselves and let the reader or viewer hear someone outside of your company speaking about your product or service, allowing the prospect to see themselves finding the same value. These types of materials should already exist at your company because they are just as valuable for inbound leads and prospects as they are for ABM accounts. Audit your existing materials to make sure you have a few that align with the types of accounts you are going after with your ABM strategy.
4. Battle Cards
By the time sales goes to engage with someone at one of your target accounts, you will probably have an insane amount of information collected about them. To make it easier for reps, you can develop a competitive battle card for certain information about each one of your target accounts.
This will act as a condensed file of all of the information you have about that company like their challenges and pain points, their company information, their role and some of the best solutions you have for their company.
This doesn't have to be a physical card either, you can simply put together a doc to share with colleagues that acts as a quick reference point for all of the most necessary information.
5. Content Marketing
When it comes to the content you will be promoting to your target accounts through email, ads and social media you don't necessarily need to create brand new materials.
"You can repurpose your already existing content offers and blog posts," says Guido. "You can customize them a bit more if you need to to make sure that it speaks to that company or individual a bit more."
The most important thing about the content you present to your ABM accounts is that it is relevant to their challenges. Use the information you know about an account to inform your content recommendations to be as specific and relevant as possible.
6. Paid Advertising
When it comes to targeting specific companies or individuals to get them to your site, paid advertising is a great resource.
You can use pre-populated lists or company names and connect them to your Google Ads account to specifically target the people that you are most interested in engaging with. Paid ads can be great for driving traffic to your site as well as raising brand awareness through repetition and exposure.
You can use display ads or social media ads to target the individuals at your accounts. Linkedin can be a great way to get your ads in front of target accounts because most of the employee and company information already exists inside of that platform.
7. Personalized Video
Once you begin outreach to individuals at target accounts, your emails should be as customized and personal as possible. A great way to do that is through using video in your sales emails.
A tool like Vidyard can be great for sending introduction videos that let the sales rep show off their personality while also grabbing prospects' attention. You can also use a video tool to do screen grabs and attach them to emails. This could be great for building rapport by showing how you think your product or service can impact them personally.
The Takeaway
Contrary to popular belief, an ABM strategy isn't something that is extremely different from your current inbound strategies.
Diversifying the strategies you use to go after customers as marketing and sales will give your teams more flexibility and a wider range of customers overall. Adding an ABM strategy will allow you to target big, complex deals that need that extra level of time and personalization.
Weslee Clyde is an inbound marketing strategist at New Breed. She is focused on generating results using inbound methods and is driven by the customer experience. When not at the office, you can find her binging a docu-series on true crime or perfecting her gluten-free baking skills.