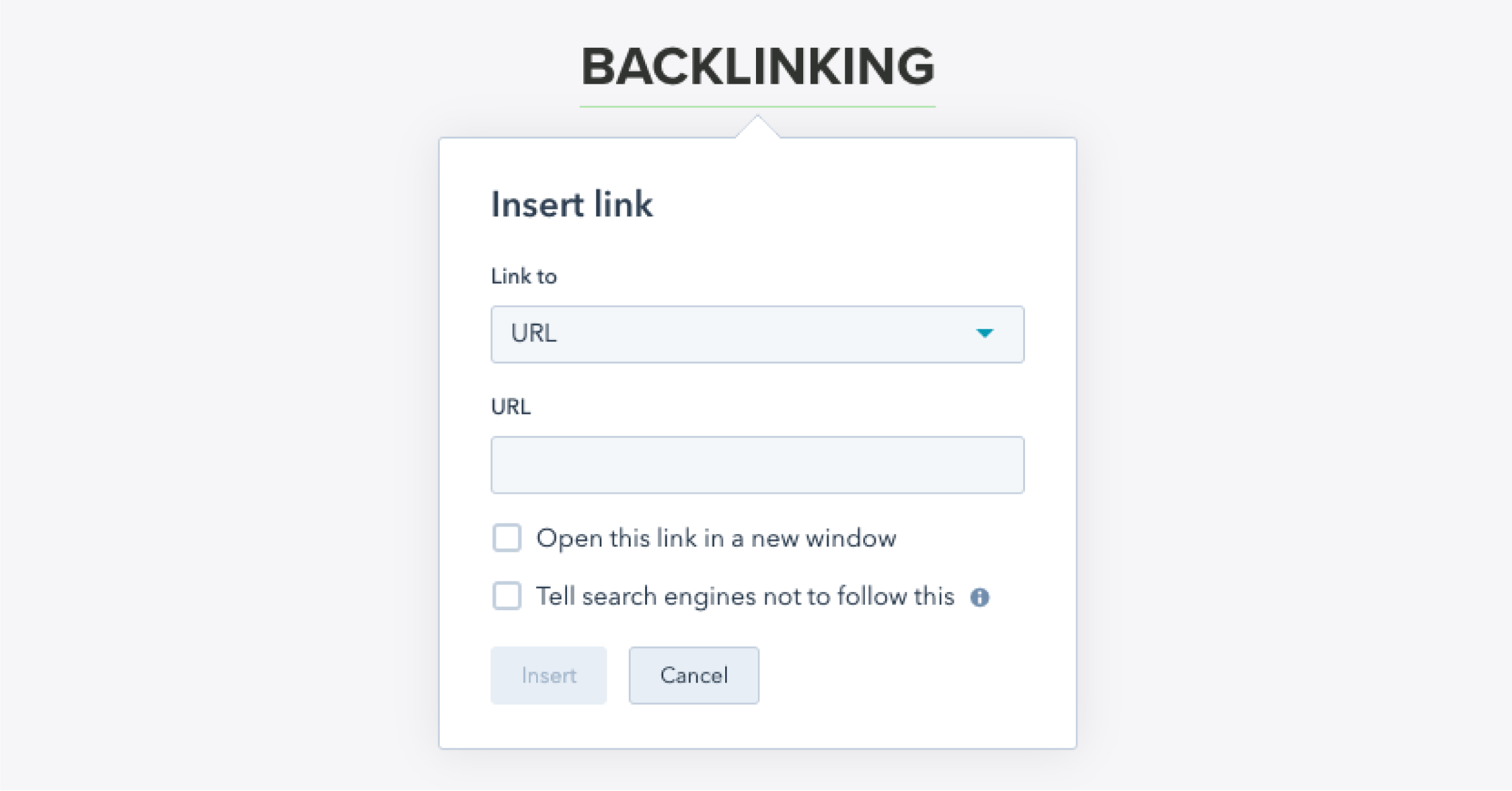 The effectiveness of your inbound marketing approach is only as strong as your ability to be found online.
Optimizing for search engines involves a number of factors in and out of your control, including on-page and off-page SEO. Link building, including backlinking, is an important off-page factor that you can start leveraging in your SEO strategy right away.
What is Backlinking?
Backlinks are links from a page on an external website to your own website. For example, if you've won an award, the awarding organization may link out to your website on the announcement on their website. This is a backlink.
Backlinking is broken down into two main categories: the total number of backlinks and the total number of referral domains. The total number of backlinks is the sum of every link on an external domain back to your own. The number of referral domains is how many individual websites those backlinks are shared by.
For example, as a HubSpot partner, our website links out to HubSpot's in multiple locations — like this sentence. So, our website is giving HubSpot a number of backlinks from one referral domain.
How Does Backlinking Benefit SEO?
Along with the frequency and optimization of your content, backlinking is one of the most important factors influencing your website's ability to rank in search results.
Two leading signals for Google's search algorithm that determines search rankings are domain authority and trust score. Both of these signals are directly influenced by backlinking numbers.
Domain authority is a score assigned by aggregating all of the referral domains that point back to your website. The higher the authority of sites that refer back to your own, the more your own domain authority will increase.
Trust score is a metric that considers the credibility of your referral domains. You may have a high domain authority because of strong backlinks, but if Google and other search engines don't assign them high trust scores, then you may rank poorly. A trust score that is lower than your domain authority is a red flag for the quality and factualness of the content linking back to your site from referral domains.
Generally speaking, you don't want backlinks from websites that have low trust scores or domain authority. Backlinking opportunities should be evaluated to ensure they will benefit your search results and not the other way around.
For example, certain domains such as government and university websites are identified by Google as incredibly trustworthy domains. Direct links from those sites will dramatically improve your trust score and domain authority.
Strategies for Creating Backlinks
There are a number of ways that your business can start seeking out backlinks and leveraging them for a positive impact on your search results.
Guest blogging
One of the most effective ways to establish backlinks is through guest blogging. By writing content for another company's blog, you can ensure that a link goes back to your site from their domain.
Given the importance of trust score and domain authority, it's important to be strategic in your selection of potential guest blogging opportunities. You should only reach out to write for websites that would have a positive impact on your domain authority and trust score, as well as sites that potential prospects might find you on.
Third-party business intelligence tools like ZoomInfo and Everstring can help provide the necessary information about a potential opportunity's team so you know exactly who to reach out to for the best results.
Fixing broken links
Using the information you've collected about potential guest blogging opportunities, you can go into these sites and start searching for broken links in content that is relevant to your business or product.
If you're reading through content on another website and see that a link is broken, you should determine whether or not you have a blog, page or piece of content that can fill that space. Then, you can reach out to the publisher or website owner for the opportunity to take over that linking opportunity, establishing a new link to your website.
Co-marketing
By partnering with similar brands or partners, you can share each other's similar, supporting content or collaborate on a single piece of content to host on each of your domains. This establishes a backlinking opportunity for both brands — win, win!
Social promotion
Similar to co-marketing, you can work with a partner or a similar brand to exchange social promotion for a backlinking opportunity. If the brand is willing to refer to your domain in their content, you can share the content on your own social media in return.
Domain mentions
Domain mentions are the low hanging fruit of backlinking opportunities. Using a third-party tool such as SEMRush or Moz, you can identify usages of your brand name through external sources. To use the same example we started with, you've won an award and are named in a release on another website, but it doesn't link back to your website.
These tools will help you identify these opportunities for you to reach out and request a backlink to your domain from the mention of your brand name.
The best strategy for securing backlinking is likely a mix of all of the above. There is no one-size-fits-all approach. That said, with each of these strategies, there is a significant amount of give-and-take and human elements.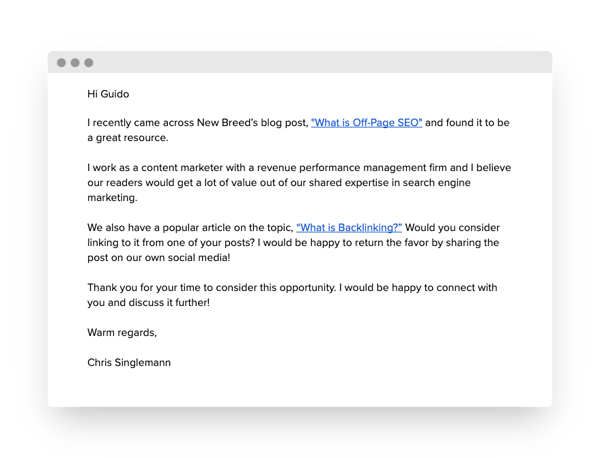 With that in mind, you should take care to personalize your outreach emails seeking out backlinking opportunities and follow-up on a regular basis. Since backlinking is especially valuable to you and less so to the person handing out the opportunity, it's can be effective to offer something in return or take the time to demonstrate value to their brand.
Takeaway
Establishing backlinks is an ongoing process. The more time you invest in doing so, the more likely you are to build domain authority and trust, improving your rankings in search results.
Still, as a very human-driven process, there can be a lot of trial and error involved. Constant outreach, personalization and researching new opportunities are key to finding success, regardless of your backlinking strategy.
Chris is a Brand Marketer at New Breed where he is responsible for crafting design and video assets that support our brand. When he's not behind the camera, he enjoys kayaking and tending to his sourdough starter.