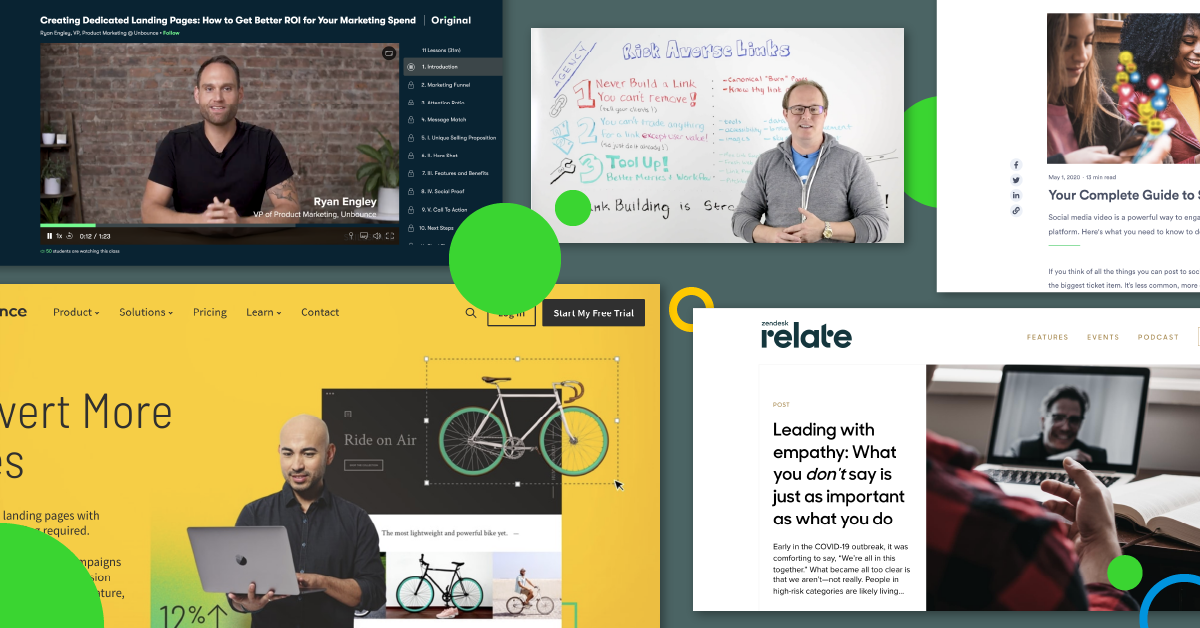 The goal of content marketing is to attract, engage and convert visitors into leads. In a crowded marketplace, SaaS companies can stand out by educating potential customers about their pain points and over time, provide solutions to those pain points. When done effectively, content marketing can guide your leads to the notion that the best solution to their problem is your company.
Still, it can be challenging to curate content that is both engaging and fulfills your audience's needs. How you format, repurpose or enrich your content can have a significant impact on your content's success, and these brands take unique approaches to doing so. When you're looking for examples to inspire and reinvigorate your content strategy moving forward, these organizations stand out among the rest.
It shouldn't be a shock to anyone that HubSpot leads the pack when it comes to SaaS content marketing. Their site generates millions of unique visitors each month, in large part due to their focus on curating high-quality content across multiple channels.
HubSpot's reach as a business enables them to take the same comprehensive approach to their content. Their blog features educational material that spans subjects in marketing, sales and service, which carries over to their premium content and email campaigns as well.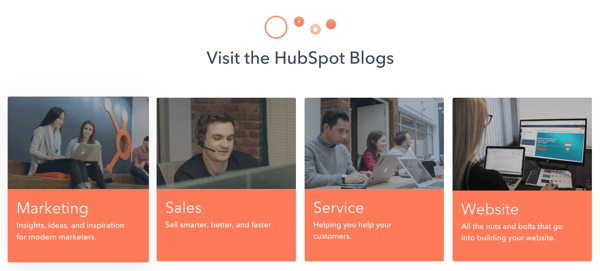 Given their diversity of services, HubSpot has a vast potential audience. By segmenting their blog into these areas, they're able to better serve these audiences and align content with their needs. A developer can learn more about user experience, while a customer service manager can read about how to best support their clients, and there's no irrelevant content clogging their feed.
In short, the segmentation of HubSpot's blog makes it simple for new visitors to find relevant, top-of-funnel content. By aligning those segments with their core product offerings, HubSpot has a clear path by which to nurture leads generated from different blogs down the funnel with similar content.
Neil Patel's blog is a testament to leading with education in content marketing. Throughout all of his content, Patel consistently leads with the why of a problem or topic, focusing on educating his readers. Despite the technical aspect of Patel's subject matter, he places a great deal of emphasis on making his content human and approachable. By the end of a blog post, a reader can feel comfortable going off and doing that task by themselves.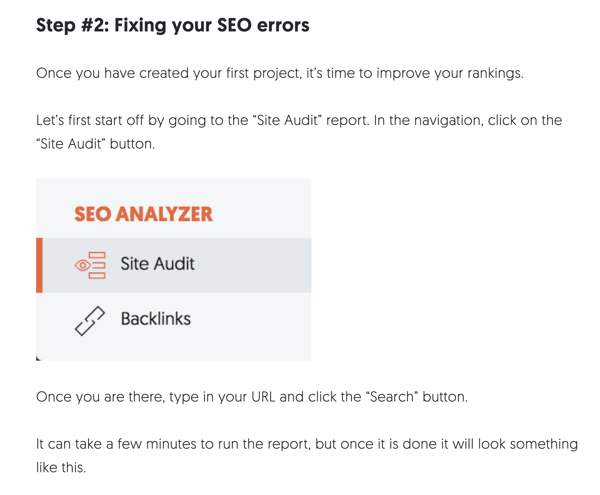 As an individual who supports the search efforts of a wide array of businesses and industries, Patel has access to a vast amount of data. His content marketing is subsequently informed by this data and guarantees to the reader that the content they're reading is tried and tested.
Utilizing video in content marketing is second nature to Vidyard. As a video platform, Vidyard manages to weave their product into their content marketing on a regular basis, making it easy to speak to its benefits by the time a visitor reaches sales.
While Vidyard's content library is not as expansive as some of its counterparts on this list, they place an emphasis on deep-dive topics and long-form content. Consider their post about personalized video, a tool offered by the Vidyard platform.
The estimated 11-minute read provides a deep-dive look at using personalized video including what it is, how to make a personalized video and case studies of brands who have used it. The post is well-segmented, with a table of contents and anchor links enabling readers to jump to parts of the post as they need to, making it equally accessible for returning readers.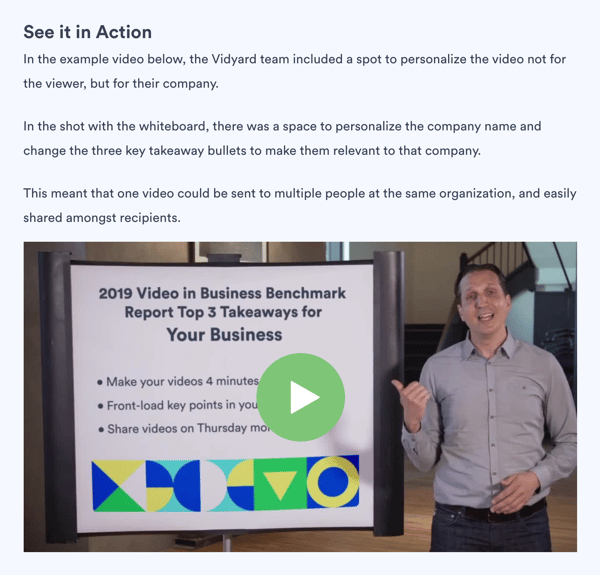 Given the technical nature of the subject matter, Vidyard breaks up the content with example videos and quick explainers that allow readers to consume the information in their preferred format while also providing visual diversity.
Finally, the included videos frequently feature Vidyard's vice president of marketing, Tyler Lessard. By turning Tyler into a spokesperson and face of the brand, they build personal relationships between viewers and their team. These connections can be leveraged down-the-line when a prospect reaches sales by bringing in Tyler's familiar face.
A list of excellent SaaS content marketers wouldn't be complete without Moz. As far as subject matter goes, search and SEO can be among the most technical. Moz produces regular content without overwhelming their readers.
Their blog is thoughtfully organized by categories like branding, optimization, and SEO across different sectors. This enables readers to explore based on their own pain points and not feel quickly overwhelmed by the density of content.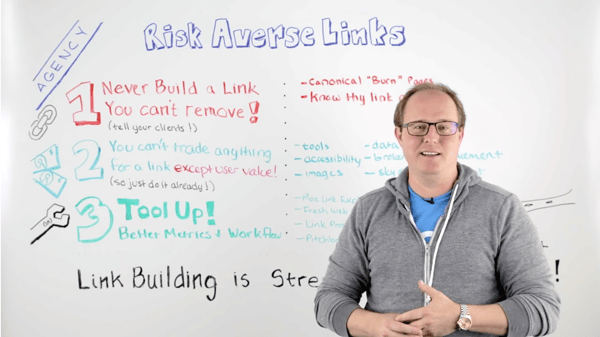 Moz takes it a step further with their Whiteboard Friday tradition. Typically accompanying long-form blog posts, Whiteboard Fridays are videos produced by Moz that explore more complicated topics with a presenter sketching out points and diagrams on a whiteboard. Makes sense, right?
These videos enable readers to take a topic at their own pace. While the videos typically cover everything included in a post, the alternate medium can make it easier for some readers to digest. That said, given that the video lives at the top of the post, readers can explore individual topics on their own by scrolling on past the video.
Like Vidyard's videos, Whiteboard Fridays also aid in building the brands of its hosts. By featuring real faces from Moz, their content marketing is building up the Moz brand just as much as their people's, which can help down the line in sales conversations.
Like others on this list, Drift's content strategy aligns perfectly with their product — a conversational marketing tool. Weaving their product throughout their content marketing strategy means that you'll only find one form on Drift's website (to sign up as a user). Instead, they made themselves their best case study by driving conversions through their chatbot.
Drift's chatbot is deeply customized to align with their content and their audience. After a user has visited their site a number of times, the chatbot is triggered to offer them more content, directing them to a robust resource library.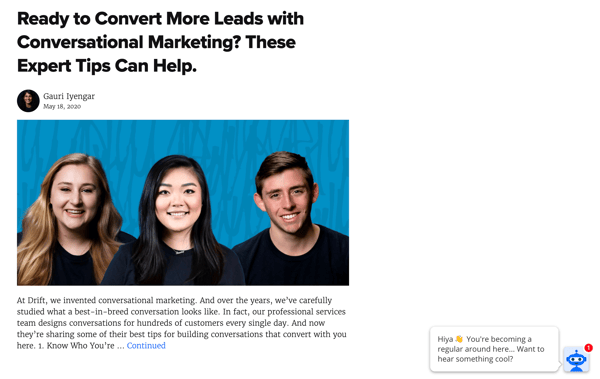 As leads move further down the funnel and the content they interact with becomes more specific, so too does the chatbot. Based on the user's behavior, different chatbot playbooks are triggered and direct users to premium content, additional resources or a conversation with sales. Along the way, interactions with the chatbot inform Drift about their user's behaviors, pain points or content needs which helps inform their future content strategy.
Not only do these interactions with the chatbot bolster Drift's case as a thought-leader, but by having their product itself play a significant role in their content strategy and guiding leads through the funnel, users begin to see Drift as a solution very early in their buyer's journey.
Zendesk is in the business of creating a better customer service experience for their clients and it's reflected in their content. While most SaaS content marketing is intent on guiding readers toward an eventual solution — the software — Zendesk recognized that there's more to managing customer relationships than just the tool itself.
Zendesk's online magazine and annual event, Relate, focuses on the human aspect of customer service. Unlike their separate blog that covers various aspects of customer relationships and how software can support them, Relate addresses self-care, work-life balance and other deeply personal, relatable topics.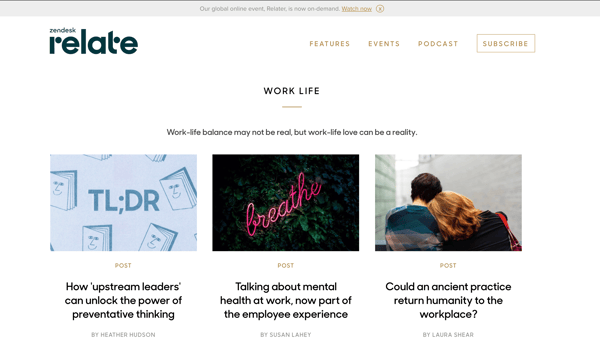 Emulating online magazines, Zendesk offers Relate content through a number of different mediums including standard posts, videos, podcasts and online events. The variety of content offers maintain an air of approachability and improve their reach.
Ultimately, humans are at the heart of customer relationships. By positioning themselves as a thought-leader in more than just the solution they provide, Zendesk leverages their content marketing to build brand awareness and equity. Visitors who discover Zendesk through a post on Relate about practicing empathy in the workplace may become promoters of the brand to decision-makers at their business.
Unbounce software enables marketers to build conversion-optimized landing pages, so their product features heavily in their content marketing. As a thought-leader with over a decade in the industry, Unbounce has a robust blog that hones in on conversion optimization and landing page best practices.
With that in mind, it can be a challenge to find ways to repurpose or find new channels for your content to improve its reach. Unbounce addressed this challenge by creating a video crash course in landing page optimization for the online education website Skillshare.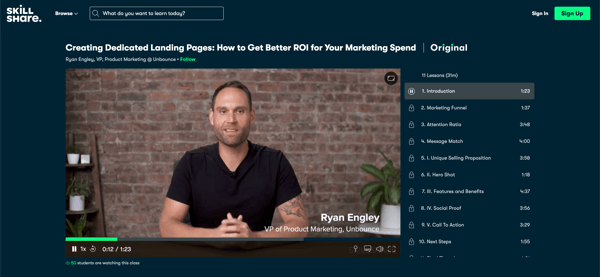 By taking their expertise to a new platform, Unbounce extends the reach of their content while also creating assets that can live on their own site, improving its return on investment. It can be challenging to illustrate pain points and solutions in first-touch content, but visitors discovering Unbounce on Skillshare get a taste of landing page best practices, all executed via the Unbounce platform.
In this way, Unbounce extends the reach of their brand and puts their product front and center. As an added bonus, Skillshare is an Unbounce client, which helps prove their value and expertise to Skillshare users.
Takeaway
Across the brands featured on this list, there are a handful of themes to keep in mind. Strong content marketing leads with education and aligns with your solution while focusing on making the subject matter approachable and engaging to the reader.
By showcasing that your company knows what it's talking about, you build trust and credibility as you work to turn your visitors into leads and eventually, customers. As you develop your own content marketing strategy, be sure to think about how you can take advantage of your expertise and present content in new and engaging ways.
This post has been updated and was originally published in October 2014.
Chris is a Brand Marketer at New Breed where he is responsible for crafting design and video assets that support our brand. When he's not behind the camera, he enjoys kayaking and tending to his sourdough starter.