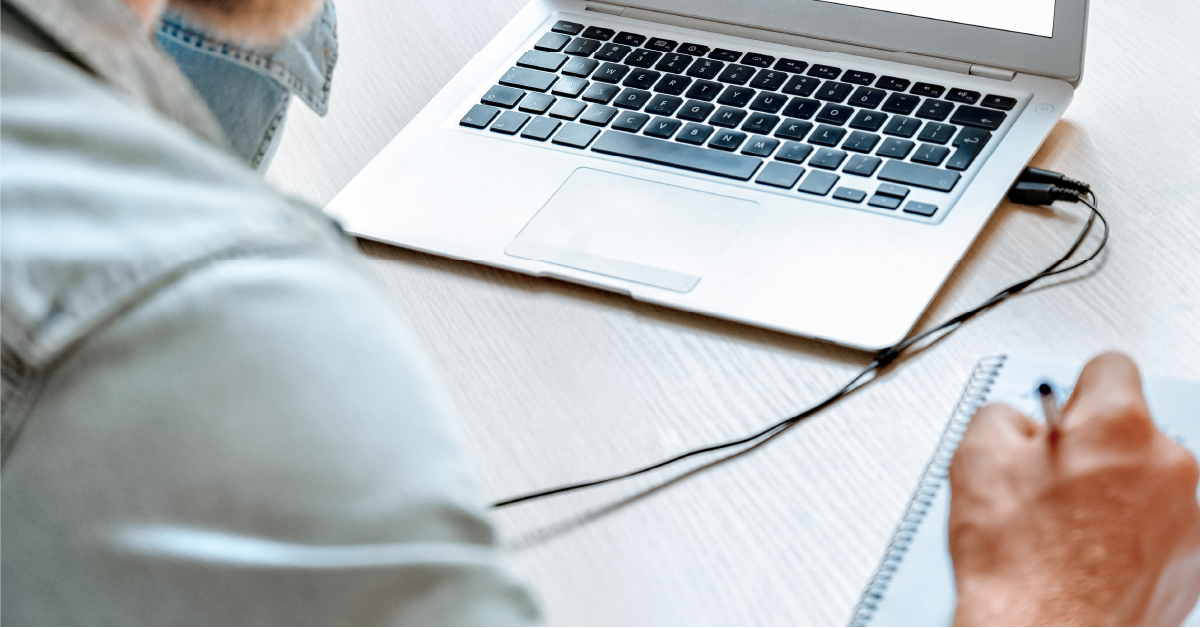 If you haven't incorporated webinars into your inbound strategy yet, it's time to start.
Webinars don't take a lot of your budget to implement, but they provide an immediate lead capture opportunity and enable you to directly engage with qualified prospects. Best of all, they're an effective way to provide comprehensive, educational content for your buyer personas. If done right, webinars can significantly drive lead generation and boost ROI.
Planning your first webinar can be an overwhelming process, so we've created a list of the seven essential steps to take to ensure your next webinar is successful.
1. Develop Your Buyer Personas and Target Audience
Before doing anything to promote your company, whether that's a webinar, a podcast or even writing blog posts, you need to have your target audience and your buyer personas built out. Everything you do in marketing and sales is guided by your personas and the challenges they face in their day-to-day lives.
The ultimate goal of a webinar is to offer valuable insight to the people who are either in the sales process currently or have yet to enter your funnel in order to convert them to customers. If you aren't sure who those individuals are for your company, your efforts are going to fall short every time.
Start with identifying your buyer personas and ICPs, and then decide which of them you will be primarily targeting with your webinar. Keep in mind, this doesn't mean that you should exclude any of the other personas in your promotion, but you can target the key messaging and topic toward a specific persona or two that you think will gain the most value from it.
2. Establish Your Topic, Messaging, Key Takeaways and Guests
When choosing the topic for your webinar, your number one concern should be choosing a topic that aligns with your target audience and their pain points and challenges. You should have your buyer personas built out by now, so that shouldn't be an extremely difficult task.
Once you have selected a topic, you can decide what you want attendees to get out of attending your webinar — that will help you shape the messaging and key takeaways. Deciding on these things before attempting to make an outline or presentation, or even setting up any of the assets you need, will help you keep everything aligned with the real goal, giving your audience an experience that truly benefits them.
Finally, it's time to consider if you want to have any guest speakers or partners participate in the webinar as featured speakers or co-hosts. Think about connections within your network who are experts on this topic; they're going to be the most effective speakers.
This is also a great way to get exposure to audiences that don't currently follow your company. Choosing guests who have different, but similar, networks themselves and having them promote the webinar as well can be great for creating new contacts and leads.
3. Set Up the Webinar and Your Landing Pages
In order to promote and build out the webinar itself, you will need to create the webinar using a platform like Zoom or GoToMeeting. If you are using Zoom to host your webinar, you will need to enter a title, description, date, time and add any co-hosts or guests that will be on the webinar with you.
Then you can use that webinar ID code to ensure when users sign up for the webinar on your website, it also adds them into the actual webinar platform you will be hosting from. You can create a landing page with a form where prospects can learn more about what the webinar will entail and submit their information to sign up.
You will also want to be sure you are directing registrants to a thank you page after submitting the form. That page can include the host's LinkedIn profile or other offers or content that may be relevant to attendees before the webinar.
4. Promote Your Webinar
When it comes to webinar promotion, email will be your best friend. Webinars are a way for you to connect with your current database and help move them further in their buyer's journey.
At New Breed, we typically send out one promotional email a week in the month leading up to the webinar. You can also send out a "last chance" email a few hours before the webinar to allow for any last minute additions to register day of.
Segmentation is key when sending out emails, and webinars are no exception. Be sure to suppress anyone from your emails who is already registered. You can also encourage the other employees at your company to promote the webinar to customers and prospects they may be currently working with.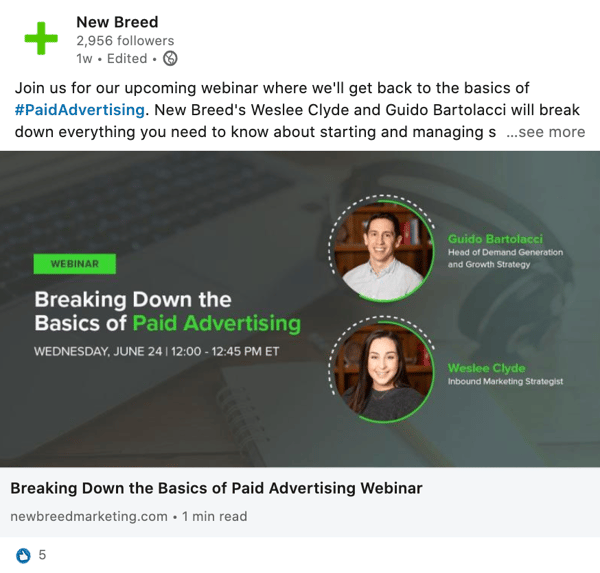 Outside of your existing database, you can use social media and paid advertising to promote the webinar. This is a great way to bring in new contacts for both marketing and sales to work post webinar.
If you are offering webinars about topics that truly resonate with your ideal buyers, you should have no problem attracting new prospects with the promotion you are doing on social and paid.
The last piece of promotion is making sure you have design assets to be able to promote. You will see higher success with your social posts if they include images and graphics. Those images don't need to be complex or over designed, they can be as simple as a photo created for free in Canva that features the title, date and headshots of the hosts for the webinar.
5. Build the Deck and Rehearse
Creating the actual presentation for your webinar may seem more intimidating than it really is. The deck is a key component because it will guide your presentation and help keep you on time and topic, but it isn't the most important part.
You, your personality and the way you present the information will be what truly brings value to the webinar.
The best way to ensure success during the actual webinar is to be comfortable with the topic and the deck itself. You don't want to feel like you aren't sure what slide is coming next or what you're going to say when you get to each slide.
We recommend recording a test run prior to the actual air date to troubleshoot any technical complications and help everyone get comfortable
6. Host the Webinar
Now it's time to show your stuff! Remember to relax and enjoy your experience as a speaker or host. Surely, it can be intimidating to consider the prospect of public speaking, but it doesn't have to be a stressful experience. Focus on effectively communicating your message to your audience in a way that is both easy to follow and engaging.
Make sure you are recording the webinar live so that you can leverage it on your site and anyone who couldn't attend can still watch.
In the end, what matters most is the value you've provided your prospects — so make sure you take your time to emphasize key insights.
7. Send a Follow-Up and Measure Your Webinar's Performance
Once the webinar is complete, you can download the recording of the webinar and upload it to your website. You should also email everyone who registered for the webinar the link to the recording.
As far as measurement, a goal that's great to track is the number of registrants. This goal will vary depending on your current database size, how much promotion you are doing as well as the number of registrants you had from previous webinars.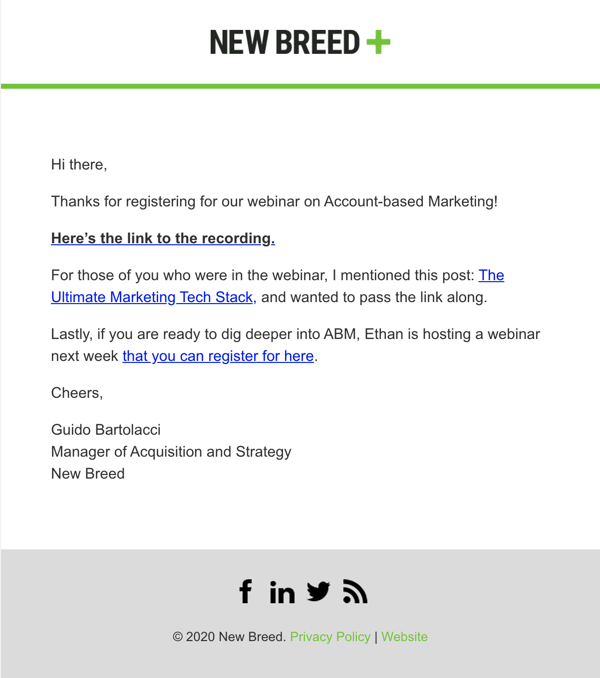 If you are using an automation software that tracks the original source of contacts in your database, you can also see when you have deals close that the first conversion was your webinar. You can also see which deals are being closed where the contacts at those companies attended your webinars.
Remember that the ultimate goal of a webinar is to educate and connect with prospects. If you are doing that well, you should see webinars becoming an important part of your recently closed deals' conversion rates and have an increasing number of registrants and attendees.
Weslee Clyde is an inbound marketing strategist at New Breed. She is focused on generating results using inbound methods and is driven by the customer experience. When not at the office, you can find her binging a docu-series on true crime or perfecting her gluten-free baking skills.